The rise of Trent Alexander-Arnold from academy graduate breaking through, to his struggles at the top, and what his Liverpool future holds….
GENERATIONAL talent. Defensive liability. Assist King. Lazy. Future Liverpool captain. Glaring weakness.
Trent Alexander-Arnold creates headlines. That everyone has an opinion on The Reds right-back is testament not only to his unique skillset but meteoric rise. Full backs are not meant to command such attention. After all, nobody grows up wanting to be a Gary Neville…
In six short years the Scouser in our team has gone from young hopeful to gamechanger. Despite reinventing the position and scooping every major honour in the process, he is still questioned by those outside the Liverpool bubble.
To that end he has unwittingly come to personify the modern-day club versus country debate, which rages louder in Merseyside than anywhere else. But as another son of the city famously said, a local hero is something to be…
Academy Graduate
Born in West Derby, Alexander-Arnold joined Liverpool's academy aged six. Ian Barrigan is the coach credited with spotting his potential, having observed a half-term training camp laid on for local schools.
Originally viewed as a central or wide midfielder, Trent excelled at every age group, captaining the Under-16 and 18 sides respectively. It was during these formative years a plan was hatched to convert him to a marauding full-back.
The academy brains trust, which then comprised Alex Inglethorpe, Neil Critchley and Pep Lijinders, saw this as his best route into the first team.
It was sound logic. Few midfielders break into the engine room of any 'big six' side, no matter their talent. By this point the likes of Jay Spearing, Danny Guthrie, Jordan Rossiter and Suso had all fallen by the wayside, despite bossing games in the youth setup. Someone needed to buck that trend.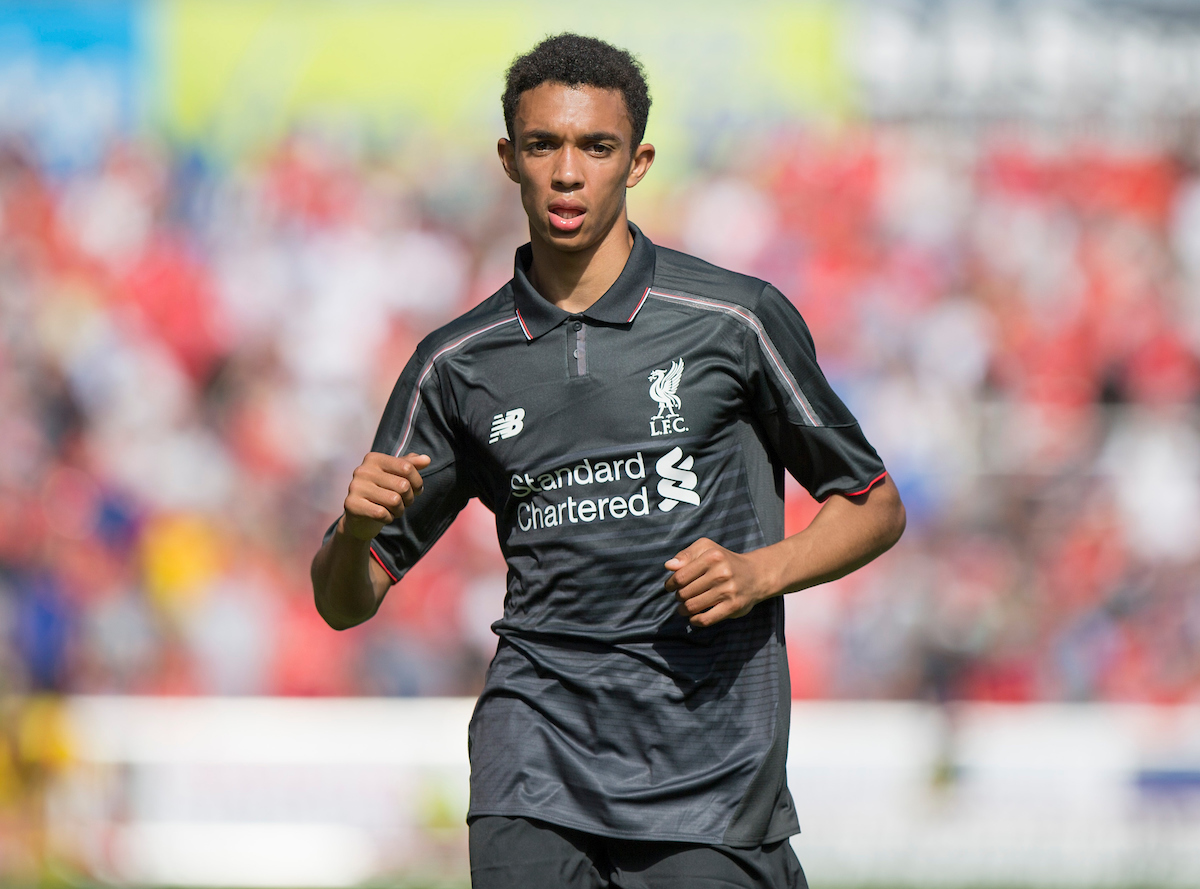 It was rightly felt that Alexander-Arnold could gain opportunities and experience as cover for Nathaniel Clyne, a steady full-back whose role was somewhat understated. As he developed physically and mentally, he would be moved back into the heart of midfield. Or so we thought.
And so akin to a movie montage where our protagonist prepares for that final duel, Trent was exposed to the pace and guile of wingers like Bobby Adekanye on a daily basis. The challenge hardened him and put him on the cusp of the first-team squad.
It was around this time that outgoing captain Steven Gerrard name-checked Alexander-Arnold in his umpteenth autobiography. Speaking of his fellow Scouser, the Liverpool legend wrote…
"Trent Arnold has a terrific chance of making it as a top professional. He's quite leggy but he's got a lovely frame and seems to have all the attributes you need."
That certainly piqued interest. Even so, it was a surprise to many when the 16-year-old was handed a start in a pre-season friendly against Swindon at the County Ground in August 2015.
Much of the focus that day was on new signings Christian Benteke and Bobby Firmino, so to say Trent staked a claim would be going overboard, but he certainly did his chances no harm with a solid showing across 58 low-key minutes.
Speaking afterwards embattled Reds boss Brendan Rodgers explained his inclusion.
"Trent impressed me last year; he came up as a schoolboy and played in a practice match and did very well. I always had that in the back of my mind and when we needed someone to bring in, it was good for him to get the chance."
Much would change in the proceeding few months, not least the Liverpool manager. Foolishly and perhaps cruelly retained for the start of 2015-16, Rodgers was eventually put out of his misery that October.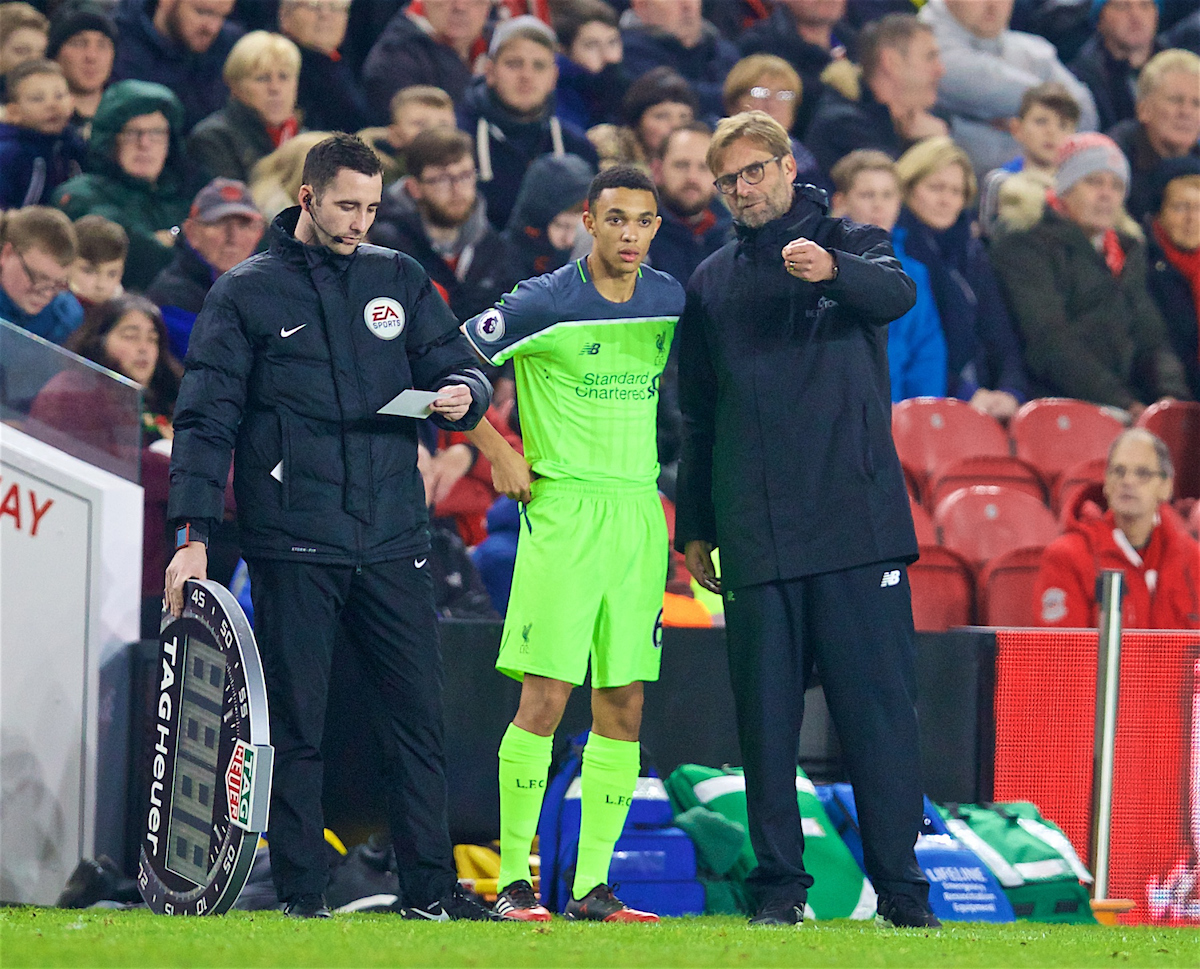 If Trent feared for his own progression, he needn't have worried.
From the outset, incoming boss Jürgen Klopp made clear his penchant for youth, handing various debuts to young hopefuls across both domestic cup competitions, as well as the Europa League.
Alexander-Arnold's own chance came a year after his appointment, in a League Cup victory over Spurs at Anfield.
It was quickly followed by a new contract and a man-of-the-match display against Leeds in the fourth round, where he registered his first assist for Divock Origi. It wouldn't be the last time that duo linked up…
A stoppage time cameo followed away to Middlesbrough in the Premier League before the ultimate baptism of fire. Full debuts don't come much harder than Old Trafford, particularly for a Liverpool player having to run the gauntlet of abuse.
With Clyne falling ill, Trent was told the night before he would be starting in the lion's den. Talk centered on how Anthony Martial was going to terrorise the youngster, but Trent snuffed out any threat on route to a respectable draw. It was the first glimpse of his defensive awareness, overlooked then and now.
Towards the end of that maiden campaign, Trent featured in a League Cup semi-final defeat to Southampton and, with injuries mounting, was handed a midfield berth away to Stoke as Liverpool chased down a top four finish.
In truth, that game passed him and fellow graduate Ben Woodburn by. Both were replaced at half-time as The Reds came from behind to seal three vital points.
Regardless, this had been a promising start. Nobody could foresee what came next.
Breakthrough Season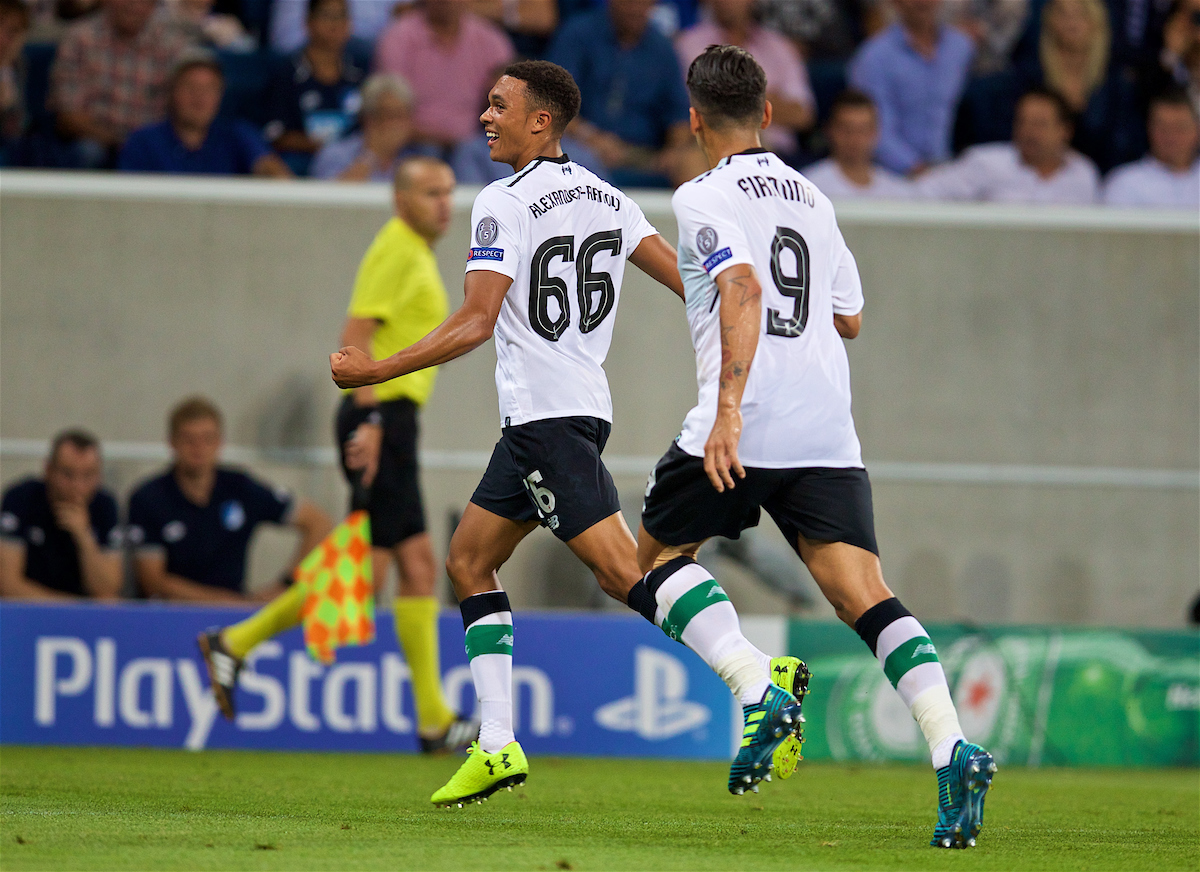 Champions League participation rested on a qualifying round English clubs have since been excused from. With Clyne again injured and this time facing a lengthy spell on the sidelines, Alexander-Arnold was thrust into a must-win game and tie for Klopp's side away at Hoffenheim.
It's often forgotten that the Germans started the game brightly and had Liverpool on the backfoot. They won but missed a penalty in the 12th minute as The Reds struggled to get a foothold. That all changed when they were awarded a freekick 10 minutes from the interval.
Few amongst the travelling Kop expected the youngest player in the side to jump to the front of the queue but, unnerved, the rookie dispatched a perfect free kick to give us a crucial away goal. He (and we) had lift off.
For all the success that followed, it could be argued that the 2017-18 side was the most exciting we've seen under Klopp's stewardship. It was committed to full-throttle football, with red arrows just as likely to snot Man City as succumb to Swansea. Frustrating? Occasionally, but it was exhilarating at least.
And Alexander-Arnold quickly became integral to it. The coaching staff initially tried to manage his minutes, trialling a position-share of sorts with Joe Gomez. Before long however, it became impossible to leave the more attacking of the pair out.
The talent was clear for all to see, and the output began to reflect that. An astonishing assist for Mo Salah at home to Bournemouth that April drew comparisons with Steven Gerrard and David Beckham. It was evidence of a frightening talent establishing himself in a swashbuckling team.
His season wasn't without blips, mind. He had an uncomfortable afternoon back at Old Trafford where Marcus Rashford got the better of him in a bruising defeat. Yet he learned and learned quickly.
This was proven in a quite remarkable and unlikely run to the Champions League final in Kyiv. En route Alexander-Arnold was faced up by the likes of Leroy Sane and Radja Nainggolan, only to stare them down.
Going into the final itself, experts claimed the game would be won (or rather lost) as a result of his likely duel with Cristiano Ronaldo. Instead, the 18-year-old performed admirably. He was a bright spark on an otherwise depressing evening.
England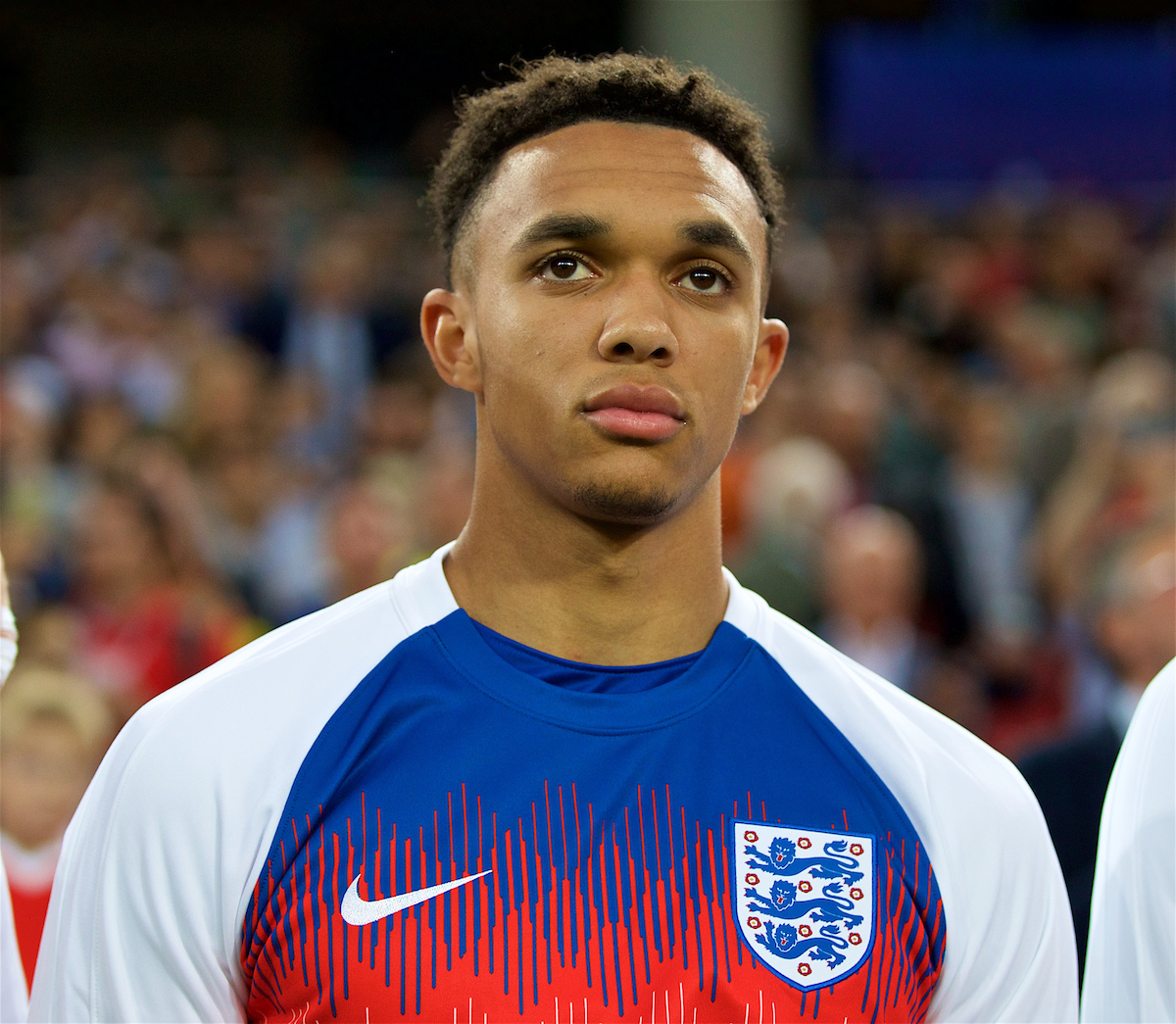 Those heroics earned him a call-up to the England squad for that summer's World Cup in Russia. And so began a curious relationship with the national team.
It wasn't until after Kyiv that Trent earned his fist cap, this in a friendly victory against Costa Rica at Elland Road.
Few then could have expected him to feature heavily in the upcoming tournament, one where England reached the semi-finals. The fact only 17 caps have followed, however, is frankly astonishing.
In that time, Trent has emerged as the most exciting and devastating full-back in world football. Those aforementioned numbers skyrocketed in 2018-19.
He went from two assists the previous campaign to 16 in that second act, propelling Liverpool to a 97-point league finish and Champions League glory. The latter was made possible due to his ingenuity, taking the most famous and audacious corner in history to assist Origi in completing that ridiculous comeback against Barcelona.
In the blink of an eye, he had become the creator in chief for one of the best teams in the world. A team, incidentally, that kept 21 clean sheets that PL campaign. Those defensive lapses, born solely from inexperience, were gradually being ironed out.
How do you follow that? With a title-winning season, one in which he clocked up a further 15 assists. Only Top Red Kevin De Bruyne could hold a candle to him.
Despite being named in successive PFA teams of the Year, Trent won just seven England caps in that time. Seven.
That says more about the England manager than it does the player himself.
As Liverpool fans it's easy to shrug our shoulders. How England fare ranks lower than Love Island and Dua Lipa reissues on our list of priorities. Yet it matters to Trent himself which is why the constant furore around his international role is so concerning, and it has no doubt played a role in what has been a difficult start to this current season for Trent.
Struggles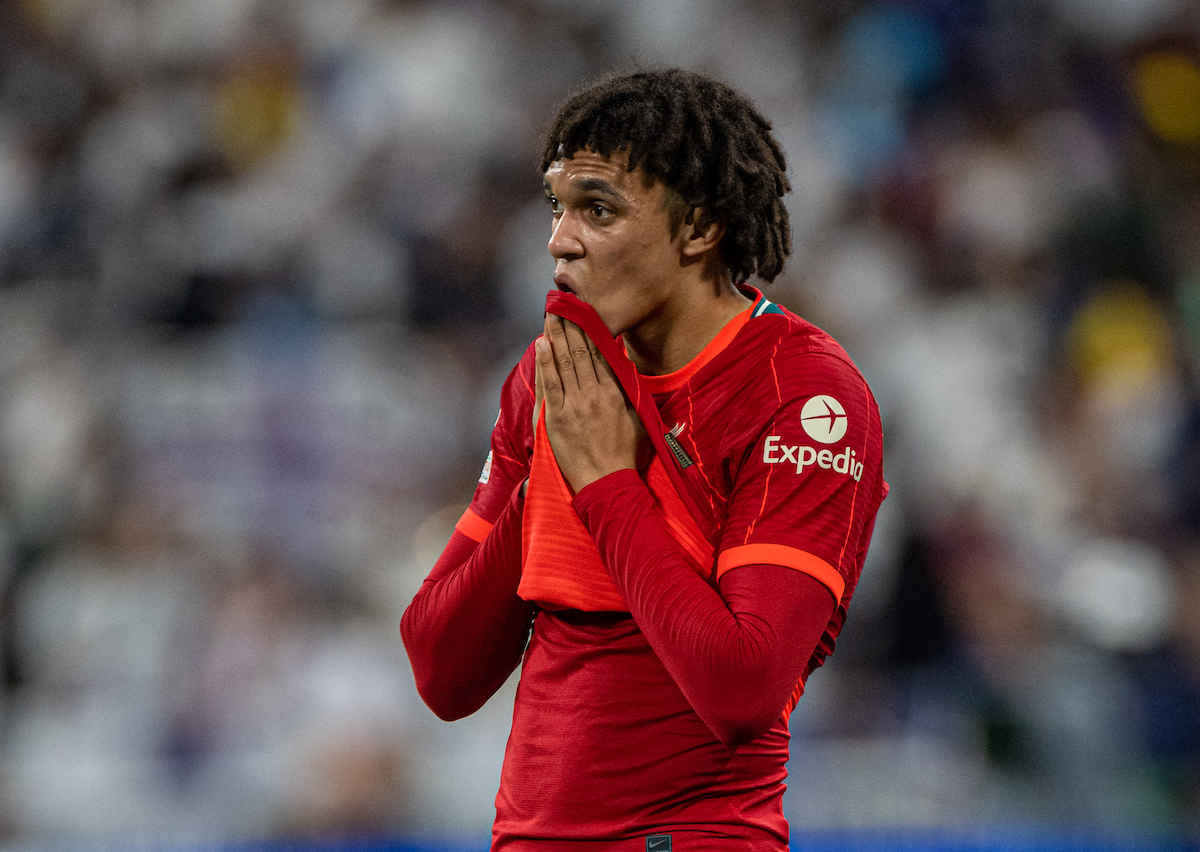 No career is without its peaks and troughs.
Right now, the scrutiny is on Alexander-Arnold given Liverpool's general inconsistency. Mitigating factors abound, of course.
Yes, Trent has looked positionally suspect, indecisive and complacent but then chaos has reigned around him.
Injuries have undercut whatever plans Liverpool had coming into this a truncated season. Implementing a new system and integrating new signings has been made all the harder as a result.
From Trent's own perspective, he's often been without the protection of Jordan Henderson in front.
While Harvey Elliot has turned in some impressive performances on an individual level, it could be argued Liverpool are a weaker team with him in it. Particularly in that midfield area where he is too often bypassed.
This has often left Trent marooned, unsure whether to bomb on or sit back. It's also been a revolving cast alongside him, with Joel Matip in and out, Joe Gomez struggling for consistency and even Nat Phillips drafted in at points.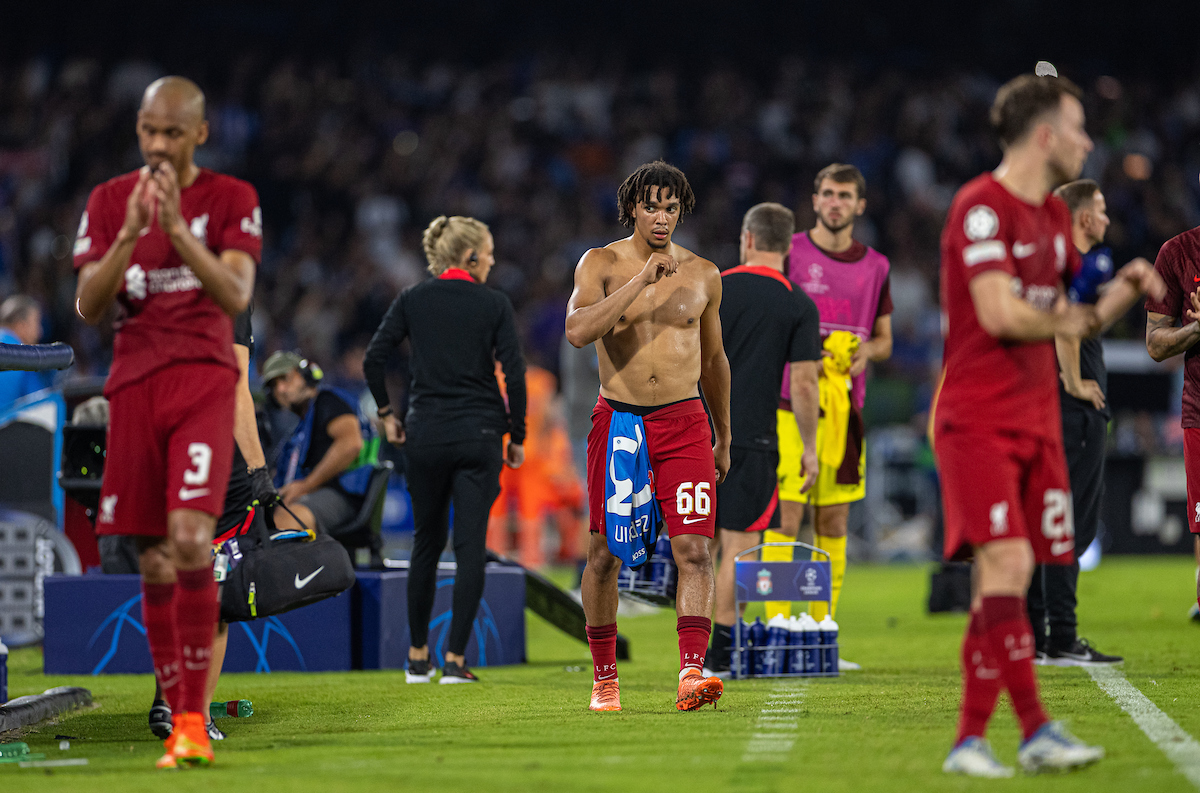 That hasn't stopped rent-a-quote pundits taking cheap shots.
Much of Liverpool's success is down to the system. Remove one or two cogs and the red machine splutters. Trent is a victim of that, as he was in 2020-21 when long-term absences blew up the title defence.
On that occasion he bounced back. The role he played in that late surge for Champions League qualification is often forgotten. From April onwards he was outstanding, his late winner at The Kop End against Aston Villa kick-starting a sprint for the line. That form carried into last season where he reached new heights and collected more trophies. Just the 18 assists, if you're counting…
And he'll bounce back again, particularly with the soap opera of the World Cup now behind him.
Whether he'd admit it or not, Southgate's cold shoulder has knocked his confidence. In October's home draw with Brighton, he was quite obviously going through the motions. It was a tough watch. That background noise fades now, if only for a short while.
And in a strange way the England circus will serve to strengthen his bond with Liverpool supporters. We're protective of our own, particularly when they're questioned by FA suits and southern media. There is (justifiably) a suspicion that criticism is amplified because of who he plays for and where he comes from.
Bracketing him with the likes of Reece James and Kieran Tripper suits an agenda. Fine players they may be. Era defining ones they're not.
Future Role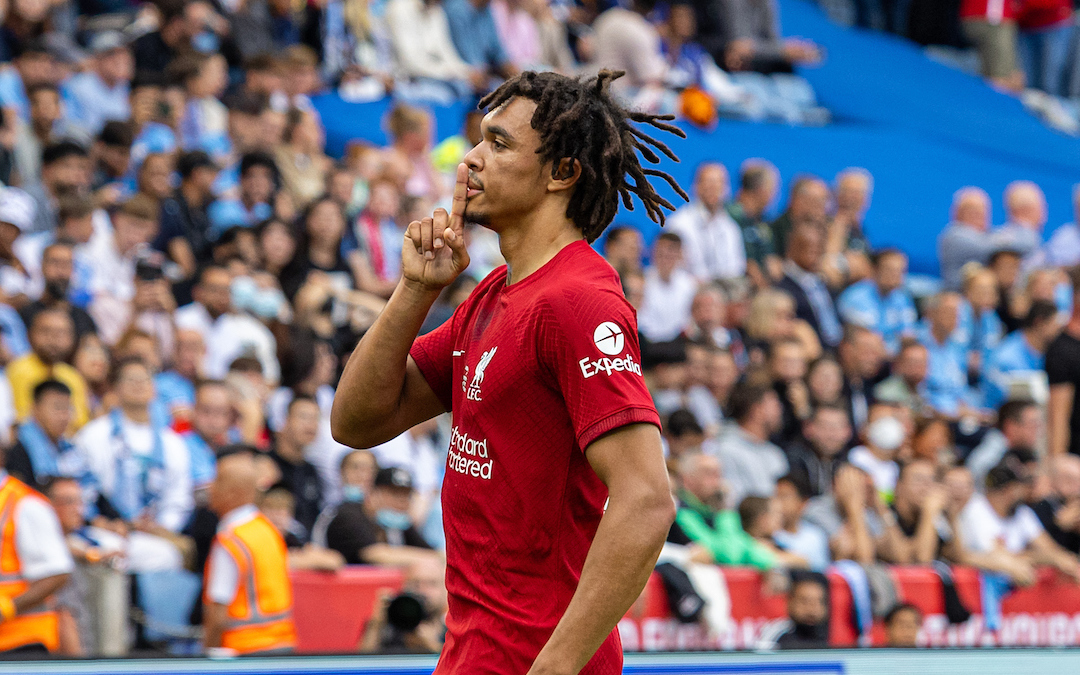 So, what does the future hold for Trent Alexander-Arnold? The debate surrounding his long-term position is unlikely to quieten anytime soon.
We would be wise to remember that since making that international bow, this is a player who has won every major honour, registered 60 assists, been named in the PFA Team of the Year on three occasions and been nominated for multiple Ballon d'Ors. Clearly, he's doing pretty well where he is. For that reason, there will be no rush.
Yet there comes a point when talent demands a starring role or rather a central one. Football history is filled with examples of wide men that have come infield to emerge as totems – Thierry Henry and Cristiano Ronaldo being just two. Philipp Lahm may be a better reference point for our number 66.
So, when could that happen? Maintaining the numbers he's posted from right-back for another five years may prove impossible. The same goes for Andrew Robertson on the other flank. Teams evolve or risk being worked out. That realisation may prompt a change in style and, by extension, a change in role for Trent.
Either way he will be pivotal to the next decade and is destined to become skipper of his hometown club.
Not bad for a lad who can't defend.
---
Recent Posts: