Neil Atkinson

's post-match review after

Liverpool 2 Aston Villa 1

in the Premier League at Anfield…

LIVERPOOL scaled the mountain, they won the scripted game.

They won the match that they have needed to win over and over, the game they have failed to win in 2021 at Anfield. They came back from a deficit, back from adversity.

They struggled and suffered, were second best for long periods of the second half but retained an interest. They kept being on the verge of carving a good one out and Thiago Alcantara was brilliant in the run up to the goal, getting an awful lot right.

I believed the chance would come and then I believed, for a split second, that Emi Martinez had saved it brilliantly. But then the right back popped up inside left and it was unerring and it was brilliant and it was the adrenaline booster injection to the heart of the patient on the slab. It was everything in a season which hasn't had enough.

There has, frankly, been too little like Trent Alexander-Arnold's winner this season. Too few moments that you can beam about for days. The last of these was Roberto Firmino against Tottenham on December 16.

The scripted game is the one that you win where you realise after you couldn't have won it any better. This was better than winning 4-0, better for us and better for them. The struggling made it special and the suffering made it be a game which could be a building block.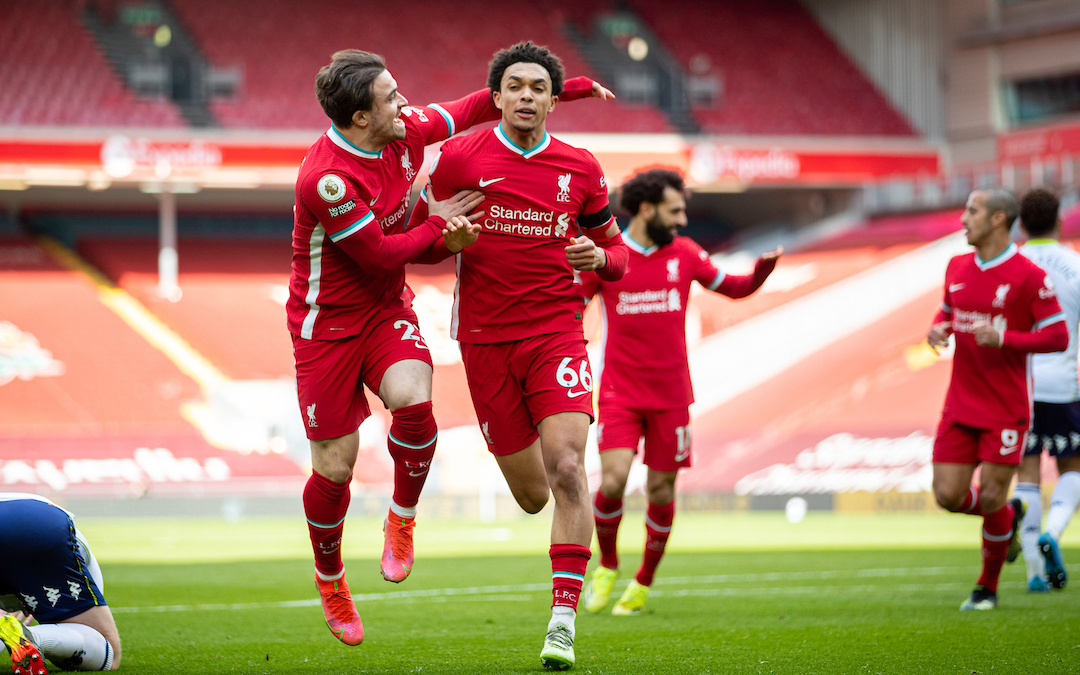 It's the first time since September Liverpool have won three consecutive league games, the first time all season you can throw a blanket over any five league game spell and see that Liverpool have won four of them. It was the late winner of your dreams and the goal that signalled Liverpool can fight to finish top four until the bitterest end required.
You can bend a horseshoe around bloody mindedness. You can bend the world to your will. Liverpool will need to bend the world to their will because for too long, and for too long today, it feels like the world, the whole world, is determined to bend Liverpool around it.
Liverpool deserved and had the chances to be ahead before Alisson Becker let another in he shouldn't and before the Video Assistant Referee chose to get stuck into a goal no Aston Villa player had any problem with conceding.
There is no way home on all that which is about rewriting the offside rule or blaming the technology. Blame the humans who have implemented the technology and who choose to implement it game by game. The VAR isn't some daft robot in the sky. It is people and it is the same people who have shown shortcomings in refereeing the games themselves.
The technology exists; choosing the how and when and why is the question. Both in terms of overarching framework and in terms of case by case. Ultimately, I can't help but feel that in the Champions League that game kicks back off before half time quickly and with Liverpool having equalised.
It doesn't matter now to Liverpool directly but this is why it is important to make the point now. It isn't sour grapes. It is the idea that all of this needs to be better and, as ever where football is concerned, it isn't hard to be better. It just needs some people not to be dopes for a bit.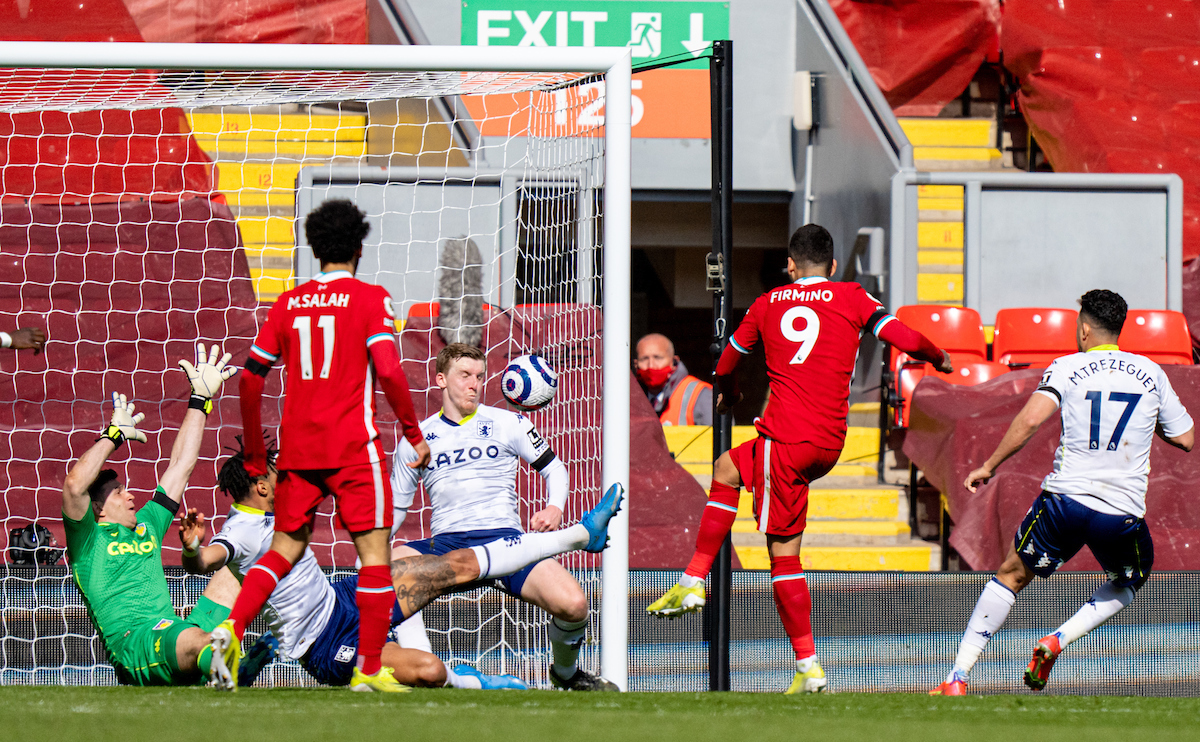 James Milner showed a lot of gumption and quality as ever, Mo Salah was constantly dangerous, a shark who failed to bite first half but gobbled up his chance second. The manager will hopefully be pleased with Roberto Firmino who played ever so well and linked beautifully. He was at the heart of what was good about Liverpool prior to them falling behind and was important after the break. He has a role to play on Wednesday.
Wednesday aside, but Wednesday in mind, the tunes had best been blaring in that home dressing room. A series of bangers, everyone going berserk. They deserve that in the way that they would have deserved our adulation. They deserve that in one another after so long without it. Wednesday aside, but Wednesday in mind, because they will need that energy then.
There is nothing which cannot be done without that sense of collective thrall. Today, Wednesday and then next Monday are all different things. But they remain on an adventure regardless of Wednesday night. This is a season which is not over regardless of what happens. There is a job to be done. A minimum requirement to meet now. They've got it back on the table.
Let's hope more tunes are spilling out of the home dressing room after Wednesday night. It's a big ask but one they are capable of meeting.
Bend the universe to your will, Liverpool. On Wednesday, though, score the first goal. Score the first goal as you should have today.
And then let's see.
---
🗣 Liverpool 2 Aston Villa 1: The Post-Match Show | #NewPodcast | #LFC @johngibbonsblog hosts @Knox_Harrington and @Andrew_Heaton to react to Liverpool 2 Aston Villa 1 in the Premier League…

Subscribe 👉 https://t.co/oaOWcUzrlr
Listen 👇https://t.co/RtQO0Xcbck

— The Anfield Wrap (@TheAnfieldWrap) April 10, 2021
Recent Posts: