As Liverpool fall further off the pace in the Premier League, should supporters have to reassess expectations of what The Reds can achieve?
PONDER this for a moment.
Martin Odegaard scores against Liverpool to put Arsenal 1-0 up after a Thiago Alcantara error in March this year. Liverpool come back to draw but drop points in a ruthlessly demanding schedule.
Marcus Rashford scores with an early opportunity at Old Trafford in October 2021 to put United one up. An under-fire Ole Gunnar Solskjaer holds on to claim a dogged draw with a galvanised crowd behind his team.
Tyrone Mings gets something on the ball in a challenge with Mohamed Salah in a fiercely contested match with Aston Villa on December 11, 2021 and no penalty is awarded. Steven Gerrard enjoys a well-deserved point on his Anfield return.
Three plausible alternative outcomes. Nine points turned to three. A title race which doesn't go to the last day of the Premier League season. A noble end, albeit somewhat anticlimactic. Perhaps one less painful than the reality which transpired.
A point made, nonetheless, that Liverpool gamble on fine margins. They exist on the edge of things. It's what's propelled them to heights beyond any form of sports science. Things can go wrong and are this season.
It remains salvageable. There'll be time enough for countin' when the dealin's done.
The win midweek was a welcome break from jeopardy. Anfield transformed from anxiety to mild adulation. A return to some form of normality as we've come to know it.
But is it right to expect such consistent levels from one team? Has the crassness of entitlement seeped into such an honest arena?
It could be that we just have the yips, as Neil Atkinson often puts it. That we flicked the box on last Saturday morning and caught some Paul Merson-like rhetoric referencing Trent Alexander-Arnold's defensive incapabilities and swallowed it.
After Brighton, the manager talked about how years ago, when Liverpool had narrow leads, everyone in Anfield would "get a heart attack" and that being 3-2 up in the stadium reminded him of that.
Regardless of his agency over ours in such a situation, it poses an interesting question; can you go from expectancy to hope as a supporter base?
Thinking about those very early days, we were probably still in a place of cautious optimism which would dissipate every time someone gave Simon Mignolet a backpass or when any opposition player went down and The Kop's collective gasp either helped give a penalty, red card or both against a Liverpool player.
Hope had to be nurtured over many years of situational and contextual narratives slowly changing. One-on-one defensive situations had to be seen as manageable. Counter attacks had to be stopped at source.
We got there through no shortage of en-vogue wingers losing a foot race with a Liverpool centre-back or by our forwards turning an opposition attack into a counterpressing opportunity.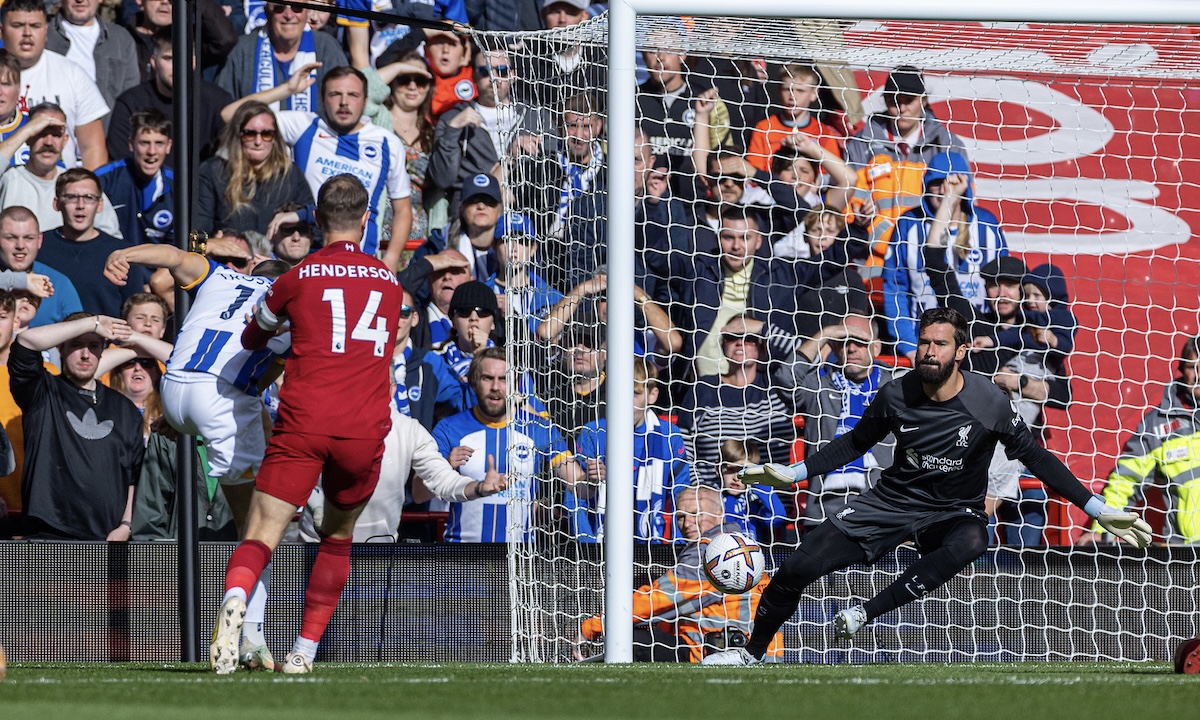 This season, the nerves have set back in. They were visible on Saturday but not allowed to emanate on Tuesday, despite the threat of it from the merest sniff of final third activity from an average Rangers.
Spion Kop 1906 rightly called for a collective rousing of the atmosphere ahead of Tuesday, but perhaps we should all take our individual temperature on what we expect from this team whenever we enter the stadium, and whether that now needs slight readjustment.
To go from expectation to hope is a difficult ask. It's much easier to be Arsenal, and in their own way Everton right now. The feeling that you're at the beginning of something offers a sense of buzz — a sense that you're Movin' On Up even if you haven't asked permission to use the song as your intro music.
To reverse engineer requires both honesty and humility. Liverpool aren't in a title race right now. They might not be this season. While the inquest has already begun in certain quarters, we shouldn't underestimate our role in all of this.
The fact is that none of this was our right. None of it was a formality. It was built on a collective belief. It must survive on its adaptability and compromise to return in a different guise.
Remember the fine margins. Remember when this was the easiest thing in the world, but remember one thing above all others the next time you're in Anfield…
They've given us everything and they need us now more than ever.
---
🗣 Arsenal v Liverpool: Pre-Match Warmup | #NewPodcast | #LFC@Ian1892T hosts @johngibbonsblog, @HarrietEPrior and @rudkin_abigail, plus Arsenal fan @soccerdiva from the @HighburySquad…

1️⃣ Download our app
2️⃣ Enjoy FREE tokens
3️⃣ Listen

📱👉https://t.co/yTcwWTZN7t👈📱 pic.twitter.com/d7ieJq3Q4z

— The Anfield Wrap (@TheAnfieldWrap) October 7, 2022
Recent Posts: