Liverpool have often been the team to strike fear into the hearts of their opponents, but they looked scared against Arsenal on Sunday…
AND I chose last week of all weeks to write a heartfelt plea to get behind our lads and walk with them through the darkness, rather than shouting at them from outside.
I encouraged you to take on their burden too and to remember just what they've done for us in the past. I took particular care to add that Trent Alexander-Arnold needs mates if Trent is to get to anything like his best form. I was 'this' close to using that prayer thing emoji.
And it was with a degree of smugness that everything came together for the Rangers game. A new formation fuelled by a new-found energy and desire. We were first to everything and ran them all over the park. Surely, we could take that fire into the Arsenal game. For 80 seconds or so.
An early goal used to infuriate Liverpool. The temerity — the bloody temerity — to put one past our keeper. YOU don't get to do that! YOU never get to do that.
And we'd respond. Three points won by fury.
Now it's just par for the course. I'm surprised they don't just put it up on the scoreboard before kick off.
Yesterday was an apology of a performance. An absolute apology. A team built on the cornerstone of structure became the chaos of jazz. By the end there was a more consistent shape from a lava lamp.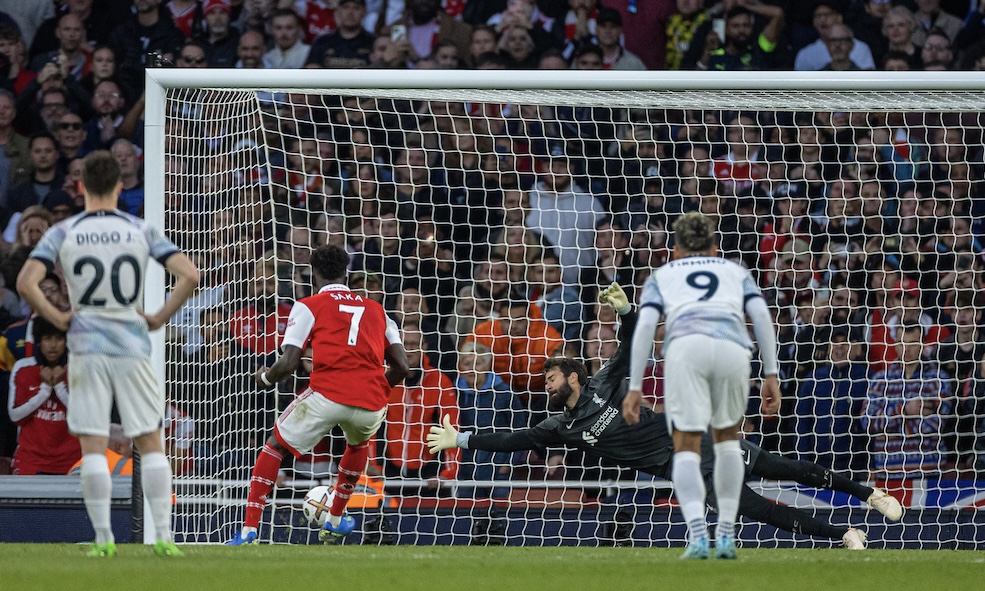 Trent, Jordan Henderson, Virgil van Dijk, Joel Matip and Thiago Alcantara. Take your pick.
And it's made worse because we see glimpses of the old days. Roberto Firmino's goal is beautiful. Diogo Jota's ball is exquisite, the finish sublime. They can still do that. Not many teams will score two goals there this season, nor will they see better goals.
And then that.
I don't know what's worse. The last minute of the first half or the slapstick defending for that stupid penalty. What are they up to there? Put your foot through it. Fuck the little cute pass out from Fabinho. Get it out and re-group. Get your shape back while they have to retrieve the ball so not everyone is running at the one lad. Nah. Let's be nice and give them it back.
There are times to be cute and there are times to be brutal. If you're playing like shite, you get rid.
I mean, it's going to come back anyway as your midfield are all playing centre back now and taking air shots while not being goalside, in front of a referee who loves a home side and a review system which changes its mind more often than the Chancellor. At least give yourself a chance to find your man and put your shape together.
What shape?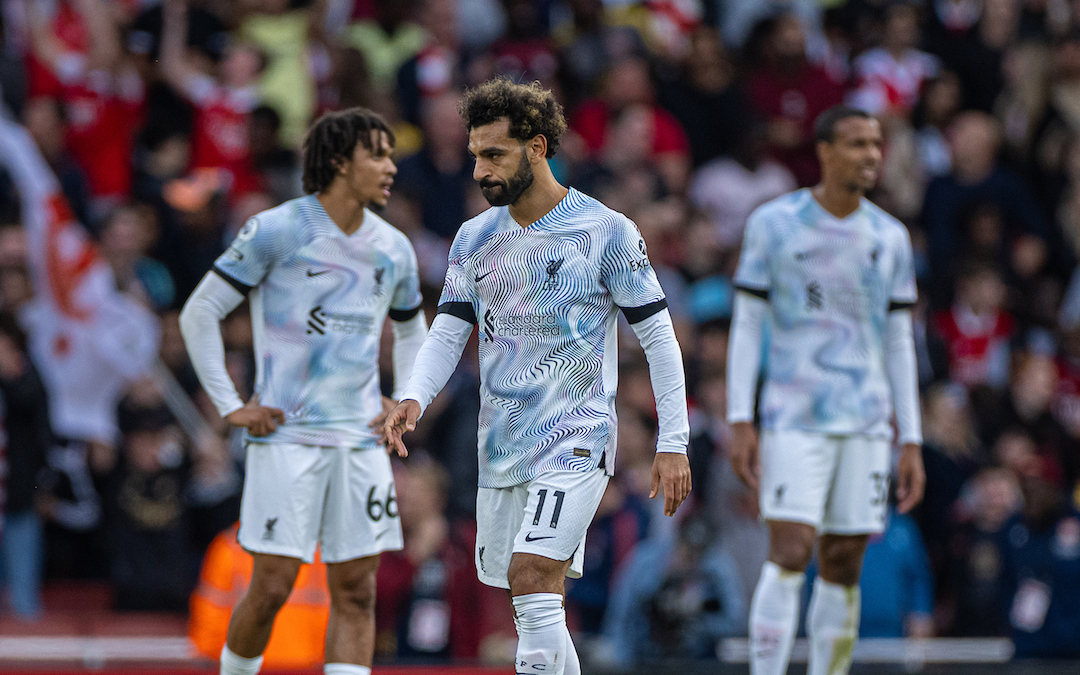 What were the subs about? You can move Mo Salah to a place where he scores goals or you can… No, let's take him off. Jota off for Harvey Elliott? One lad with a history of scoring at the ground taken off for a kid who's scored one Premier League goal against a side who let in another eight. I mean, I love Harvey but I'm also quite keen on scoring twice in 10 minutes.
There'll be people reading this saying: 'Yeah, but why don't you call out FSG?'
I do. I always do. Signing a lad with a bad injury record with 10 minutes' notice is what we used to do. We had Aquilani. We had Ben Davies — a player who had to turn up at Anfield in a different shirt for me to recognise him. What was the point of that?
And yet I still love them and fancy them to get something against Manchester City. I know, I know. A mate told me today that it'll be like playing against a team who have drafted in Robocop to play upfront, but you hope and hope and hope because football is romance. It shouldn't be. It really shouldn't be, so it can be. That's how it works.
I can forgive that side anything other than shitting it. They shat it yesterday. Royally.
And, yes, the referee was an abomination. The so-called best referee in the land who doesn't do a thing when Jordan Pickford assaults Virgil is also fine with handballs off players who are doing an impression of a scarecrow, but it only masks what was going on around him. Wrong decision after wrong decision. A team with the strategic chops of General Melchett.
Yeah, I know. Practice what you preach. Get behind them and I will. Tomorrow is another day. Tomorrow I won't be thinking about Darwin Nunez doing that 'crying' thing to the Arsenal end after his goal because we've deffo, deffo won the game now. The tit.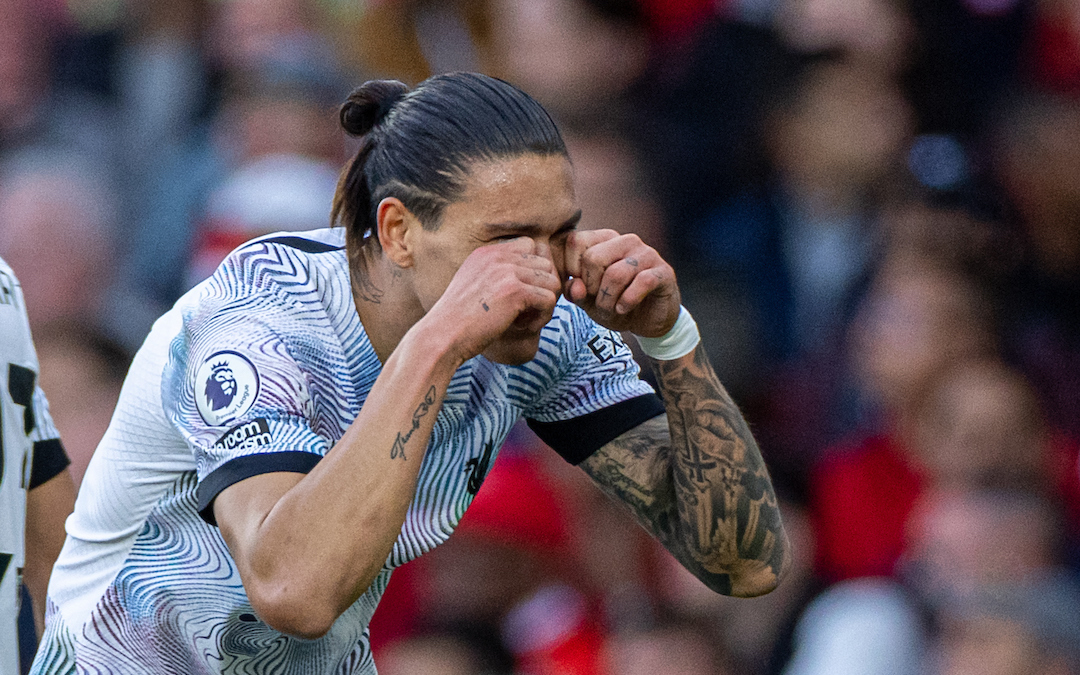 But I'm angry now. Angry because we're sleepwalking and with every new chance comes another early conceded goal and us fighting to get back into it.
Yeah, they're tired. Of course, they are. So, buy a squad to cover them. Give the manager the legs he needs. Help out a bit.
I can forgive them for anything but playing scared. Liverpool should never play scared.
Tomorrow will be different. I'll stop thinking about Trent's positioning and Nunez's lolfest and get behind the team again because it's what we do. Wednesday needs change, both in attitude and fortitude. We can still put this right.
You pay for the good times with days like this so fair enough. I just didn't expect the debt to be so big.
Onwards and upwards obviously, but for f-…
---
"Everyone seems to be dead-eyed finished against us, but that's no coincidence as we're giving teams great chances… We've pretty much had an uphill struggle in all of our games so far."

1️⃣ Download our App
2️⃣ Enjoy FREE tokens
3️⃣ Watch

📱👉https://t.co/yTcwWTZN7t👈📱 pic.twitter.com/CEgCVSwGbs

— The Anfield Wrap (@TheAnfieldWrap) October 10, 2022
Recent Posts: