Considering the psychology of a football fan, and how we're optimistic when things are bad yet pessimistic when things are good…
I'M a big fan of the Jeeves stories by P.G Wodehouse, since you asked.
If you're a stranger to them then allow me to bestow a frankly undeserved gift of a recommendation to you.
At first glance, they might read as anachronistic tales of 1920s aristocratic life. They are full of unfortunate misplaced engagements, missing cream jugs and archaic language a million miles away from our lexicon. Absolutely top ho, what? But read further and you'll be rewarded with stories and farce wrapped in a beautiful, blissful language. Wodehouse is not known as 'the Master' for nothing.
The themes are pretty simple. Bertie Wooster, the affable hero, repeatedly finds himself 'in the soup' and his valet, the austere and cold Jeeves, duly extricates him, usually by a cunning scheme or low-level bribery. Jeeves does much of his work by 'assessing the psychology of the individual.'
I love that term. The psychology of the individual.
Do fans have a collective psychological make-up? Could you guess an individual's team by their character? I think so. Many of us could spot a Chelsea fan from a thousand paces.
It might be a bit trickier to spot a Red, though. I'm not the first person to notice that ours is a support bipolar in nature — from heart-swimmingly glorious highs to nadir scraping lows in minutes, we lurch from one to the other with little in between. We do like an extreme.
A few years ago, the comedian, writer and actor Alexei Sayle hosted a BBC series about the city of Liverpool. I think even he would admit that it was part apology as he'd not been kind about the place for a while. Incidentally, he's from the Anfield area, but I'm not getting into that again.
"Anfield has not recovered. The city has, as have The Reds, but the area around the ground has not.

"It remains as deprived and unloved as it did back in the day."

✍️ @TheCenci's column…

Get our app 👉 https://t.co/vk8bEKLKiK
Read here 👇https://t.co/YPazUdkyIg

— The Anfield Wrap (@TheAnfieldWrap) July 13, 2022
In the final episode he summed up the Scouse DNA perfectly when he argued that we have a habit of being optimistic in the face of adversity and pessimistic when everything seems rosy. Of course, that could be true of any city but it's certainly a truism for us.
I've often heard 'come on, it's not that bad' when it really is and, on the other side of the coin, will never forget a mate texting me 'it won't be enough, will it' as I strode buoyantly out of Anfield after beating Italian champions Juventus 2-1 in 2005. The contrary view is always close to hand.
I think that's also a trait of the wider support, Scouse or not.
There's a firm case that this may be the greatest Liverpool side in our history. Trophies are expected rather than dreamed about now. Two per season seems to be a reasonable expectation. Pundits went so far to say that The Reds had failed for just bringing in the two domestic trophies.
This is only a few short years from a time when every May would be concerned with 'the battle for top four.' Imagine being happy with just fourth place now. You'd be laughed out of the room.
And yet.
That glory comes with worry. There are already concerns about Darwin Nunez and he hasn't even been here long enough to know where the toilets are yet. Others are convinced that a lack of midfield signing coupled with Manchester City and Chelsea spending like drunken soldiers points the way to the end of the Jurgen Klopp years.
This is hardly news. Mere weeks after our sixth European Cup there were people giving the club the skunk eye for not strengthening the squad. I know. I was one of them. 'Why aren't we consolidating from this lofty position?' You know what happened next. We would win the following league at a canter. An absolute canter.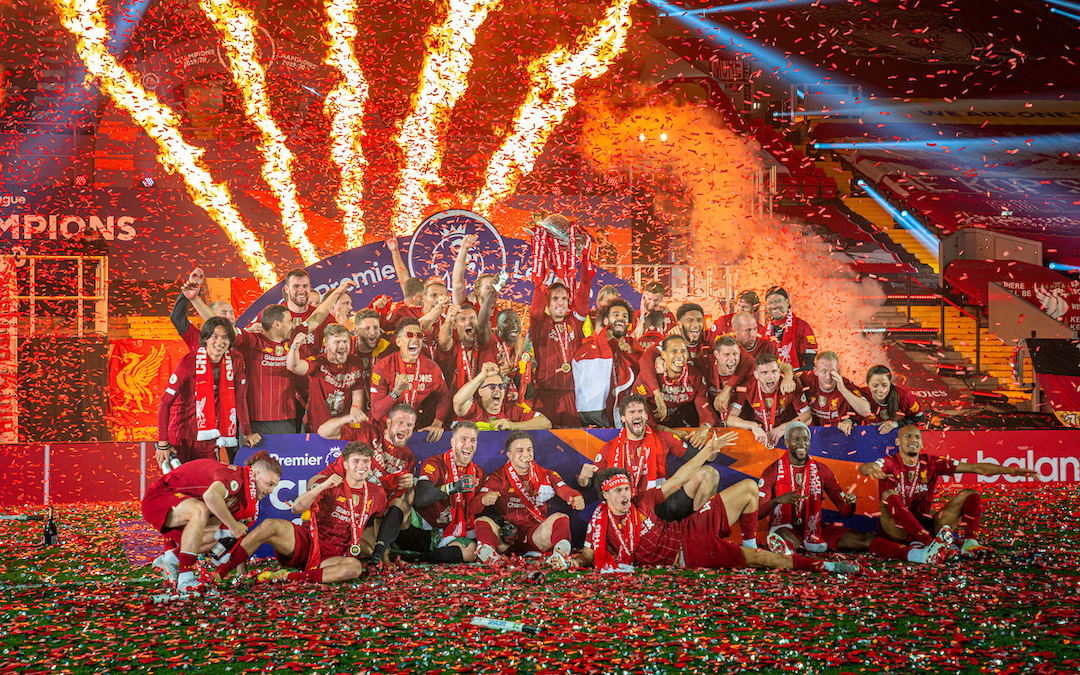 I get the cynicism and I get the worry, but there's a danger with hearing everything as a trumpet of doom. Football is cyclical.
Older Reds will remember being nervous of Forest when they started taking our titles. Then came Everton who we shared the world with in the mid-80s. Get in a TARDIS and ask any Red when they think Manchester United will stop winning league after league and you'd receive only grumble and expletives. Dark, dark days.
There'll be a day when Liverpool sink again. That's a view based on experience rather than pessimism as that's how these things go, so I beg anyone not to listen to their darker angels. Enjoy this. Enjoy every minute of this, because one day there might be a worry that you didn't paint it black.
In 1990 as The Reds left the pitch with their 18th league title with a vanquished QPR behind them, I never thought it'd be the last one for 30 summers. The times I've wanted to go back and savour it. League titles weren't a rarity then.
Ultimately, we're all in for different reasons. For some it's for the match itself, others love individual players over the squad and, let's face it, some like the bragging rights without investing full-time into the whole ethos. I know an awful lot of United fans who aren't quite as keen with them as they were in the 1990s. Sometimes it's only the desolation on Mick Hucknall's face that keeps me going.
The psychology of the individual? I can see why some people loathe us and often wonder if I would were I not a child of the city. We can be smug, we can be overbearing and, yes, unbearable. The support can be overwhelming and I'm proud of that. We can be loyal, honest (despite the tired stereotype) and vocal.
But we can be cynical when we're in the shape of our lives and over-zealous when we're a bit shit.
I'm not sure I'd have it any other way. I'm not sure I have a choice.
---
Recent Posts: