Steven Gerrard left huge shoes to fill as Liverpool captain, but Jordan Henderson has managed to carve out his own legacy with the armband…
LET'S talk about the captain.
The success of any career move is usually measured on that of the predecessor. Anyone with half a brain could see that David Moyes would be a nightmare for United fans. He wasn't and isn't Alex Ferguson and though that wasn't entirely his fault, how the hell could he live up to the billing? What were they thinking?
This is true of bands too. The Undertones, Queen and Marillion all replaced their lead singers when the originals left or died. They all lost favour as a result despite being perfectly fine. I loved one of those bands though was never keen on the other two. I might see one of them live later in the year but the lack of a main singer puts me off.
How do you replace someone who meant the world to a fanbase?
"Hi Jordan. Take a seat."
How do you take the armband from Steven Gerrard? Younger fans may look back at Stevie's career with a frown — there's no League title there — but there was a time when the club's entire fortunes, both on and off the pitch, waxed and waned with his performances and moods.
Already a Treble winner at the age of 20, his European Cup and FA Cup wins of 2005 and 2006 are merely an addendum to what he did in the dressing room and around the club. He was the culture. Only recently Peter Crouch told TV viewers that his levels rose significantly at his time at Anfield simply because of what his captain expected. Steven Gerrard was a Liverpool captain in every sense.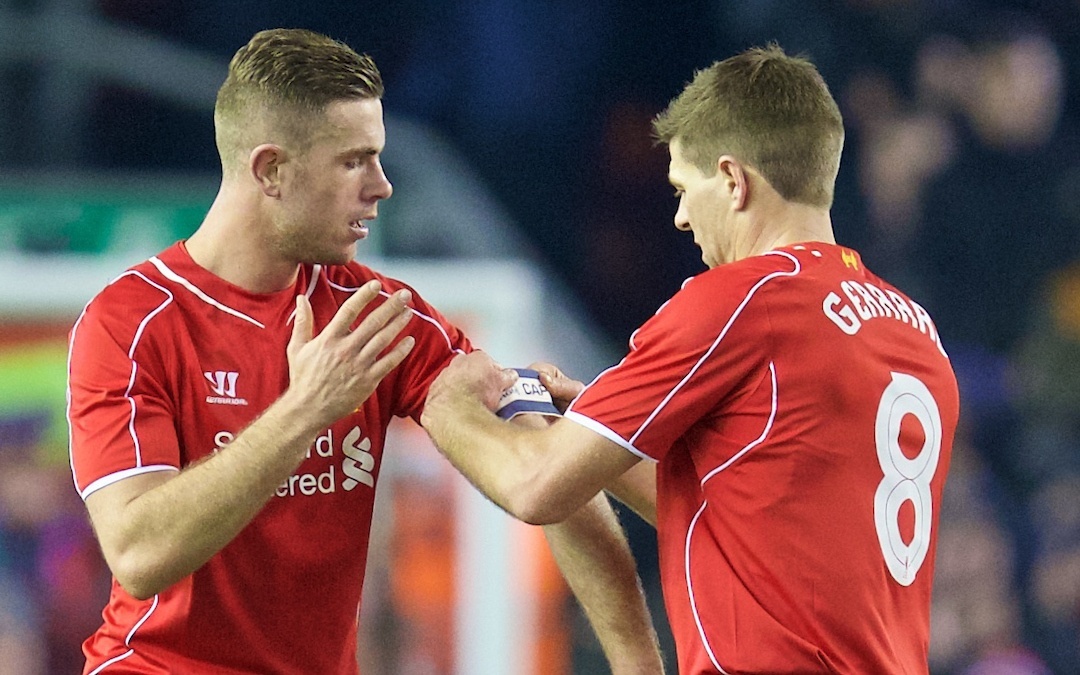 "It's about the captaincy vacancy."
But how do you fill those boots? How do you live up to that man's achievements, never mind surpass them?
Before the trophies began to fall around Jordan's ears, there were many who would look elsewhere for the skipper of choice.
Maybe at the statesmanlike James Milner or the no-nonsense granite of Virgil van Dijk and wonder how the quiet Mackem could be in charge. After all, he'd already lost the England captaincy to a man who seems to communicate solely in vowels, and people outside of the club wondered if we should be looking at other options too.
Outside the club maybe but never inside the walls of Anfield and Kirkby. The love and respect from his teammates and managerial team shine through with every interview and it's not just his own side he helps. His thoughtfulness to Mason Mount after the game spoke volumes of the man.
He's loved at Liverpool. Maybe his doubters just needed him to lift more trophies.
And he's just done that. The lot. Everything worthwhile is in the cabinet. As Ben Johnson pointed out in The Anfield Wrap's match ratings on Saturday, we might have to be a bit shite for a bit so he can bring in the UEFA Cup to complete the set. It's a shame the Simod Cup isn't a thing anymore.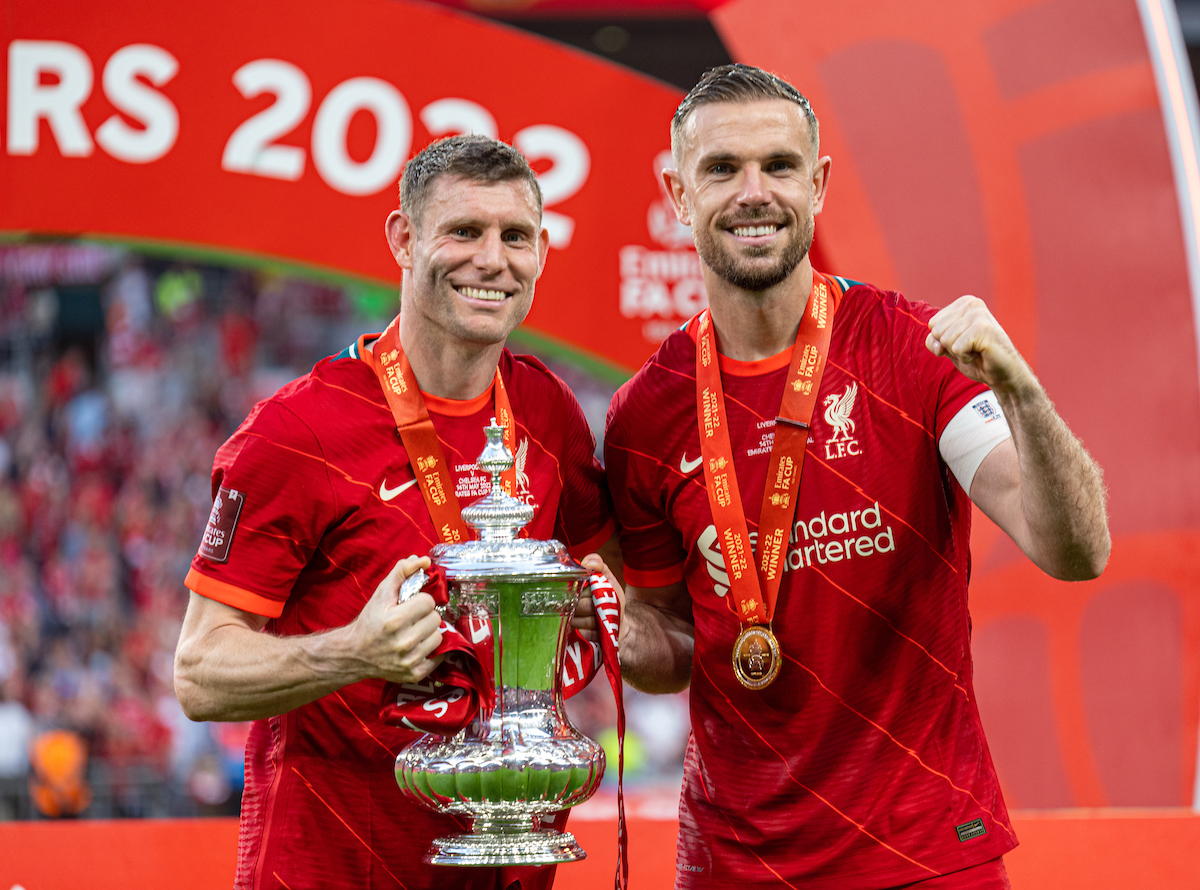 Our last two captains have won the European Cup. That's insane.
Only two former Reds have lifted all of the main trophies as captain. Not many people thought that Jordan's name would be spoken of in the same terms as Emlyn Hughes and Graeme Souness, but that's what he's done and what he's deserved. That's what his manager has seen in him and trusted him to carry it out.
It's true for all of them. These lads have joined the elite of yesteryear. The highs of my youth are now the highs of yours and I love that.
What this isn't, however, is a criticism of Steven Gerrard's captaincy and I'd hate this to be interpreted as such. I loved him as a player and captain. He had Gerard Houllier, Rafa Benitez and Kenny Dalglish to guide him, (he was too much of his own man come Brendan Rodgers) but he didn't have Jurgen Klopp. I wonder if they both regret that.
And, in any case, Steven has one more captain's role to perform. One more gargantuan task to perform for his old mates on The Kop. One last miracle. After all, it was City who benefited from his infamous slip and not Chelsea, as the knuckle-dragging scrotes who yelled it in our faces on the Tube on Saturday believed.
(You finished third, lads, and gave someone else you don't like the title. Well done.)
I'm sure he's got a bit of unfinished business there. Ideally, I'd like him to get a result, wander up to their fans and slide across the penalty area in front of them before collapsing into a heap. I don't think the Villa faithful would be too pleased with that, which is all the more reason to do it.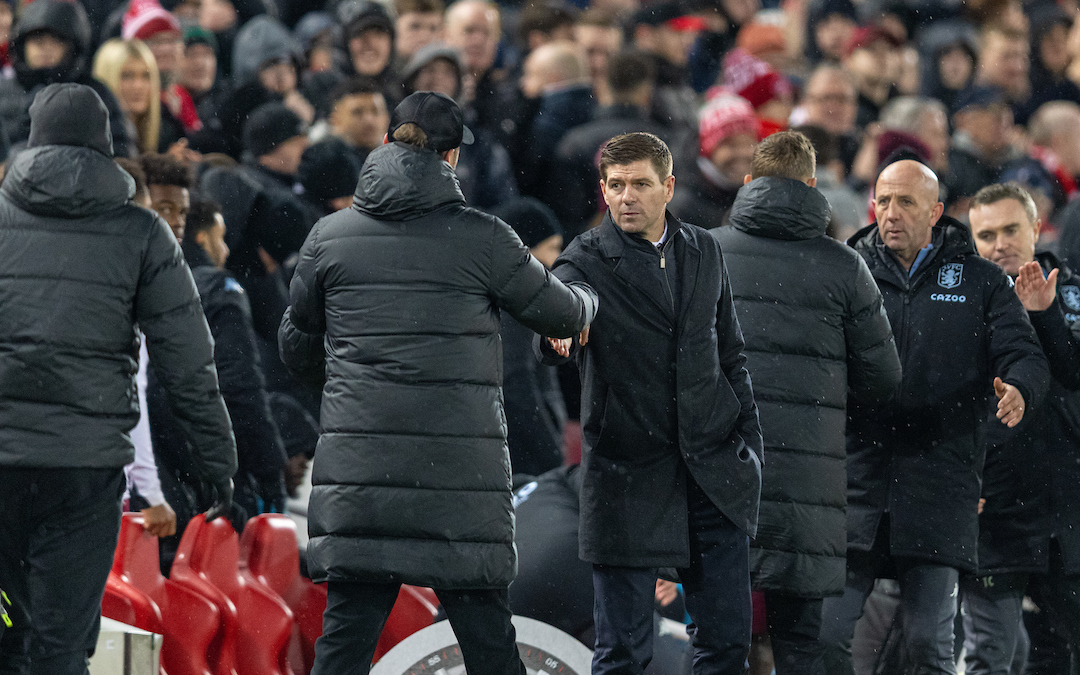 But back to our lads. What a team this is. What a shift they put in for us. Tiredness means nothing, injuries less. No Mo Salah and Virgil van Dijk for a large part of the game? No problem. Here's the backup left back with a shark infatuation. He'll sort this.
I wonder how they keep calm. I wonder how they remember every piece of information and strategies in their head.
My mate made a great point at Wembley. Look at our lads taking the pens. After that long lonely walk to the area from the centre circle with Mendy wasting time when he didn't have to, they were never alone. Alisson greeted them all, gave them the ball and had a chat. It seemed to relax them.
Every tiny element is planned. Everything that gains the slightest advantage is calculated and instilled into the match instructions.
The captain is part of that. A word here, a yell there. Despite all this, he's still not appreciated enough in the wider context of the game. He's not a barking Roy Keane or a silent body of advice like Vincent Kompany, but he's perfect for these circumstances and this set of lads. We're really seeing that now. Really seeing it.
Two down, two to go. One seems trickier than the other, but they've left us with a chance and you can't do that with this team. They might fall short but they're scaring the hell out of a team who should have it done by now.
Jesus, how great is all this?
---
Recent Posts: