Roberto Firmino's contribution against S.L. Benfica in the Champions League showed his enduring importance to Jurgen Klopp's Liverpool…
"THERE'S something that The Kop want you to know, best in the world is Bobby Firmino."
It has been the soundtrack of recent seasons and a fitting ode for a player who best defines the Jurgen Klopp era.
He is the conductor. The orchestrator. The tireless runner that ignites the press. For so long he has been Liverpool's greatest constant. The team's beating heart and an embodiment of the system. There are times where it's felt like he is the system. No other player has made more appearances for the club under Klopp than him.
Recently however, he has increasingly found himself on the outside looking in, falling down the pecking order from a guaranteed starter to a more peripheral figure given the depth at Klopp's disposal. And yet, while his role has changed considerably, he remains an integral piece of the puzzle.
They say that form is temporary, class is permanent, and Roberto Firmino is a class act.
He goes against every stereotype of the typical number nine role: more defender than he is striker, creator than he is finisher, but with the flair synonymous of any Brazilian.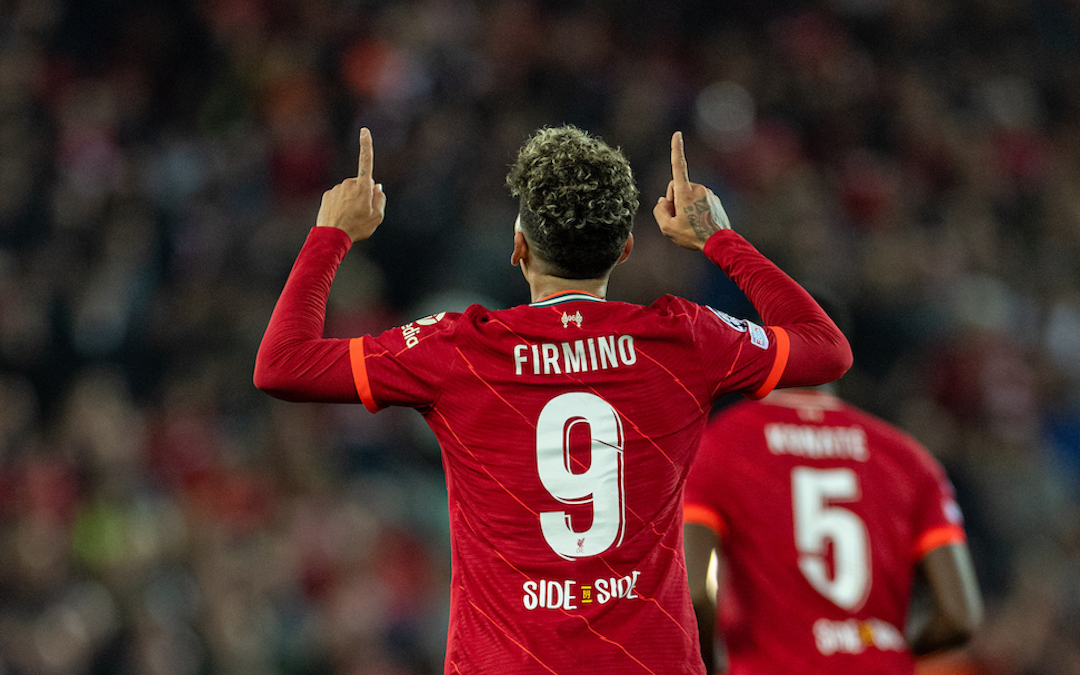 He hasn't always received the wider plaudits his performances have deserved, but everyone associated with the club knows his worth. There's a reason he is often thrown in for the big games.
Even this season, despite making only a handful of starts, he has contributed heavily to the cause. He was instrumental in the 5-0 win at Old Trafford, changed the game against Manchester City and did so again last night.
Indeed, if ever there was a night that underlined his continued importance to Liverpool Football Club, this was it.
His first, a well taken finish from Diogo Jota's cross, was key in providing the necessary breathing room before an immaculate volley from Kostas Tsimikas' freekick ensured the perfect end to a brilliant performance — his 10th goal of the season and his 98th for the club.
He is only the fourth Liverpool player after Steven Gerrard, Mohamed Salah and Sadio Mane to score 20 goals in the Champions League while his overall European goal involvements at Anfield (21) is the most of any player under Klopp.
Those are strong stats for any player and yet Firmino is one who has never been defined by his ability to put the ball in the back of the net. What he does for Liverpool is so much more than that.
Klopp described him as "the best offensive defender I ever saw in my life". It's his work rate out of possession and technical awareness and technique in possession that make him so special. He is not a player who relies on pace, but one whose tactical intelligence and flexibility make him such a valuable asset.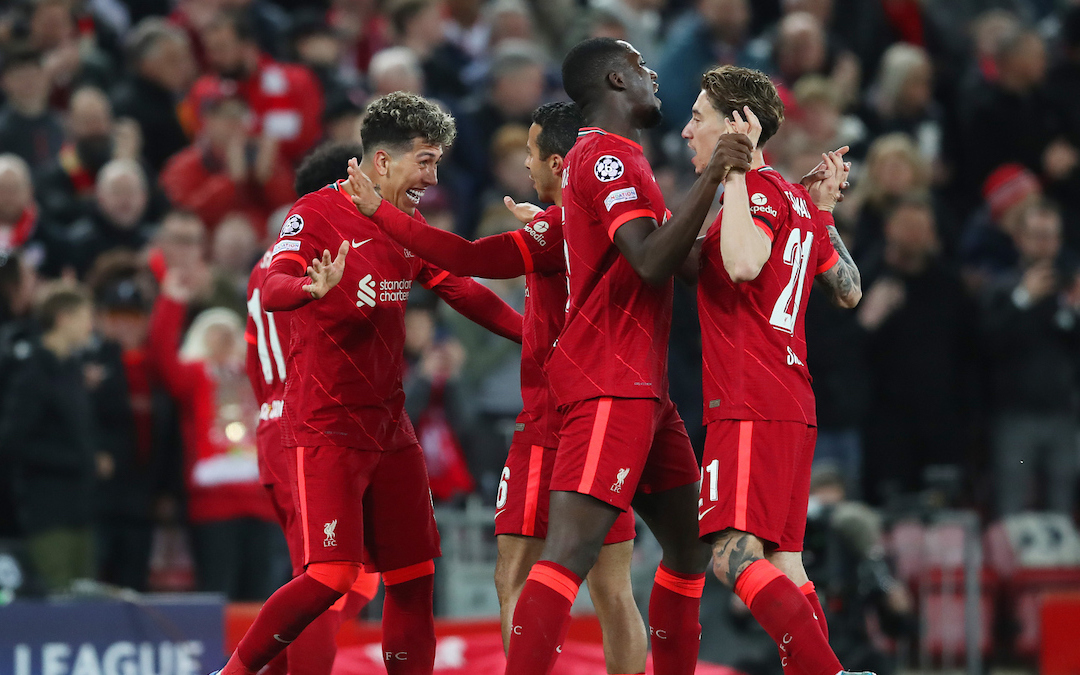 Firmino knows when to pass, when to shoot and when to take on his man. He makes the right decisions at the right time and has proved decisive time and time again. Even when he's not on the scoresheet himself his impact is clear.
For all the ruthlessness Jota has shown and the instant impact Luis Diaz has made, the Brazilian continues to offer Liverpool something different. He links the play, drags centre-backs out of position and is superb at creating space for others. He plays a role no-one else can.
It is his movement, intelligence and general reading of the game that makes him so special. He's skilful, deft and deadly – all the things you want him to be. He is the reason why Mane and Salah have been able to score so often. The right man in the right system and the player that best defines the Klopp era.
Whether he remains at Liverpool beyond the season remains to be seen, but his performance last night was a timely reminder of what he can offer. While he can no longer expect to start every game, he's more than capable of making an impact and could yet play a decisive role this season.
A serial entertainer, a player with outstanding awareness and ability, a genuine joy to watch. He is one of my favourite Liverpool players in modern times.
To our number nine. Our dazzling Brazilian.
---
"You can't talk about Firmino enough. He has been at centre of everything that has been brilliant about this club since 2015 and my god, he's got more in him."

🎥 Post Match Pint

1️⃣ Download our app
2️⃣ Enjoy FREE tokens
3️⃣ Access this video

📱👉https://t.co/yTcwWTZN7t👈📱 pic.twitter.com/5Au3yjC7bF

— The Anfield Wrap (@TheAnfieldWrap) April 14, 2022
Recent Posts: