Liverpool were much improved from their last meeting with Manchester City, and their last Wembley semi final, and it showed this time round…
EVERYTHING looks rosier when the sun's out.
London does summer very well and Liverpool does summer extremely well. I've no evidence to support this, but I'm certain there are parts of Ulaanbaatar which positively shimmer with a golden hue when it's sunny.
And Wembley looked great. Oh, don't get me wrong, it's a horrendous edifice, a huge white elephant of corporate advertising wrapped in long dead history. But whack a bit of sun on it and it really holds its own.
Add thousands of Reds to it and it's transformed further to something new. It may have been a 3.30pm kick off but it suddenly became a night out. One of those nights. The ones where you somehow know everyone in the room and you can't stop smiling
It was during the minute's silence where the mood changed. I'm writing this on the way home just hours after Jurgen Klopp's final fist pumps to our end, but so far I've read a ton of excuses. It was only a handful of fans, that they'd only just got in and didn't realise what it was and that they didn't know it was coming anyway.
I get that defence. The natural response when you suddenly find yourself with your trousers down in public is to quickly make something up. It doesn't add up anyway. If you'd walked into the ground singing, you'd stop when you noticed the tone of the place and that the players were all gathered around the centre circle.
Well done to the Manchester City fans who acknowledged it and apologised. It's not always easy to do that.
I'm not arsed anyway, really. Seriously, though I wonder what the FA were up to putting it on there when there had already been a silence at the Benfica game and they knew about the relationship between the cities. That said, the FA are the worst organisation to set a barometer of taste when it comes to Hillsborough. They started it.
The mood changed, but it just added to our determination and made what came even more pleasant. Sure, injury time was tense but I wouldn't change that or their second half goals for their world. I like that they had a bit of hope. Wasted hope hurts more than a hammering.
That's what you get for doing that. Just disdain and the game done and dusted in 45 minutes.
But it's easy to mock from a position of power. It'd be too simple to pour scorn on their big flag and though I smirked at the time, the game shouldn't have been played there anyway. People can be forgiven for saving their pennies these days. I've no truck with their empty seats.
But doing that over the silence. You're getting it for that and got it they did. The Reds were imperious. The midfield was a mixture of graft plus art. City couldn't settle. No. City weren't allowed to settle.
I love it when a manager makes a mistake and rectifies it. It shows humility rather than pig-headedness in the face of overwhelming evidence that they've ballsed up. Last week we were too passive and allowed City to get into our faces. We held on but there were moments when we looked lost, or worse, dejected.
At Wembley, Jurgen's Reds snapped into everything. He used the crowd — and what a crowd that was — and asked City the same questions they posed us a week earlier.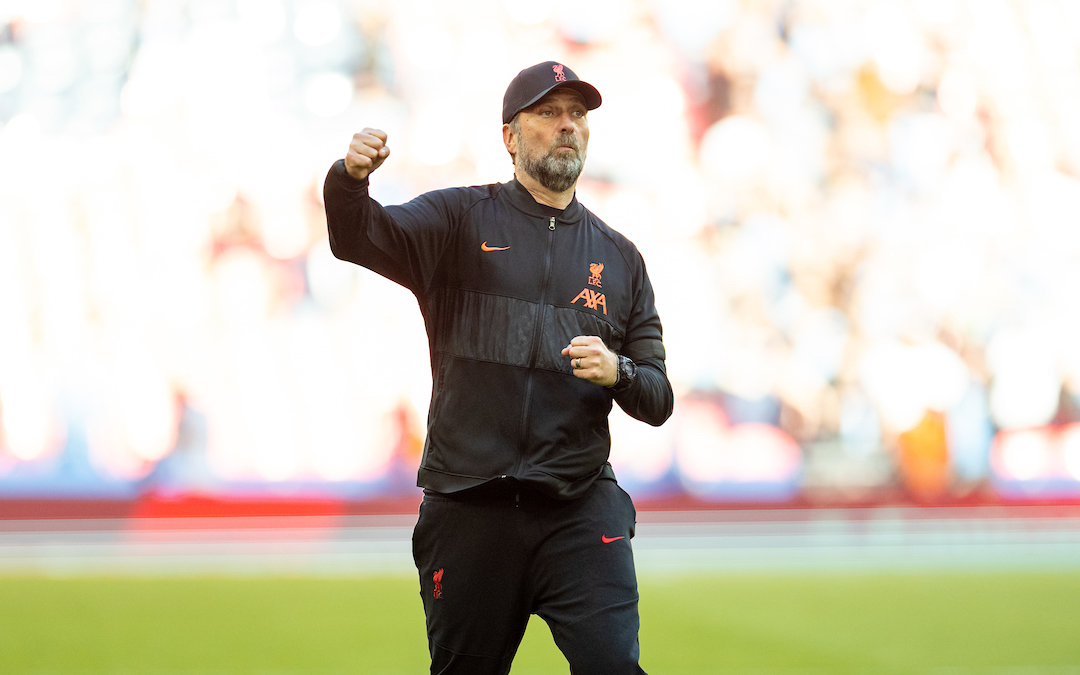 Liverpool beat Manchester City. That's something. It should have been 3-0 but most people knew a clean sheet against them was always going to be difficult. Yes, Liverpool beat Manchester City. That's a hell of a statement in this day and age. We might have to beat them again before the season is over.
Eleven games to go in all this. Villarreal won't be easy and should never be overlooked, but it could be a three-final season. I'm trying not to think about that just now, but what can you do? We're all having silent moments, staring at calendars and dreaming. This side and their manager have done that. I'm in love with them and I feel fine.
We can look back and see how far we've come. Before the game my mates and I were trying to work out how many of the previous semi finals we'd been to down the years. Being seasoned campaigners, we had them all boxed off going back to 1979, but it was the 2015 Villa game that made us grimace the most.
One lad said that as he left Wembley that day, he seriously thought that it was the end of Liverpool as a major football power. He wasn't alone in that view. Beaten by a side pleading with the rest of the league for relegation. They came and battered us.
That was eight years ago. It seems like 10 minutes now. From Brendan's final days to contemplating a trophy haul you only see in computer games. That's how far we've come.
And that's not to blame Brendan, though I was happy to at the final whistle that day. The club just weren't good enough back then and even though we could hardly have guessed at what was to come, neither were the players. It's funny how you can sing about them being world class and then you see the real thing a few years later.
This Liverpool have powered up in every single department since those days. Upgrade upon upgrade. From crawling off at Villa to leading possibly the best club in the world 3-0 at half time on the way to a possible quadruple.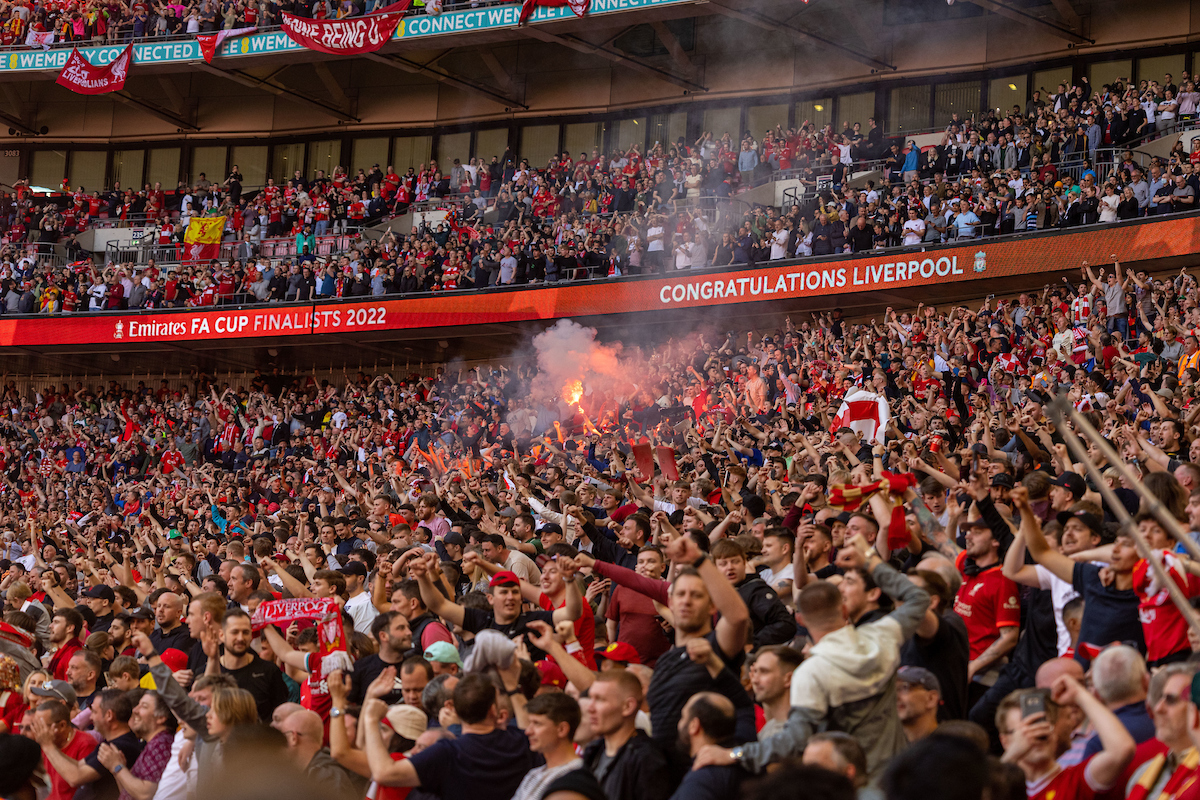 And it's a squad now. For too long this club have entered May with a bunch of kids on the bench. Nowadays, our seventh-choice midfielder has contributed to more goals than City's £100,000,000 player. Grealish has appeared in nine more games than Taki Minamino too. Elsewhere, Ibou Konate has scored more goals than Mo Salah in the past month. It's madness time.
Gone are the days when Reds would frown at a team selection. I'll admit I thought that Roberto Firmino could have been useful as he could drop into midfield and help in a part of the pitch where we struggled last week, but I made my peace with it immediately.
Jurgen doesn't often get it wrong but he'll always change it when he does. All great managers recognise their infallibility. It's only the shite ones that blame everyone except themselves.
And next it's Manchester United under the lights. That's been relegated to a minor fixture now or at least it's more about points rather than rivalry. We'll treat them like they were City and Bayern rolled into one. Beating us would make their season and we must guard against that.
These times are tense but I hope you're enjoying them. If you were at the game, you'd know it's impossible not to.
Eleven to go.
---
"The narrative's changed now that we've beaten City. Even when they were at their best last week, we still got the draw. Liverpool are just in gear right now."

🎥 Post Match Pint

1️⃣ Download our app
2️⃣ Enjoy FREE tokens
3️⃣ Access this video

👉 https://t.co/yTcwWTZN7t pic.twitter.com/rfpB1DHcs4

— The Anfield Wrap (@TheAnfieldWrap) April 17, 2022
Recent Posts: