Although Liverpool v Manchester City doesn't have the off-pitch hallmarks of a big rivalry, on the pitch they are setting new standards…
SUNDAY'S title showdown against Manchester City was simultaneously impossible to predict and entirely predictable in its conclusion.
A game that had been talked up since the turn of the year, Liverpool's visit to the Etihad represented a culmination of a battle that has been heating up since the 2018-19 season.
With two of the best managers leading two of the best teams in world football, there was always going to be a lot to live up to.
The game was both breathless and breathtaking in equal measure, and succeeded in delivering everything it promised and more: goals, close calls, controversial VAR decisions, shots hitting the post, and some very nervy moments for both sides.
It had everything, that is, except the needle that fans have come to expect between bitter rivals. When Jamie Carragher wrote last week that the rivalry between Liverpool and Manchester City is the greatest in the history of English football, he was met with plenty of backlash.
Virgil van Dijk and Kevin De Bruyne approaching each other for a chat after the final whistle was used as ammunition for those arguing that this isn't a proper rivalry whatsoever. Any sense of dislike between the sets of players was seemingly forgotten at full time.
"Private is private. You don't have to fight all the time. We battle on the pitch and that is it," said De Bruyne.
Despite numerous attempts by media outlets to get a soundbite out of Pep Guardiola or Jurgen Klopp, both managers could not not have been more complimentary of one another. Klopp referred to Guardiola as the best manager in the world, while the City manager constantly admits that Liverpool are the only team capable of challenging them.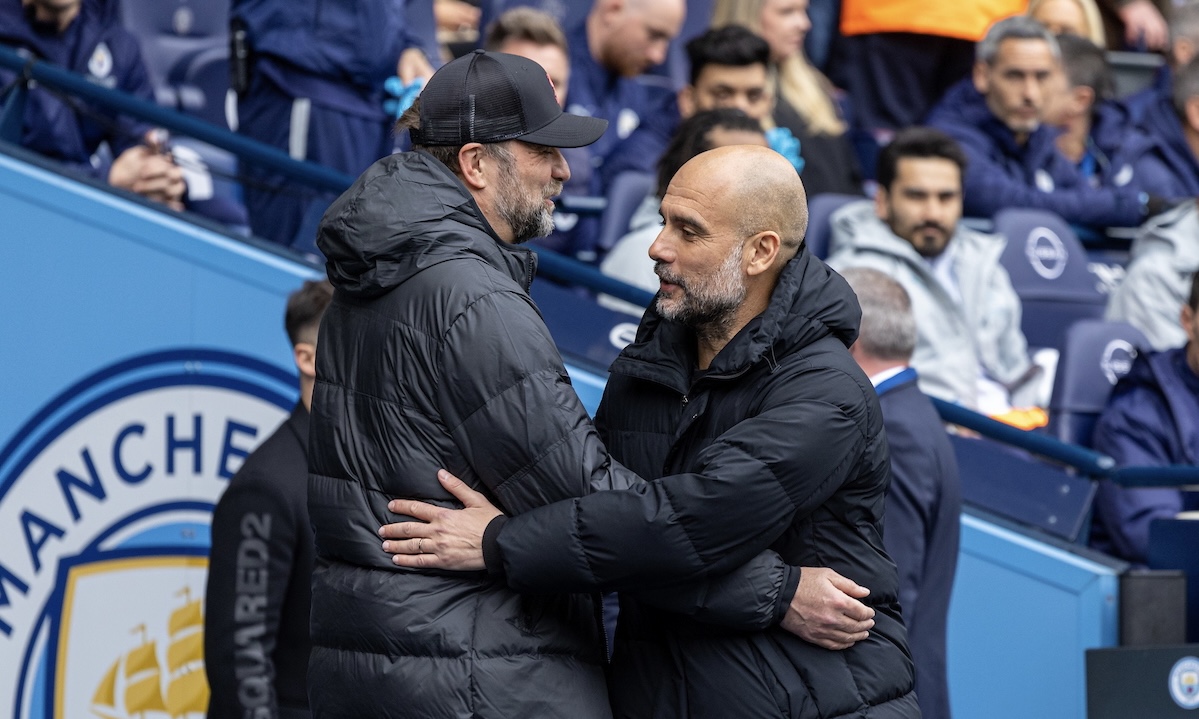 Mind games, or simply a mutual level of respect?
Cue headlines suggesting the relationship is too friendly and comparisons to the other classic rivalries in world football.
Perhaps, though, Liverpool v Manchester City marks the making of a modern rivalry: one that doesn't stretch back decades and isn't bound by political, historical or religious context, but rather where the talking is done on the pitch rather than off it.
In the past 144 games, just a single point separates the two teams. No other team comes close, with Chelsea 73 points behind in third. The levels they have pushed each other to is genuinely astounding, and Sunday was no different. If anyone other than the neutral really claimed to enjoy it, I'd suggest that they were telling a half truth.
It was clear both sets of players could sense this was a big game in which they needed to be at their best. Ironically, that had an adverse effect on many, with Trent Alexander-Arnold admitting in "one of the biggest games in Premier League history," there is bound to be nerves.
Ederson coming close to letting the ball in his own net and calm as you like Van Dijk letting a few passes go wayward are notable examples, but every player without exception let the pressure get to them on the day. At half time, defeat for Liverpool looked like the most likely conclusion.
However, the players came out for the second half knowing it was time to raise their game. For all the talk of Mo Salah's recent form, he showed why he is so crucial to the system even when not scoring from open play. His pass to Sadio Mane for the goal left me in awe, and his hard work off the ball showed his determination to come away with a win.
Other players followed suit, battling hard for loose balls and playing with more precision. A team expertly drilled in possession taking on a team exceptional off the ball resulted in a relentless game that offered scarce opportunities to breathe.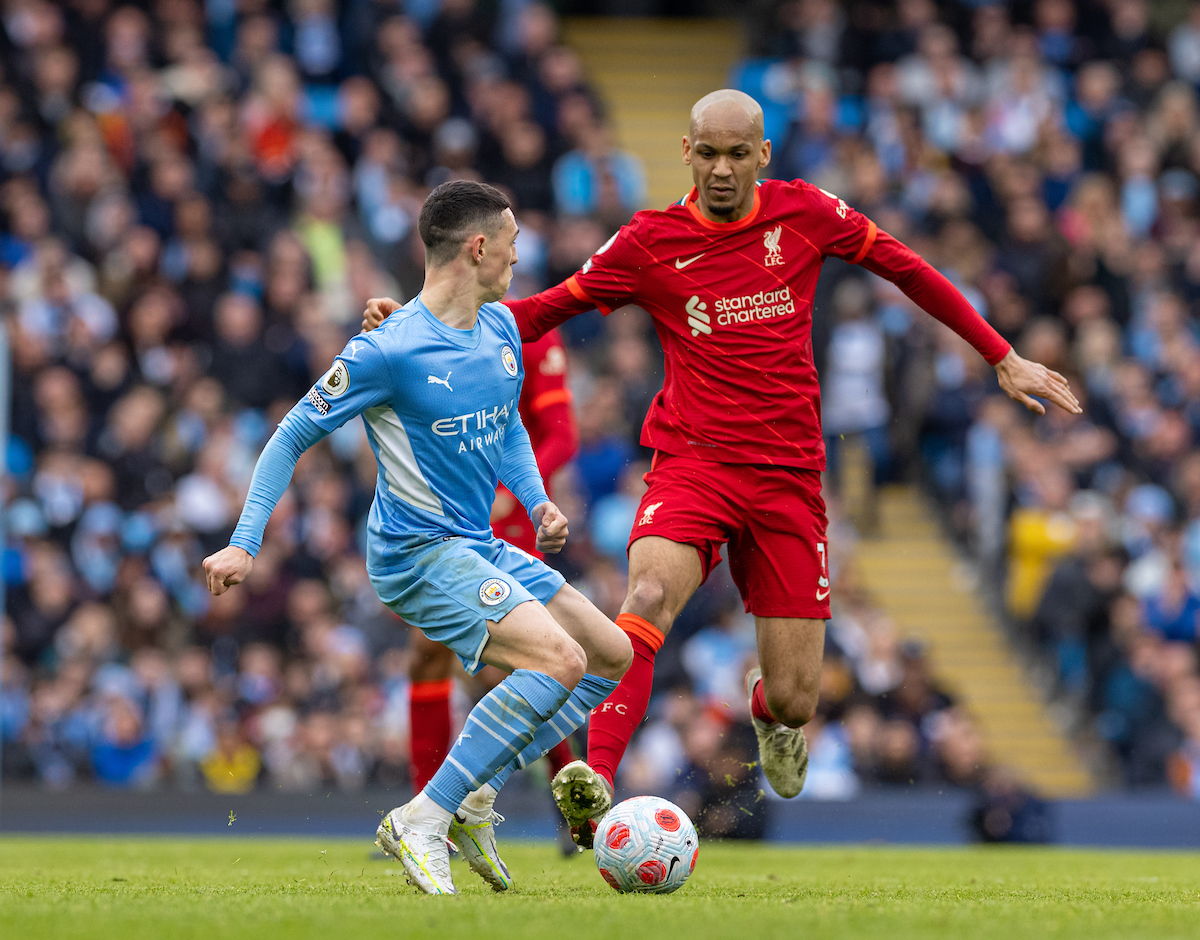 The high lines played by both teams allowed players to find pockets of space, but ultimately there was little to separate Manchester City and Liverpool at the end of the 90 minutes. The hosts will come away thinking they deserved more, but then again we felt the same at Anfield.
Separation by the finest of margins epitomises exactly what this modern rivalry is all about: two teams matching each other for quality across the pitch. One deflection, one offside, and just one point was the difference between the two.
"You now all know why I said this is the best rivalry we've ever had," tweeted Carragher after the game. Sure, it might not compare to the classic rivalries Liverpool hold with Manchester United and Everton, but it is undeniably one that has defined the past few years of English and European football.
A trip to Wembley awaits this weekend, and if Sunday was a warmup for the Champions League final, then god help us all come May 28 in Paris.
"Jurgen said to me you know, we'll win the Premier League you know, he said so."
It may no longer be in our hands, but with the manager's admission that "we will not stop chasing," there is a real sense that this could go until the final day.
Toe to toe with seven games to go. And so the makings of a modern rivalry continues.
---
"The courage and strength of character from this Liverpool is what separates them from sides of the past. They knew they could still come back into the game."

🎙 The Anfield Wrap Free Podcast

Listen for FREE 👉 https://t.co/qYTdLAFfC5
Watch 👉 https://t.co/W4QCFIKSJE pic.twitter.com/iLjRb7snx8

— The Anfield Wrap (@TheAnfieldWrap) April 12, 2022
Recent Posts: