After two years out of the Women's Super League, Liverpool FC Women will be back next season and this team of champions should be celebrated…
THIS was two years in the making.
Two years of hard work, graft and togetherness.
No repeats of the frustrations of last season, no agonisingly close finish.
Bar defeat on the opening day, Liverpool have been dominant from start to finish. There was no clear competitor in sight.
Piece by piece, game by game, Matt Beard has galvanised the team and its supporters, constructing a relentless juggernaut, one with their foot firmly on the throttle and one major goal in sight. Not only have they achieved what they set out to do, they've done so with a ridiculous level of dominance and consistency.
Nineteen games unbeaten, 48 goals scored, just eight conceded.
This is a team enjoying their football again, and they themselves are a team to be enjoyed. It is a team immersed in the thrill, one with a refusal to lie down and accept when it's beaten. The best Liverpool Women's team since 2018-19.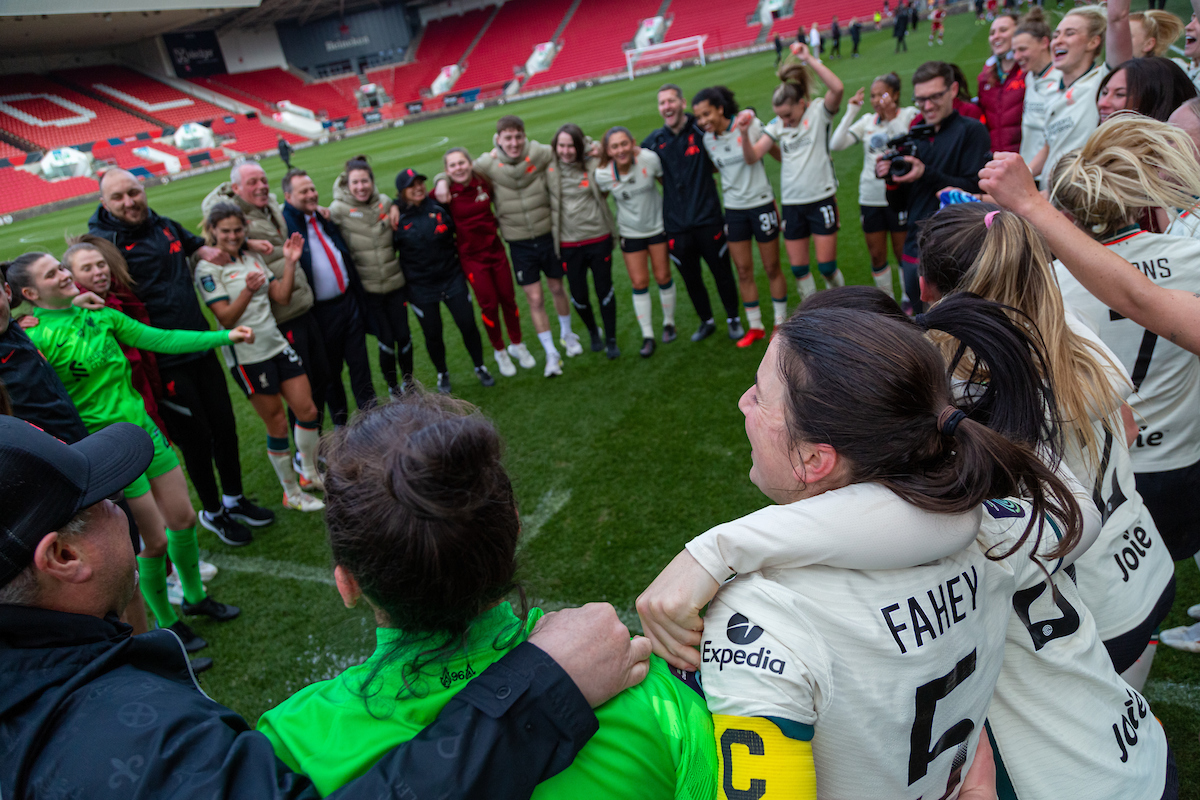 Bask in it. Enjoy it. Drink it in.
Liverpool Women. Back in the WSL. Back where they belong.
There have been so many performances to enjoy along the way.
The mentality shown against Crystal Palace. The patience and persistence to find a way against Watford. The 2-0 away win at Durham that laid down a marker for what was to come, followed by the 3-0 home rout when every piece of the puzzle aligned and the path to promotion became crystal clear.
That in a season full of title-winning displays Liverpool put on a show against their closest rivals to seal the deal in Bristol is testament to how far they've come in such a short space of time.
The first half was a battle. Bristol made it so. Niamh Fahey opened the scoring and was as colossal as she has been all season, before Aggie Beever-Jones's equaliser less than a minute later served a reminder of the fine margins at play.
Step up Meg Campbell.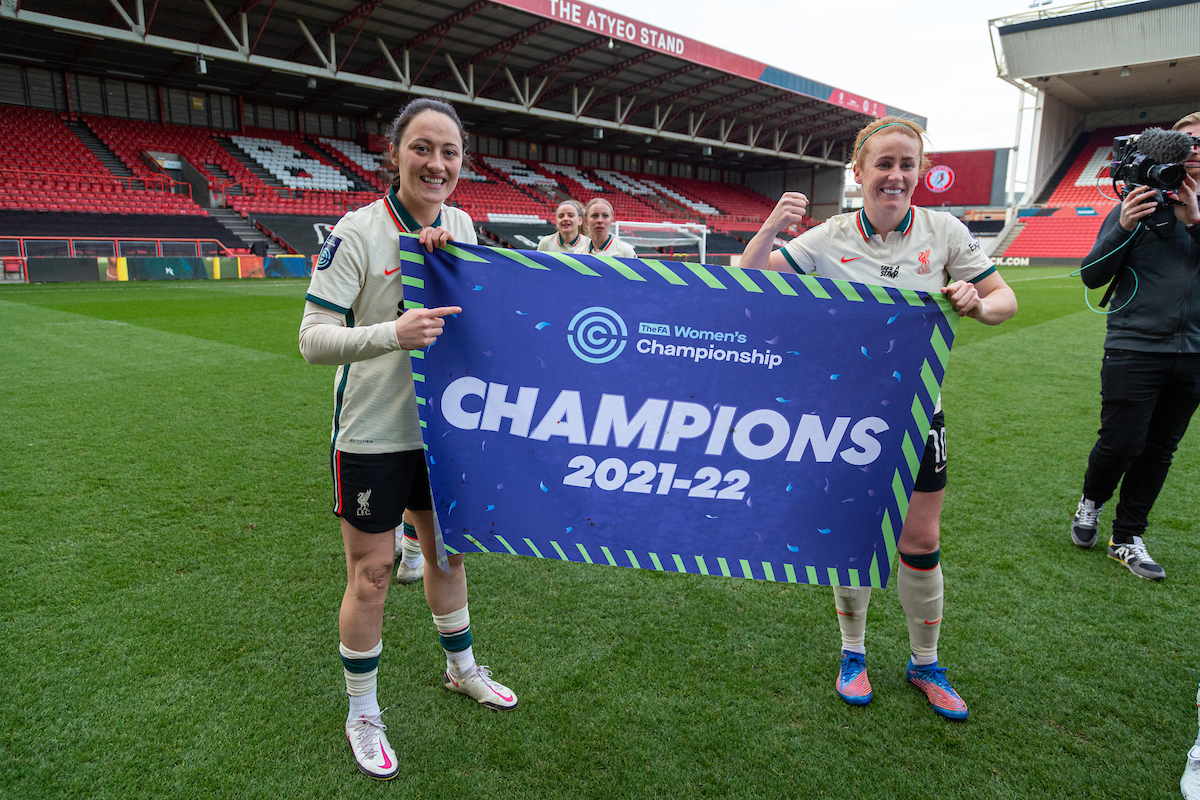 If you've not had the pleasure of watching her throw-ins yet, you're missing out. Rory Delap pales in comparison.
Liverpool's not-so-secret weapon was heavily involved, causing havoc for the first before her free kick produced the second via a superb half-volley from Jasmine Matthews. Indeed, this was a game that belonged to the 28-year-old, whose lethal throw was again involved as Katie Stengel made it 3-1 from close-range. Her seventh of the season and another decisive one in this title charge. What a difference she has made since joining in January.
Credit to Bristol, who made The Reds dig deep after Abi Harrison's strike, but even they couldn't spoil the party.
Fitting really, that Missy Bo Kearns was the one to seal the win with a fourth.
She made surging runs with the ball, closed down when required and beat a player wherever possible. She made the right passes and the right runs in the right moments, displaying maturity far beyond her years.
The Scouser in our team making a crucial impact from the bench to ensure a return to the WSL.
That there were four different goalscorers in red, none of which were the club's top scorer Leanne Kiernan, reinforces how the burden of responsibility has been shared amongst the squad this season.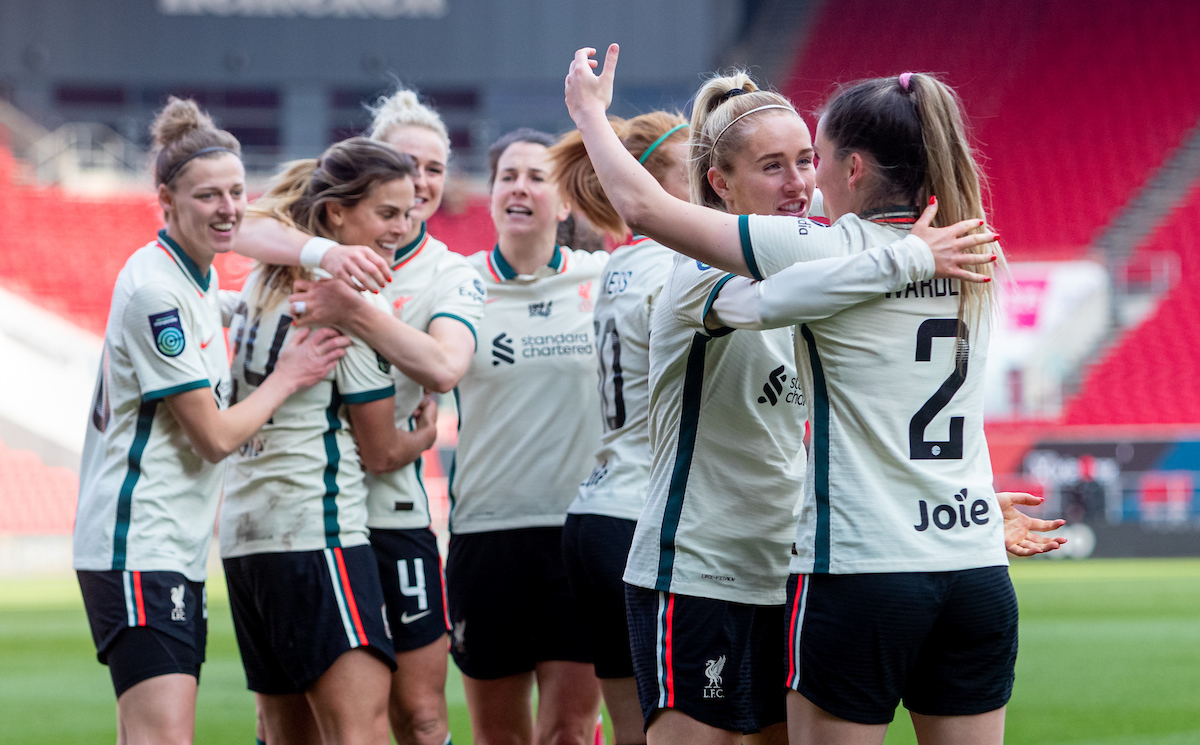 There is no longer a reliance on a handful of individuals but a concentrated effort from both starters and supporting cast to chip in when needed. Add to that the marked improvement in the team's defensive record which has formed the bedrock of success, and it's clear to see the strides this team has made under Matt Beard.
What a job he has done in such a short space of time.
From overseeing a squad overhaul in the summer, recruiting superbly in Kiernan, Matthews, Stengel and Campbell, all of whom have been critical to the cause, to reconnecting the club with its supporters, he has breathed new life into the club.
What's more, he has drastically developed the team's tactical flexibility, finding alternative solutions to his preferred 3-4-3/3-5-2 when required to ensure Liverpool can play more than one way. This is now a team whose game management is meticulous and one whose flexibility to adapt to circumstance will be crucial come next season.
The 2020-21 season showed just how competitive and unforgiving the Championship can be. In what is a short 22-game season with only one promotion spot up for grabs, you have to make your mark from the off. You simply don't play enough not to.
Rest assured; Liverpool have made theirs.
After 20 matches played; 15 wins, four draws, just one defeat, 49 points and counting.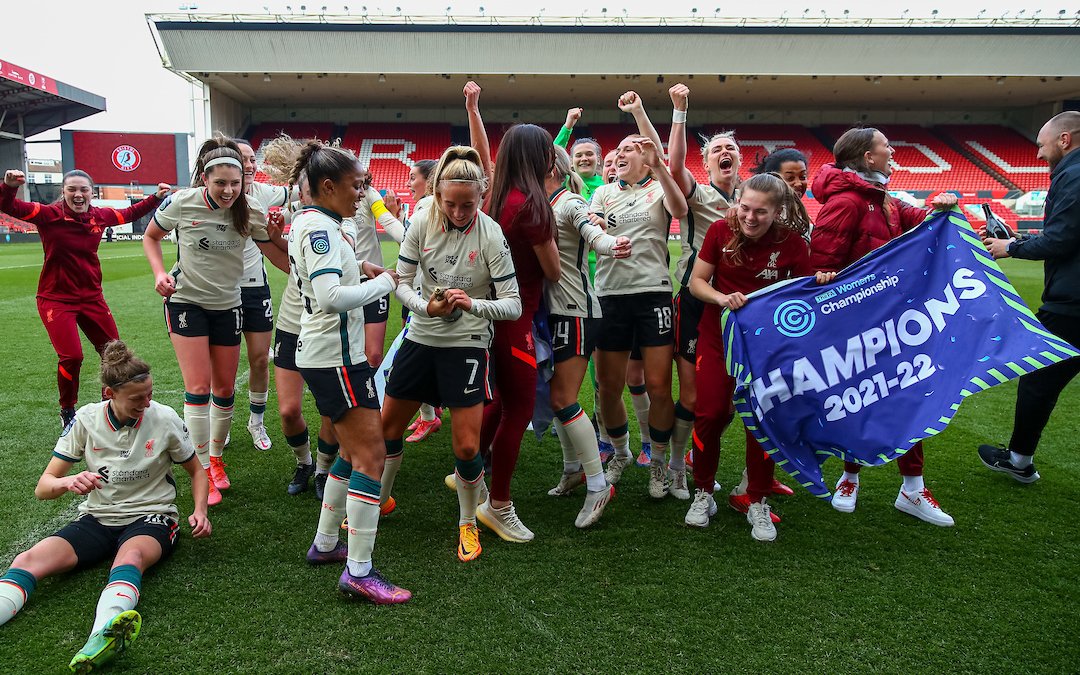 This wasn't easy but Liverpool have made it look so.
There has been no feeling sorry for themselves, no thinking about what might've been after relegation in 2019-20 and the frustrations of last season, just a burning desire to go again.
There are so many stories to be told, so many odes to give.
The defensive resilience embodied by Rhiannon Roberts. The leadership of Niamh Fahey. The safest of hands in Rachel Laws. The work rate of Taylor Hinds. The energy of Ceri Holland. The blend of discipline and creativity in Rachel Furness. The technical brilliance of Missy Bo Kearns, the movement and productivity of Melissa Lawley, the ruthlessness of Leanne Kiernan. Let's not forget the impact of Rianna Dean and Katie Stengel, too. Each and every player has contributed to the cause.
It's been a long time since there was such genuine excitement about the club, but the issues of the past now seem a distant memory. There is no longer a cloud of ambiguity, no turbulence on and off the field nor player unrest, just a manager and group whose sense of camaraderie is clear.
At the start of the season, the mission was clear: gain promotion back to the WSL.
Fast forward to the present and Matt Beard's side have not only succeeded in the job they set out to do, they've done so in some style too. They are more than worthy champions.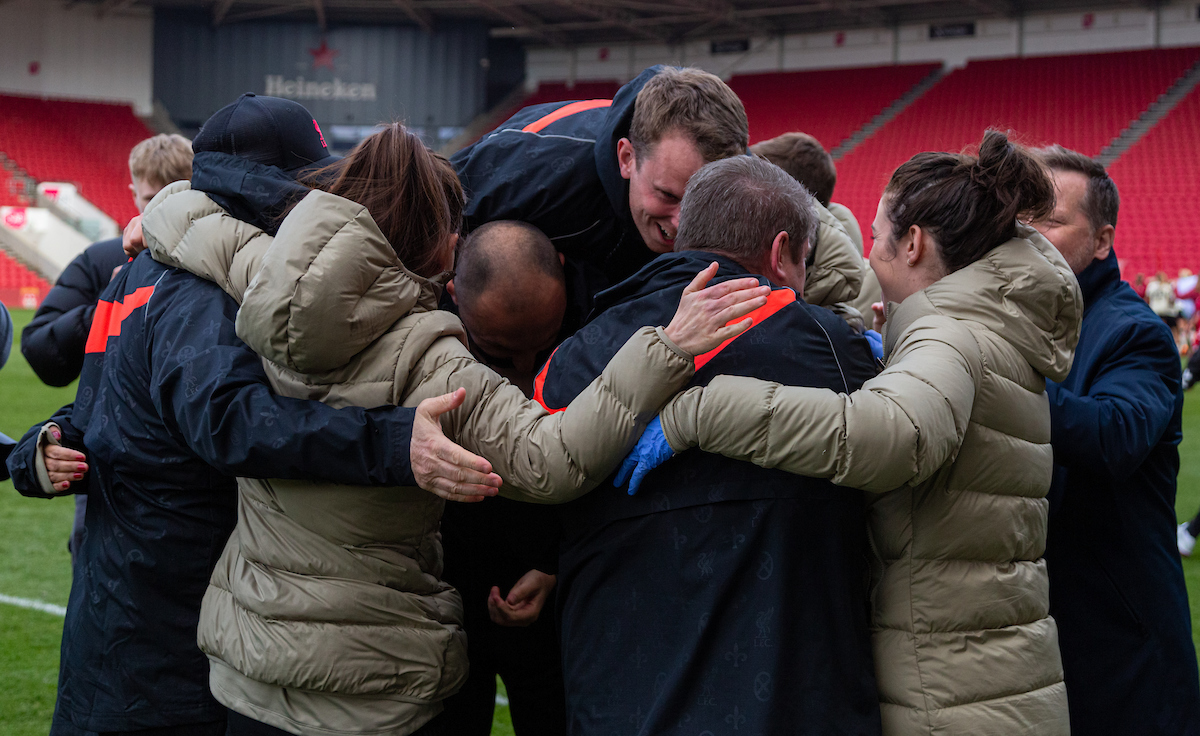 This was a culmination of a meticulous process; a long-term vision to reignite the club's identity and return it to where it belongs.
A direction gone, now renewed. A philosophy stale, now soaring. Liverpool Women, champions again.
As Matt Beard said, no team has a divine right to top-flight football but Liverpool being back in the WSL can only be a good thing for the women's game. It could do with a strong Liverpool and rest assured; this is a strong Liverpool. This is a Liverpool team to be excited about and one who come next season, will be back competing amongst the very best.
It has been an incredible journey and a genuine joy to watch this side. They have scratched and clawed, but they're back at last. The goal now will be ensuring they stay there.
What a team. What a season.
Here is Liverpool, a beaming capital C by its name.
---
🗣Bristol City Women 2 Liverpool FC Women 4: Post-Match Show | #NewPodcast | #LFCWomen

Match reaction after @LiverpoolFCW secure promotion back to the WSL. @em_sandy hosts @RMTVWomensPod's @Lauren_Black9 and @AmyLaurence301, plus @AndyBell26 and @Michaelgtm95.

Click to Listen👇 pic.twitter.com/E251IXYsES

— The Anfield Wrap (@TheAnfieldWrap) April 3, 2022
Recent Posts: