It's crunch time for both Jurgen Klopp's quadruple hunters and Matt Beard's promotion chasers
I'VE never been a fan of the international break. A dearth of competitive football, few talking points and often a flurry of injuries to contend with.
In this instance, though, it has arguably come at a favourable time for Liverpool.
Trent Alexander-Arnold, Andy Robertson and Naby Keita have all backed out of this round of competition with their countries and the hope will be that they are refreshed and rejuvenated when the Premier League resumes.
Assuming there are no other injuries, a fully-fit squad ahead of a critical month could prove key for Jurgen Klopp.
Players and supporters have hardly had a minute to breathe since the turn of the year and with Liverpool not playing again until next Saturday, now would seem the perfect time to take stock.
What a ride it's been so far.
From silencing the naysayers and navigating January with minimal fuss to soaring through February and March while winning the League Cup, this Liverpool side have underlined their credentials.
Since the end of January, they have picked up 12 wins from a possible 13 across 43 days and even that one defeat wasn't enough to prevent progression to the Champions League quarter-finals.
It has been a season of grafting and grinding. Putting teams away at will one week, then digging deep the next. One trophy already in the cabinet, a first FA Cup semi-final since 2015, into the last eight of the Champions League and one point behind the Premier League leaders with a showdown at the Etihad to come. These really are the days.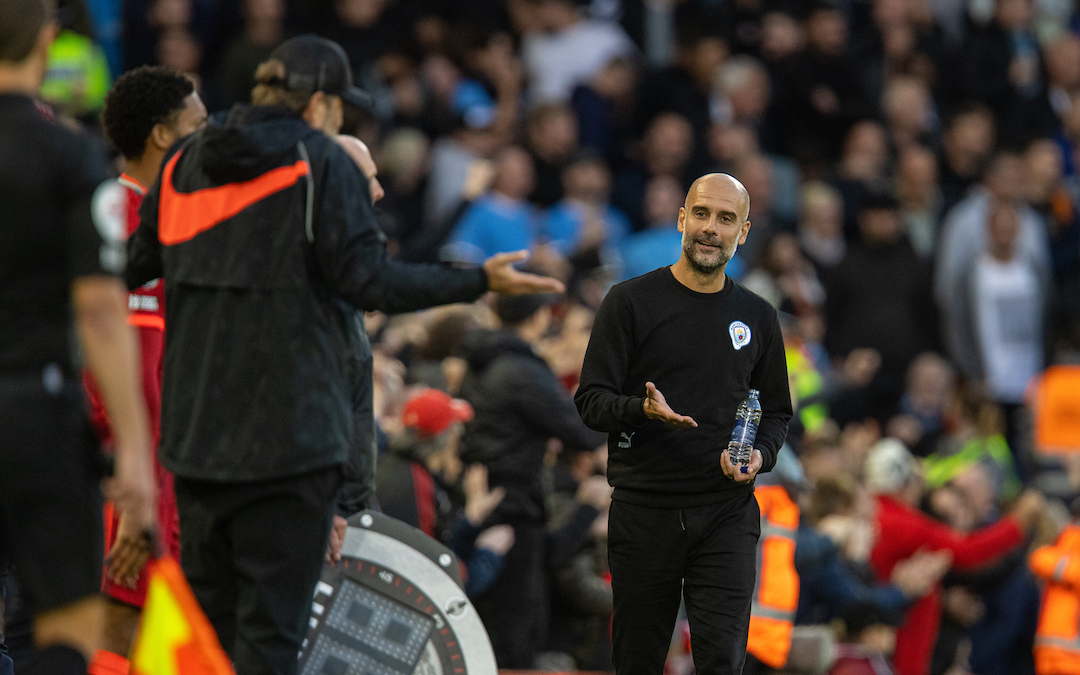 That there is still so much to play for in April is a testament to the quality and consistency of this group – arguably Liverpool's strongest-ever squad. This side, the great entertainers, always seem to find a way.
And finding a way is exactly what will be required in April. In what could be the most memorable of seasons, it marks the most important of months. There are weeks and months that you look back on as defining and Liverpool are about to face theirs. If you weren't entertained before, you certainly will be now.
Watford at home, both legs of the Champions League quarter-final against Benfica and Manchester City twice in the space of six days. Then the small matter of Manchester United and Everton the following week before a trip to St James' Park. There's a ninth fixture to slot in should we beat Benfica, too.
It's a tough run, no doubt, but isn't this what we are all in it for? A relentless fixture list with all three remaining competitions on the line. That'll do for me.
Getting through it with minimal heart palpitations and maximum points is the aim and then we see where we are come May. If you're not relishing the challenge, then football may not be for you.
This is a month to be savoured. It is a journey we should all enjoy, and one Liverpool Football Club as a whole has serious business in.
Indeed, April is a month full of big occasions for Liverpool in all circles. The men's side aren't the only Reds chasing down silverware this season, with the women's team currently topping the Championship by eight points with four games to go.
Under Matt Beard, Liverpool Women have been formidable this season with 13 wins, four draws and only one defeat, which came on the opening day.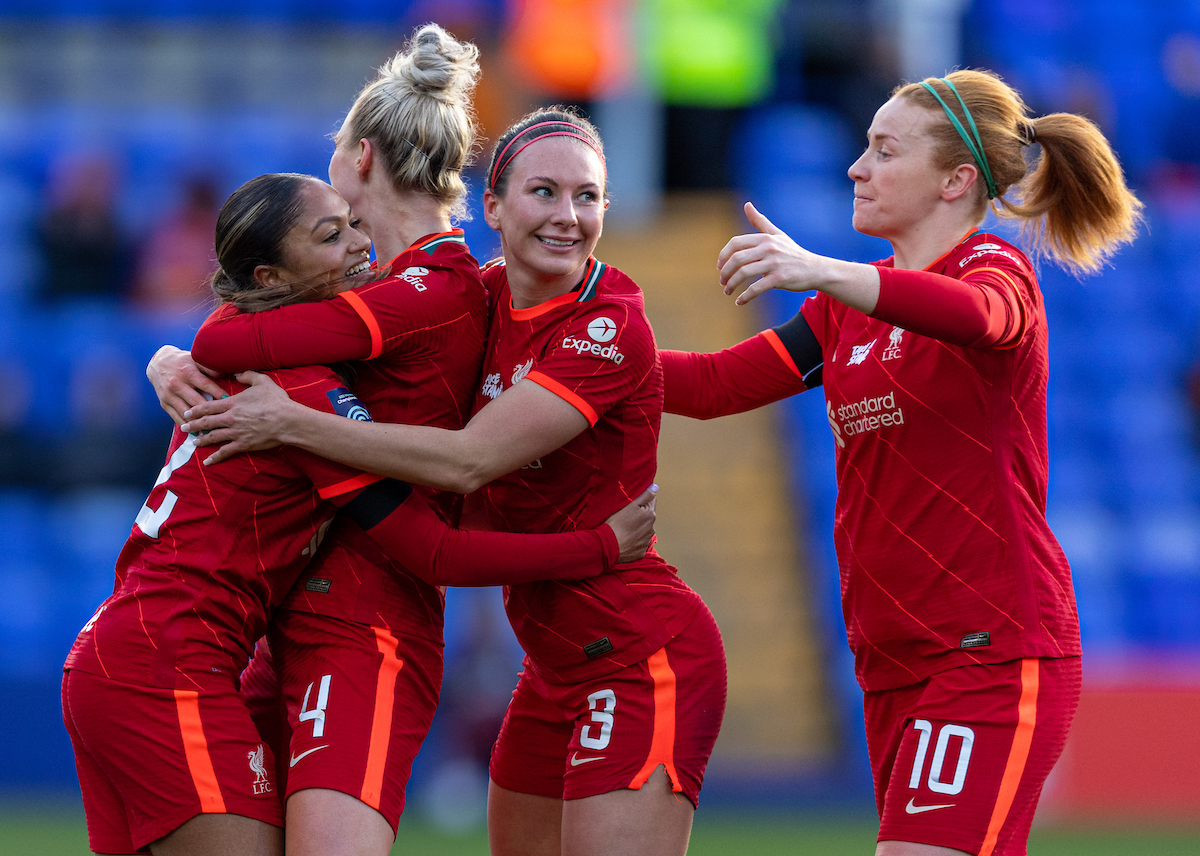 They have come on leaps and bounds over the last 10 months, developing a clear identity via a 3-4-3/5-2-3 system on the pitch and reaping the benefits from a measured recruitment strategy off it.
Taylor Hinds has been this season's standout performer while Rachel Furness tops the charts for most assists in the league and new signings Leanne Kiernan and Katie Stengel have both made key contributions, with the former the second highest goalscorer in the Championship with 12.
Crucially, she is not the only source, with the Reds benefitting from 12 different scorers in the league so far. That the goals have been shared amongst the squad, both starters and supporting cast, is a testament to the depth at Beard's disposal and should they gain promotion to the WSL, retaining that quality will be crucial.
Perhaps most importantly though, is the marked improvement in the team's defensive record. No other team in the league has conceded fewer than Liverpool in 18 league games this season. That has been in no small part down to the inspired form of Rachel Laws, who has recorded 12 clean sheets in 18 games. Quick off her line and assured in possession, she is everything you want from your goalkeeper and more.
It's been a long time since there was such genuine excitement about Liverpool Women, but the issues of the past now seem a distant memory. This is a team finally enjoying their football again, and they themselves are a team to be enjoyed. It is arguably the best Liverpool Women have been since 2018-19.
Four to go with the title on the line, every game from here on is a must-win. That battle begins on Sunday when Liverpool welcomes third-placed Durham before a crucial trip to Bristol City just as Klopp's battle begins next week with Watford.
The WSL is something you want Liverpool to be a part of. It is something Liverpool should be a part of and they are within touching distance of being so again. It is a joy to watch their journey, and it's never too late to become part of it.
In all corners, April represents crunch time for Liverpool Football Club. Come the end of the month, the men's team could still be fighting on all fronts while the women's could well have banked a return to the WSL.
Buckle up, Reds. The serious business begins now.
---
https://twitter.com/TheAnfieldWrap/status/1506590999564410881?s=20&t=3pYLAiwvpcS-S2uImkzcCQ
Recent Posts: