Analysing the magnificence of Thiago Alcantara and Liverpool's ability to change the game from the substitutes' bench…
APPROACHING three years on and barely a week goes by without a clip of the Liverpool 4-0 Barcelona game appearing on my timeline. I'm yet to scroll past one without watching.
There's new things you notice every time: the reaction of different players, individual celebrations in the crowd, sounds within the Anfield roar. But this week, as I watched Gini Wijnaldum run to The Kop for the 1000th time, it got me thinking about the impact and importance of good substitutions.
Failing to take players off early enough and replacing them with ineffectual substitutes has often been a criticism levelled against Jurgen Klopp on the rare occasions we fail to take hold of a game. Often the players at the manager's disposal have been lacking, but sometimes things simply don't follow the script.
Conceding a goal to Norwich at Anfield was certainly not part of the script. Finding a way through in the second half against a side set up to defend, defend, defend is one thing, but overturning a 1-0 deficit is another. It wasn't so much a question of whether Liverpool would manage it, but how?
In the end, the answer to that question was almost single handedly answered with one name: Thiago Alcantara. Brought on alongside Divock Origi, the duo changed the game and an equaliser followed shortly after.
With a change in formation to a 4-2-4, putting an additional player upfront overloaded the attack and gave the Norwich defence too much to deal with. Mo Salah and Sadio Mane were able to find pockets of space and break into arrears previously occupied by the opposition, and consequently they found a way through.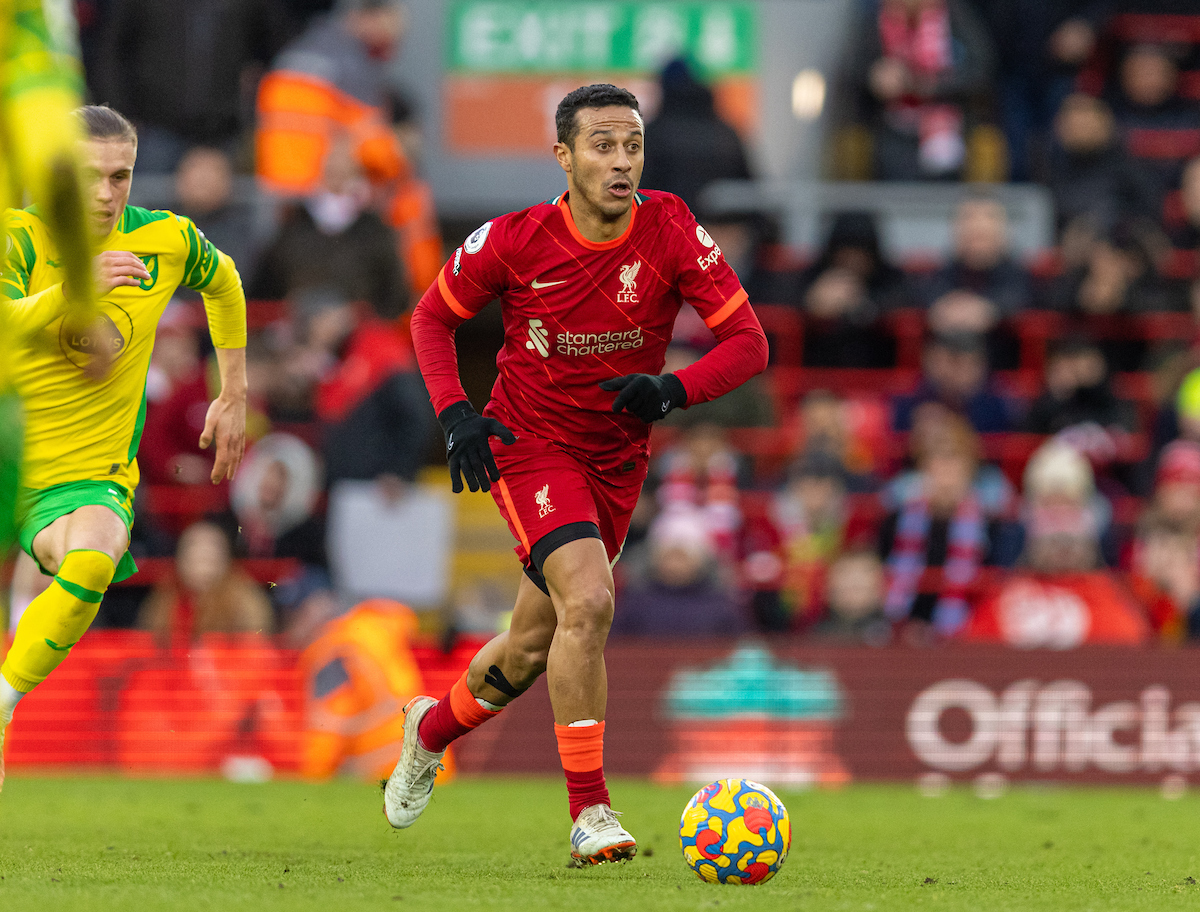 The strategy change was a bold move which reaped the rewards. The big difference, though, was the introduction of Thiago. And let's be clear, it's about time we talked about Thiago.
After a sense of trepidation during his first season and questions beginning to arise about whether he could thrive at Liverpool, performances like the weekend go to show exactly why the club made him the exception to their transfer strategy to sign him.
Simply put, he changed everything. When midfield battles and second balls were beginning to go the other way, Thiago injected a new energy and sense of command into the team. Against opposition that defended deep and tried everything to make things tricky, Thiago provided the pace and a threat that left them panicked.
The quality and accuracy of his passing has to be his biggest attribute. It never ceases to amaze me how he barely looks up before making a pass that cuts through the opposition and leaves them instantly on the backfoot. No-look, 50-yard pass? Easy.
He simultaneously added momentum and control to a midfield that struggled to find rhythm. Within seconds he carries the ball out of the opposition half and into danger. Providing both a spark and stability is something only a special player is capable of.
His display at the weekend follows an excellent stint off the bench against Burnley and from the start in the Leicester fixture. He completed 92 per cent of his passes against the latter, and you can't help but leave Anfield without marvelling at what you've just seen.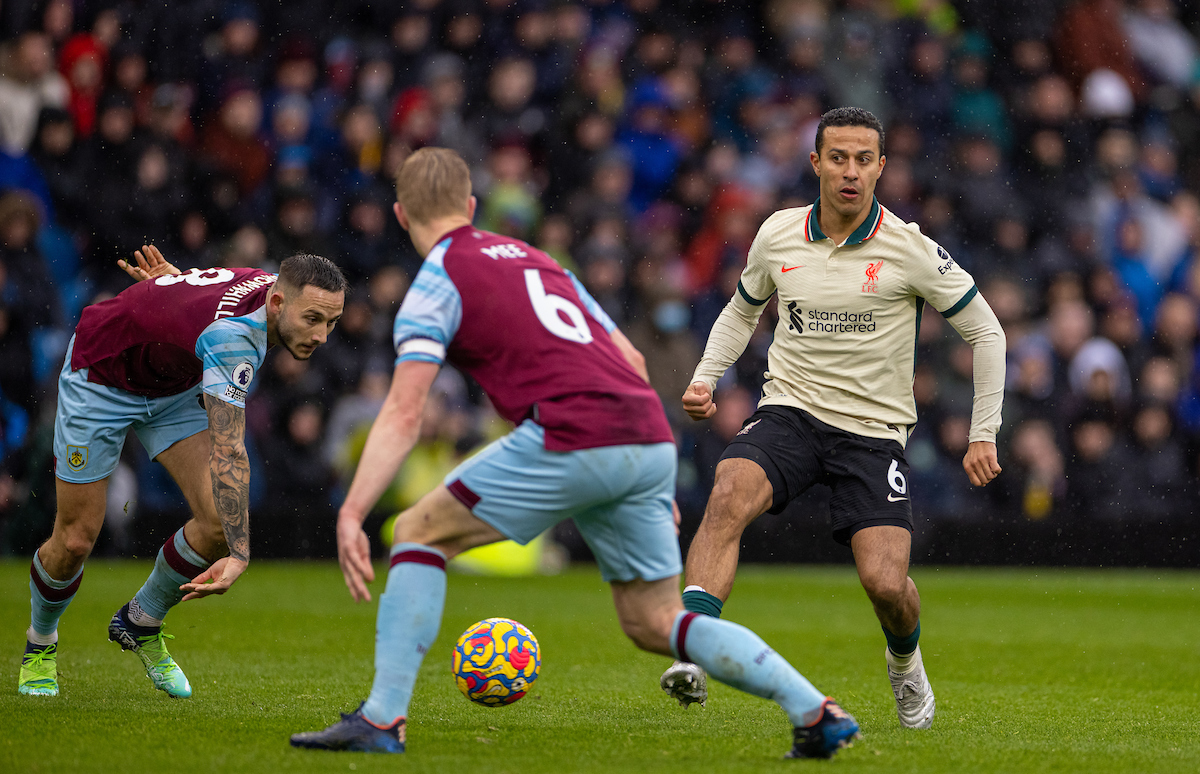 When he plays in midfield, particularly alongside Fabinho, everything else around him seems to tick. It's a widely circulated statistic, but it's worth remembering that the 17 times they have started alongside each other, Liverpool have won 16 and drawn one, averaging 2.65 goals per game. Clearly other contributing factors are at play, but with the pair playing to each other's strengths so effectively, they are almost impossible to contain.
"A good player, eh?" laughed Klopp in the post-match press conference, praising Pep Lijnders for the shift in strategy and substitutions. It's the second consecutive game the changes have worked effectively. Midweek against Inter Milan, Roberto Firmino came off the bench to score the breakthrough goal, while changes to the midfield with Jordan Henderson and Naby Keita introduced helped Liverpool to take control of the game.
It's clear that the ability to make an impact off the bench depends largely on the players you have on it, and having Thiago there is a game changer. He's a special player doing special things, and he plays for our football team. Aren't we lucky?
Talking of being lucky: a cup final this weekend, a title race well and truly back on, an FA Cup and Champions League game shortly after. Thiago will be key to making sure the script for this season is spectacular.
Whatever happens, it's a joy to witness the plot unfold.
---
"Liverpool make those substitutions and it wouldn't matter who the opposition was, they're the types of footballers that make the difference. Those players are the Top 1%, and we have got a team full of them."

Watch👉https://t.co/wkdCX4rbm8
Listen👉https://t.co/t2J2zJgx2Q pic.twitter.com/ZMvYBdXYPA

— The Anfield Wrap (@TheAnfieldWrap) February 21, 2022
Recent Posts: