After another huge win in the league to close the gap at the top, Liverpool continue to show the strength in depth they have this season…
WHERE'S your 12-point lead, then?
This Liverpool team is a team relishing the chase. It is a team on a roll, breathing down Manchester City's necks and proving the pain of all pains in Pep Guardiola's arse.
It is a team immersed in the thrill, but one with the sensibility and nous of winners, whose brand of football is as good as anything we have ever seen in Liverpool red. It is anything but ordinary.
From the uncertain turned certain against Norwich on Saturday to the rout against Leeds last night, Liverpool have hacked the 12-point difference down to just three in less than a fortnight. Anyone who thought the title was up in December was sorely mistaken.
Some teams would have wilted at the challenge but not this team, not this manager. For weeks, Jurgen Klopp has insisted on focusing solely on the job at hand. Pick up as many points as possible and deal with the rest later. Let City worry about us. Rest assured; they will be worrying about us now. Liverpool are more than in the equation, they are furiously knocking the door down.
For all the post-match analysis on the Leeds defence, last night's performance was a real show of strength. The centre backs were assured at one end and ruthless at the other. The midfield was balanced and cohesive and first to everything. The attack was unrelenting. Joel Matip, by the way. He finally did it and in some style too. Mo Stewart will never be the same again.
That we barely got out of third gear second half and yet six could well have been seven, eight, nine is a statement in itself. It was our biggest home league win since September 2007 and nine in a row in all competitions, and the fact that Klopp's customary fist pumps to The Kop were extended to eight showed its significance. He knows this title is very much alive, and everyone, both inside Anfield last night and out, can feel the momentum swinging our way.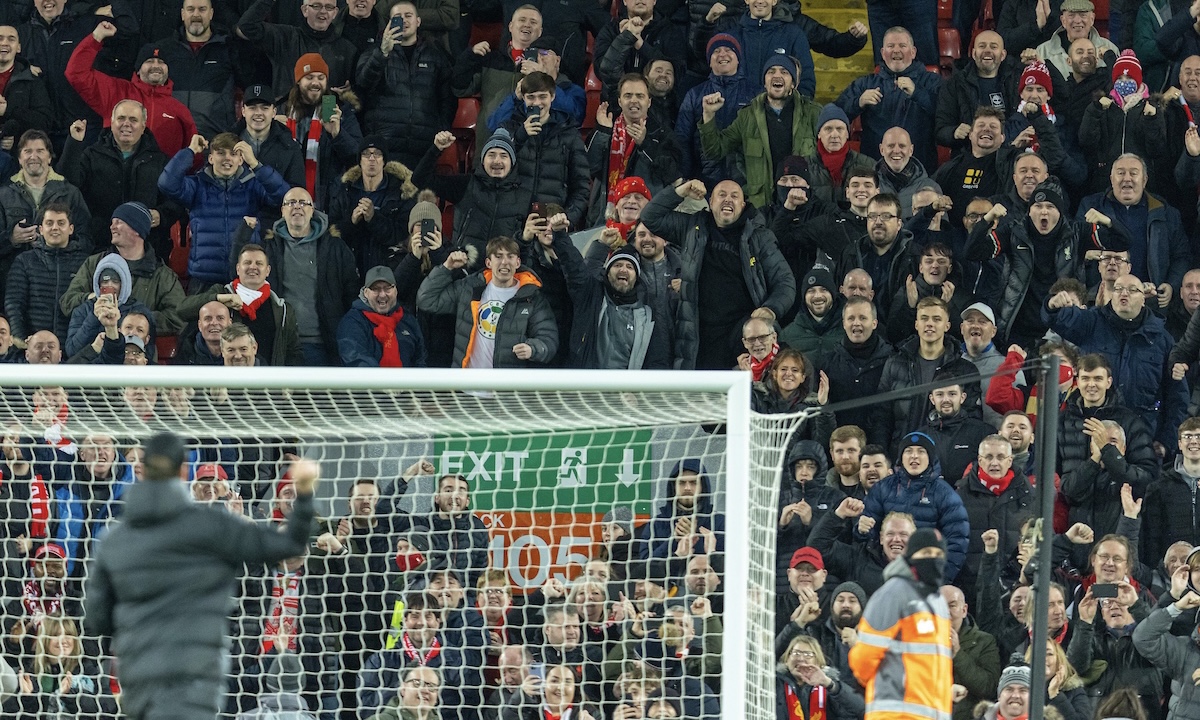 Sure, there's a way to go yet, but if you can't enjoy this then sorry but football might not be for you. Liverpool are playing some of their very best football and at a crucial time, too.
They are a team littered with self-belief who never doubts its ability to win games by whatever means. So far this season that belief has come in several forms. We've seen the mesmerising Liverpool, the side that plays the opposition off the park with minimal fuss. We've seen the not so eye-catching Liverpool, the side who concede chances but crucially make theirs count. We've seen the dogged Liverpool, the side who simply find a way to get the job done.
That they have so many strings to their bow is a testament to their quality. Every time you think you've seen it all, this group goes and finds a new way to surprise you. Even when others have doubted them, their spirit has never wavered and last night showed this is a manager, a team, a fanbase who truly believes this is a fight that can be won.
And why shouldn't they? This is arguably the strongest squad Liverpool have ever had, the best team in my lifetime by some distance.
In the last week alone, Klopp made seven changes against Norwich and six against Leeds and yet Liverpool were still every bit of Liverpool. They were still relentless in the press. Still assertive in possession. Still the winning side.
Mohamed Salah is as sublime as ever. His tally is now 27 goals in all competitions this season, and he is just six goals away from Michael Owen's all-time goalscoring record having played 63 games fewer. He is devastating time and time again. The very best player in the world.
Sadio Mane is a world-class player in his own right and a game changer in every sense, his brace a worthy reward for a relentless performance. Thiago Alcantara is the football of all footballers making everything look so effortless, and we get to see one of the best captains in the club's history in Jordan Henderson grab his second assist in as many games. And then there is Luis Diaz. He has shown great movement, exquisite touches and has been a constant threat, looking entirely at home in this side.
Crucially though, recent weeks and months have highlighted that this season has been much more about the collective than just individual brilliance. Joel Matip's goal last night means Liverpool have had 17 different goalscorers in the league so far, equalling a club record for the third time under Klopp. Whether it's the main stars or supporting cast, whoever the manager has called upon has stepped up and delivered.
Alex Oxlade-Chamberlain proved crucial in January, as did Diogo Jota. Kostas Tsimikas has brought the best out of Andy Robertson, and Divock Origi and Takumi Minamino are our Carabao Cup kings. Ibrahima Konate made a strong case for man of the match having come in from the cold against Inter last week. Curtis Jones looked like he'd never been away despite being thrown into the starting 11 after missing the last three matchday squads, while Harvey Elliott and Joe Gomez missed out altogether.
For a team ridiculed for a lack of squad depth, they'll more than do for me.
What we are witnessing is a Liverpool side for the ages that heads to Wembley this weekend in the best way possible. It is a team with the top three goalscorers, and the top three assist makers in the country who have scored 106 goals in all competitions and have seven clean sheets in their last 10. Make no mistake, it is a Liverpool team that'll take some stopping.
The key now is to ensure these players have something to show for it come May and that battle begins on Sunday. There may yet be more chapters after that too.
Sunday is an occasion and Liverpool are a team that loves occasions. It's been 10 years since we last lifted a domestic cup, but The Reds are finally within touching distance again.
Onto Wembley, then. There's a trophy to be won.
---
"It's a great song! To have my name in a chant is a proud moment." 🇵🇹

Exclusive 25 minute interview with Diogo Jota, out on The Anfield Wrap App📱 pic.twitter.com/8S1PvuwHqr

— The Anfield Wrap (@TheAnfieldWrap) February 24, 2022
Recent Posts: