As Liverpool closed the gap on Manchester City at the top of the Premier League, what must The Reds do now to catch their title rivals?
WITH everything being equal and with an eye on the actual football rather than the shenanigans around it, Manchester City are a hell of a side.
They really are.
There's a perfectly reasonable argument to suggest that they're the best side in Premier League history.
The Manchester United sides, the Chelsea 2003 side and the Arsenal unbeaten team might just play second fiddle to what Pep Guardiola has done to that club. They're certainly the best version of Manchester City there's ever been and if Liverpool need a benchmark to draw themselves to then this is a worthy one.
They are entertaining, they are clinical and they play with no idea of compromise. Only ruthlessness will do. They are the barometer by which all English teams are judged. It's important to remember that.
Right, that's enough of that. Where's your 12-point lead?
Sure, there's a long way to go without crowing about clawing three points back on them, but if you couldn't enjoy Saturday night then there's nothing down for you. From a goal down to an irritating gutsy Norwich side to being a Leeds win and play off at the Etihad away from parity and a straight shootout to the end. There's nothing done yet but that's the sort of day that makes you wonder.
Except it shouldn't make you wonder. The press talked about the league being a two-horse race again, but it was never anything less than that. We've always known that this was going all the way.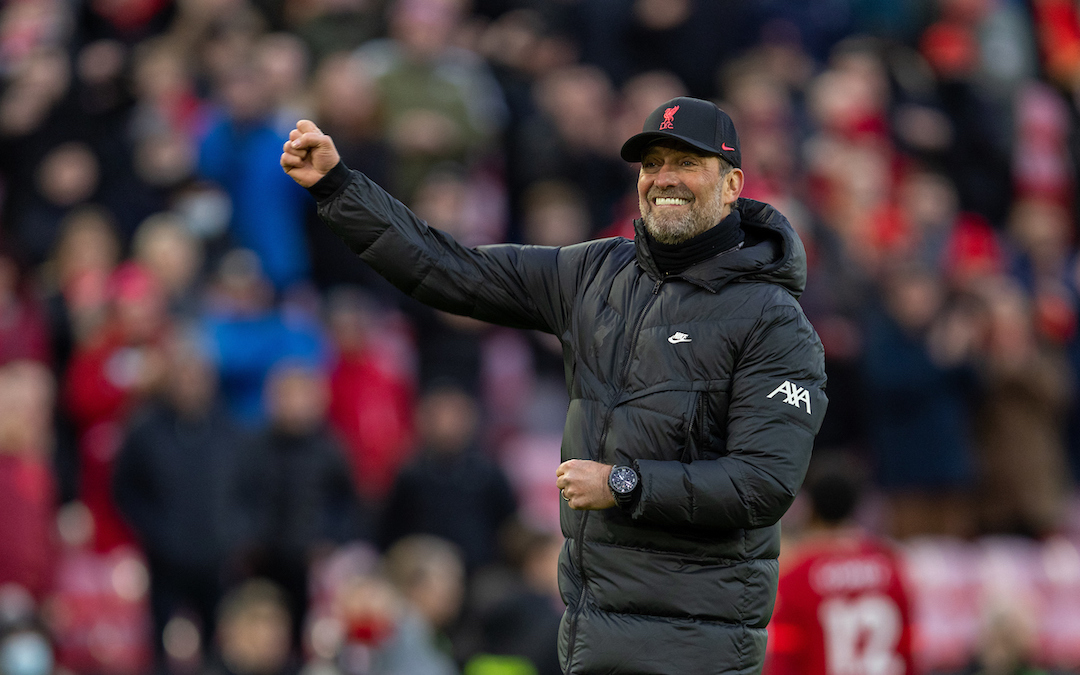 You don't give up hope. You can't sit and wonder about 'what if' when you're throwing the towel in because they've picked up three more points. No, you dig your heels in and scare the hell out of them until they're going through their own version of 'what if' — one that looks a lot more unpleasant than ours. No one wins the league in February. Or March for that matter.
But beat Leeds on Wednesday and City on April 9 and we can talk about starting again. Saturday was just a reminder that we're in the room. For weeks we've just gone about our business about picking up points. That's all we could do until they stumbled. Now the real season starts.
The last few days have been season defining for The Reds. There's so much about the San Siro performance that was reminiscent of this league campaign. Some said that the game was more of a war of attrition than two top sides fighting it out in Europe's premier tournament. Others said it was sterile in nature with little to excite the purist. I couldn't disagree more. I loved every minute of it.
There's something to be said for two stubborn giants refusing to submit to the will of the other. They came at us; we went for them and nothing was given until a moment of genius decided there wasn't going to be a stalemate after all. There was a touch of Luis Garcia's header against Anderlecht in 2005 about it. That's the spark you fight for. That's the moment.
I love those games. The ones where there's a locking of horns rather than an exhibition of deft touches and flicks. Style against style, formation against formation and will against will. I'm already looking forward to Episode Two of that mini-series.
And that's the microcosm of ourselves and City over the past five seasons. They've come out of it with more trophies but not the one they crave most. We've got that one and made sure they have to — have to — knock up over 90 points a season to take their spoils. We've battered each other and never been satisfied. It's a fight that never ends.
Apart from last season, obviously, but we weren't just fighting City then. We were nose to nose with the footballing Gods. We angered someone somewhere and fate smacked us on the chin, but someone's made the right sacrifices to the right deities this time.
And this season it's taking the squad rather than the big names. Alex Oxlade-Chamberlain, Joe Gomez and Naby Keita came in on Saturday to build up their legs again, but it was Thiago Alcantara who decided to shake things up on Saturday in the same way his captain took the Inter game by the scruff of the neck. Jurgen Klopp's really coming into his own when it comes to looking at his bench.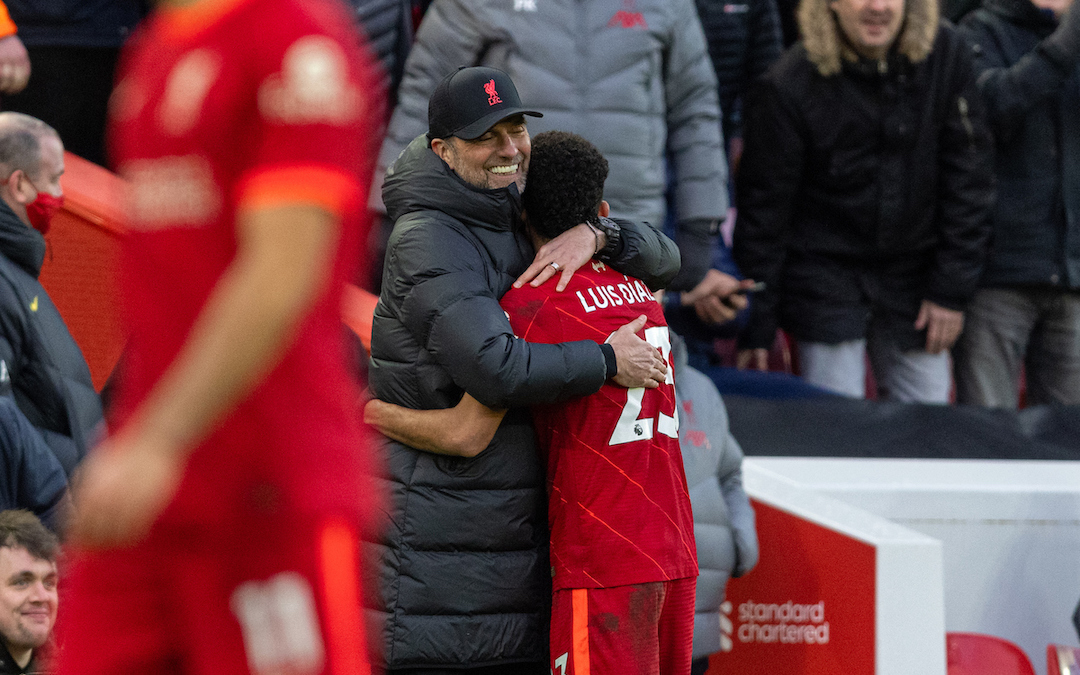 He knows that players who have been out of form will always come back to win the vital challenges and score the crucial goals.
When he took Fabinho off in Milan, I briefly thought it might be his 'Hamann for Smicer sub' moment from Gerard Houllier's ill-fated night in Leverkusen, but no. He knew what he needed and expected the result, even though many Reds rubbed their eyes in disbelief. It took some courage to do that.
The same could be said of Saturday. Not many picked that midfield and, though it didn't set the world alight in the first half (Sadio Mane blocked more of our shots than they did), he knew what he could do to win it from the bench.
Liverpool may have to do the same in the title race. If this ends in the last six games with us and City taking swings at each other in a pub car park, then I'd like to think we have the stones to do it. It's great winning the lead at a canter, but this side will have to work the ribs to take this one. City will know that. They do now.
This is a time for strong stomachs and hearts. This is going to be brutal, but we've had to do so much to be here. Play Leeds and then face them down. That's the next step.
This could be the best version of Liverpool's ever been and if City need a benchmark to draw themselves to then we are a worthy one. We are entertaining, we are clinical, and we play with no idea of compromise. Only ruthlessness will do.
We are the barometer by which all English teams are judged. It's important to remember that.
Keep working the ribs, Reds. Keep working the ribs.
---
"We're starting to see title tussle key dates within the papers. It feels on, it's close now!…All it takes is for City to have a bad week and that's them in serious nick."

🎥 Bacon Butty

1️⃣ Download our app
2️⃣ Enjoy FREE tokens
3️⃣ Access this show

📱👉https://t.co/yTcwWTIbIT pic.twitter.com/aPWTFMhyA2

— The Anfield Wrap (@TheAnfieldWrap) February 21, 2022
Recent Posts: