With Sadio Mane away at the AFCON and being a hero for Senegal, how much does his off-field persona influence his Liverpool legacy?
THE skill, the flair, the intensity, the aggression, the blonde streak which – coupled with blistering pace – could be perceived as the symbol of a lightning bolt.
On the surface, many would think Sadio Mane may be one of the most "flashy" footballers in the Premier League.
However, that perception couldn't possibly be more wrong.
While Mane has gone from promising potential at Southampton to one of the greatest players on the planet, the Senegalese star may just be one of the most humble, down-to-earth players to grace the hallowed turf of Anfield.
We're all familiar with what Liverpool Football Club does for the community – from Andy Robertson's food bank generosity to the squad's Alder Hey visits and beyond – but the way in which Sadio Mane quietly lives his life has flown under the radar since the winger joined the club five years ago.
"Why would I want ten Ferraris, 20 diamond watches, or two planes? What will these objects do for me and for the world? I was hungry, and I had to work in the field; I survived hard times, played football barefooted, I did not have an education and many other things, but today with what I earn thanks to football, I can help my people."
Perhaps, then, a great place to start would be that move from Southampton.
"£34 million?!" opposition fans, and even some of our own, scoffed. A record fee at the time for any African footballer.
Well, what a bargain that looks now, eh?
An integral cog in the team, and one third of one of the best front threes to ever play the game – although that number may need re-evaluated due to Diogo Jota's current form.
Since Sadio Mane signed for Liverpool, the club has gone on to win the Champions League and the Premier League (and we'll never get sick of saying or hearing that) – but the build was crucial too.
Southampton signed Mane during a serious period of transition for the club, as Jurgen Klopp looked to take The Reds to where they belong, but hadn't been for longer than anyone could have thought, or dreaded.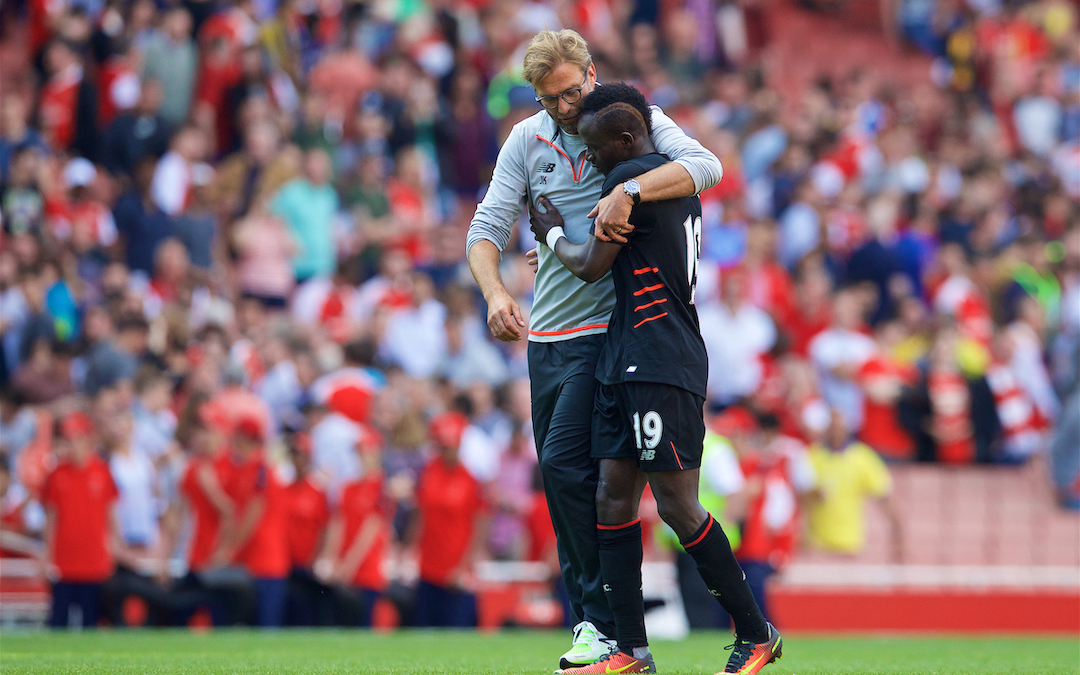 Standing Out On The Field
On his Premier League debut, Mane scored the winner in a 4-3 away win at Arsenal, and scored two goals in two minutes against Spurs, before being named in the PFA Team of The Year. Not just that, Mane was awarded our Player of the Season award despite missing a fair chunk of the season through injury.
One season later, Liverpool's first glimpse of success for over a decade was in reach when the club made it to the Champions League Final. Of course, we all know how that one went and we'll gloss over the fine details, but one positive – aside from making the final – was Mane's goal which was, of course, overshadowed but it seemed to be the moment when the world finally realised the Senegalese star was truly world-class.
Perhaps, also, the moment the Liverpool board came to that realisation when a new long-term deal was signed ahead of another "oh, so close" season when a relentless Mane snatched one third of the Premier League Golden Boot with a brace on the final day of the season. While the Reds fell just short in the title race, redemption came in the form of a Champions League trophy.
If we were clutching at straws, we'd highlight that Mane's cross after 24 seconds was the one which earned Liverpool their match-winning penalty, but that's simply one sprinkle amidst hundreds and thousands on top of the cake that proves our number 10's worth.
A UEFA Super Cup brace and Man of the Match award made us all sure 2019-20 would get off to a flyer for Mane from the get-go, and we don't need to labour the point too much, but the season in which Liverpool won the Premier League, well, that was the same season where Mane hit his 100th Premier League appearance, scoring his 50th league goal during it, was nominated for the Ballon d'Or, and secured an insane record of 50 undefeated matches at Anfield – a league record for any player at any stadium.
Add to that a FIFA Club World Cup assist and the winner in the match that tied a Bill Shankly 1972 record for consecutive home wins, before scoring the winner to break that record, and we'll just say Sadio Mane had a pretty decent season that year.
Oh, and there's also the small matter of Mane being named the CAF African Footballer of the Year – and becoming only the second Senegalese player to do so after a certain former Liverpool player.
"Form is temporary, class is permanent" would be a line best used to excuse 2020-21 for Mane – and Liverpool overall, really. The "worst season of his career" is the phrase Mane used, and the fact that it came after undoubtedly the best is likely little consolation.
It's not about how many times you fall, they say, it's about how many times you can get back up – and Mane's season so far has shown that he is hungry for more. Another season, another record. Mane became the first ever player to score in nine consecutive Premier League games against the same opponent, before netting his 100th Premier League goal. In doing so, the 29-year-old became only the third African to hold such acclaim behind Mo Salah and Didier Drogba.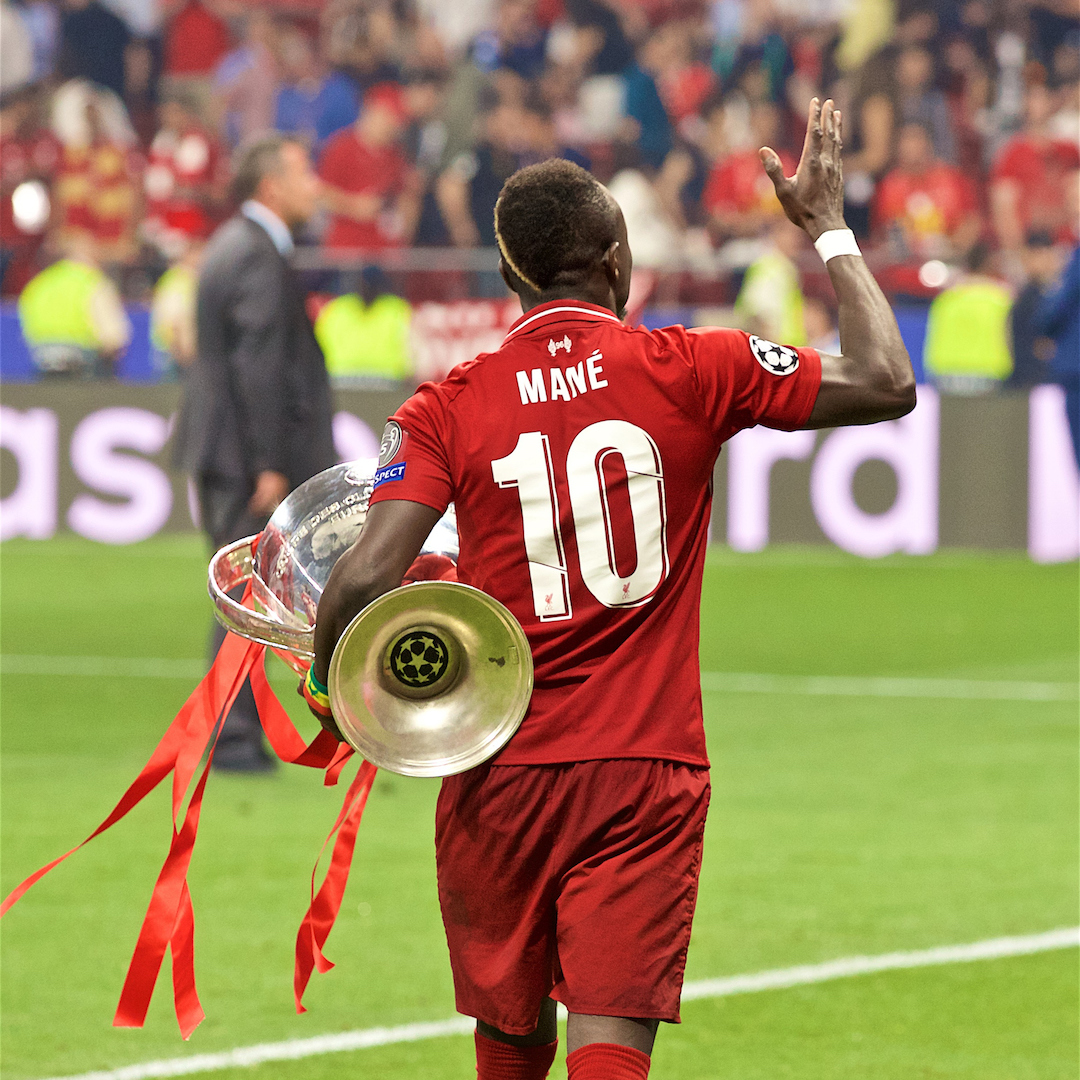 A Humble Hero Off The Pitch
Liverpool will have to make do without Mane this month as Sadio seeks success with Senegal at the AFCON, and hopefully his absence won't be felt too much. But again, while we always want him in our team, it's impossible to begrudge the departure.
Firstly, I think most people realise what an honour it is to represent your country, but Mane's Senegalese roots seem to also be what keep him grounded.
Mane has even been spotted in Asda in Hunts Cross wearing his traditional national dress, holding a baby to take a photo. The Senegalese star is as much a role model off the pitch as he is on it.
However, his generosity extends between Liverpool and his home town of Banbali. In 2019, Mane donated £250,000 to build a school in the town, before donating a further £500,000 in 2021 to help construct a hospital.
"I built schools, a stadium, we provide clothes, shoes, food for people who are in extreme poverty. In addition, I give 70 euros per month to all people in a very poor region of Senegal which contributes to their family economy. I do not need to display luxury cars, luxury homes, trips and even planes. I prefer that my people receive a little of what life has given me."
Every year, during the winter, Liverpool fans are subjected to the despicable "feed the Scousers" chant, sheer ignorance at the issues which face society today. Perhaps if the actions of role models like Sadio Mane were accentuated, that generosity may become contagious and people would help those in need rather than mock them with ill-informed stereotypes to shield their own insecurities.
One thing almost everyone can agree on is that football brings people together and can provide an escape from anything else going on in life, at least temporarily. While Sadio Mane's generosity may well be saving lives, he has also put smiles on faces by gifting 300 Liverpool shirts to residents in his home village to wear during the 2018 Champions League final – the same place Sadio himself watched Liverpool lift the Champions League on television in 2005.
Donating money, of course, is something not everyone can do. Donating time and effort is a much more realistic option, and we all know that a working-class hero is something to be.
That said, not everyone would be happy to muck in and clean toilets. However, Sadio Mane – a practising Muslim – has also been pictured pitching in at his mosque and cleaning toilets just hours after playing in the Premier League.
While goals and flashy play on-field will always endear you to the fans in the terraces, when you play for a club that's so important to so many people from a working class background, it's no surprise that Sadio Mane lives in the hearts of the Liverpool support.
The man is a hero to many – both on and off the pitch.
---
Recent Posts: