Despite several setbacks in their attempts to stay in the Premier League title race, Liverpool can still have high hopes for this season…
I RARELY leave the ground straight after the full time whistle goes.
After a win I love it when the players walk around and share their joy with the fans, and even after a draw or loss I take comfort in sharing the discontent with those around me. The collective experience makes it all worth it.
There is one thing we all want to see when the 90 minutes is up, and that is Jurgen Klopp coming out and giving it the big one. Running over to The Kop and going for his trademark fist pumps finishes the day exactly how you would like. You can go home happy. Weekend complete.
It felt almost more significant when he did it after the 3-0 win against Brentford, marking his 350th game in charge of The Reds. For all the talk of us being written off and out of the title race, the manager was not-so-subtly urging the crowd to hang on to glimmers of hope. To remind everyone that this definitely isn't the time to be giving up.
Granted, a gap of 11 points to Manchester City feels like a mountain to climb. A steep one in fact, with lots of jolts of ice to trip you up along the way. But, people have climbed it successfully before. We have a game in hand, are yet to travel to the Etihad, and there are 16 games left of the season to play. Basically, there is a lot of football still to come.
Perhaps, for the sake of us all, we need to stop thinking about the numerical possibilities and hold on to the hope.
The players need to for a start, not least the ones that haven't been involved as much this season and are being brought into the fold now. It needs to matter if they perform well, if they get on the scoresheet, if they impress the manager. And you can tell that it does.
Filling the void left by Mo Salah and Sadio Mane was never going to be easy, but the mix of goal scorers at the weekend proves that it can be done. With Klopp fielding three different versions of the front three during the 90 minutes, these games represent a chance for other players to step into the spotlight and show what they're capable of.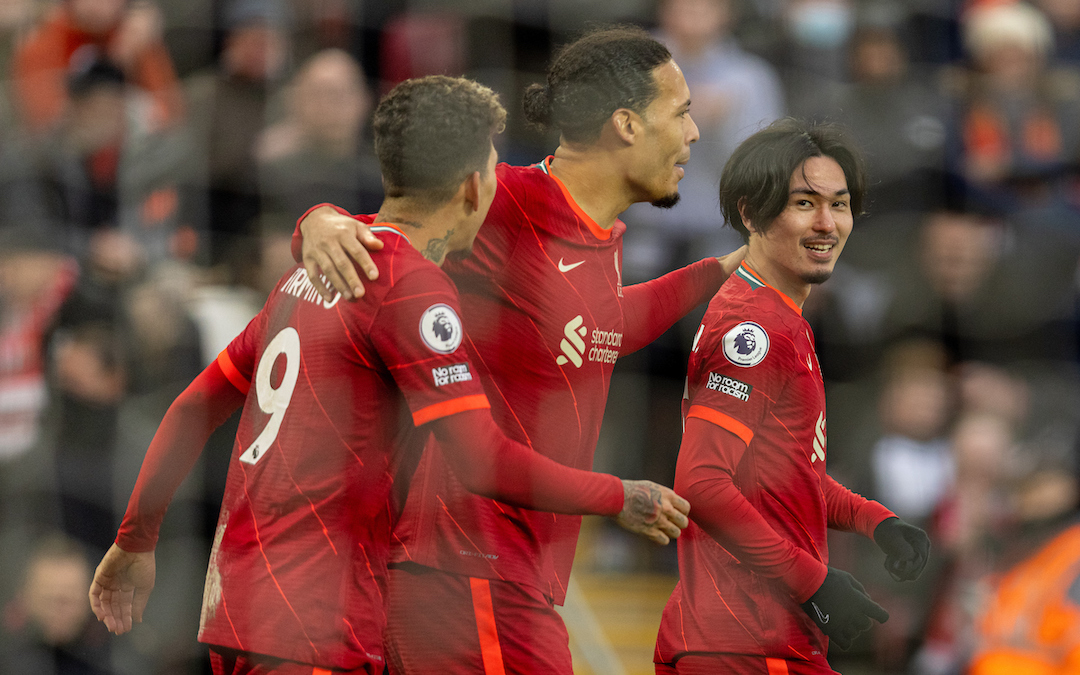 Alex Oxlade-Chamberlain provided an attacking threat throughout the game, even if his finishing fell short at times, and it was vital Takumi Minamino scored after his miss in the semi-final against Arsenal. And let's face it, Fabinho becoming a goal-scoring midfielder was the story we didn't know we needed.
It matters that younger players feel they are contributing towards a bigger picture. Kaide Gordon comes on to make his Premier League debut and we all feel gutted when he misses a chance in the closing minutes of the game. Curtis Jones wants to put in a man of the match performance every opportunity he gets — and there's an argument he succeeded in that at the weekend.
It matters that the experienced members of the team know they need to give their full support to those around them and step up to the plate when needed.
It matters that the manager still thinks we're in it and reacts the way he did on Sunday. He's telling the world that no one should give up on his team yet. Remember who this team is, who these boys are, what they are capable of and what they have achieved until now.
It matters that fans still believe there is a lot to play for this season. And all things considered, why wouldn't we? There's the second leg of a semi-final to (hopefully) come this week, Champions League games on the horizon, and plenty left to play for in other competitions.
I'm a firm believer that we should still be able to enjoy games of football even – and sometimes especially – if not everything is riding on them.
The win against Brentford provided a much needed sense of momentum heading into Thursday and the weekend's game against Crystal Palace before a winter break looms. Salah and Mane will want to return from AFCON with the knowledge that the club is in the best possible position. Their teammates now have the task of keeping the hope alive.
Hanging on to those glimmers of hope will benefit all of us. There's more twists and turns yet to come and it doesn't take much for everything to change.
---
"What Klopp did at the end was more or less say, hold on a minute, we are Liverpool FC. You're my team, you're my boys and I need you to believe in me."

🗣Post Match Show

1️⃣ Download our App
2️⃣ Enjoy FREE tokens
3️⃣ Access Our Post Match Reaction

📱👉https://t.co/yTcwWTZN7t👈📱 pic.twitter.com/Sy4E6hKaaj

— The Anfield Wrap (@TheAnfieldWrap) January 17, 2022
Recent Posts: