Liverpool's unpredictability was invaluable to them throughout January, and Fabinho's scoring streak was right at the heart of that…
A LOT can change in a week in football.
That's got to be one of the worst cliches, hasn't it? But I'm not naive enough to ignore the fact that what happens in just one week in December and January can make the biggest difference come May.
When we planned out the season ahead back in August, we eyed January as a quiet month. A time when we could try and get some other bits and pieces done. Work on a few projects, be a bit creative. We'd never make the League Cup semi-final let alone the final, we thought. Might even be out of the FA Cup by then. What do we know?
The reality has been a bit different, to say the least, and the frequency of fixtures has meant that two games make the difference between being in and out of the title race. Last week all was lost, this week Jurgen Klopp is handing out beers from the team bus and everything feels right again with the world.
January was a month few expected Liverpool to thrive. Traditionally a time during which Klopp's team struggle, and with added challenges to overcome this year, the form of our big hitters has been make or break.
Alisson Becker more than stepped up to the plate with his performance against Crystal Palace, the accuracy of Trent Alexander-Arnold's passing has reached new levels, and can we take a moment for Andy Robertson's assists at the weekend? I could probably write an article on just how good that ball was for Alex Oxlade-Chamberlain's goal alone.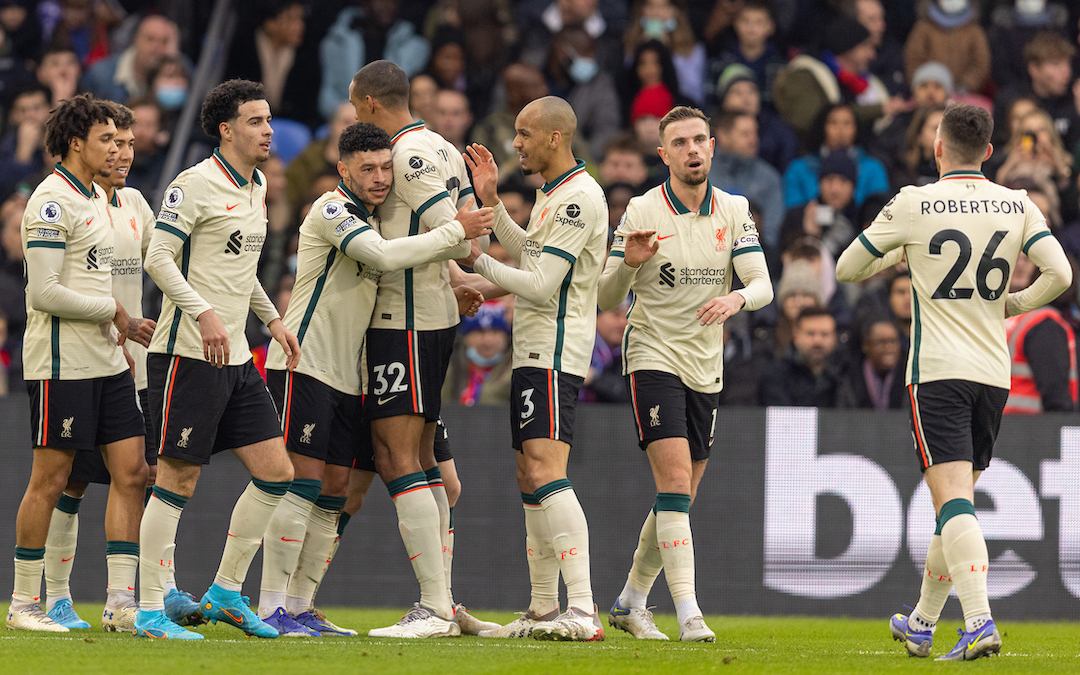 Another player who has found his form at the right time is Fabinho. That was perhaps expected, but much more surprising is the shift in his role to become a more prominent attacking force.
He's one of the best at the number six role, and is undoubtedly integral to the entire system and formation under Klopp. Of course others can step in and fill his position, but no one does it quite like him. He's arguably the player we miss the most when he's absent.
By sitting just in front of the two centre backs to shield them from attacking threats, the two full backs are able to push forward while the other midfielders have the agency to push forward and be creative. He allows others to be better at their job.
His place within the system makes it difficult for him to score. If he was regularly finding himself in a goalscoring position, he'd be badly placed to do all the defensive work he does really well: committing to tackles, cutting out the last ball, protecting the defence.
Justifiably then, no one really bats an eyelid that Fabinho has scored just four in his first 142 games for Liverpool. It's simply not what is expected of him and not what he is there to do.
With Mo Salah and Sadio Mane out and Divock Origi injured, other players have been needed to fill the very large void they left. I don't think many expected Fabinho to be one of them, but he has doubled his tally in the last five games alone.
Both Klopp and Pep Lijnders have often emphasised the importance of maintaining a level of unpredictability in order to break teams down, and Fabinho has helped to provide just that. By imposing himself at set pieces and driving forward, he's been yet another problem that opposition defenders don't know how to deal with.
The importance of unpredictability becomes even more palpable when missing key players and coming up against teams that defend with a low block. Crystal Palace did exactly that on Sunday, but in contrast to previous games in which we have struggled to break the opposition down, they struggled to contain our various attacking threats.
There has clearly been a strategic decision made around taking more risky chances, attempting shots from wider range, and firing balls into the box more frequently. Fabinho has made sure he has been in and amongst it to benefit from this change, as well as stepping up to the plate and taking responsibility for penalties in the absence of Salah.
Last season he slotted in at centre back, and just when we needed he has become an attacking force to be reckoned with. As the return of our goalscoring forces looms, it will likely once again be a rarity to see Fabinho's name on the scoresheet. But it's all up for grabs after the break.
CB + midfielder + striker = Fabinho.
---
"What a ball from Robbo to Chamberlain…again. One thing that I am most positive about is as we go after the 4 cups our goals are coming from all of our attackers."

🎥 The Final Word

1️⃣ Download our app
2️⃣ Enjoy FREE tokens
3️⃣ Access this Video

📱👉https://t.co/yTcwWTZN7t👈📱 pic.twitter.com/Nzs08XmpWu

— The Anfield Wrap (@TheAnfieldWrap) January 25, 2022
Recent Posts: