With a potential trip to Wembley awaiting Liverpool, Curtis Jones could be the key to beating Arsenal and reaching the League Cup final…
TONIGHT, Liverpool face another date with destiny.
They can make their own luck and Wembley would serve a worthy reward.
It has been far too long since The Reds lifted a domestic cup but win tonight, get to the final, and it's in our hands. Whether you've been all in on the League Cup from the beginning or not, every one of us wants it now. Simply put, it is silverware, and this is a team that deserves silverware. It is one that owes itself that much.
Tonight is all about Liverpool righting the wrongs of that wretched first leg. Last week was the bluntest this side has looked in some time, and the man advantage only hammered home the point. Liverpool were as sloppy as they were slow. They were too indecisive in moments that required ruthlessness, they were eager to respond to 50-year-old men shouting 'shoot' when they needed to keep the ball moving.
They were second to every second ball, and even on the one occasion it did drop their way, Takumi Minamino couldn't keep it down. The brief didn't require both James Milner and Jordan Henderson and the result was a painfully hard watch. All in all, it was an evening Jurgen Klopp will have quickly erased from his memory, and a performance he'll be intent on putting right.
Still without Naby Keita, Sadio Mane and Mo Salah and given the recent injury to Alex Oxlade-Chamberlain, it will mean he needs to find another way to get the cogs moving. We'll all have different ideas of how I'm sure, but for me it's a question that starts and ends with Curtis Jones.
The 20-year-old was a rare bright spark in the first leg, adding intent and urgency to a game bereft of either. Eager to receive possession and take on his man, his guile and directness weakened Arsenal's resolve. That's something Liverpool have needed a bit more of this season. It's what cost them against Brighton and Brentford among others, and it's what cost them at Anfield last Thursday. Klopp must ensure it doesn't cost them tonight.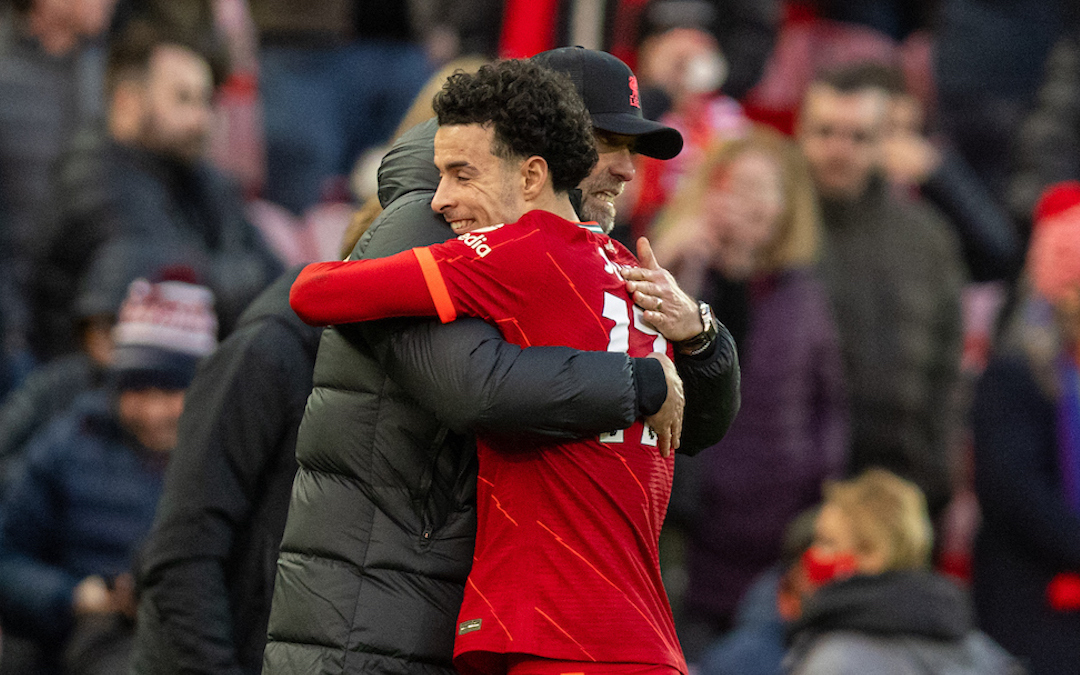 While Jones has become something of a forgotten man this season due to Covid and injuries hampering his minutes, the rare glimpses we have seen of him have provided huge encouragement. Being a midfielder in a Klopp side is one of the most difficult tasks in football. The demands are unforgiving, the work rate unrelenting. But Jones is a player who doesn't shy away from either.
His inclusion on Sunday brought a balance and composure to the midfield that's been lacking, and his fearlessness in possession helped displace Brentford's defence. In a game where Liverpool were far from perfect but ultimately made the job look routine, he was often the man pulling the strings.
He has confidence he can be a match winner in a Liverpool team full of talent, possesses an innate desire to get on the ball and make things happen, and there is an unpredictability to his game; in that he can run at defenders, has a propensity to shoot and can pick a pass, all of which Liverpool will need tonight.
In recent weeks, Klopp has been quite vocal about challenging him to show how good he can really be and tonight represents the perfect stage.
So to the Emirates and a chance to advance to Wembley.
Arsenal will have to show their hand a little more and it'll be up to our lads to punish them. Start fast, don't let them find their stride, and ensure they remain anything but comfortable.
How we'd all love a trip to Anfield South.
---
Recent Posts: