Liverpool's win over Leicester City in the League Cup quarter final showed how much the team's spirit runs through the entire squad…
ARE you not entertained?
Liverpool in 2021 is a team that is living. It is a team designed for the thrill. A team that loves the grand opening and dramatic closing, one who cares little for the ordinary.
They are a team that does its utmost to ensure supporters remain in their seats until the very end. This season that has been achieved via a gluttony of goals and a brand of football as good as anything we have ever seen in Liverpool red.
Some teams would wilt under the pressure. Not this team. Not this manager.
This last week tells you everything about this Liverpool – our Liverpool – and its status as football's great entertainer. There is the uncertain and the chaotic at Spurs last Sunday, followed by the scarcely believable last night. No matter the occasion or the obstacle, this team so often finds a way.
Yesterday was a conflict of emotions. Some were arsed from the off, others weren't, but eventually we are all desperate for that semi final. Try telling these lads that the League Cup doesn't matter, I dare you.
It wasn't straightforward, of course, but in reality it rarely is.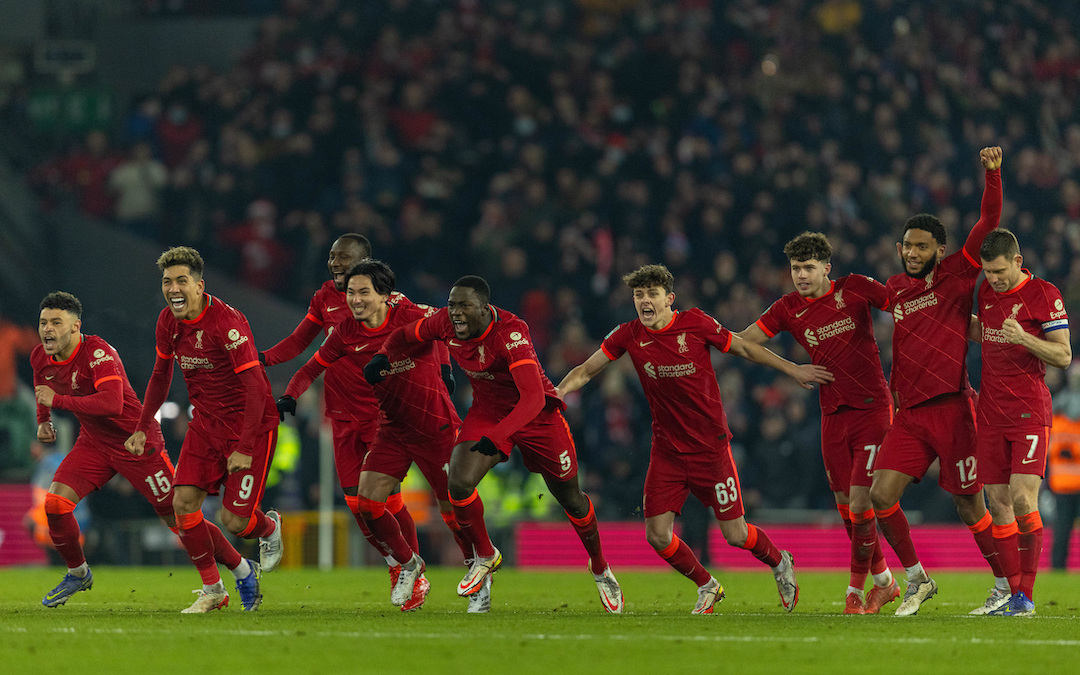 The first half was a struggle. Jamie Vardy made it so. Billy Koumetio doesn't look ready to make the step up yet and Joe Gomez will have had better evenings, but as was the case at the weekend, Liverpool kept plugging away.
So often all this team needs is one moment. On Sunday it was Diogo Jota, here it was Alex Oxlade-Chamberlain. He is a player littered with energy and intent, purpose and poise. His goal showcased what he offers this team that few can; a fierce strike into the bottom corner that made everyone in red believe again.
It is testament to the mentality of this squad that their heads never fall when things aren't going their way. Even at 3-1 down, a much-changed group of young lads never once lose faith. It is simply not in their DNA.
It is a mentality and resilience that Jurgen Klopp has instilled that seeps down to all levels of the club. One that prides itself on battling against adversity, one that'll never shy away from a fight. It is engrained in the very core of these players and stems from the manager himself.
The second half was a different game altogether thanks to the substitutes. Liverpool became the better side and Leicester were left shell shocked.
Ibrahima Konate shut down Vardy and assumed control. Naby Keita had one of his best performances in a Liverpool shirt and, despite everything, his nutmeg on Maddison might well be the highlight of the night.
Then there's the ever-reliable Jota, on hand to deliver again. His 12th of the season, again scored at a pivotal moment. Two-footed, hardworking, and ludicrously good in the air for 5ft10. Loves the needle too, doesn't he? A truly outstanding signing. All the above are positive signs as the gruelling fixture list continues.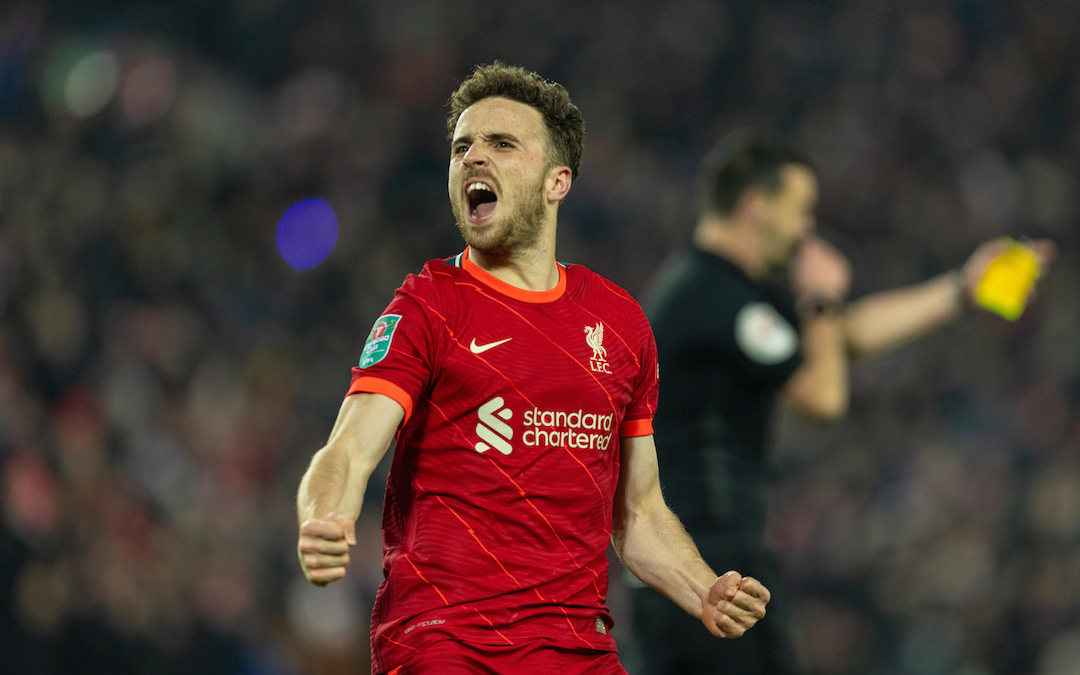 For every one thing the players did last night, the crowd responded in equal measure. For all the questions about the atmosphere against Newcastle the other week, there were no such worries here. In an instant, it goes from a game that matters little to a game that means everything.
Down 2-3 at 95 minutes would mark the end for most sides. Not Liverpool. Not this group of mentality monsters.
This is a team which thrives on occasion. This is a side that revels in the theatre. They rise to the challenge, no matter how precarious the situation looks. They will almost always respond with a fight.
Last night Liverpool were intent on bringing Leicester to their knees and the visitors eventually succumbed. They lost their heads and buckled under the pressure of the best ground in England. When the ball falls to Takumi Minamino, he is the calmest man in Anfield.
Are you not entertained?
Even in the shootout, the nerves largely remained at bay. For Leicester's first and the third goals, Kelleher may well have done better, but he vindicates himself when it counts. Two huge penalty saves and another nod of approval from Virgil. He'll take that.
Leicester did their best to frustrate with play acting, time wasting and injury feigning but even that was not enough. Their crowd singing 'feed the scousers' before a ball was even kicked (because poverty is the best banter especially at Christmas), left speechless on their long trip home. Yet another team turning up to Anfield shamelessly wasting time only to come away with nothing.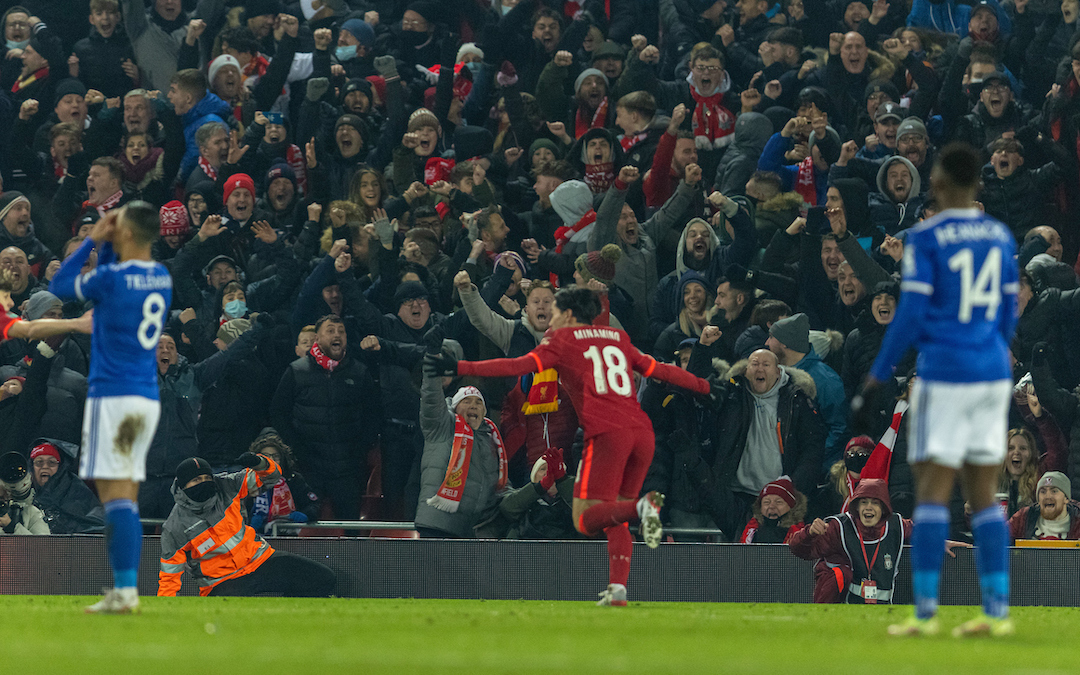 For the millionth time, Liverpool found a way. A proper fight and a stirring revival. Regardless of personnel, the mentality is always there. Their spirit does not waver.
Anyone who wasn't a fan of the Carabao Cup certainly is now. What a night. One where we feel every feeling together. At night we are all part of something.
Klopp has had a mixed relationship with this competition but his celebration at full time told the tale. This meant something. To the players, to the manager, to us all.
It was the night of all nights in a game few would have cared much about. The unexpected and unpredictable from English football's great entertainers. Rest assured, everyone wants this cup now.
And so to The Emirates for a semi final; a two-legged tie the fixture list could do without, but one we will all be relishing.
In the middle of the most uncertain of times, when we are worried and filled with doubt, Liverpool still find a way. An early Christmas present and a game to savour. Yet another incredible night from a team that has given us so many.
Merry Christmas, Reds. Take care of one another.
---
"It's another little moment to add to the history. There were lots of Kids there tonight who will have that, they'll be buzzing."

🎥 The Post Match Pint recorded in Anfield

1️⃣ Download our App
2️⃣ Get 1000 FREE tokens
3️⃣ Watch/Listen

👉https://t.co/yTcwWTZN7t👈 pic.twitter.com/EuV0CioYMe

— The Anfield Wrap (@TheAnfieldWrap) December 23, 2021
Recent Posts: