Ben Johnson's player ratings after Wolves 0 Liverpool 1 in the Premier League at Molineux, as Divock Origi added to his legend…
THE strength of the wolf is in the pack. In-fucking-deed brother. Our pack is massive. Our pack is every cunt in our squad, and this felt like one of those days when the pack rose together and The Reds marched on and the league title moved one step closer. This was a match that just needed winning. It was cold, they were not interested in anything other than blocking space, and The Reds were not at their best. Find a way, Reds. Ha ha ha! Scruffy red-nose cunts.
Alisson 8
Not sure I can rate him because he had literally nothing to do. Nothing. He must have been freezing. Got called a wanker by their fans for a bit because one of their lads decided to have a sit down, which seems a little odd. Bit on top. Suck that injury-time defeat up, lads. Suck it up. Inhale it in all its glory. Ha ha ha. Fuck it, he can have an 8 just for being on ours.
Trent 7
Like the rest of the lids, he wasn't quite on it, but then he was playing against the shittest pack of Wolves I've ever seen. Wolves are meant to be hard cases; these were the biggest defensive fridges since your man, The Fridge Of Whatever. I don't know, I'm still light of blood in the head area. But anyway, they were very defensive wolves.
Joel 8
Was almost our best attacker. They kept letting him have it and he kept stepping out and waltzing through them. He's so boss.
Virgil 8
Just snuffed out their lad, who should probably play rugby league instead. Faultless. And then, last minute, he pings that ball to Mo and the rest is history.
Robbo 8
Bit more defensive than he normally is, mainly to keep an eye on Traoré. Kept playing, in it more second half. I mean, I'm scratching around for some kind of half-serious analysis when in reality we all know the only rating that counts for shit is Divock's for fuck's sake.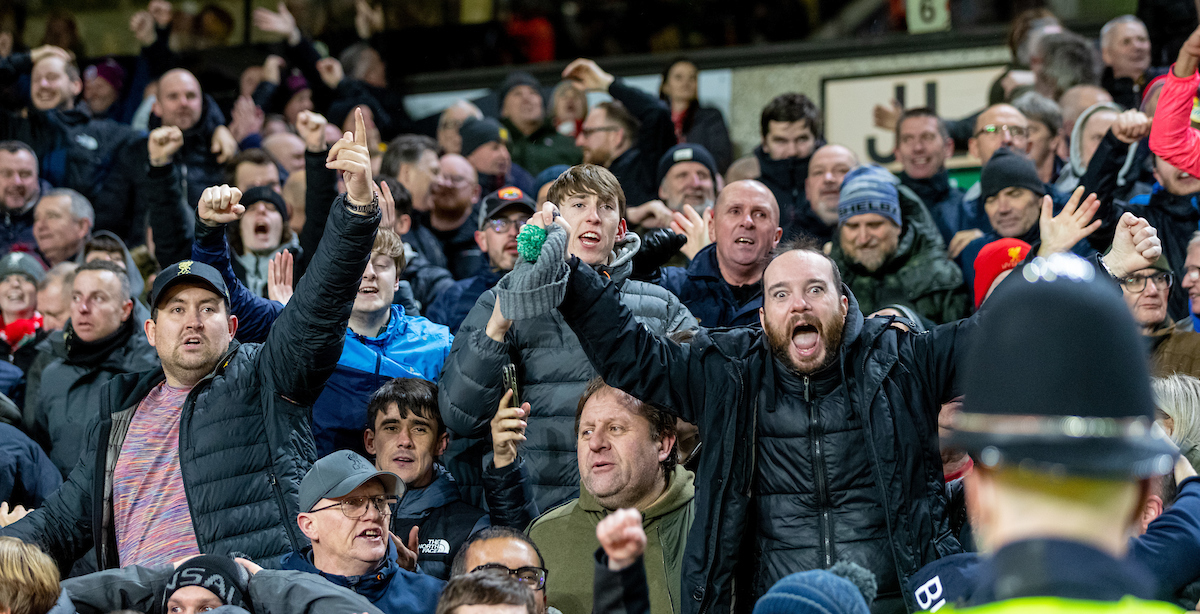 Thiago 9
Was quietly excellent today. Just kept The Reds ticking over when they needed it most. Him and Fabinho might never be beaten by the way.
Fabinho 9
See above. Unbeaten forever. Was everywhere. Great foul and yellow when one of them wolf cunts forgot that they couldn't attack for a minute.
Henderson 7
Was in the game but didn't do much. Was a bit of a questionable sub at the time it was made and then absolutely not at all when The Reds won. What a change. Interesting that he was the one to make way out of the three really.
Sadio 7
Crap today. Kept squaring his man up and then forgetting to inject any form of urgency whatsoever.
Jota 8
Our best attacker. Kept dropping in, and knitting it together. Wild that bit when he sat the keeper on his arse and had the goal in front of him and decided to twat it at Coady instead of into the goal. That said, was sound with it hitting Coady in the plums the big fucking wool. People singing he is a Scouser. Yer no, not sure you know, think he might be a massive big pie-shagger.
Salah 8
They defended against him really well. Doubled up at all times. Fair play. Kept him quiet. Well in. Oh sorry, lads. Virgil just lashed him the ball with a minute to go. What a touch to roast their lad and then the presence of mind to pull it back – wow!
Subs:
Divock 10
Funny that people want us to sell him. We should offer him a seven-year contract tomorrow. He was great when he came on – big, strong, fast. This, that and the other. But never mind that. How many fucking goals do you want him to score? How many winning goals, mad goals, trophy-winning goals, last-minute goals do you want him to score? One of the best liverpool players of all time. Keep him forever you soft cunts. The little roll off the man. The strike. The bedlam. Chef's finger kiss. Best ever way to win a game.
Some other cunts come on but all anyone was arsed about was Divock. Is right.
---
Recent Posts: