Liverpool's defeat to West Ham was their first competitive loss in seven months, but despite the bigger picture it was still hard to take…
THERE'S every chance that you'll read this in a more placid mood than the one in which I write.
You may have woken up, read a few online comments, gazed longingly at the table, and decided that one defeat every seven months is fine. You'll have a point.
I want to be with you. I want to be rational and insouciant but I can't do it tonight. I've never been one for shrugging off a defeat with a Gallic shrug of the shoulders and a calm return to non-Red life. Defeats burn in me.
My mind screams tonight. On the train back into town I sat through two Hammers fans watching Jurgen Klopp's interview on their phones. While they revelled in their schadenfreude, I considered getting off at the next stop to roar at a lamppost.
A poor loser? Yeah, probably. I'd like to think it's because I don't have much practice in watching my team lose. I go to an awful lot of football matches and the last time I saw us lose in the flesh was at Stamford Bridge in the FA Cup some 20 months ago. Before that it was PSG away three years ago this month. I don't do this often so I'm not used to this mindset.
I'm starting to think that mine and the Reds' fate are tied together. Last week I flagrantly used this space to moan about car park charges in Brighton and felt that my being ripped off played a small part in our poor second half display last week. Well, I can top that.
My mate Mart, 60 years young this very day, dropped a pizza on me. One minute he was accepting his pizza from the waiter, the next it was tilted dangerously towards me and then I was wearing it. I spent the rest of the day smelling faintly of pesto. 
So West Ham is on me. Completely. Forget the midfield walking around like they were taking a curtain call or whatever the hell the back four was up to — taking a pizza on my TAW T-shirt started this whole sorry chain of events.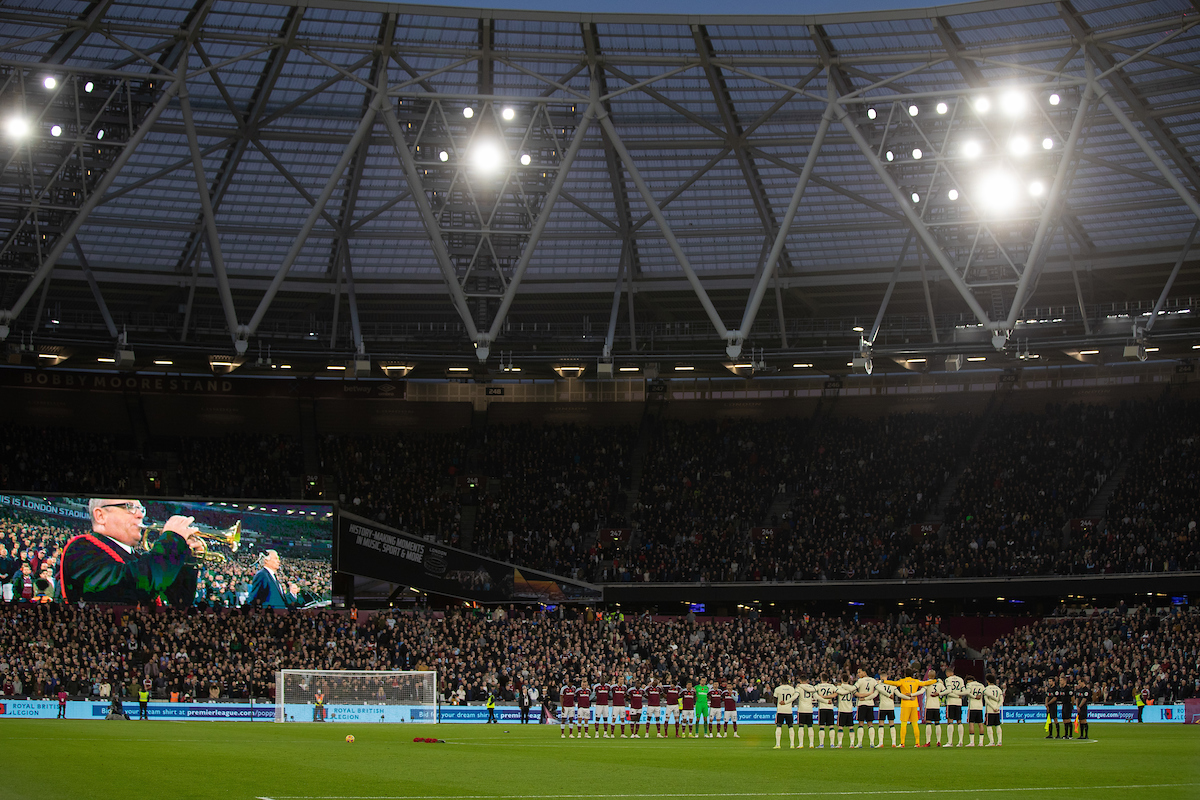 I can accept that but I can't accept sportsmanship or credit to the claret and blue just now. I can't even look at our lads tonight.
Is that fair? Probably not. You win with them; you lose with them. That's the rule. You don't run when things aren't going well. You stick with them and, as Hyman Roth says in The Godfather: Part Two, you remind yourself that this is the life we have chosen. Victories are earned with sickly defeats. The bad times make the good times better.
And these aren't bad times. More challenging than outright bad. We've conceded eight goals to West Ham, Brighton, and Brentford — or, as they're now known in my mind, pizza, car park and getting to the game three hours early because you forgot it was a 5.30 kick off, you tit — but this is hardly a team in decline. We've just been playing like one against sides we should be beating.
But it was terrible. The first goal is a joke but we should do better, the second was weak and the third absolutely abysmal. Everything around those travesties was slow and, worse, scared.
I love Alex Oxlade-Chamberlain and I love Diogo Jota, but tonight I want to remind them that movement is quite important when your opponents are playing narrow enough to fit inside a canoe. I love Andy Robbo with an admiration bordering on unsafe, but I also expect him to cross to one of our lads every now and then.
We stank and it's alright to say so. Ben Johnson gave Divock Origi man of the match. He only played seven minutes plus injury time, but I'm with him all the way on that one. He was one of the few of them who knew what his job was.
Yeah, I know. Get behind them, you! Up the Reds! We go again! Not right now, Reds. Right now I want them to still be doing warm down laps around that ground when the sun comes up. There's virtue in being furious at a performance. 
I get that you can look at the ref too. He's not corrupt or anything like that. He's just awful at his job, but you can't go looking at him as an excuse. We played the best right back in the world at centre mid today and four Liverpool players let one of theirs run past them on his way to goal. Have a look there.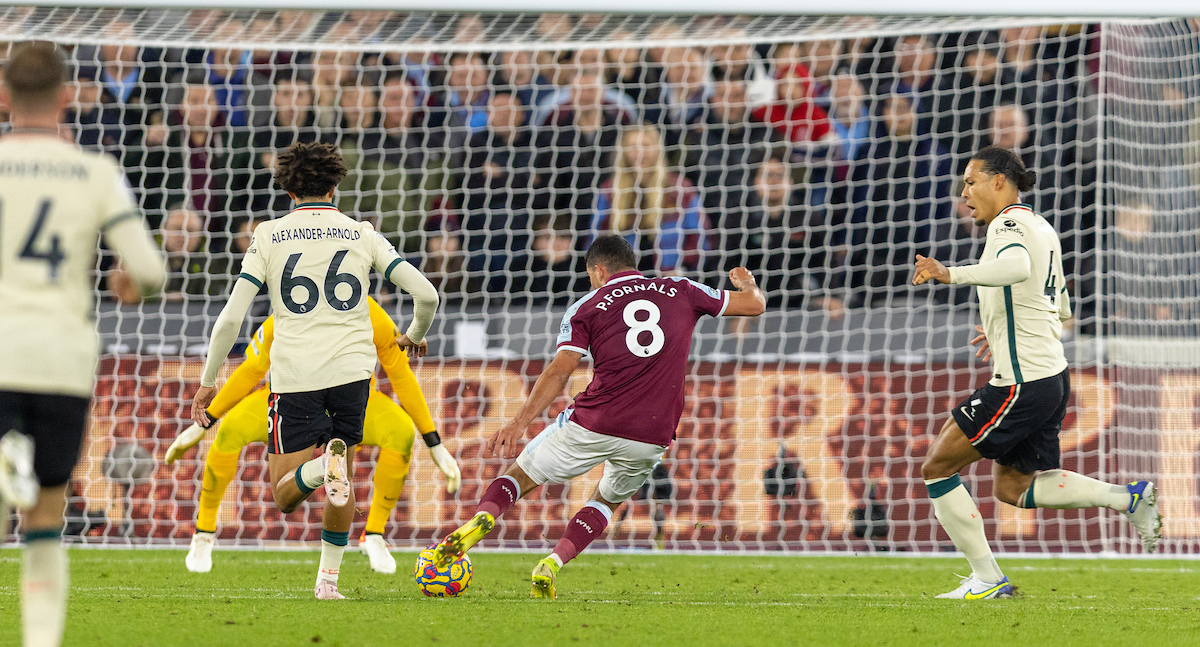 To lose there of all places too. There's been a lot of talk this week about Upton Park and how it was horrible to go to and you'd never feel quite safe leaving it, but I'd cheerfully bulldoze their new ground to send them back there.
I'll just say this. If you're building new, state of the art stadia, you might want to consider putting in urinals rather than just traps. The one in our end looked like the last day of Glastonbury during a plumbers' strike. It would have been more hygienic to just piss on your seat and sit down. At least I know where I've been.
Still, we paid for that stadium. You and I. Taxpayers. I'd like to think you and I might have considered more than five individual bogs in a 3,000 capacity away end. I've never seen anything like it and now I can't see anything else. There'll be therapy sessions about that place one day.
Yeah, a bad day and I'm a bad loser, but as Alan Johnson says in Peep Show, "show me a good loser and I'll show you a loser". Remember the Johnson.
One defeat in seven months, I know, but it means nothing after that. Not tonight.
Happier days, Reds. Happy birthday, Mart. I'll send you back the bit of pepperoni I couldn't scrape off my jeans.
Sake.
---
"It's the time for cool heads. None of our rivals look like they're about to go on a huge winning run at the moment."

West Ham United 3 Liverpool 2 | The Anfield Wrap

🗣 @Knox_Harrington hosts @RobGutmann, @Adam_Smith_82 and @Fuad058…

Listen 👉 https://t.co/cv8T2t9dRL pic.twitter.com/ff1Wc8kPr9

— The Anfield Wrap (@TheAnfieldWrap) November 8, 2021
Recent Posts: