Liverpool's midfield has seen a serious amount of chopping and changing this season, but will it be able to sustain continued upheaval?
HOW do you control fate? How do you herd cats?
On the way to the game on Saturday I heard Radio 5 Live discuss the situation at Leicester City and how their star seems to be falling. They sit 12th in the league at time of writing and the pundit pointed at their injury list and unfancied players. He added that in recent years their fans could all agree on what their ideal line-up would be, but now it's more of a movable feast.
It got me thinking about The Reds, particularly in terms of the midfield. Could we say the same?
So, I looked back and coincidentally, we faced Leicester this time last year. Only Alisson Becker, Joel Matip, Sadio Mane and Diogo Jota played in both that game and this weekend's victory over Arsenal.
That's to be expected given the defensive desperation last year post Goodison, but it's also interesting that none of the midfield that day — James Milner, Curtis Jones and Naby Keita — appeared at the weekend. All are currently injured and, though they were first choice then, it's unlikely that combination will be one that rolls off the tongue for future games.
The last time we had a settled, regular midfield was in 2019. It was a fairly basic combination back then — Jordan Henderson, Fabinho and Gini Wijnaldum. It had the mix of tempo (Henderson), defence (Fabinho) and ball retention (Gini), but even then, it was criticised as being ponderous and lacking creativity.
Of course, that ingredient wasn't required so much back then. That came from the full backs and the fluid and elusive positioning of Roberto Firmino. We could either stretch the play out wide or press using the Brazilian whenever he dropped deep. The central lads were just there to fight, screen, hold and distribute. The bloody stuff.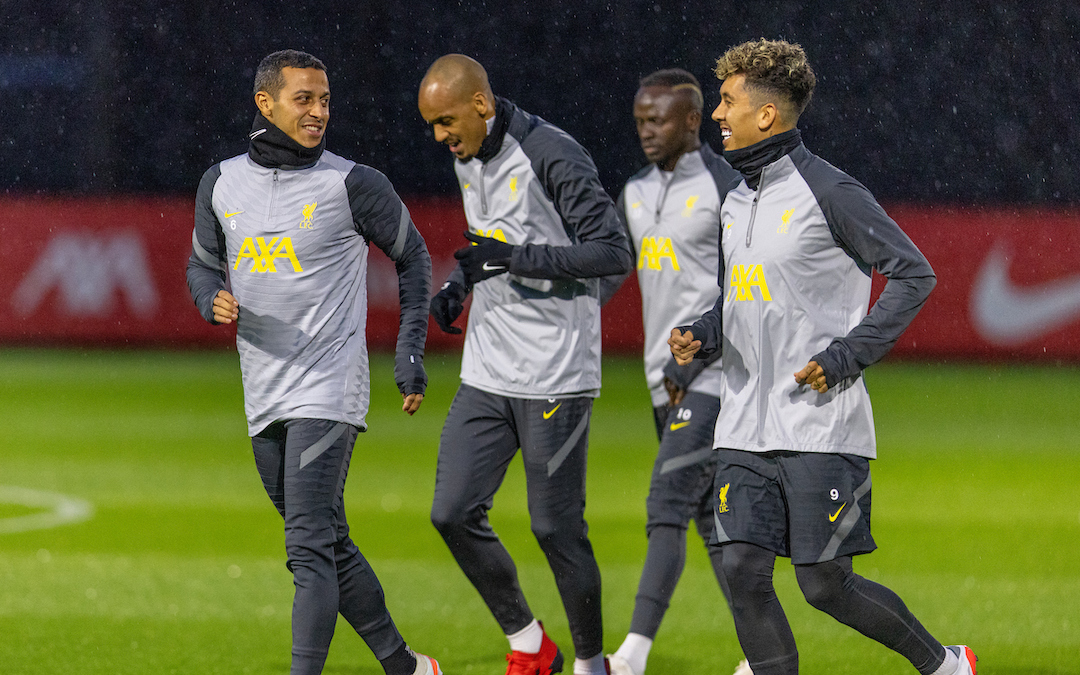 Our defence doesn't change much and even Diogo has to sit on the bench if Sadio, Roberto and Mo Salah are fit, but the midfield is a different kettle of ball games and has been for a while. It must form the longest part of the team selection discussion between Jurgen Klopp and Pep Ljinders. There's no ready solution.
I'm not sure what my preferred three would be. Maybe Henderson, Fabinho and Thiago Alcantara, though that's no reflection on the other lads. I like it when Milner comes on for the last five minutes as it usually means he's been thrown on to hold the ball and play the dark arts to get a narrow lead over the line.
Aaron Ramsdale did something similar on Saturday, though his side were either drawing or losing at the time. It felt like he may have garnered 10 collective minutes on the ball during those goalkicks. Hell of a keeper, though.
But back to the midfield. It's the only part of the pitch that takes serious criticism, possibly because it's always unfinished. It's like making a curry. You can make a really good one and it can do a job, but you can have a different flavoured one a week later which would be just as effective. As long as it works and it doesn't have cardamom seeds (you weirdos) then who really cares. Sometimes you want more strength, sometimes more nuance. 
We had a similar issue in 1996-7 when Michael Thomas came in for Jamie Redknapp, who had been injured at Euro 96. The midfield instantly became stronger as he teamed up with John Barnes in central midfield. The perfect combination of one passer and one grafter. Then Redknapp came back in February and took his shirt. We were top at the time. We finished fourth. That curry clearly needed more garlic than coriander.
Injuries don't help and there's always the slow return of the recently declared fit. Naby Keita usually takes a few games to get going while, at the moment, it's Oxlade-Chamberlain's time to shine. I was surprised to learn that only his captain has more games in midfield than him so far this season. 13 appearances from 18. That's more than Andy Robbo. Good. I like him.
You can't look at the midfield without wondering about the man who's no longer here. Well, not him as such but his replacement who isn't here either. Maybe the club hierarchy could see the signing of Thiago and the promotion of Curtis Jones as cover for him, but Gini Wijnaldum gave something to the side which no one could.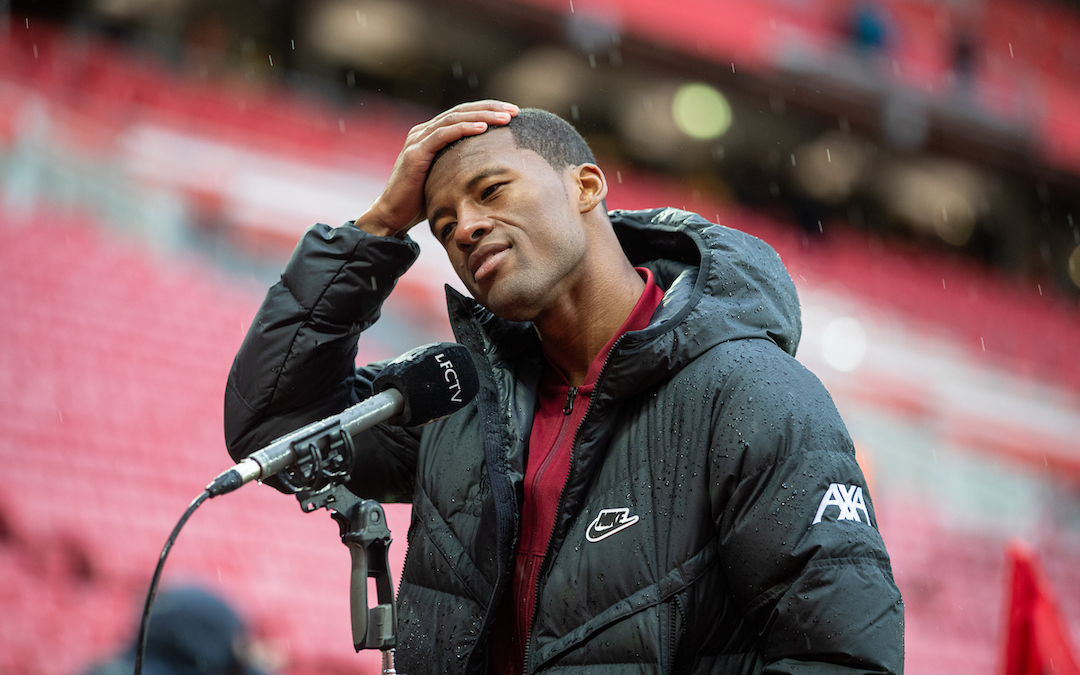 I know the arguments. Gini could go missing. Gini would fade from a game. Gini should have scored more, laid on more but the model was never set up for a free-scoring midfielder. Get it wide and give it to the front three. It worked too, but he could hold a ball up better than any player I've seen in years.
We've missed that but we have to live with it. That was just one Liverpool midfield and we can't mourn when we have a league to win. We have to shape a new one.
Gini's departure threw open a place in the first team to go with Henderson and Fabinho. I'm not sure who Jurgen prefers as the serious candidates are rarely fit enough to give him a headache. Maybe he's looking to buy someone in January (…as if).
The midfield of 2019-2021 is gone now. As long as Fabinho is in there I'm usually happy, which will clearly be a relief to all concerned at the training ground, but I think we have to accept that a state of flux for a while. Chamberlain until he gets injured, then bring in Keita until he gets injured, and then Chamberlain should be fit again.
Cynical? Maybe, but I feel every midfield selection will be frowned upon till the end of the season. There's no perfect model available. There's no template anymore. It's just seasoning according to taste.
You can't control fate and you can't herd cats. You can only pick a fit midfield and hope it's the one that's needed.
That's what we seem to be doing, anyway.
---
"The forwards were great but I thought the midfield was brilliant, both individually and as a three. The balance was perfect."

🎥 The Post Match Pint from the @Churchanfield

🗣 @johngibbonsblog, @lizzidoyle & @DamianKav

For all our content 👉 https://t.co/RZ5ckXvRKw pic.twitter.com/rRt17ZOxd6

— The Anfield Wrap (@TheAnfieldWrap) November 22, 2021
Recent Posts: