With Tyler Morton the latest in a long line of Academy stars breaking through, Liverpool continue to show that their future is bright…
LITTLE thought is often given to the mental challenge academy football can bring.
Some wait their whole lives for one opportunity, only for it never to come, and it's the path of progression through club ranks that invariably shapes a footballer's future.
Some clubs set the standard; some managers provide more opportunities than others. In Jurgen Klopp, Liverpool have a manager who routinely offers pathways into the first team; a manager who believes in the link between academy and first team and rewards players for their talent. Appearances aren't offered as token gestures or to gain plaudits, but are earned based on trust born on the training ground and quality that warrants wearing the red shirt.
There is arguably no greater joy than seeing a young player rise through the ranks and break into the first team. Seeing teenagers develop and reach the requisite quality to play for Liverpool, fulfilling their life-long dreams. Just imagine what it means to a young player to be given the chance to play in front of a sold out Anfield. For me, that's greater than any outside signing.
As fans, we are obsessed with finding the next jewel in the crown — the next Robbie Fowler, Steven Gerrard or Trent Alexander-Arnold. In recent years, though, it's become much less about finding the one but instead appreciating the range of talent across the board. Liverpool have one of the best youth setups in the league, and are now reaping the rewards of their academy, with a wealth of talent coming through.
Harvey Elliott has been the biggest revelation, entrusted in key fixtures this season to earn the adulation of his supporters and his manager. There are very few players in the world at his age that could come in and do a job for Liverpool right now, but Harvey himself has done so. He has been a breath of fresh air, providing a new dimension to midfield and forging a strong partnership with Trent and Salah down the right. That fans are already looking forward to his return speaks volumes about his impact.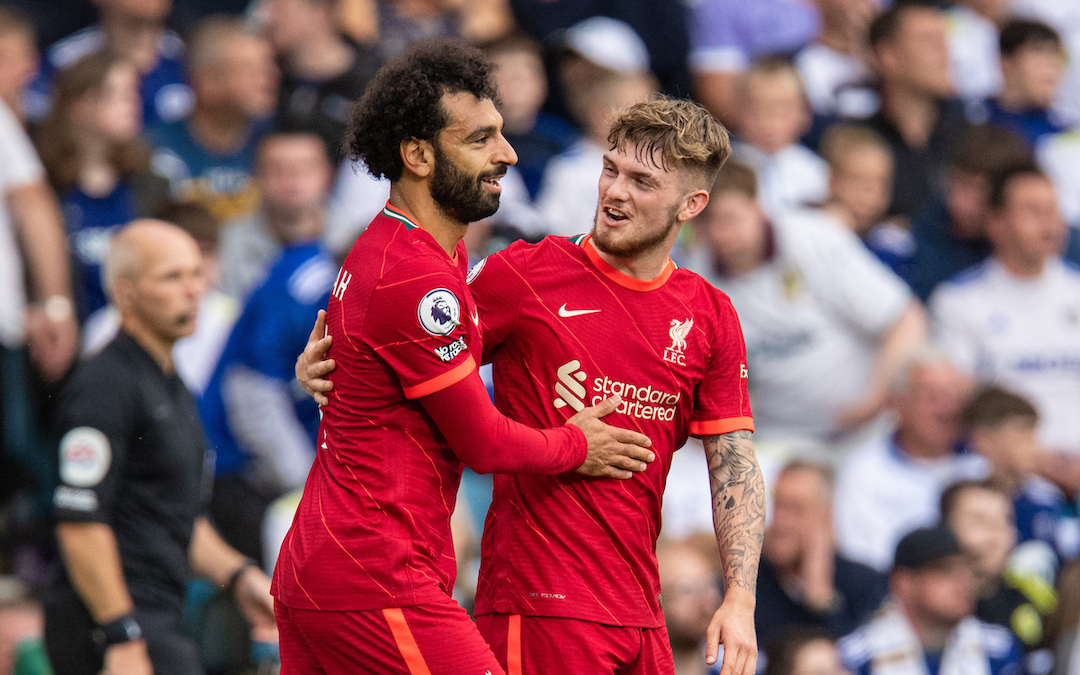 So too Curtis Jones, who is now a recognised member of the senior side, developing immensely over the last 18 months and the unpredictability to his game gives Liverpool an extra edge. Neco Williams has shown glimpses of what he can offer, and was superb last night against Porto, winning all of his tackles and creating two chances, while Caoimhin Kelleher has already displaced Adrian as number two.
All four are now firmly in the first-team setup having worked their way through the ranks, but this season has already shown that behind them there's already another stream of promising youngsters setting their sights on a similar goal.
Kaide Gordon, signed from Derby in February, has enjoyed a meteoric rise and looks like one of the club's most promising stars. Owen Beck looks like he's built in the mould of a Klopp full-back, as does Connor Bradley, who loves to operate box-to-box.
Then there's Tyler Morton. Yet another strong academy product and one of this season's biggest breakthrough stars, benefitting from injuries to some of the senior stars. In their absence he has proved to be a more than able deputy, impressing in the second 45 minutes of the 3-0 win at Norwich in the Carabao Cup, before 90 minutes in the 2-0 victory at Preston.
In the six minutes he was on the field for his Premier League debut against Arsenal last weekend, he helped manage the game, completing seven of his eight passes and winning his only duel. His quality and calm in possession is clear, and he possesses the unique ability to dictate the tempo of a game at his will.
Last night's 2-0 win against Porto was another timely reminder that we should never underestimate how bright Liverpool's future talent is. That the overriding feeling was that Williams and Morton could be trusted to perform in the Champions League is testament to the continued work of the academy, with the step up looking almost seamless at times.
Indeed, on a night few would have blamed Morton for being overwhelmed by the occasion, the club's second youngest Champions League starter was anything but. He kept the team ticking over, conforming the game to his rhythm, all while looking totally at home in a much more experienced starting 11 than many predicted. It's a night he'll never forget, and if his current trajectory is anything to go by, there'll be a few more yet.
He is the latest in a growing list of youngsters who are prospering from the culture of excellence Liverpool have built. It feels as though there is a concentrated effort to bed these players in with the more experienced names, with Morton able to learn at the hand of Thiago, Gordon being mentored by Trent, and Elliott striking up a relationship with Salah, thereby helping to frame their development and build for the future.
That is something that has become increasingly clear since Klopp's arrival, with the team's philosophy consistent across all levels. The U23s and U18s are taught to play the Liverpool way. The arts of pressing, passing, and transitions are being drummed into them from a young age, and a winning mentality has been forged.
This is a team that refuses to drop its standards. It is a mentality that has turned them into serial winners, one that seeps down to all levels, and one that will ensure they are winners again. The togetherness Klopp has instilled has paid huge dividends, bridging the gap between the academy and first team. There's no 'us and them' mantra or room for egos, just a bunch of lads playing the Liverpool way. And what a way that is too.
Optimism and excitement over Liverpool's future stars must, of course, be met with patience, but none of the lads have done their stock any harm this season, and it's great to see such promise around this team's future.
The kids, they're more than alright.
---
"2-0 win and it couldn't have gone much better really! Some good performances from a few lads it was nice to see playing."

Subscribe to watch the full On The Whistle video from Anfield 👇https://t.co/8NRc2Aljnq pic.twitter.com/c5t2uy6vTs

— The Anfield Wrap (@TheAnfieldWrap) November 24, 2021
Recent Posts: