While Liverpool's entire squad has grown in stature again this season, Trent Alexander-Arnold embodies that and continues to inspire…
THERE'S something about the way The Reds are going about their business on the pitch.
I mean, I could've said that sentence at nearly any point within the previous four seasons and most would barely bat an eyelid, such is the standard of brilliance that has been set.
The thing that has stood out to me the most this season is just how business-like Liverpool's current crop have become. They've dropped points, of course, but at no stage do they look like they've really got out of second gear — barring looking a little flustered against Brentford.
What's been more impressive about the wins, though, is the stature of each individual — both physically and mentally. There's clearly a trust between them all which makes each of them look that little bit more confident in all they do, but there's also been a real chest-out approach. Still writing us off are you, yeah? Sound, watch this then.
There's few who have embodied this spirit as much as Trent Alexander-Arnold. He's no longer the only Scouser in our team, yet he seems to have descended to a new plane now that he understands the responsibility he has towards the next generation.
He's described how he wants to be a mentor to youngsters like Kaide Gordon who have been around the first team this season, and he's doing the same in the community as he continues to give back and inspire. The below feature in Football Focus shows just how important it is for the black community in Liverpool to have a figure like him, and he's clearly proud of that which is great.
Humbled. Love my City ❤️ https://t.co/7VEQ6DHr8z

— Trent Alexander-Arnold (@TrentAA) October 17, 2021
His performance against Watford was another that he can be proud of. He managed to be impressive once again without even standing out alongside The Reds' front three and Mo Salah, in particular, stealing the show. That to me just shows the standard he's set for himself.
The highlight for me was actually a defensive action which ended up being rendered redundant by yet another delayed obvious offside call — honestly, I thought we were packing them in? With Cucho Hernandez offside but through on goal, Trent raced back and managed to steal the ball off his foot before Caoimhin Kelleher could be put under rare pressure.
His supposed defensive weaknesses have long been overstated, and he keeps quietly going about proving just how lazy those assessments of his current game really are. Defending is still not something he's asked to do a lot of as part of this side, but he is slowly starting to build up a nice portfolio of highlights in his own box.
He has enough of them going the other way, but he keeps getting better there too which is frightening. He left Vicarage Road with no assists, while Roberto Firmino got one just for passing to Mo before he spun Watford's whole defence, but Trent had a big hand in a number of the goals and his presence wide right allowed our Egyptian King to reign supreme.
His stature has increased so much that he has become one of the players Liverpool can't afford to be without. While James Milner slotted in seamlessly against Crystal Palace and Porto, Manchester City was a bridge too far when faced with two of England's most exciting attacking talents.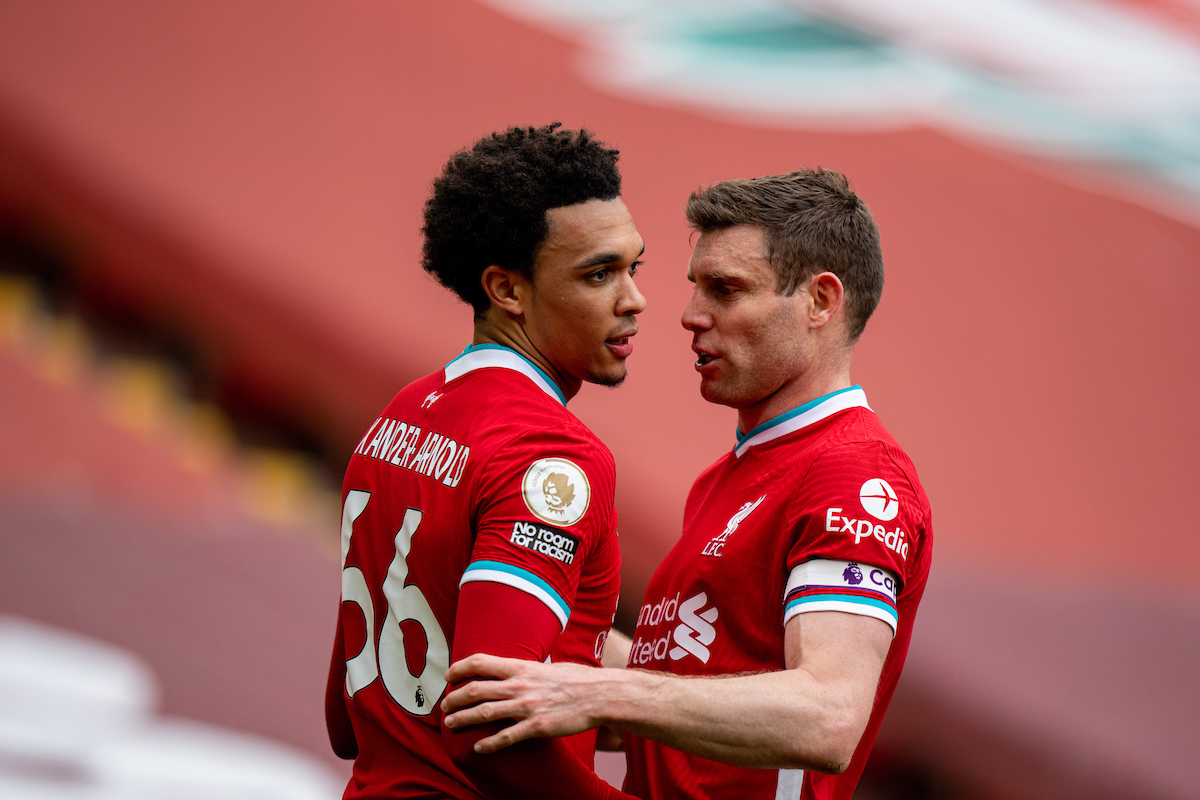 Milner did the best he could — in my eyes, at least — but he'll still be hoping that next time he sees Phil Foden's name on the same team sheet as his, he'll be doing so from the comfort of the bench. Trent can have this one, lads, I sorted Zaha and that.
Trent feels like he could take on all comers and rise to any challenge these days, and why wouldn't he? He's already faced a number of the world's biggest and best and left them on their knees. Luckily the best forward in the world plays in front of him, and the best full back in the world stares back at him in the mirror.
He's still the local lad that's living all our dreams, but for those who are a little closer to achieving those dreams he must mean absolutely everything. He's the blueprint.
To us — his fans and his community — he means absolutely everything too, and his success will always be celebrated as such. He deserves it for everything he's given us.
Trent Alexander-Arnold's no longer the only scouser in our team, but he'll love that. If he keeps this up he'll inspire even more of them too.
---
"There were 8/10 performances from everyone. The midfield 3 were imperious."

🎙️ Watford 0 Liverpool 5: The Anfield Wrap

🗣 @Knox_Harrington hosts @RobGutmann, @Ian1892T and @MikeKearney1.

Listen for free 👉 https://t.co/8WgktJt7V3
Watch for free 👉 https://t.co/m5TqveG1Lq pic.twitter.com/ELDJO8oR6Q

— The Anfield Wrap (@TheAnfieldWrap) October 18, 2021
Recent Posts: