It was a historic day at Old Trafford as Liverpool put five past Manchester United, but where does it rank among The Reds all-time wins?
WELL… I mean… Well…
What do you say about that? How do you sum that up in a thousand words? How do you channel 30-plus years of going to that place to see even the finest Liverpool teams in our history go down to late goals, poor displays and meek surrenders and then write about the exact opposite?
From Naby, to Diogo, to Mo, to the red card, to the empty seats, to them still getting behind a man who can take them so much lower? Norwich City have more Premier League clean sheets this season and it's great.
A few months after Istanbul, a mate of mine told me that that glorious night might have killed football forever. Drama could never be written as fiction that way. Nothing would be so credible. Where can football go to emulate a night like that?
How about Old Trafford, October 2021?
This was different, though. There's acres and acres between Manchester United 2021 and AC Milan 2005, but the rivalry is so much bigger and our history with them so chequered that even a bog-standard win is celebrated to the skies. But a drubbing? A pasting? A rout? An annihilation?
And there's more than just the game itself. The schadenfreude around the margins was equally delicious.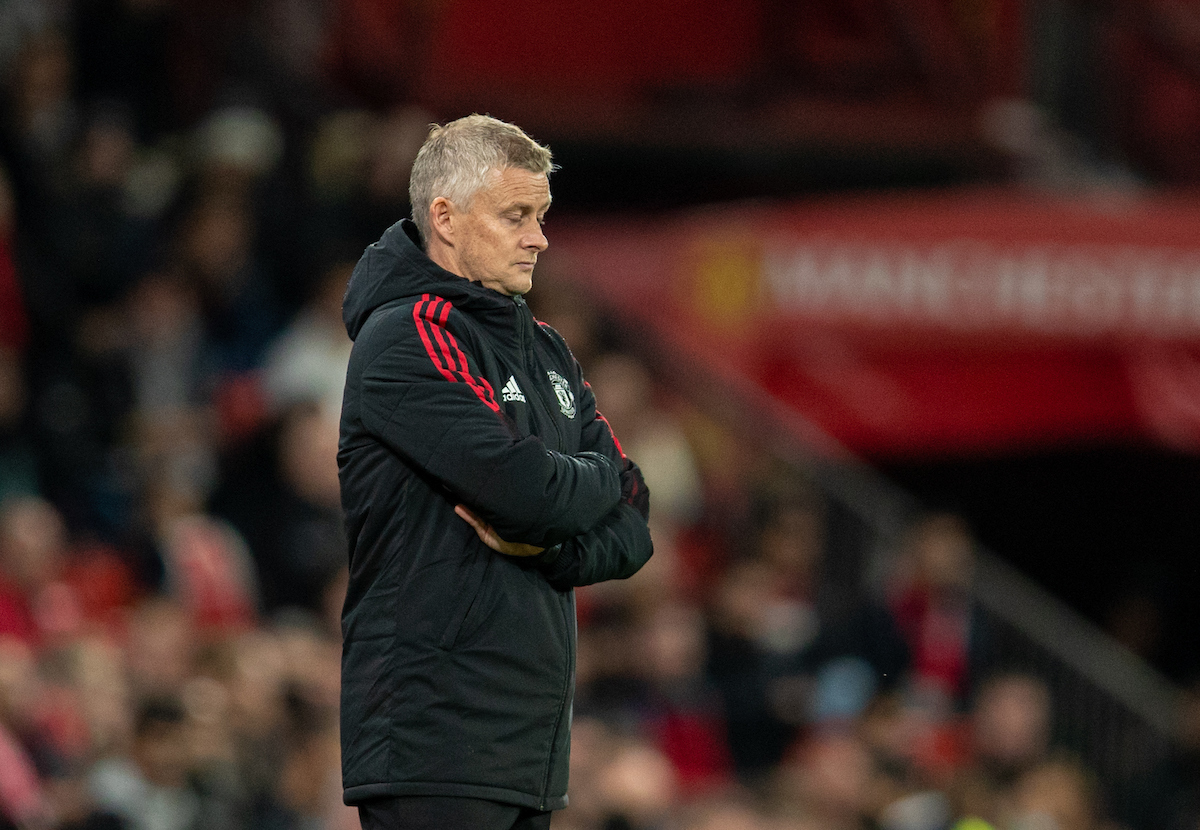 The tired acceptance of Martin Tyler who, for long stretches, had forgot that there was another side on the pitch making United look so poor. Gary Neville standing up for his mate and his backroom staff, despite massive evidence to show that they're miles off the standard required, Ferguson glaring at his work being undone before his very eyes etc… Oh, bring it on! I never thought I'd ever want to attend a night called An Evening with Eamonn Holmes but I scoured the papers for one last night.
Five nil though. Five fucking nil. It's madness. It's the sort of score line you only get on the novice setting of footy games. We've scored five away before against them but that was in a post-war game at Maine Road. Five nil is a beautiful result. Neil and I once had a very involved conversation about why 7-1 reads better than 7-0 but 5-0 is the starting point of all great score lines and one we never thought we'd get at Old Trafford.
And they had one chalked off! I've only just remembered that! It was worth it just to see his smug arched back celebration turn into a shoulder slump.
And the ref! Manchester's very own Antony Taylor! He had more touches than Bruno Fernandes.
It's sad in a way that the story is more about their nadir than our zenith. How their £94.5m World Cup winner ('a yard dog with good marketing' – John Gibbons) can't get into their side over an academy player etc.
It's The Reds who should be hogging the limelight but, as I said last week, there's something to be said for being overlooked. Martin Tyler only really mentioned us in relation to the score line in the first half and even then, it was with an air of a man about to take a beloved family pet to the vets for the final time.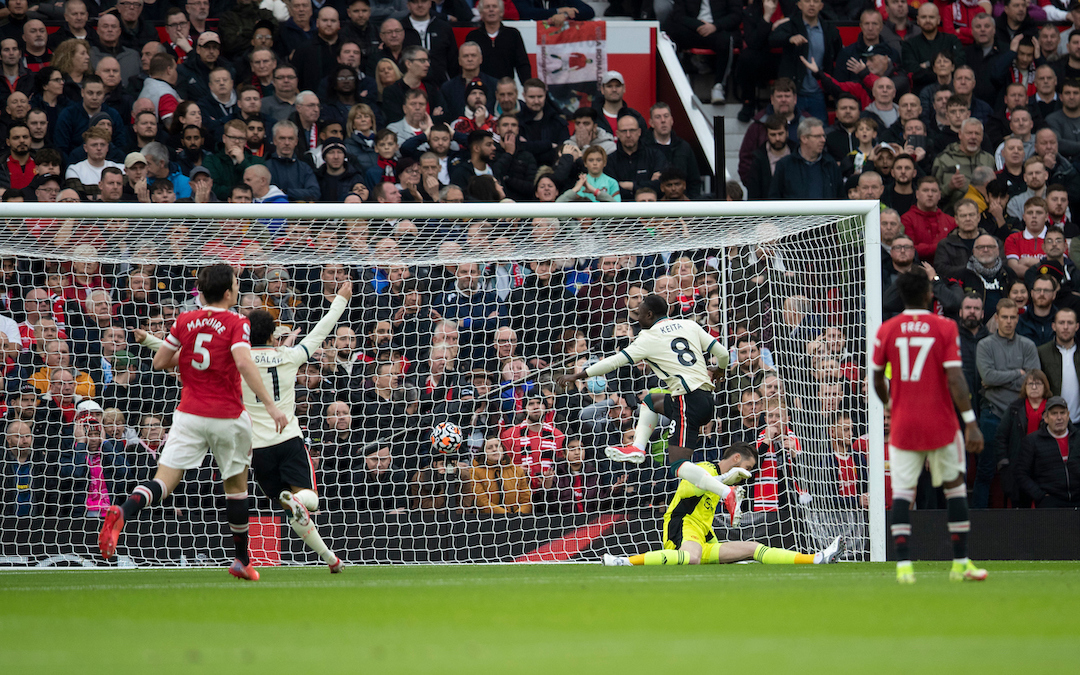 But it's important to look at what Liverpool did as much as what United didn't. There've been so many times there where we've played the name rather than the team but yesterday was different. We set about them the right way.
We punished every short pass and pulled their defence over to pieces to exploit the space. This was no gung-ho attack — it was a systematic and forensic dismantling of them on their own pitch. Doubling up on their central midfielders, sitting back when they had no one to pick out and turning them around whenever we could. Their high press was a joke and Jurgen knew it. Come the end their game had become their own Squid Game.
Look, it's only three points but there are landmark games and this is one of them. I was on the Wildcards show last week where we discussed the best win at Old Trafford. I cited the first 1-0 Danny Murphy win in 2000 and described it as one of the most important games in our history.
That sounds like hyperbole for a league game with nothing riding on it other than local pride and points, but it's true. The great Liverpool sides barely won at their place and that result on a cold December day came after a decade of barren fixtures there. Then we won and it became possible to not just beat them but to challenge them in a wider context.
Yesterday felt like the end of that path. Knocked off our perch but now firmly back on it with a league title, a couple of European Cups in the bag. We've scored nine times there in the past two seasons. Back then a rare consolation goal was the best we could hope for until Gerard Houllier's side made it possible.
There'll be cynical takes on this achievement. Yes, they have a weak side and though we weren't the club who spent £47m on Fred it still has internationals all over the park. This wasn't a nothing team — we just made them seem like it. In many ways it's disappointing that we couldn't have scored more given their 10 men and half an hour to add to our tally. Maybe some of the lads were saving themselves for Preston next week.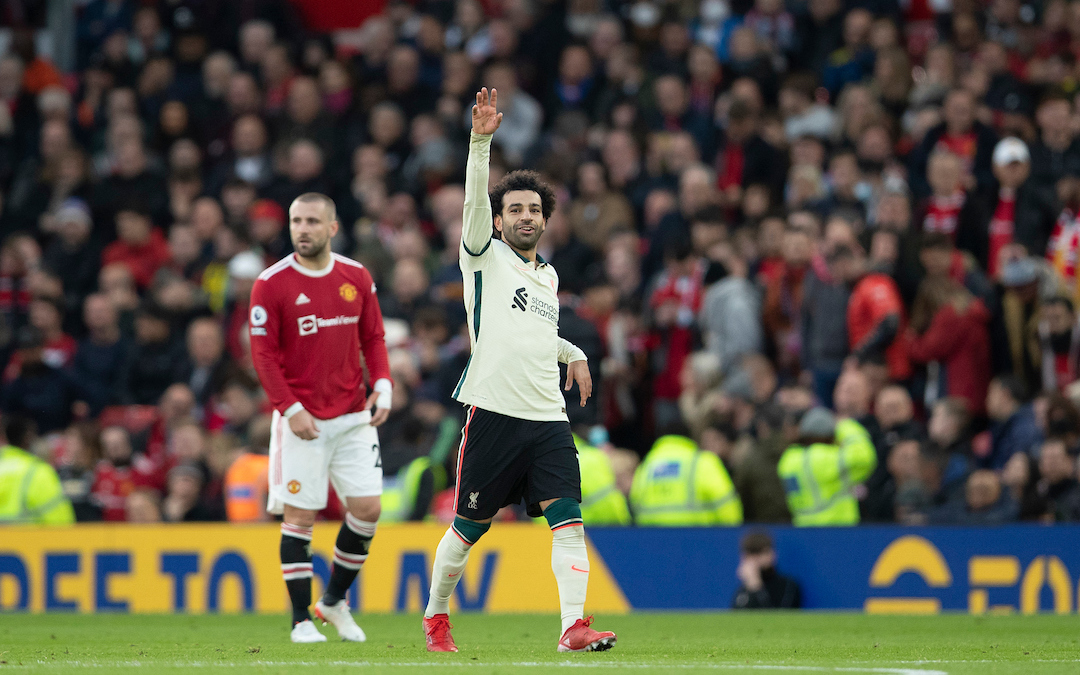 How do you sum up the elation of that game? I can't. It's too much to punch onto a page. Let's just drink it in. Drink it all in. People will be talking about that game for years to come so enjoy your time close to its light.
We went to their place and looked at all their history, their riches and their hype and wanted nothing to do with a narrow win. We wanted to leave a footmark on their season. We wanted an indelible tattoo of a Liver bird on their psyche, just as they did to me in the cup game in 1999 with a Red Devil.
Take every ounce, every drop from that game because these are days we live for. We went to Old Trafford and we scored five. What's more, we let them off with five.
These are the days. This is our Liverpool. This is why we do this thing. This is what we deserve for what they routinely did to us for so many years, albeit without that margin.
My mate was wrong about the drama being over after Istanbul. It just came in a different form in a different way. 
We will write and sing songs about that day. These are the days.
---
"GERRRRRRIIINNNNN. That was the greatest thing i've ever seen, i've been there so many times and never seen that."

"At 3-0 we thought surely it doesn't get better than this and then Salah bangs a hat-trick." 😂

👉https://t.co/oaOWcUzrlr👈 pic.twitter.com/vOkpL14oI6

— The Anfield Wrap (@TheAnfieldWrap) October 25, 2021
Recent Posts: