Liverpool have started the season strongly but with a busy festive period right around the corner, can The Reds now take it to the next level?
WE'RE well into October now, and there's been talk of Christmas parties, festive sandwiches and more in the office already.
Is it a little bit too soon for the C-word?
Maybe so, but even with Jurgen Klopp's mentality of taking it game by game, Liverpool will be keeping half on eye on how they can capitalise over the next few months.
Particularly in the midst of a pandemic, most of us aren't fans of the international break. However, they do present a rare opportunity to sit back and take stock of what has been and what is to come.
Some players might even get a rest, and we'll be hoping that our team is back to full strength by the time the Watford game rolls around.
On The Overview this morning, we looked at how our fixture list shaped up compared to our closest current rivals: Manchester City, Chelsea and Manchester United. The former two have what you would call an easy run over the next seven games, in contrast to United who face Tottenham, City and, of course, Liverpool.
While I would happily take being within a few points of both teams following this period, it's the ideal time to make a statement of intent for the season ahead.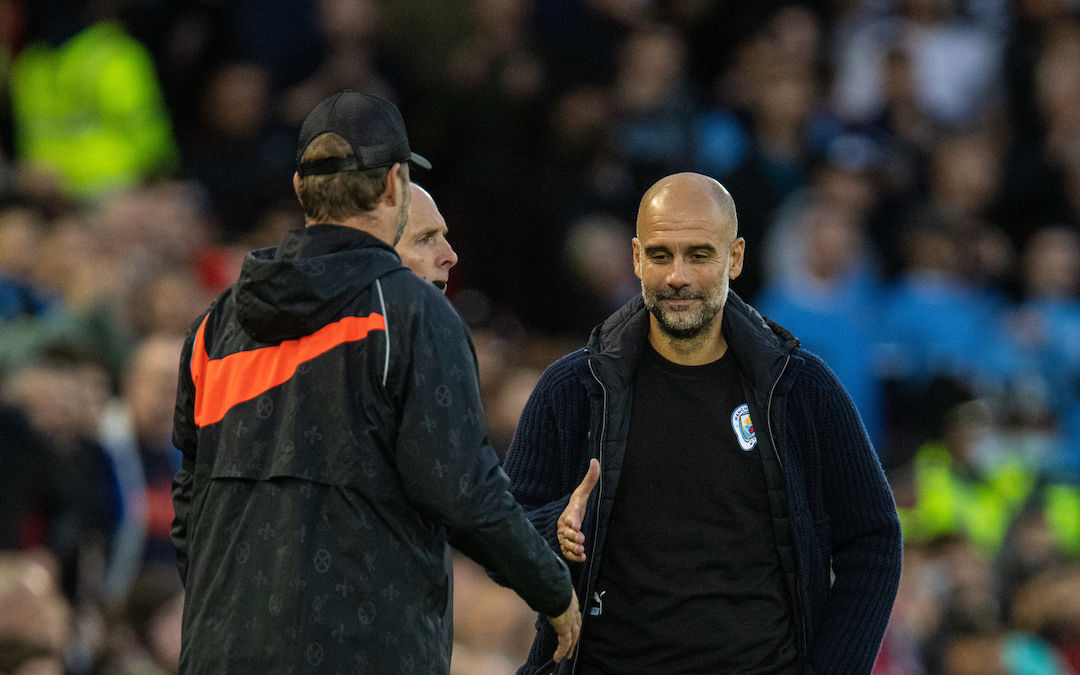 It might sound mad when we were playing one of the other best teams in the country, league and possibly the world, but reflecting on the Man City game, I still feel like Liverpool have another level they can go to.
City were very, very good at taking the sting out of us. For most of the first half and parts of the second, we played the game almost entirely at their pace. They were quick in attack but stunted us whenever we were in possession.
They don't have Mo Salah, though, who can single-handedly dismantle teams in a matter of seconds. It was seven on Sunday, to be exact. He kept us in the game with two moments of brilliance, and we came away with a point that was probably a fair result.
Both their manager's antics on the sidelines and the celebrations in the away end showed how much of a threat they view us as. Consciously or subconsciously, they know that without Trent Alexander-Arnold and the creative force of Thiago Alcantara, they should be capitalising on the chance to take three points off us on our own turf. Especially after the first half, they will feel like they could have won.
They also know that if these players are back and Liverpool play the game rather than the occasion, we can get a result even in the Etihad with home advantage. That's next year's problem, though.
Both the fans and the players will believe they have more to give in the more immediate future. Our performance against Porto only helped to solidify that mentality. We were simultaneously solid in the back and a constant threat in attack. We were always first to second balls, physical and direct in all the right moments.
Against very different and admittedly much weaker opposition, we saw not just glimpses but full displays of what players, including Curtis Jones, are capable of. Some of that was lacking against Man City, but we know what we can achieve.
Man of the moment Mo Salah knows what they're capable of as well, writing after the game on Sunday: "We're still in the game. We're going for the title and we have what it takes."
We really wanted to win this one but we're still in the game. We're going for the title and we have what it takes. pic.twitter.com/JDnr2YMwHE

— Mohamed Salah (@MoSalah) October 4, 2021
They are still in the game, indeed. With seven games played, Liverpool sit second in the league on 15 points, one below Chelsea and one above Man City. We're still right in it and exactly where we need to be. No one needs to panic, honestly.
Our run in the Champions League hasn't been bad either. Six points from six and two convincing performances have set us on the path for qualification. Atletico are our next contenders, home and away, as the top seed in the group. Getting six or even four points would allow for some breathing room approaching a jam-packed December.
The run up to Christmas will be crucial, and it begins after the international break. A trip to Vicarage Road with new manager Claudio Ranieri awaits, and then a return to the Wanda Metropolitano. We all know what happened there.
Other home games against Brighton, West Ham, Arsenal and Southampton are on the horizon, and visits to West Ham, Everton and Old Trafford.
They will all be tough. That is the nature of the Premier League and the level of football in this country. Liverpool need to treat every single game like a cup final — a cliche maybe, but it's true.
If we play at the level we are capable of, this team and this manager can not just beat, but dismantle any opposition.
And so the countdown to Christmas begins.
---
Recent Posts: