Rob Gutmann's preview ahead of Liverpool v Crystal Palace at Anfield, with The Reds likely to make changes to their first 11 after Wednesday's win…
I'M in that 'bang into every Liverpool game' zone.
I'm beside myself with excitement in anticipation of Crystal fucking Palace coming to Anfield. It's all too much.
We've opened the season with four wins out of five. We closed out last season with eight wins out of 10. And 12 out of 15 is serious form. Liverpool remain the country's form team. It's an inconvenient truth for the punditry world. A universe where Manchester United, Manchester City and Chelsea are the more compelling stories.
Jordan Henderson, though, is this league and season's most compelling story. He's the boy least likely who has defied odds to win leagues and European Cups but just doesn't look and move like a FIFA idol. He's not the mould for England or a wider world that values new and attention seeking above steady and sure and mighty. There isn't a better midfielder in Europe than Jordan Henderson. There isn't a fan poll on the continent that would reflect this.
Henderson's underappreciation is a metaphor for the myopia surrounding Liverpool. A world that bowed before the 2020 Reds cannot look them in the eye today.
Yes, we rocked on our heels earlier in the year, yes we looked a pale shadow of our true selves between January and March. But those were exceptional times. For Liverpool, they were injury afflicted times but also, crucially, times without their ever essential '12th man', the Anfield crowd.
In the new season's opening five games, Liverpool have totally dominated all opposition put in front of them. That several of the games have had sub plots has served to misdirect media and fandom alike. If you only skim through the highlights, Liverpool's clashes with Chelsea and Milan look like rollercoaster rides or ding-dong battles, rather than what they were in reality — demonstrations of Liverpool's power.
Last week at Elland Road against a fancied Leeds side, and in front of their baying mob, The Reds put on an exhibition and destroyed the home side 3-0. It could've been many more. The story from the game, though, was that of the injury to young Harvey Elliott, and rightly so.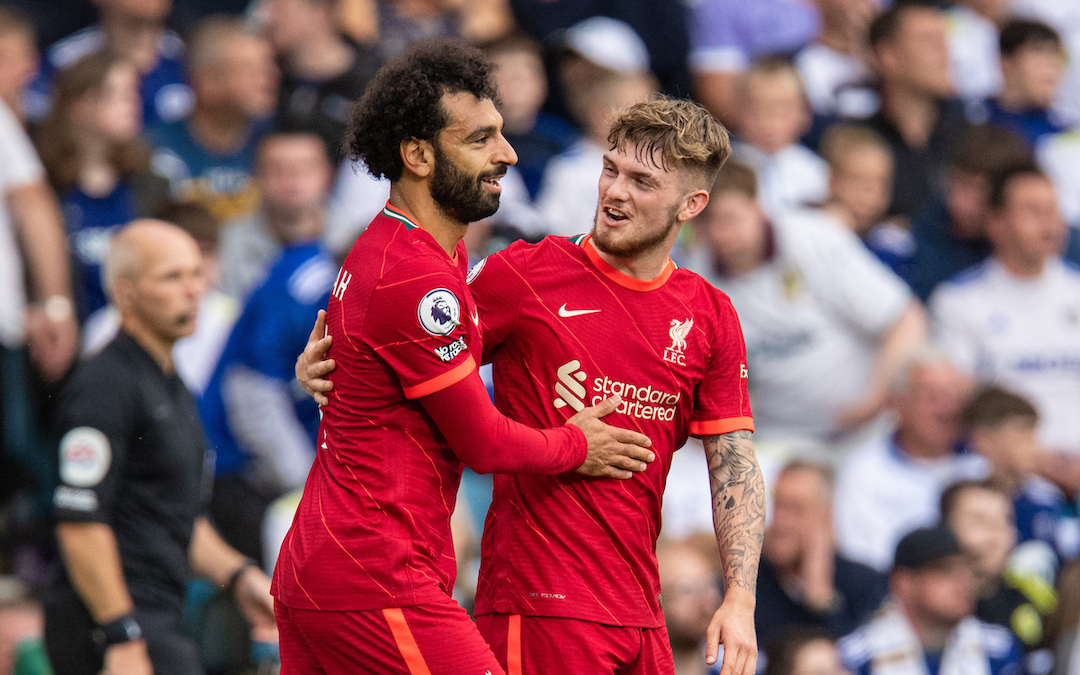 Liverpool, then, are moving under radars. Jurgen Klopp will prefer it that way. So too might new Crystal Palace boss Patrick Vieira, whose side are hinting at surprising a few teams this season. The first to be forced to sit up and take notice were table-topping Tottenham, trounced 3-0 last weekend by Vieira's Eagles.
Liverpool and their manager will have been sufficiently forewarned but this season's Liverpool don't look to be anywhere near a complacent disposition. 
Klopp begun a phase of inevitable rotation by making four changes in midweek, for the Champions League victory over AC Milan. It is likely that he will adjust to a similar degree for Palace's visit to Anfield.
Virgil van Dijk is sure to return in central defence, but either Joel Matip or Joe Gomez could make way. Given Palace's aerial threat there's even a chance that lofty new signing, Ibou Konate, makes his debut. The full backs, Trent Alexander-Arnold and Andy Robbo, are likely to be made to wait for rests and will both probably miss next Tuesday's League Cup encounter with Norwich.
In the middle of the park, Fabinho and Henderson should start together, and again are near certainties to be rested for the trip to Norwich. Who partners them on Saturday, though, is anyone's guess. Klopp could reprise the Harvey Elliott experiment in the guise of Curtis Jones. Young Curtis deserves a start and was a lively sub in midweek.
The queue forming for Saturday's third midfield slot isn't a short one. Naby Keita started against Milan and will see no reason why he shouldn't make the cut again. Thiago was one of the star performers in the win over Leeds, and has a pedigree that would justify his selection for every game. Then there's Alex Oxlade-Chamberlain who began the season in the attacking number eight role and may have continued there but for personal circumstances (the birth of his first child) forcing him to sit out a subsequent game.
We've seen enough so far from Liverpool to suggest there's something brewing again, but equally, and most encouragingly of all is the sense that there is so much more to come from a team no one outside Anfield really has the measure of yet.
Up the blind-siding Reds.
Predicted 11: Alisson; Trent, Konate, Van Dijk, Robertson; Fabinho, Henderson, Thiago; Salah, Jota, Mane
---
"Curtis Jones had a nice little cameo against Milan. I'd like to see him start on Saturday."

🎥 The Preview Show: Crystal Palace@robbohuyton and @emiliabona talk about Liverpool's game at Anfield on Saturday against Palace…

👉 https://t.co/oaOWcUzrlr pic.twitter.com/Ow6bZnnsTE

— The Anfield Wrap (@TheAnfieldWrap) September 17, 2021
Recent Posts: