After a week in which Liverpool came out on top in three challenging games, they also silenced the naysayers by showing off their squad…
THERE'S something about the League Cup, isn't there?
Football's equivalent of marmite. You either love it or you hate it. Rarely is there an in between.
To young players it matters most, providing a rare opportunity at a first-team appearance and a chance to write themselves into a small chapter in Liverpool's modern history.
To some supporters, it's a hunt for another trophy, maybe an occasion for your first away day, and a game just like any other outing for The Reds. But for every one in that camp, there's a supporter that refuses to get sucked in. Bring your boots, Coppack, you're going in.
To me, the League Cup is a competition of opportunity, one we should seize and relish. To date, Liverpool's record under Jurgen Klopp hasn't been great. There are mitigating circumstances, of course, but domestic cup runs have been something of a rarity.
I'd love for that to change this season and plenty of signs over the last week suggest it can.
The biggest criticism levelled at this side this summer was the apparent lack of squad depth. Do we really have enough in our locker to go toe-to-toe with Manchester City and Chelsea for an entire season on two fronts? Would a few injuries mean we fall away? Can we compete in every competition?
I'd be lying if I said I didn't want Liverpool to get one or two more in the door to accommodate for Gini Wijnaldum's exit and bolster Klopp's attacking options. But they didn't and life moves on.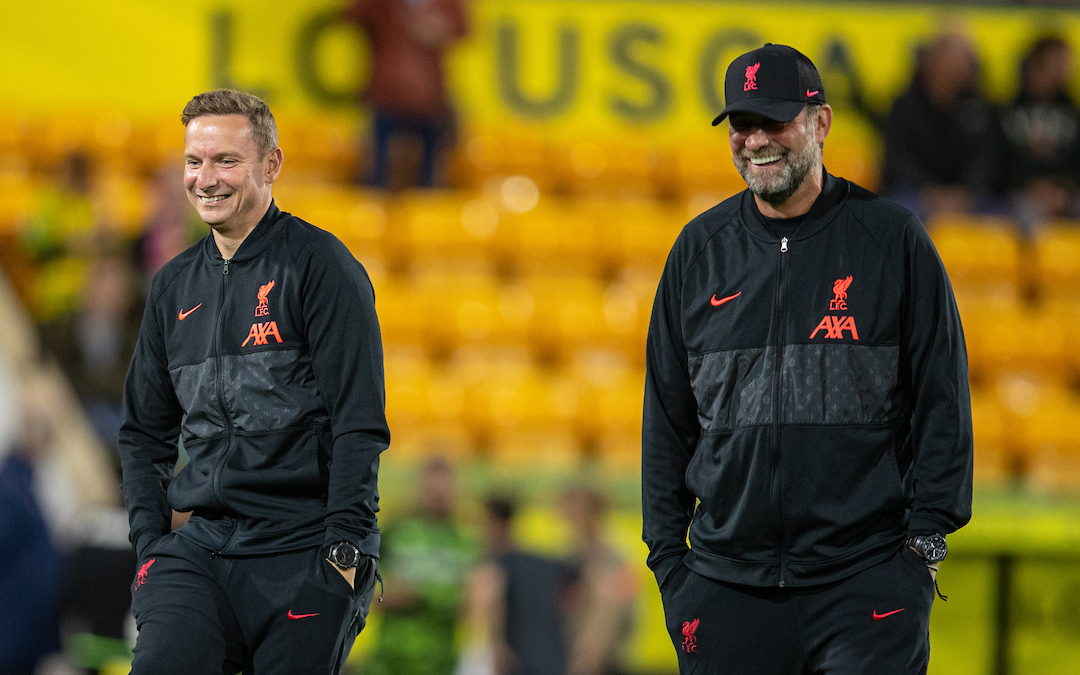 The games have come thick and fast and so have the points. Game by game, the criticisms about depth begin to get smaller. Indeed, in the last week alone The Reds have shown they're more than capable of fighting on all fronts.
AC Milan, Crystal Palace and Norwich City. Three different competitions, 19 changes in personnel, but maximum points all the same. Liverpool have reinforced their credentials and emphasised that anyone counting them out is sorely mistaken.
Granted, Norwich in the League Cup on Tuesday was slightly different and a situation where rotation was expected, but it was yet another game that provided more answers than questions. A whole host of changes and yet Liverpool were still every bit of Liverpool. They were still relentless in the press. Still assertive in possession. Still the set-piece kings.
Caoimhin Kelleher showed he is more than capable of being Alisson Becker's number two, Konate and Joe Gomez impressed again, and you find yourself starting to wonder if Tsimikas even knows the meaning of a bad cross. Our Greek scouser, just how good has he been this season?
Elsewhere, Curtis Jones's 50th appearance provided ample reminder to those who have seemingly forgotten his quality. He has the trust of his manager and the belief he belongs in this side. He plays like it, too.
Perhaps most importantly, Norwich was the second occasion in the space of a week where Origi showed he can contribute this season. A first goal in 12 months, his 10th in 14 League Cup appearances, and plenty to suggest there's still some stories to be written.
And what about Takumi Minamino? A really gifted footballer at RB Salzburg who has found it tough since moving, firing us in front within five minutes with an instinctive strike before ghosting through the defence for his second. It was a night of real composure from a player we've scarcely seen.
Both players can have big roles to play this season. If they can pick up a few goals, it could make a world of difference come May.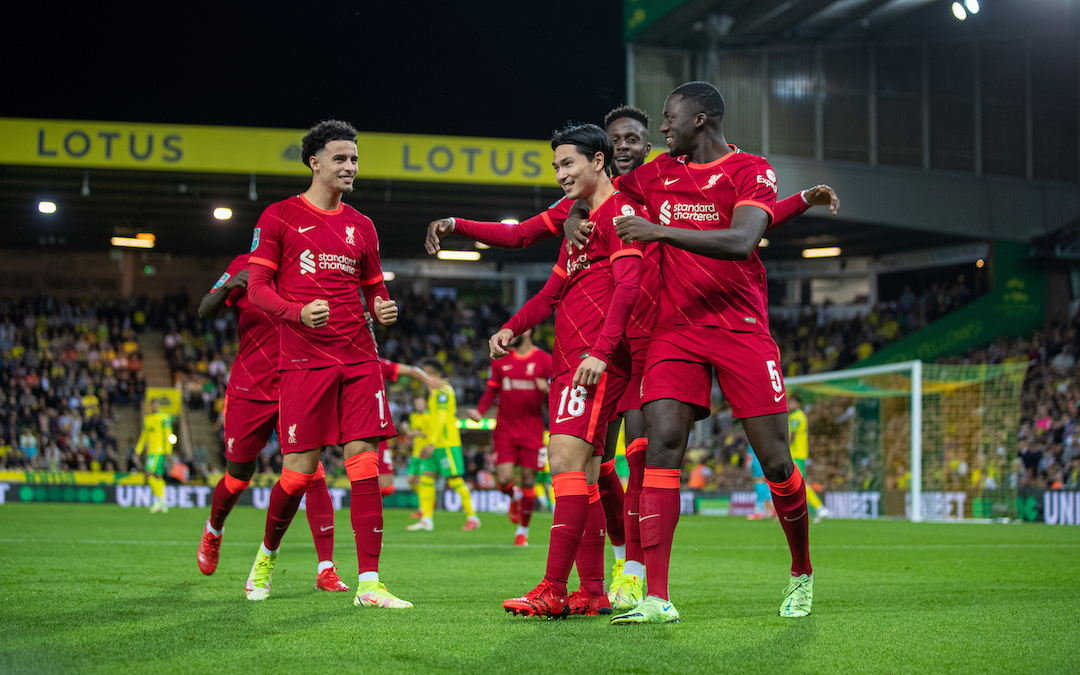 There's only one week left of September, and The Reds have coped admirably. Players have been rested and others have taken their opportunities accordingly. Three wins in three competitions in the seven days and proof the sum is sometimes greater than the parts.
This is the best Liverpool team of my lifetime and I want to see them win everything there is to win. I want to see them run away with the Premier League and triumph in Istanbul come May. I want to see them beat Norwich in the League Cup and then go and put on a show at Preston.
There's no doubt the League Cup is the least glamorous of them all, but win a favourable fourth-round draw and there's a quarter final to look forward to. There's little reason Liverpool shouldn't be there.
So give me the attractive and the unattractive. Give me the fancy and the no frills. Give me all the silverware and more.
We've all learned something about our squad in the past week and its ability to cope with the workload. If Liverpool are to fight on all fronts, Klopp will need his supporting cast and their performances will have reminded him that he's got a reserve to dip into and a squad he can trust.
Now to go again for another big week. All eyes on Brentford. They're a team that loves to play and have done so in spades so far this season. Then the small matter of Porto and City to come.
Here's to the next chapter. We're all in it together.
---
"Kelleher had a spell of playing centre half, heading balls away!"

"He's really adept with his feet, comfortable coming off his line. Liverpool have got a really really talented back up keeper there."

Subscribe now to watch the Post Match Pint 🎥

👉https://t.co/2d9yD4AOJ4👈 pic.twitter.com/jhBNK9aYVS

— The Anfield Wrap (@TheAnfieldWrap) September 22, 2021
Recent Posts: