The bond between players and supporters is the best it's been at Liverpool, and Leanne Prescott thinks the return of fans can restore order…
NEW seasons are about renewal.
You hit the reset button, shake off the cobwebs of the season before and get straight back down to business.
Liverpool have more to shake off than most. Don't get me wrong, 2020-21 was a slog for everyone, but there were times it felt like someone in red had done a deal with the devil for the league title and this was our comeuppance.
Players dropped like flies, midfielders were shoehorned in as centre-backs and the overall balance and cohesion of the team was completely dismantled.
Perhaps most significant, though, was the absence of fans. There was no excitement, no passion, soul or comradery. Just a lifeless game in the shadow of the one we love.
Every club needs its supporters, but if last season proved anything, it's that our lads need it more than most.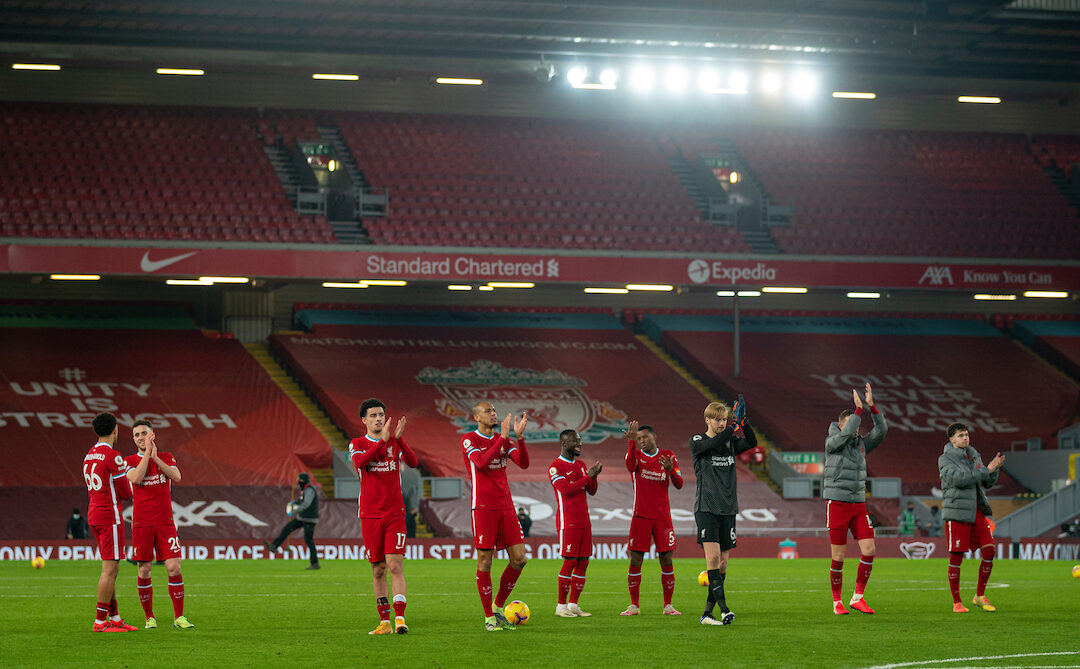 Take Roberto Firmino, for example. A master showman, he has always struck me as someone who thrives off the fans and it's of little surprise his best performance at Anfield for some time on Monday coincided with their mass return. Then there's Sadio Mane, who laps up the praise and looks ready to come back swinging after a difficult campaign.
The last year has shown that these players need us as much as we need them.
Now we all get our chance at renewal.
A clean slate with a fully fit squad, Andy Robertson aside, four world-class centre-backs instead of none and a rested, rejuvenated front-three.
A team not only buoyed by the highly anticipated return of Virgil van Dijk and Joe Gomez and the arrival of Ibrahima Konate, but a fit and firing Alex Oxlade-Chamberlain, the emergence of another young gem in Harvey Elliott and Diogo Jota who'll be desperate to score in front of actual human beings.
There may yet be more ingredients to add too, but rest assured this group is more than capable of mounting another charge.
So too, the welcome sight of a packed-out stadium of supporters, bringing with them a renewed sense of belief and marking the return to proper football. That feeling of waking up on a matchday with the bubbly excitement of a kid at Christmas, furiously scribbling potential lineups, seeing people you know and nodding to people you don't.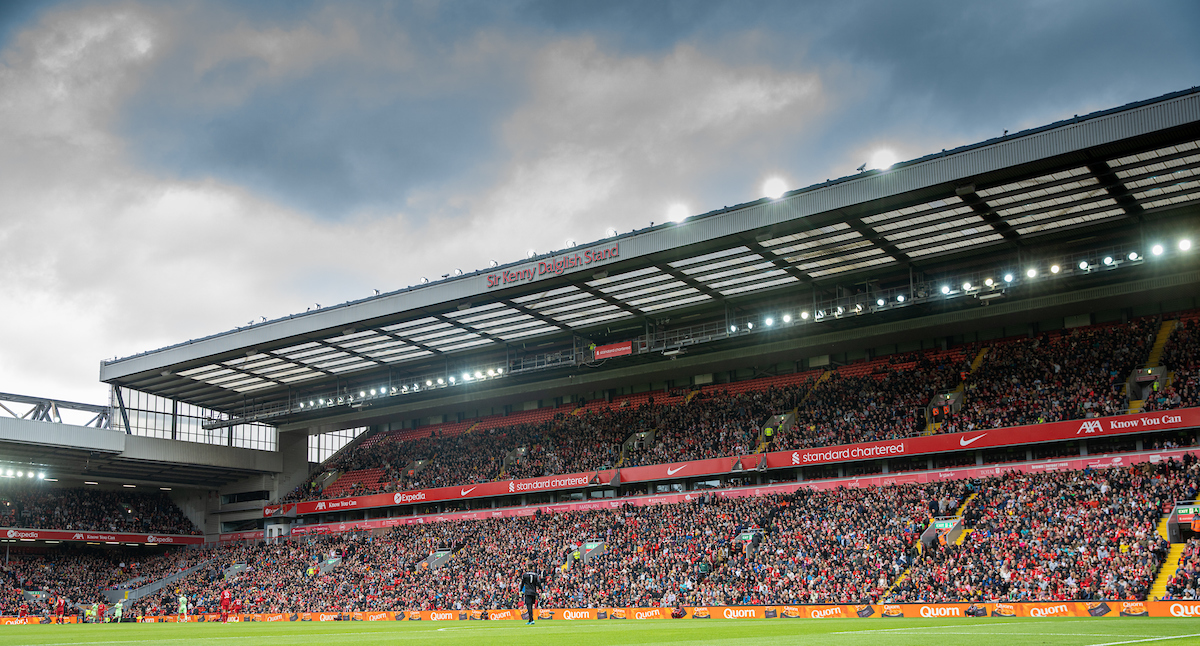 Sunday and Monday's friendlies against Athletic Bilbao and Osasuna provided the perfect antidote to last season's stillness, with 40,000 fans descending on Anfield each night for the first time since what feels like forever, sparking everything into life again.
The frustrations of a delayed kick-off caused by kinks in the new ticketing system soon to be replaced by kids in awe of their first taste of Anfield and a steady flow of supporters bouncing in the concourse, providing an infectious energy and timely dose of normality.
To those of us who suffered through behind-closed-doors football, this was a breath of fresh air. Two games that benefited greatly from an intensity and electricity notches above what it has been.
Jurgen Klopp has always been a manager who exudes energy and enthusiasm. His punches to the air in front of a packed-out Kop exemplify his own emotional management style, and since joining the club, he has harnessed the relationship between fans and players and translated it to achievements on the pitch.
Pre-season has seen a return to the full throttle gegenpressing of Klopp's early years, a brand of football that relies heavily on the energy and emotion of the crowd. The absence of that noise was sorely felt last season and having the 12th man back at Anfield this term will undoubtedly help The Reds navigate the tide ahead.
So then, to a new season. A campaign of hope renewed. The Reds back on the pitch and us fans back in the stands – just how it should be. Circumstances may have prevented Liverpool from attacking the title last season, but they'll go again this term.
No more of that behind-closed-doors crap ever again, please.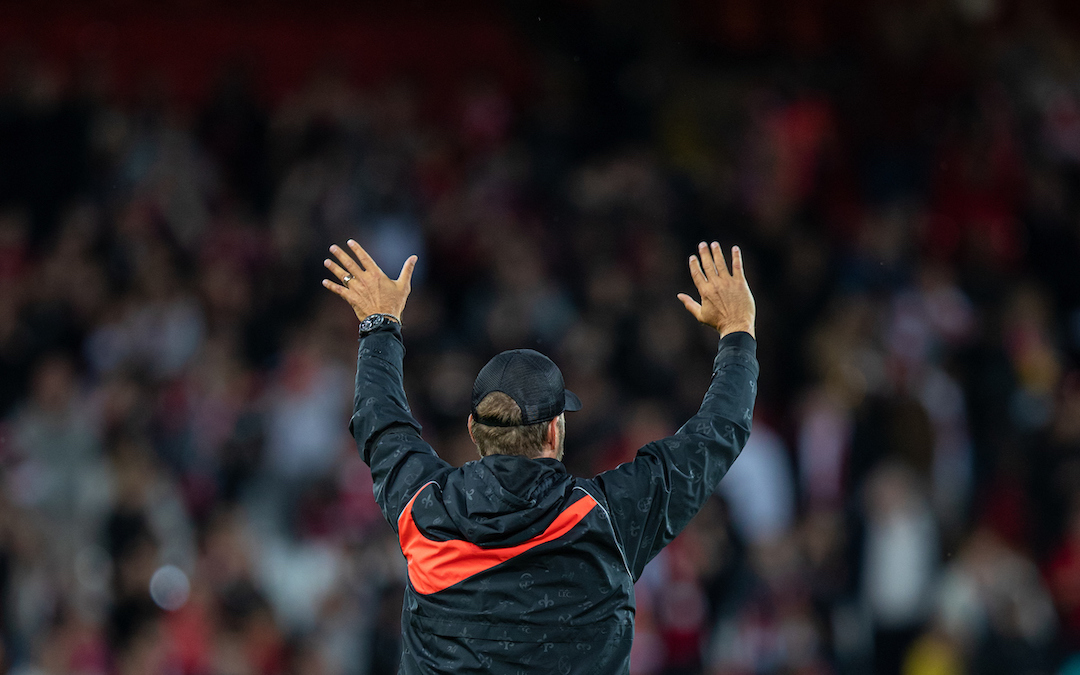 Give me the smattering of fans booing when the opposition comes out of the tunnel, making Anfield as hostile an atmosphere as possible. Give me the cheers when our lads touch the hallowed turf. Give me Bobby's kung-fu kick into the air and Sadio's reenactment 20 seconds later.
What a difference it can all make, for us and the players. To this club more than most.
All of us are desperate to make up for lost time and show these lads what they mean to us and it starts on Saturday.
Reviving the connection between supporters and players will be a major boost for Liverpool this season, and while some will discount this side given their lack of transfer activity, make no mistake, this team, this group of serial winners, will go again. Klopp will go again.
You, me, we're all ready to go again.
Real footy is back. Write us off if you dare.
---
Recent Posts: