Rob Gutmann's preview ahead of Liverpool v Burnley at Anfield, with a full house back inside Anfield for the first time in 17 months…
IT'S going to take a while to get over the sheer innocent joy of being back in packed football grounds.
No one should beat themselves up for indulging and wallowing in the pure bliss of our regained freedom.
Norwich away was all that I dreamed it could be. I was in the ground ridiculously early and had consumed a sufficient amount of ale required for the task ahead. My experience of the concourse under the stand at Carrow Road was like a dream sequence.
As I moved through the crowd, blurred, smiling happy faces, all teeth, all laughter, coming at me in waves of bonhomie. It felt like I knew every last one of the 3,000 red people at the party.
A party it certainly transpired to be. I think we all knew that the reality of the outcome of a football match had the power to burst all bubbles. My greatest wish was that the Liverpool team would serve up the three points required as the essential hors d'oeuvres for our homecoming against Burnley this Saturday.
I was abroad recently and missed the two Anfield pre-season games and, although they looked great experiences, I'm happier to have saved something for the main event. I have sat in the same Centenary (now 'Sir Kenny Dalglish') Stand seat next to my best mate Giulio for 29 years. Except for one season — 2020-21. The year the world stood still.
Even now it feels hard to compute that this nightmare (on so many big, medium and trivial levels) seems like it is finally over. Amongst the pandemic's endless lessons is the blindingly obvious, that we should never take shit for granted again.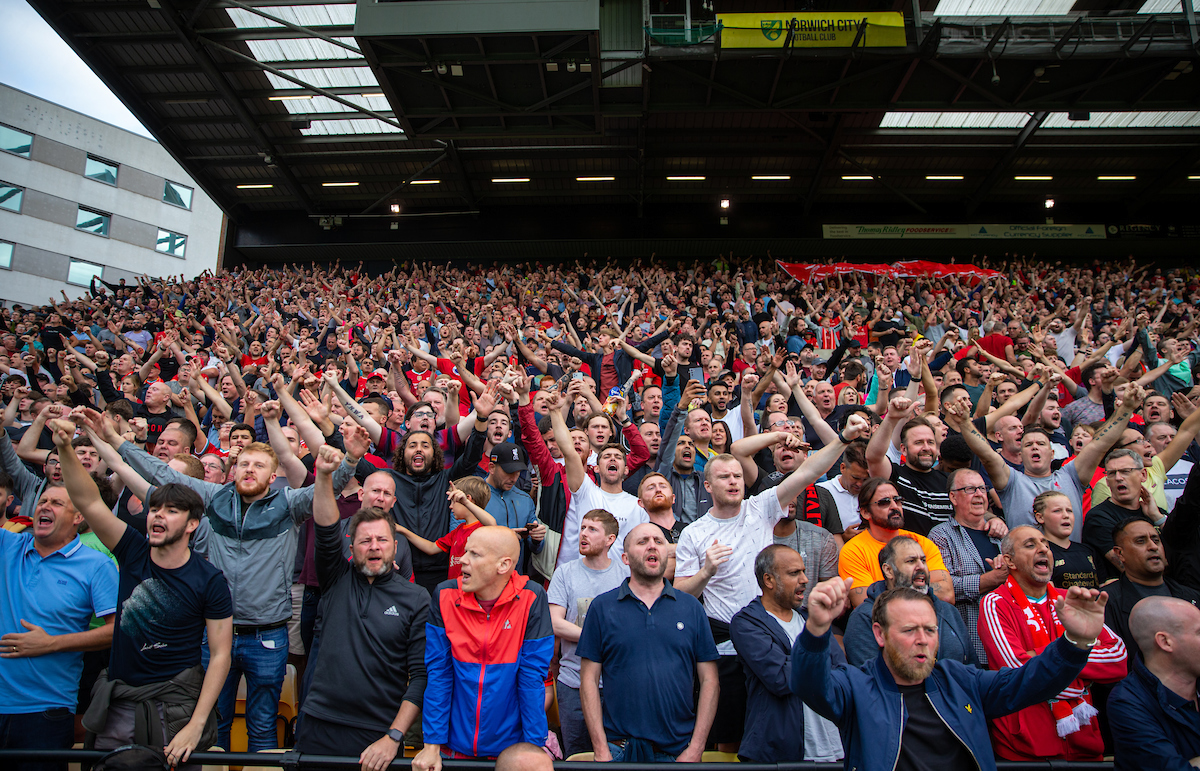 I am just about taking for granted that I will be in a full Anfield at 12.30pm this Saturday, but I'm just not really looking beyond that day. One game at a time. I'm OK with that.
There is so much to immediately look forward to, but my greatest wish is to see this greatest of Liverpool teams have the opportunity to be reborn. I want to see these boys open like flowers, basking in the Anfield glow.
The all conquering team of 2018-2020 grew up in front of an increasingly adoring public. Sadio Mane, Mo Salah and Bobby Firmino were not world stars when Liverpool signed them, but each blossomed into one by harnessing Anfield's love and power. Liverpool legends without our crowd are like Samson after he's been for a trim.
I've spent a fair bit of the close season chatting for The Anfield Wrap about how Liverpool can improve on last season's 'behind closed doors' disappointing third-placed finish by signing some new footballers.
Unlike many a cynic I do firmly believe in the uplifting power of 'the transfer'. All great teams were effectively 'bought', in stages. I've never understood how some fans can enjoy a player as transformative for their team as Virgil van Dijk and yet be nonchalant about the story, once mere rumour and speculation, that brought him to our promised land.
At the time of writing Liverpool have purchased just one new face this summer — Ibou Konate. Contrary to instinct and 'reputation', I am perhaps relaxed at the prospect of Liverpool doing no further transfer business this summer. It's amazing what a difference form and fitness make.
I am seasoned enough to know that these are fragile entities, but it doesn't half help to begin a new campaign with a nigh on full healthy squad of apparently happy players champing at bits to reclaim their status at the pinnacle of the game.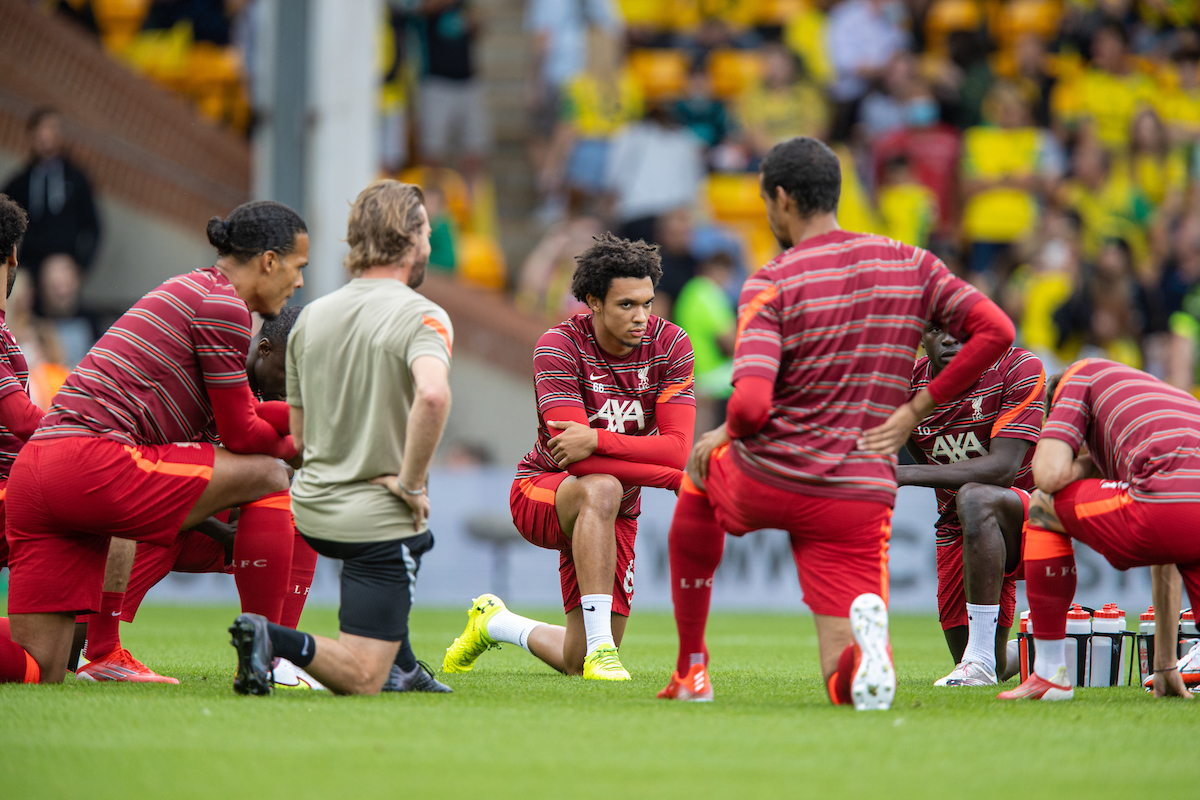 Liverpool demolished Norwich last weekend starting the game with 4-6 players who arguably don't get into Liverpool's current very best 11. That we have six players who could've started and potentially improved the outcome at Carrow Road speaks to the strength in depth Liverpool presently enjoy.
The non-starters at Norwich I cite are Joe Gomez, Andy Robertson, Thiago Alcantara, Jordan Henderson, Fabinho and Firmino. That is some roster for a team to not have had initially available and yet still prevail.
The team that succeeded last Saturday should, in the main, be offered the opportunity to take on Burnley. I, though, think Henderson will replace James Milner and be Jurgen Klopp's only change.
The manager could potentially recall Firmino at Diogo Jota's expense, or boldly pick young Harvey Elliott instead of Alex Oxlade-Chamberlain, but I doubt it.
Burnley warmed up for their Anfield ordeal by succumbing to Brighton. Sean Dyche's team defied the odds to win at an empty Anfield earlier in the year and he will hope the memory of it will provide his underdogs with courage.
Anfield, though, expects. As much as a 12.30pm kick off Anfield can be a cauldron, this Saturday's incarnation will surely be one of those.
I am counting the minutes until I will be back inside our cathedral, firmly back on my fucking perch, to watch The Reds begin a campaign to once again mount theirs.
Predicted 11: Alisson; Trent, Matip, Van Dijk, Tsimikas; Henderson, Keita, Chamberlain; Salah, Jota, Mane
---
Subscribe to TAW Player for more previews ahead of Liverpool v Burnley reaction, as well as all the news and events that matter to you…
Liverpool v Burnley Buildup | Talking Reds@johngibbonsblog is joined by @HarrietEPrior to chat about Liverpool's return to Anfield.

Watch Now👉https://t.co/oyyzDMOLfX pic.twitter.com/xCO8o7hv3b

— The Anfield Wrap (@TheAnfieldWrap) August 20, 2021
Recent Posts: