Rob Gutmann's preview ahead of West Brom v Liverpool at The Hawthorns, with The Reds looking to keep momentum going to get a top four spot…
THE Reds have been unrecognisable for so much of this season.
Liverpool's new normal was nowhere to be seen though, on Thursday night, as Man U-fucking-nited were swept aside on their own manor by a team with a whole new-old identity.
It's only when you see Liverpool truly be 'Liverpool' again that it becomes so apparent just how absent the team has been all term.
It was so gladdening to witness the boys simply 'wanting it' again. The intensity was restored, and with it returned guile and class. Manchester United have grown into a decent team this year. They will finish ahead of Liverpool and likely win a trophy, while we won't, but they aren't at our top level.
Had the away team at Old Trafford been permitted the luxury of fielding any two of their four first choice centre halves and their captain then a nigh-on full strength United would have been royally trounced.
We have waited a long time to see Liverpool's best performance of this campaign and in the moment it felt worth it, crazy as that sounds in the context of such a disappointing season. But if the victory on Thursday night was Liverpool's best feeling of 2020-21 then, in turn, anything short of it against West Brom on Sunday will easily be the worst.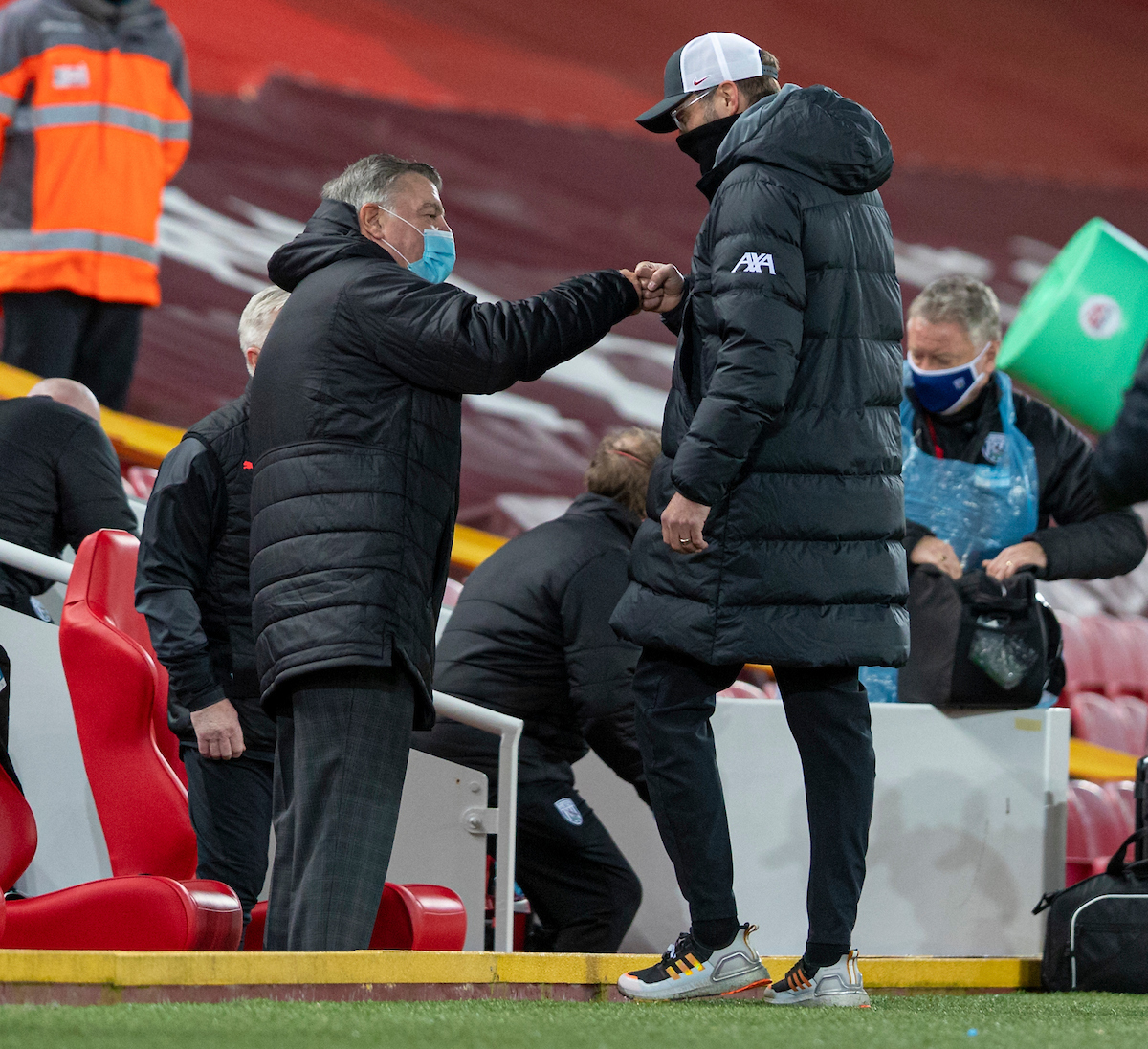 The football world may well choose to bill the recently relegated home team as lambs to the slaughter but the league's poorest outfits have been Liverpool's Kryptonite and Jurgen Klopp and his men will be too battle weary to take Albion's submission for granted.
Also there's that gnarly old cunt 'big Sam' Allardyce to contend with. He may have failed in his mission to keep West Brom in the top flight but as one of the last great purveyors of ugliness in football he would still find a place in his stoney heart to get a thrill out of thwarting Liverpool. 
It was Allardyce's penchant for defying the odds that set Liverpool's once promising campaign into its free fall, at the end of December. Liverpool were fresh off the back of a 7-0 triumph over Crystal Palace and cruising when Sadio Mane put us in front against Albion at Christmas. But Sam and West Brom hung on, dug in, and got their scruffy late equaliser. It seemed to break Liverpool's hearts and minds.
That it is Allardyce and his team who now stand in the way of Liverpool and their Champions League qualification ambitions represents a symmetry of sorts. They started this fight, we simply have to finish it. Games don't get more 'must win' than Sunday's encounter.
When the first team squad returned to full training on Saturday morning after Friday's rest day, Kirkby will have been bouncing. Jurgen Klopp will have buzzed seeing the spring so clearly back in the collective step, but he also will know he has some serious thinking and planning to do if Liverpool are to truly make the emotion of Thursday night mean something.
Liverpool were well rested coming in to last weekend's game against Southampton and still looked very fresh at Old Trafford, but with three massive games still to play in eight days, the manager cannot simply play his best 11s.
Diogo Jota and Mo Salah have played twice already this week and one of them will surely be benched at The Hawthorns and replaced by Sadio Mane. Sadio will play with a point to prove having been very clearly irked by his late omission from the first team in Manchester.
Elsewhere in the team, Klopp's options are limited due to another fresh wave of injuries. He would surely have called upon James Milner this weekend but will probably trust young Curtis Jones to replace either Gini Wijnaldum or Thiago Alcantara.
I suspect Klopp's general conclusion will be that Liverpool very much need to win 'the next game' and he'll broadly bank on adrenaline being enough to push the bulk of Thursday night's winning team through another game.
It feels a bit incongruous to be so excited in a preview of West Brom v Liverpool in the cause of leaping from fifth to fourth place, after the endless highs of the past two or three years, but football endlessly reminds that ultimately 'you are where you are'.
Wanting fourth as badly as I wanted the league or the European Cup feels like a guilty pleasure too far, but fuck it, from the acorns of qualification do mighty trophy laden seasons grow.
No shame, too much still to gain.
Predicted 11: Alisson; Trent, Phillips, Williams R, Robertson; Fabinho, Wijnaldum, Jones; Salah, Firmino, Mane
---
"I think he might go all four up front against West Brom. They're going to put ten men behind the ball – we know what they're going to do."

Who are you starting tomorrow? 🤔

Watch 'The Friday Night' 🎥👇

👉 https://t.co/oaOWcUzrlr 👈 pic.twitter.com/yJoXDAkPWi

— The Anfield Wrap (@TheAnfieldWrap) May 15, 2021
Recent Posts: