In February Mo Salah promised Liverpool would 'fight like champions', and Leanne Prescott writes about how the Egyptian kept that and more…
WELL that was a ride, wasn't it?
To all of you who have read my work this season, thank you. My first full season as an Anfield Wrap columnist, today we make it to the finish line together.
A strange season, the strangest, and yet Liverpool finish third and we get our happy ending despite it all.
From the despair of injuries to the numbness of closed-doors football, the narrow VAR calls to heroics of our goalscoring keeper (sorry David De Gea), The Reds have their hat in the ring for the Champions League again.
That may not have been the measure of success at the outset but given the circumstances it definitely represents a job well done.
There are so many that help get us over the line. In many ways, it's a campaign defined by unlikely heroes, where Rhys Williams and Nat Phillips put their bodies on the line and leave the field patched up on the final day. Yet, there's a certain inevitability about who ends leading the charge.
"It's been a tough period for many reasons. We are champions and we will fight like champions, until the very end. We will not allow this season to be defined by the recent results we've had. That is my promise to all of you."
It's been a tough period for many reasons. We are champions and we will fight like champions, until the very end. We will not allow this season to be defined by the recent results we've had. That is my promise to all of you. pic.twitter.com/gqITQfp1ua

— Mohamed Salah (@MoSalah) February 14, 2021
That was Mo Salah's promise on February 14 in the midst of a frankly terrible run. Six successive defeats at Anfield, wounded, and with injuries seemingly starting to catch up, he was as determined as ever that the fight would carry on.
I'll admit at times I wasn't convinced, but then there's a battle at Wolves. A triumph at Arsenal. A last-minute winner against Aston Villa. Even draws against Leeds and Newcastle, which felt fatal at the time, were emphatically answered with a resounding win at Old Trafford.
Suddenly there were no more mentality midgets, just a group determined to prove the doubters wrong. Whatever the opposition, this team as they so often do, found a way. From eighth place with 10 to go to third place with none.
Never in doubt, right Mo?
Three months on, it's a promise kept, and a fight well won.
Even in this most torrid of seasons, Salah has been a shining light. Time and time again, he has led the way and embodied the fight, scoring five and assisting two in the last 10 alone. Even in a relatively routine win over Crystal Palace on the last day, he was still the best player on the pitch.
This is Salah's second-best goalscoring season in a red shirt and while it wasn't always pretty, it shouldn't be forgotten either. He's practically carried us at times with an unerring ability to knock one in when we need it most.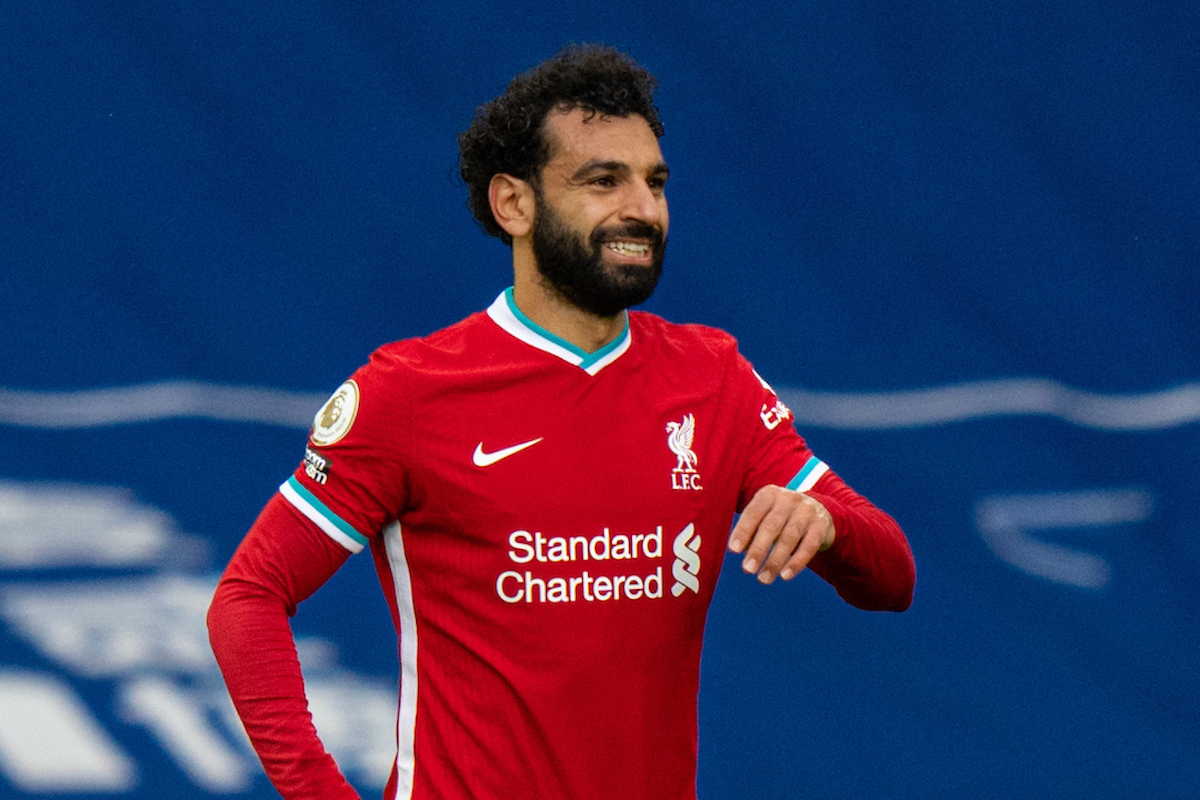 His second against West Ham will go down as one of the goals of the season, while his breakaway and celebration against United is one of my favourite moments. Nothing he does is easy, but he makes it look effortlessly so.
To score 31 goals in all competitions in a team decimated by injury is a remarkable feat without which top four wouldn't have been possible.
What's more, he continues to make more Liverpool history: the first man to hit 20 goals for The Reds in three different Premier League campaigns and now the club's 12th all-time top goalscorer. Six more and he'll overtake Sam Raybould in the top 10 – a remarkable feat particularly for a player who is a winger by trade.
There are some who doubt his commitment to the club, but the last 10 games have emphatically silenced the doubters. Just look at the majestic leap into Alisson Becker's arms and emotional scream to the heavens at Old Trafford and it reinforces what this all means to him.
Players of Salah's reputation come around once in a lifetime and any assertion the club should cash in and wash their hands with him are absurd. The powers at be must do everything in their power to tie him down to a new deal and ensure he continues to play his best years at Anfield.
An indispensable member of this side, he kept his promise, embodying the team's fighting spirit until the very end. The mentality monsters are alive and kicking again.
This happy ending to a torrid season simply wouldn't have been possible without him.
---
"I was there at the Hawthorns (for the Alisson header) and it's fair to say the press box etiquette went well and truly out the window."@JamesPearceLFC On Konate And Kabak: TAW Special | #NewPodcast | #LFC

Subscribe👉https://t.co/oaOWcUhPWR
Listen👉https://t.co/XjsJaGnbPN pic.twitter.com/IET4VBC56A

— The Anfield Wrap (@TheAnfieldWrap) May 27, 2021
Recent Posts: