Rob Gutmann's match preview ahead of Real Madrid v Liverpool in the Champions League quarter final first leg…
LET'S get ready, let's get ready, let's get ready to rumble… (PJ & Duncan, 1994)
I've woken up the morning after Liverpool have tonked Arsenal and I feel like Bobby Ewing in that shower scene in Dallas from the mid 80s. The one where they erased the narrative of an entire previous season, under the pretext that it had all been Bobby's dream. Quite why Bobby woke from his dream and found himself having a shower was never really made clear.
The Reds find themselves closing in on the top places in the division again and eyeing up a potential Champions League final. The six straight home defeats never happened, nor the endless injuries, there was no massive fall from grace.
We're back in the spring of 2018 again. A bright buzzing team oozing attacking flair, energy and potential. Man City were running away with the league back in 2018, but Liverpool were the coming force.
Three years ago we were on the rise, and we took a season which ultimately finished in a fourth-placed finish and a Champions League final as markers of a really impressive and enjoyable campaign.
We look like we have goals in us again, and we're getting the scoring habit back at precisely the right time.
The 2017-18 season ended in defiant disappointment, beaten by Real Madrid in Kiev. That night we were undone by Real's gnarly worldliness. There's been a lot of water under the bridge since then.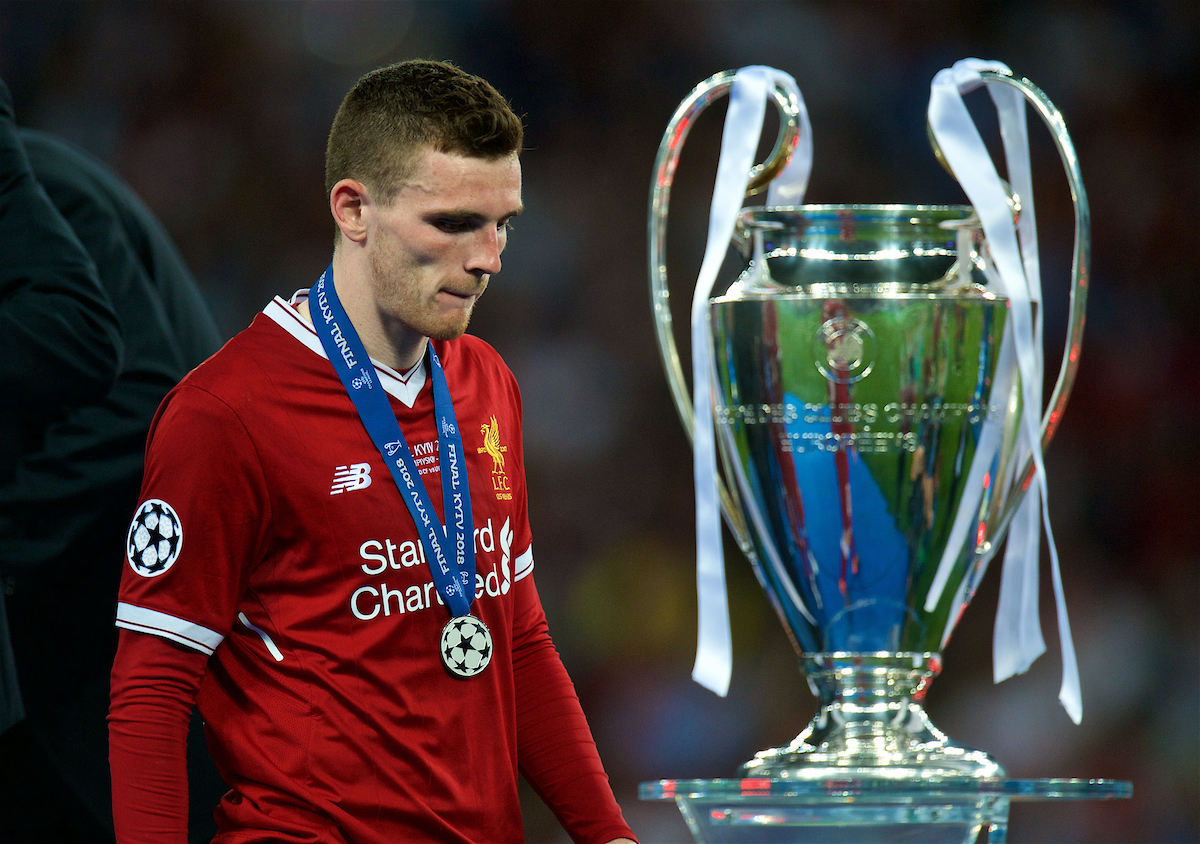 Madrid have declined and Liverpool have risen. Liverpool are correctly bookies' favourites for this tie. Real's edge in 2018, so the story went, was as much down to their street smarts and experience as their quality in all positions. Liverpool though are no longer the raw naive team that they appeared to be back then.
Since the disappointment in Kiev, Liverpool have plundered four major trophies. Liverpool's boys have become men.
Zinedine Zidane reportedly has star man Eden Hazard, back training after a lengthy lay off. An appearance in the first leg will come to soon, although Hazard himself will be targeting one in the Anfield return next week. At his Chelsea peak he was a regular scourge of Liverpool home sides.
The Reds' apparent Achilles heel is a central defence shorn of its first three choices (Virgil van Dijk, Joe Gomez and Joel Matip), but Madrid now have their own worries at the back with captain Sergio Ramos likely to miss the entire tie through injury. In forward positions they're light on goals and quality, Karim Benzema excepted, and can't get Eden Hazard back soon enough.
In warming up for Liverpool by beating Eibar 2-0 on Saturday, Zidane went for a three at the back formation, with effectively two left backs in the team, in Ferland Mendy and Marcelo. The Madrid boss does like to flip flop between 3-5-2 and 4-4-2 setups, but he has preferred the three at the back system for three out of the last four games.
Toni Kroos was rested at the weekend but seems certain to come back into midfield alongside Modric and Casemiro. Marcelo will probably get the nod again at left wing back to aid Mendy in blocking off Mo Salah. On the other flank Real will likely position Vasquez and Varane to deal with Sadio Mane. 
That would all leave Nacho as the last defender standing in the way of Diogo Jota. That's six goals in his last four games Diogo Jota. Unless, of course, Jürgen Klopp is again tempted to use Bobby Firmino to tire the Spanish defence out in preparing the ground for another late show from Jota. Either way, this is the kind of conundrum the Liverpool boss has been denied through the course of much of this injury plagued season.
Because it's Liverpool, I expect Zidane to play a fifth midfielder, Valverde, and to go with just two forwards, Benzema and Vinicius Junior.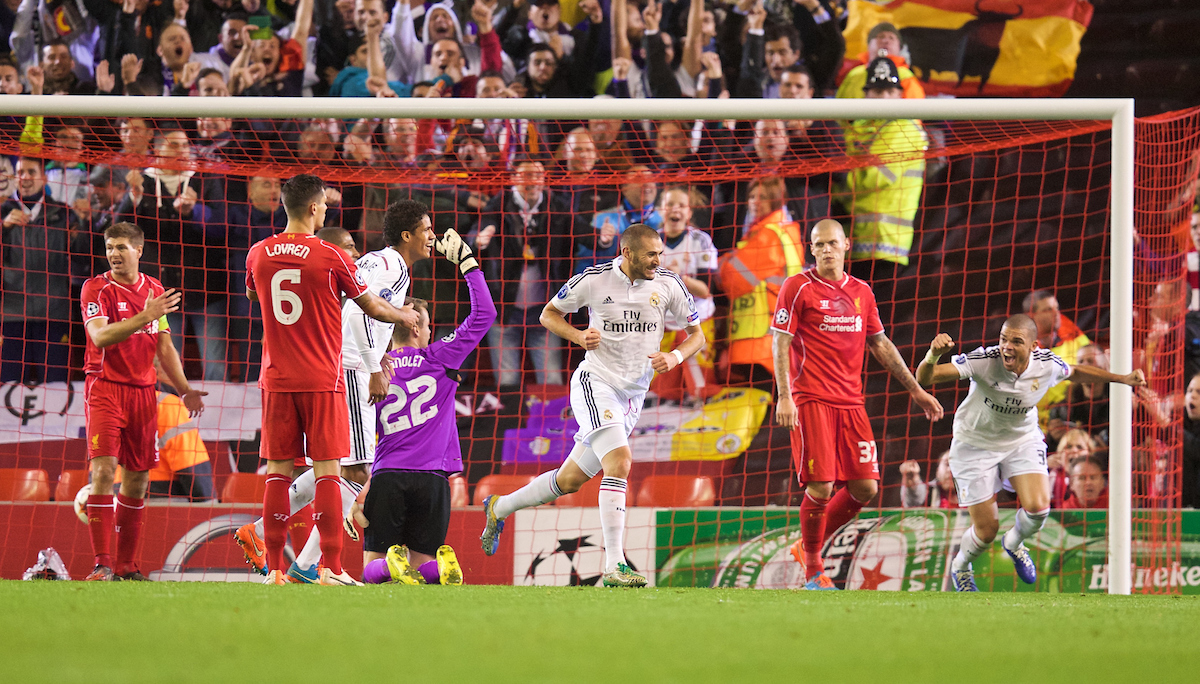 In this era of European competition without crowds it is tricky for sides to know precisely how to treat their respective home and away legs. Playing Madrid in an empty training ground is not the same as taking them on in a baying Bernabeu. Likewise, Klopp knows that there will be no Anfield factor to rouse his side if the first leg scoreline is a disappointing one.
Regardless of the absence of supporters, away goals still 'count double', and Liverpool will know that Tuesday night is an opportunity to get at least one of these precious commodities in the bag.
Klopp will have viewed Arsenal's approach as preparatory for Madrid. Again The Reds will look to take a controlling stranglehold on the game. Zidane's scouts will have warned him of this. He will know that Liverpool are in a form where they cannot simply be picked off on the counter as they were so routinely during their poor run of form.
In old money, you used to bet on most big games being won and lost in midfield. Zidane will try to match Liverpool's pressing and running with numbers, hence the likelihood of us seeing him select five in midfield. Liverpool may look to match that by effectively tucking our full backs in to support the central three. 
Three straight wins and clean sheets entitles Liverpool to go into the tie as confident favourites. A month or so ago, no Reds could've contemplated this matchup with anything but trepidation. Now there's a sense that Real Madrid are just a team in our way.
Let's get ready to rumble.
Predicted 11: Alisson; Trent, Phillips, Kabak, Robertson; Fabinho, Wijnaldum, Thiago; Salah, Jota, Mane
---
"Lets go beat them in the first leg. I haven't got any revenge in mind, Kiev was not an ending point, it was a stepping stone on a journey we were on."

"We took a lesson off Madrid, then went past them."

The Anfield Wrap Free Podcast🗣

Listen for FREE 👉https://t.co/b0DkAC9gzs pic.twitter.com/dfeaAZYjmn

— The Anfield Wrap (@TheAnfieldWrap) April 5, 2021
Recent Posts: