Liverpool's first Anfield win of 2021 came at the ideal time with Real Madrid to come, and David Segar writes that The Reds must build on it…
STRANGE things are happening. I feel like I'm stuck in an episode of Marvel's WandaVision.
Over the weekend, there was a 24-hour period in which I took a hay fever tablet, my neighbours had a barbecue, and then it snowed.
Last week, I wrote a piece about the criticism around Trent Alexander-Arnold's defending and how unfair it was, only for him to put in arguably his worst defensive showing of the last few years mere hours later.
Then the most utterly bizarre and flabbergasting occurrence happened. I'm still not sure it really did.
On Saturday, Liverpool appeared to win at Anfield.
I jest, of course, but it obviously went against everything that we'd learned to live with in the wacky world of 2021. Liverpool huff and puff, they concede a goal softer than candy floss, and make scoring a goal themselves look harder than 3D chess.
Not this time, though. Well, not entirely.
My suspicions were raised as my wife, Elizabeth Olsen, looked on. The Reds started the game well, and were creating chances.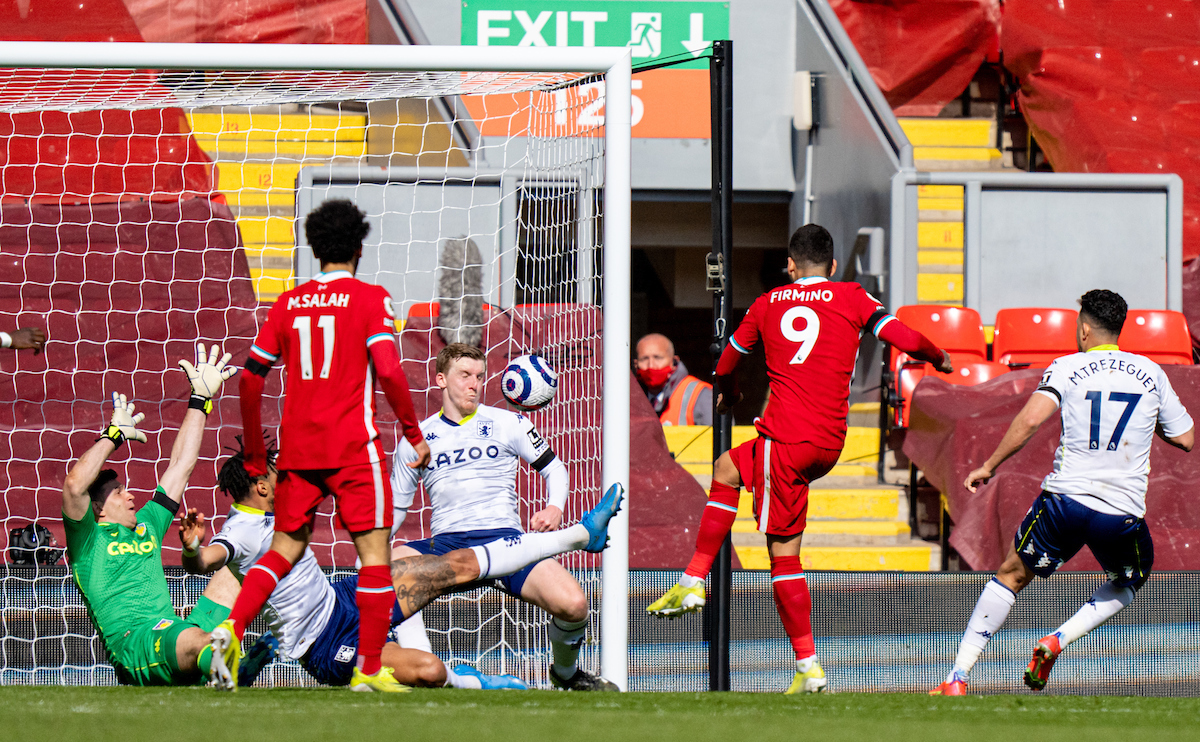 Then the familiar feelings came washing over again as Ollie Watkins banged in a very soft and undeserved goal to give Aston Villa the lead.
This was followed by Roberto Firmino scoring a goal that was definitely onside at the time, but as the replays came on the screen, Elizabeth made some weird hand movements at the telly, and the lines on the screen moved, meaning Diogo Jota was actually offside.
It did feel a bit like Liverpool were cursed. It's easy to get lost in a 'the world is against us' mindset as a fan. I'm pretty sure I got it on the opening day when Leeds were awarded a throw in deep in their own half that probably was the correct decision.
At half time on Saturday though, it felt like something needed to happen to snap everyone out of the same cycle of inevitability.
The VAR conversation is one for another day, but it's fair to say that it contributes – among other things – to football being less enjoyable to watch. Liverpool losing regularly also plays a part, but the nature of the Firmino goal overturn made me question even watching the second half.
It's too hard to turn away, though when Mo Salah had the ball in the net I had to turn it off briefly because I didn't want to see the inevitable lines come out. Those bloody lines of doom and their angled bastardry.
I put the game back on moments later and it said 1-1 in the top corner. Those daft Sky graphics people clearly forgot to make it '0' again after the goal was ruled out. Unless… It was given? It's been a mad few days but a Liverpool goal being allowed to stand at Anfield? I wasn't born yesterday.
As I rubbed my eyes in disbelief like a cartoon, it still seemed like a draw wouldn't be enough, and after the circumstances of the first half, would feel like two points dropped.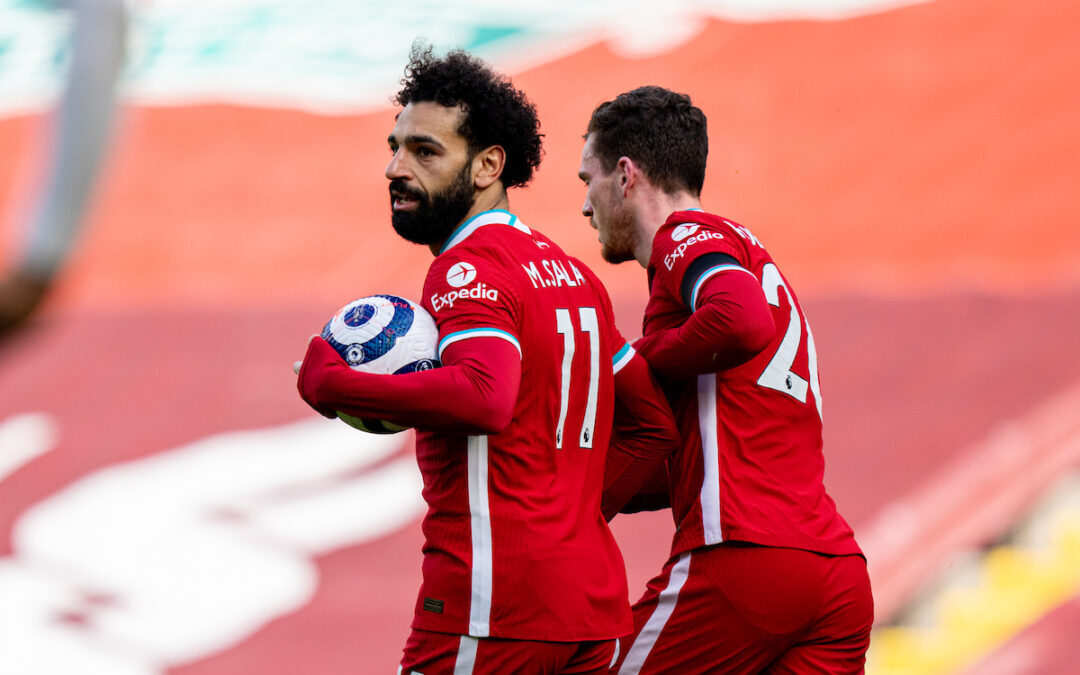 Then Trent Alexander-Arnold scored an injury time winner and the endorphins were pouring out of my face to such an extent that I have vague recollections of saying "yippee!".
Despite everything that had gone before, I initially celebrated without any concern that it would be ruled out, until the inevitable pang of fear as they showed the first replay, hoping that one of Xherdan Shaqiri's ginormous calf muscles hadn't strayed offside as he waited for the ball back from Thiago Alcantara.
It was a glorious feeling, made all the better by the wider context. The importance of the points, the rarity of moments like it this season, and who the goalscorer was. It all added up to a rare sensation of absolute serenity on a football weekend. The only regret was that we missed what would have been one of the all-time roars in that moment had Anfield been packed.
We have been here before though, haven't we? A very wobbly season has been sprinkled with what have felt like key victories and potential turned corners, only to be followed up by more insipid showings and silly days.
It was the case last week as a very impressive 3-0 demolition of Arsenal at the Emirates Stadium was followed up by getting the runaround by Real Madrid, playing on their training pitch as if it were merely a training match.
It therefore means that nothing can be taken for granted heading into yet another important week.
It's a big ask to overturn the 3-1 deficit in the Champions League quarter final second leg on Wednesday, but it's a job that this team is capable of doing if they focus and show their opponents just how good they can actually be. It would also be handy if Madrid can play more like the team that lost 4-1 at Valencia earlier this season rather than the one that won El Clasico in the driving rain at the weekend.
Beyond that, Jürgen Klopp's men have all of a sudden found themselves in with a very real chance of finishing in the top four in the Premier League, having been written off by large parts of the media just a few weeks ago.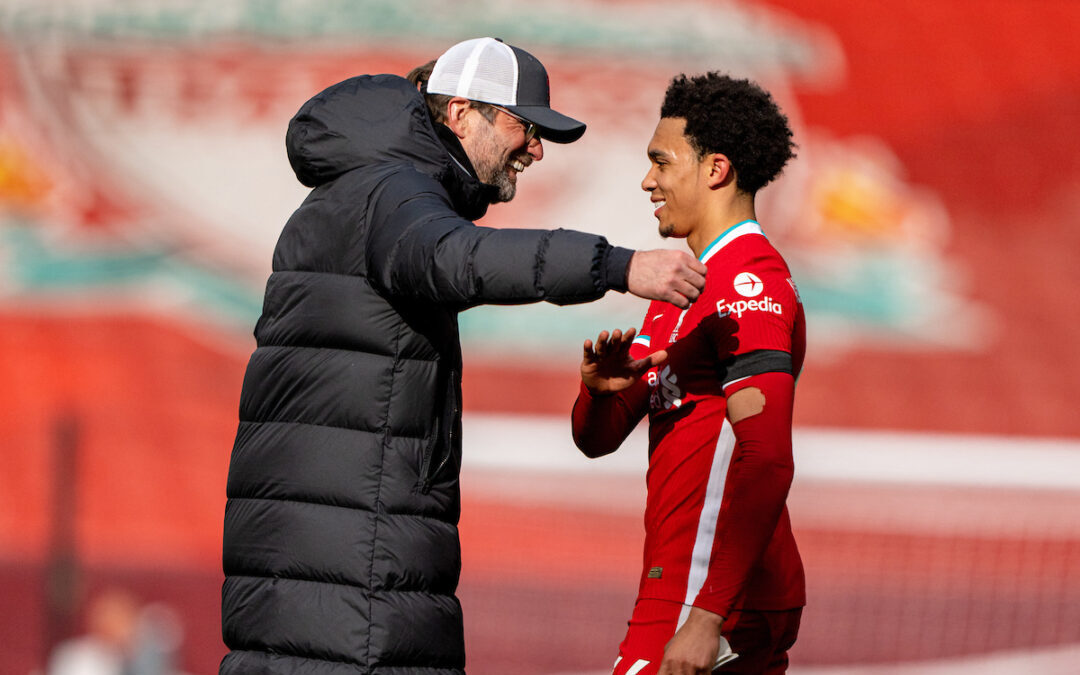 They have put together three league victories on the bounce for the first time since the first three games of the season, and will have a longer break than normal after a European tie as they head to Leeds next Monday night.
The cliched 'one game at a time' was coined for this very period of the campaign, and it rings true for Liverpool as much as anyone.
The main problem in the league had been playing at home, which itself seemed to be caused by a mental block more than lack of ability. That has hopefully been obliterated by Alexander-Arnold's stylish winner on Saturday.
What they can't do, though, is allow this to be another false dawn. Even if the weather is trying to trick us into thinking that it's still winter, we're very much into the home straight, heading towards the end of a season that we'd all love to see the back of.
The Reds need to step up and ensure that they end it by giving a defiant middle finger and riding off without any scars to carry into next season.
After all, Liverpool finishing in the top four would be one of the few things that feels normal about this crazy world.
Maybe things aren't that weird after all. Perhaps as life open up a bit more, things will sort themselves out elsewhere and it can all start to feel… Hang on, West Ham are fourth?!
---
"We were due one of them, and what a one of them it was! Trent finds the corner and brings so much relief, so much joy to Liverpudlian hearts."

The Anfield Wrap Free Show | Villa, VAR & Madrid🗣

Listen for free👉https://t.co/OybmQStkGI
Watch👉https://t.co/SJMUCot9qn pic.twitter.com/3Zn2KCe5Bp

— The Anfield Wrap (@TheAnfieldWrap) April 12, 2021
Recent Posts: