Rob Gutmann's match preview ahead of Liverpool v Real Madrid in the Champions League quarter final second leg…
I'M at peace with us going out of the Champions League on Wednesday night.
I mourned for our ambitions of winning this season's competition last week, after the 3-1 defeat in Madrid. I'm not suggesting the lads should be throwing any towels in here, it's just that I'm not setting myself up for a disappointment that is, in probability terms, highly likely.
The tie is Real Madrid's to lose.
Would I be less defeatist if there were fans set to be in the ground? Abso-fuckin-lutely. The presence of our crowd would make this a highly winnable tie.
The build up would've started in earnest days ago. Flags and banners would be being readied. Plans for a 'reception committee' to greet the Real Madrid team bus would've been hatched. Come kick off Anfield and The Kop would be at it's ear drum bursting finest. The whole cocktail may not have sufficed but there'd have been a reasonable prospect of it making Real Madrid shit their collective pants.
Regrettably, Anfield without fans simply ain't Anfield. That's not up for discussion anymore.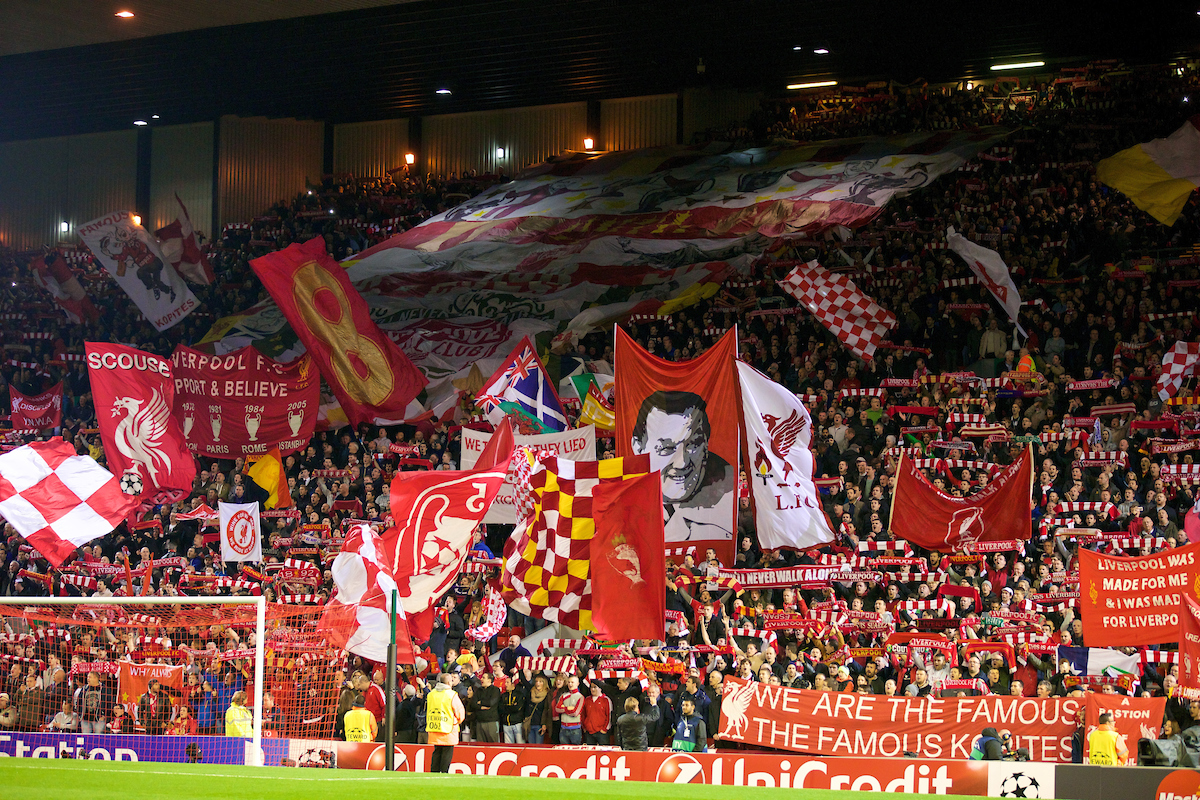 The challenge for Jürgen Klopp and his team is to summon the ghosts of the ground and channel them into an energy that Madrid can't live with. In short, Liverpool need to recall how to become Liverpool again. 
There's some encouragement to the cause in the news that Real will again be missing key men. Vasquez, Varane and Hazard are ruled out and Carvajal and Ramos remain unavailable.
Whatever selections Zidane looks to make from those fit and firing, we can be sure that Madrid will set their stall to be compact and a coiled spring of a team, patiently ready to break on Liverpool to deliver the coup de grace goal.
The Reds will need to be patient. Perhaps their first task is to establish a dominance over Real. I'm sure that control was intended a week ago but too many were strangely below par for that to become a reality. Liverpool displayed nerves that night but we can hope the 'shit or bust' nature of the imminent second leg will provide the side with more focus.
Let's look at it another way. We are overdue the type of performance that was once a trademark of Klopp teams. We'd witnessed the high octane 'heavy metal' starts that he'd inspired in his Borussia Dortmund sides in his first few years at Liverpool. I'm recalling the 4-1 win at the Etihad in 2015, the 4-0 crushing of Arsenal in 2017, the annihilations of Porto and Roma in 2018, to list a few examples.
Over the past two years Liverpool have become measured and surgical. The 'intensity' of the pressing has become more targeted. It has all reaped rewards but perhaps there is now a case for Liverpool to throw caution to the wind and just try to be that outfit that would rock up and smash you in the face. I feel that Madrid won't be subtly dismissed, they will need properly beating up.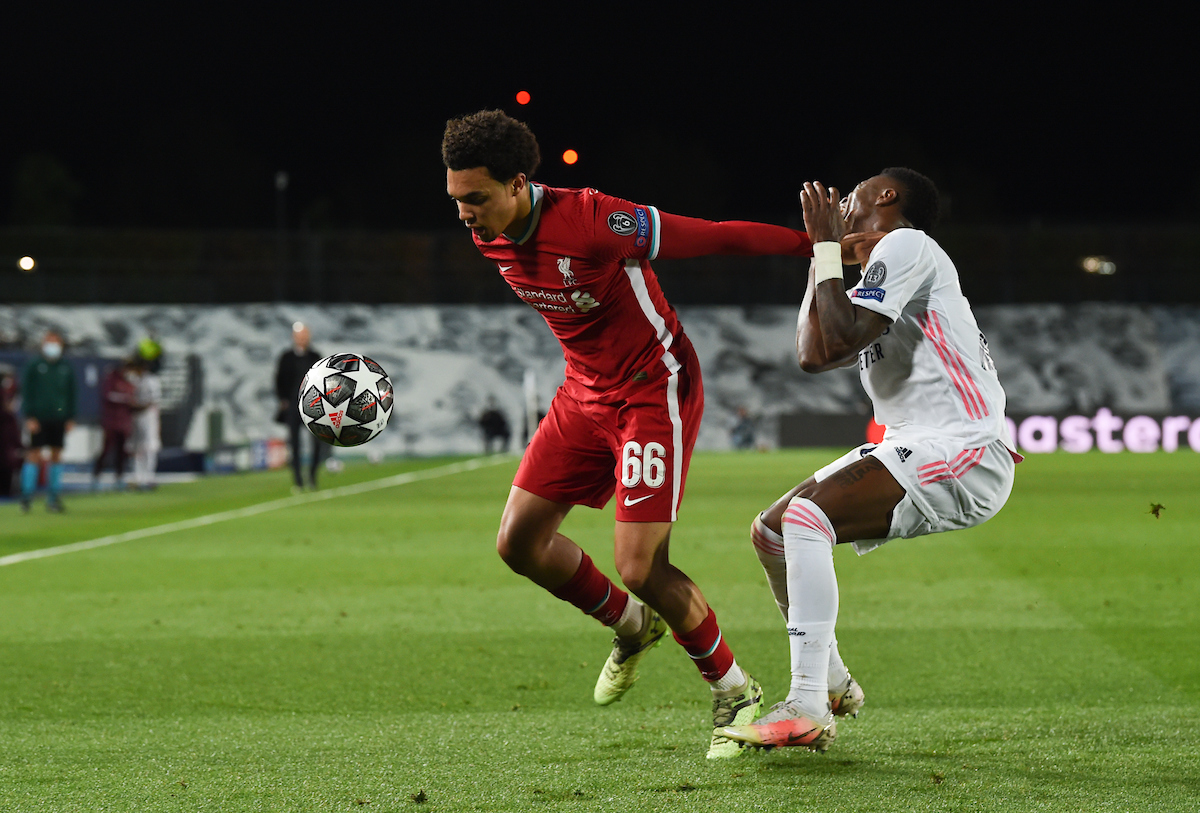 The thuggery starts and ends in midfield. Klopp needs to put his bruisers in the engine room. If he feels fresh enough, my first pick would be James Milner. This might be his very last crack at the European Cup, and he won't hold back. Fabinho is a shoo in whatever other choices Klopp makes and I'd partner him with Thiago Alcantara ahead of Gini Wijnaldum. Gini needs a breather and can be an asset off the bench.
In attack, Bobby Firmino has earned a recall and is thoroughly overdue a change in fortunes. Bobby wants and needs goals but people keep taking them away from him – his effort at Sheffield United ultimately designated as an own goal and his weekend 'equaliser' against Aston Villa chalked off because Diogo Jota's right bicep was in an offside position.
The question is – who makes way for Senor Firmino's return? The likeliest candidate is Jota but it wouldn't come as a shock if out of form Sadio Mane was benched.
In most senses , home second legs don't get much bigger than Liverpool v Real Madrid in the European Cup quarter final, but as it stands, this one has an anti climatic feel to it. Liverpool's abject display a week ago is to blame for that.
Redemption, though, is never far away in football and if our boys can summon up the spirit of Barca 2019 who knows where we'll wake up on Thursday morning?
Predicted 11: Alisson; Trent, Phillips, Kabak, Robertson; Fabinho, Milner, Thiago; Salah, Firmino, Mane
---
"I've seen people talk about wanting it to be an open, mad game but I don't want it to feel like its out of our control. I want Liverpool to make it a battle, to be in the game on 50 and then go for it."

The Preview @C_hannan7 & @RobboHuyton 🎥

👉 https://t.co/oaOWcUhPWR 👈 pic.twitter.com/WNrwfF1wLF

— The Anfield Wrap (@TheAnfieldWrap) April 14, 2021
Recent Posts: