Rob Gutmann's preview ahead of Liverpool v Newcastle United in the Premier League at Anfield, with Champions League football to fight for…
IF Liverpool beat Newcastle and Chelsea and West Ham draw on Saturday we move into fourth position in the league, level with those teams.
If we'd been offered that at Christmas we'd have split our sides in mirth, but from the depths we've plumbed this would represent a not insignificant revival.
Liverpool really need to beat Newcastle. There's a script still to be written that shows Liverpool finished the 2020-21 the strongest force in the country. Three straight Premier League wins and a draw is a solid foundation from which to build an impressive finish to a season.
What's done is done, and there is zero purpose served in crying about all of that milk we spilt in January and February. There are six league games remaining and if The Reds could win five of them they would conclude this testing campaign having regained credentials as potential future title contenders.
Liverpool have slipped back into a pack that they felt had emphatically been left behind. The three calendar years from 2018 to 2020 saw Liverpool pull in more points than any other side. We were firmly established as habitual title contenders, not one of the second tier that have parties on the back of narrow Champions League qualification.
If we can achieve fourth or better by May 23 no one will be dancing in the streets but it would represent a quiet achievement.
This has been a season without precedent. I've lived through four decades of Liverpool support but never have I borne witness to such an injury ravaged campaign. Perhaps only Graeme Souness's first management season in 1991-92 can rival it.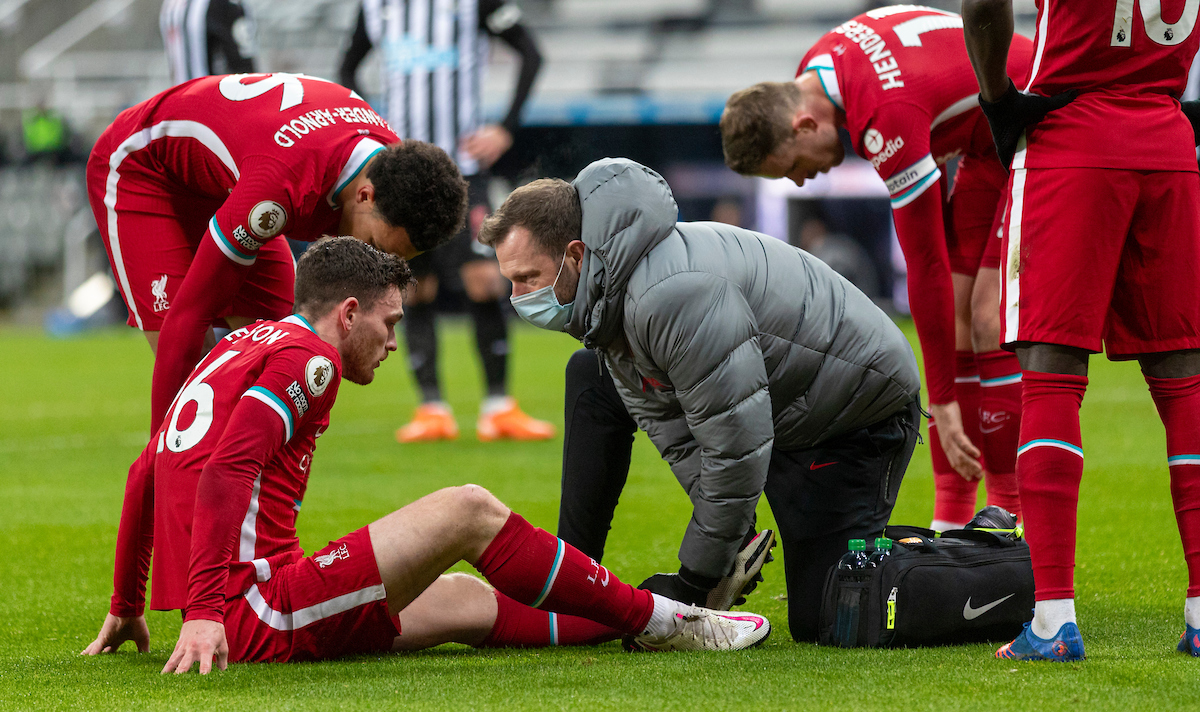 It hasn't just been the injuries. The objective numbers show that no side has suffered more negatively under the VAR system. It also follows that Europe's most vocal and intimidating stadium being denuded of fans for an entire season has hurt Liverpool Football Club more than just about any other.
As fans we have looked to other factors for the decline, perhaps purely because the main ones are just too obvious. We are quick to park injuries and just judge the Liverpool in front of us and in turn forget that, this season, fate has not allowed Liverpool to be Liverpool.
The time for crying it in, though, has passed, we must now accept. The pain of Champions League exit to Real Madrid 10 days ago and the passion and furore that has surrounded the Super league controversy this week should only serve to remind every Liverpool player just what they're in it for.
The wider football world has fought the good fight to preserve the Champions League, and that should only heighten the desire to compete in it once more.
Newcastle United are in better form. They've had another fairly miserable season but they now look safe from relegation. Their shock victory over West Ham a week ago will give them confidence coming to Anfield, but conversely, it made their status in the top flight safer, and in turn that may affect their motivation.
Steve Bruce will be sweating on the fitness of Alain St Maximin, who is the Newcastle player that would worry Jürgen Klopp most, although The Reds will look to give the visitors few opportunities to get forward in a game we'd expect to thoroughly dominate.
Liverpool are strangely stable, in terms of squad availability, after a season where there have routinely been question marks about the fitness of three to four players virtually every other game.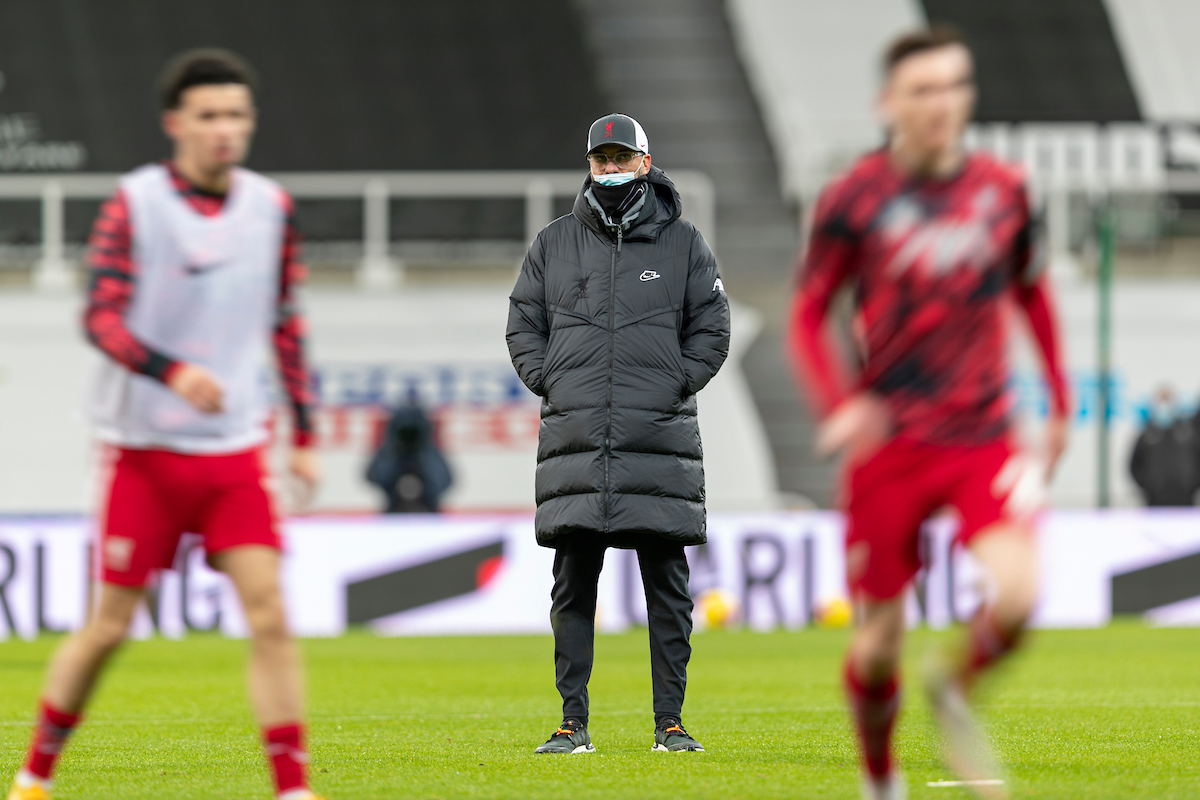 To this end, Jürgen Klopp's back five sort of picks itself these days, though Klopp doesn't yet know if he'll have Nat Phillips available after his hamstring strain. If he's again unavailable then Fabinho is likely to once more play alongside Ozan Kabak.
Klopp's players have had a five-day break since the Leeds draw so he will not look to refresh for the sake of it. I'd bet he'll go with a midfield three of James Milner, Gini Wijnaldum and Thiago Alcantara, although he could be tempted to play just two in the middle and start with four attackers.
If he sticks with a front three, then his selection is harder to call. It will obviously be a case of perming three from the Diogo Jota, Sadio Mane, Mo Salah, Roberto Firmino quartet, but which three? Salah is the one definite. The other three will be sweating.
Despite a turbulent season, we have every reason to be confident going into our final set of games. Our form and power are quietly returning, and despite conceding late at Leeds we are looking a touch more like our old selves.
Hopefully the muscle memory is returning and we can add another win and set ourselves up for the grandstand finish this weird season now requires.
Predicted 11: Alisson; Trent, Fabinho, Kabak, Robertson; Wijnaldum, Thiago; Jota, Firmino, Mane; Salah
---
🗣 Weekender: ESL, Newcastle & The Next Generation | #FreePodcast | #LFC

🎙 @johngibbonsblog, @lizzidoyle, @kevwalsh_ & @PhilBlundell
⚽️ @hworden20, @ChloeBloxam, @camynwa97 & @samevans1906
📖 @Knox_Harrington & @CalvinBook

Listen for free 👉 https://t.co/vXfC46lcIU pic.twitter.com/gerny57IHu

— The Anfield Wrap (@TheAnfieldWrap) April 23, 2021
Recent Posts: