Rob Gutmann

's match preview ahead of Liverpool v Aston Villa at Anfield, with The Reds looking to keep their top four hopes alive…

A BIG week in Liverpool's season.

It began so brightly in victory at Arsenal, then burnt out against Real Madrid, now has a swift chance to reignite itself positively on Saturday, albeit against an Aston Villa side who will very much have ideas of their own.

Liverpool fans have scratched their heads these past few months wondering how and perhaps when it all began to go so wrong. We've asked ourselves just when the turning point moment was. A few might throw the 3-0 reverse for Watford away last season into a conversation, while many will point to the dropped points at home against West Brom in December as definitively marking the commencement of the slide.

All, though, will remember that 7-2 freak show of a defeat at Villa Park last October.

It was a defeat I know I took particularly badly. It made no sense. Liverpool had started the current campaign with a string of victories and looked imperious. They arrived in the West Midlands on that fateful Sunday evening with a near fully fit squad and in title-winning form. Not a soul dared predict what came to transpire. It was an unprecedented demolition of a Champion.

I was surprised in the aftermath at how many of my fellow supporters were relatively content to put the result behind them as a one-off aberration. I couldn't, though. It had just been so painful, so extreme. A two or three-goal upset would've been cause for an inquest and reevaluation, but 7-2? Liverpool don't get beat conceding seven goals. Not any Liverpool, not from any era.

What did it all mean? I didn't sleep well for the duration of the international break fortnight that followed. I can't imagine Jürgen Klopp did either. The days when Liverpool simply failed to show up in a football match seemed to belong to a different time. The team of Virgil van Dijk, Jordan Henderson, Trent Alexander-Arnold, Mo Salah and the rest didn't get beaten full stop, never mind humiliated.

Like the Champions that they were, Liverpool responded and emphatically topped the league table by Christmas. Then again they faltered. Not massively at first, but a ripple of disappointing results swelled to a tsunami of multiple defeats, and by mid February the title-challenging campaign was in tatters.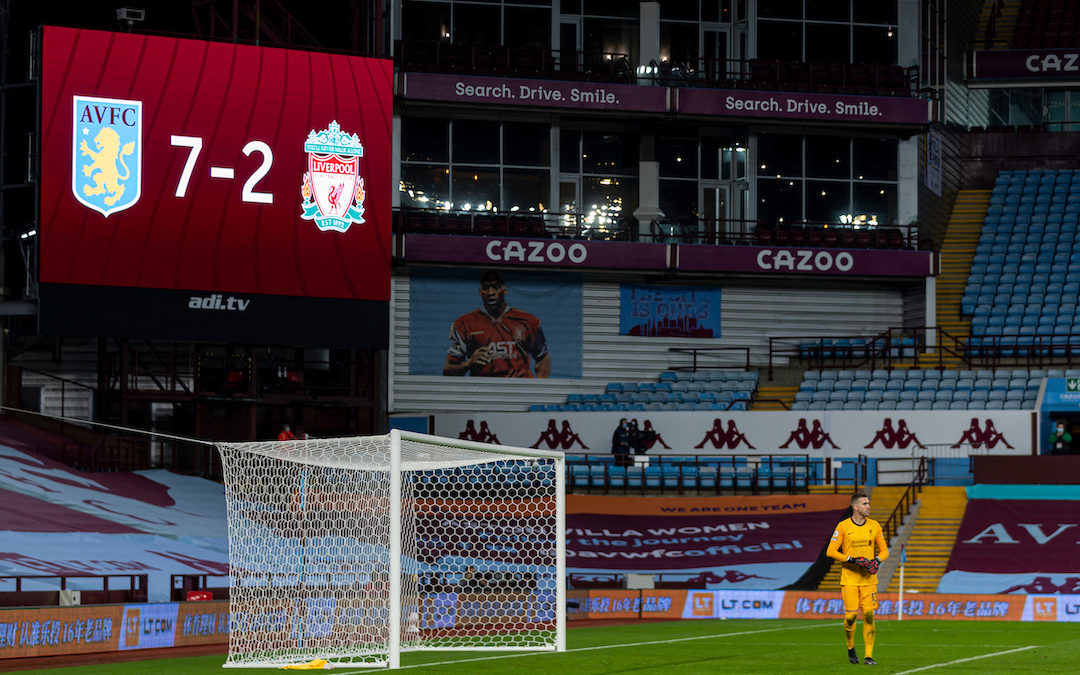 Had it all begun with Villa? Who knows. It would be great if it ended with them, though. It's hard to view Saturday's Anfield encounter as epoch defining, but it's a game that it would be very nice to win just right now. It would be lovely if we could look back at the weekend's game as the one that marked the definitive point of our revival.
Very wishful thinking aside, victory at the weekend would be welcome for a host of reasons. Primarily it would keep our rejuvenated quest for Champions League qualification very much back on track. Secondarily it would mark a third straight league win, our first such sequence of the season since, well, since Aston Villa ended the last one. It would also give confidence a lift ahead of that looming second league rematch with Real Madrid.
Aston Villa will apparently be without star boy Jack Grealish. That's a solid foundation for some optimism around the fixture. Jürgen Klopp's team selection is a particularly tough one to second guess, given the pressures of a congested fixture schedule and the importance of the Champions League second leg game on Wednesday night.
Klopp will make changes but not too many. I think he may rest Andy Robertson and bring James Milner in. Naby Keita, who was humiliated by being the first to be withdrawn in the debacle in Madrid, could well be offered a quick opportunity to reprieve a damaged reputation, so the inevitable change in midfield may see Thiago Alcantara return for Gini Wijnaldum. 
I'd expect the manager to shuffle his front three pack again, perhaps benching and protecting Mo Salah, who may have to be content with a post 60-minute cameo.
If Liverpool are to rescue anything from a wretched campaign the process of achieving that, you feel, must start this Saturday with Villa. Anything short of victory might represent just one more deflation too many.
There's a season to save Reds, and a major wrong to be righted. This one, particularly, means more.
Predicted 11: Alisson; Trent, Phillips, Kabak, Milner; Fabinho, Thiago, Keita; Mane, Firmino, Jota
---
🗣 Weekender: Can Liverpool Find Their Home Comforts? | #NewPodcast | #LFC @johngibbonsblog hosts @Adam_Smith_82, @TheCenci and @Alison_McGovern to look back at Real Madrid and ahead to Aston Villa…

Subscribe 👉 https://t.co/oaOWcUzrlr
Listen 👇https://t.co/sDHpHlWQqB pic.twitter.com/NeWBOI8V8Y

— The Anfield Wrap (@TheAnfieldWrap) April 9, 2021
Recent Posts: