Rob Gutmann's match preview ahead of Liverpool v Fulham at Anfield, as hopes of a turnaround in fortunes continue to go begging…
THIS has been one cunt of a season. There's no sugar coating it.
I feel like I've had to go through yet another reinvention of my Liverpool-supporting identity. As a kid I supported the best team in the world. Their story had its bumps in the road, its peril, but it was always destined to end heroically. Liverpool always found a way. Then 1991 happened and things were never the same again.
They were never the same again until a barmy night in Madrid in May 2019. As Liverpool were crowned European Champions, a 2/3 year phase of constant progression under Jürgen Klopp had taken Liverpool FC from their mired 30-year status as a big but never elite club to the very pinnacle of the world game.
Liverpool were back and so was my youthful pride and with it a new reclaimed sense of certainty. The assuredness was that I again supported the best football team around and that there was nothing on the horizon likely to change that fact.
Then 13 months later as The Reds stormed to the Premier League title in the swiftest manner ever in the history of the top flight, my conviction from that night in Madrid had only been strengthened . The future was red, you could bet the house on that.
Little did we all know back last June, somehow Liverpool had seriously irked the house and it in turn did a deal with the gods to royally fuck us over. Our title defending season of 2020-21 began brightly, four games, and then the roof fell in. Anything that could go wrong, from that point, went super extra wrong.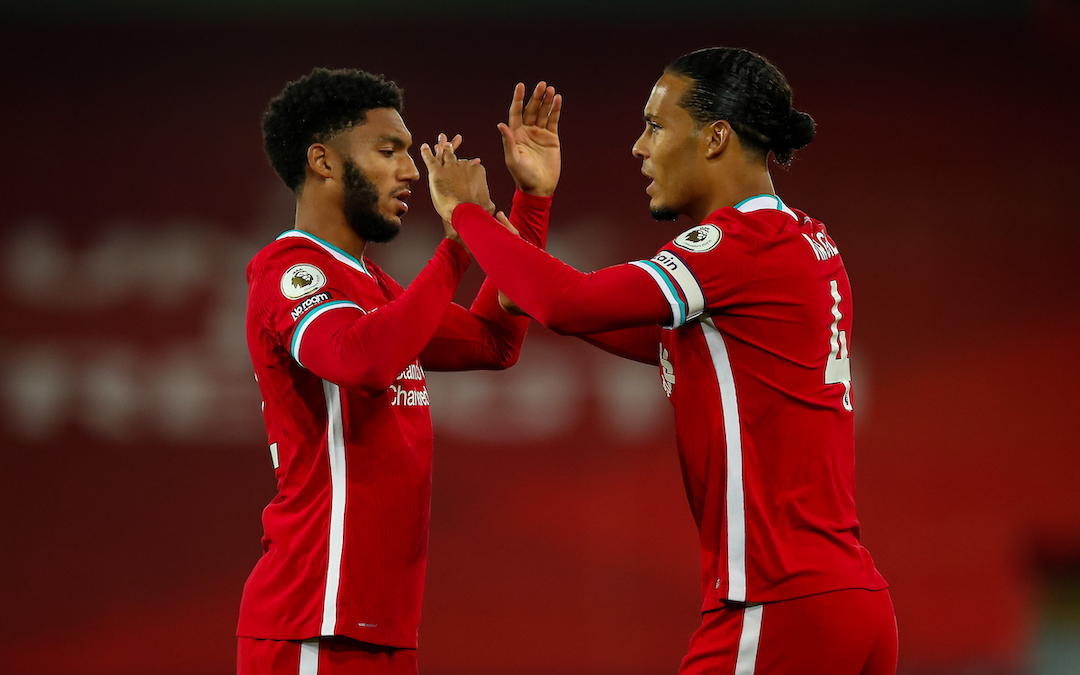 Best players didn't just get knocks, they got ruled out for whole seasons. Their deputies had no sooner bedded into elevated roles when they too were stricken . The rest of the squad picked up niggles that morphed into nagging doubts about whether their absences would be measurable in weeks or months. 
The lads who do stats on these things can testify that, in scientific terms, men in Liverpool red have missed nigh on twice the number of games as rivals. Metrics also show unequivocally that Liverpool have been the side to flip a tail all season whilst the VAR was mainly siding with heads. We have not been able to buy a solitary break all term worthy of the name or price.
That we have what we have, that we hold a shaken but yet still heartfelt conviction that we can rise again is testimony to the power we demonstrated from around January 2018 until December 2020.
The idea on the outside that Liverpool's league was some kind of aberration is to ignore the fact that no side took more points than The Reds for three consecutive calendar years and, although I've not done the maths, I'd wager that there isn't a better Champions League performance over that duration either.
Fulham come to Anfield at a time where it's hard to focus on our immediate present, when it just seems to have taken the form of a path littered with potholes and mines. Beyond the road in front of us is a place where we can be calm, take stock, get back to basics, get back to having fully fit footballers available and be ready to go again.
Fulham are likely to go down again but they gave us a game at their gaff back in November and, given our record against the bottom six this season, there will be no one at Anfield taking three points from this fixture as a done deal. 
Sandwiched between the big games – Chelsea just gone and Leipzig to come on Wednesday – Klopp will know that he has to do some rotating of his first team for Sunday.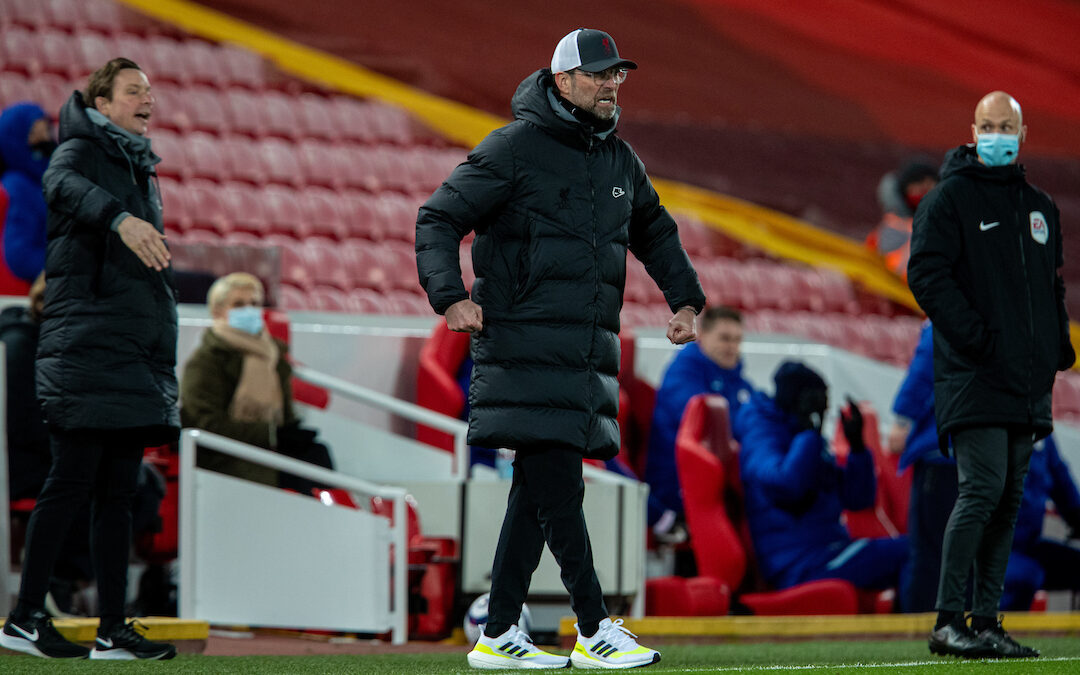 Of those who didn't start on Thursday night, Naby Keita, James Milner and Diogo Jota look the men likeliest to get a chance from the off against Fulham. There is a chance Klopp will be bold enough to pull two of his front three out of the immediate firing line and that would mean potential game time for either Divock Origi or Xherdan Shaqiri.  
An intriguing additional possibility is that Klopp might deem it the right moment to return Fabinho to his favoured number six position in midfield with Nat Phillips and Ben Davies finally together in central defence. It's a move that would really help the manager to freshen up his midfield without weakening it.
Through the highs and the lows, the wind and the rain, I've never failed to get myself up for a Liverpool game, of any class, come match day.
This season may have become broken a while ago but the belief has to remain and it will need to take more than a couple of godawful gobshite months to make it any different.
You know the drill. Come on Liverpool. These are shite.
Predicted Starting 11: Alisson; Trent, Phillips, Fabinho, Robertson; Milner, Keita, Jones; Salah, Jota, Mane
---
"No matter what was going on in your life over the past few years you knew that you could rely on this team at the weekend to get you through that. Which is unfair to do anyway!"

"But now they look defeated, they feel defeated like we all do a bit."

👉https://t.co/yTcwWTZN7t👈 pic.twitter.com/vYMPDmigTy

— The Anfield Wrap (@TheAnfieldWrap) March 5, 2021
Recent Posts: