Rob Gutmann's match preview ahead of Liverpool v Chelsea at Anfield, with The Reds in search of another big win in their top four quest…
LIVERPOOL finally steadied their ship after a wretched month in the league.
The win over Sheffield United doesn't suddenly kiss everything better but it's a foothold in a season threatening to spiral out of control.
If nothing else it serves as a platform for The Reds to face Chelsea with the sense that something positive is at stake after weeks where ambitions felt limited to simply halting the slide.
We have to still believe that we can yet finish this campaign in some form of credit. Banging on about the injuries that have plagued the campaign may grate as self pitying, but it remains an inexorable truth that no top level side in a competitive league can hope to finish top of the pile with around half of its first 15 or 16 constantly not available for selection.
Liverpool were victorious in Sheffield without effectively being able to start Alisson, Van Dijk, Gomez, Matip, Fabinho, Henderson, Milner, Keita and Jota. That's nine players whom were all regular first 11 picks. It's a testimony to the side that won at the weekend that they were, to the naked eye, still able to resemble a Liverpool team.
The impending Chelsea match, despite being one of the sternest tests remaining in the Premier League for The Reds, is a fixture that oozes opportunities. The first and most obvious one is that it would put Liverpool right back in the mix for the Champions League places. The raw value of the three points cannot be underestimated.
Of secondary, but nonetheless essential, importance would be the likely impact on the confidence within the squad. Beating a top side and putting back to back wins together with more favourable-looking games on the horizon would give Klopp's players a sense that they could yet regain control of their own destiny.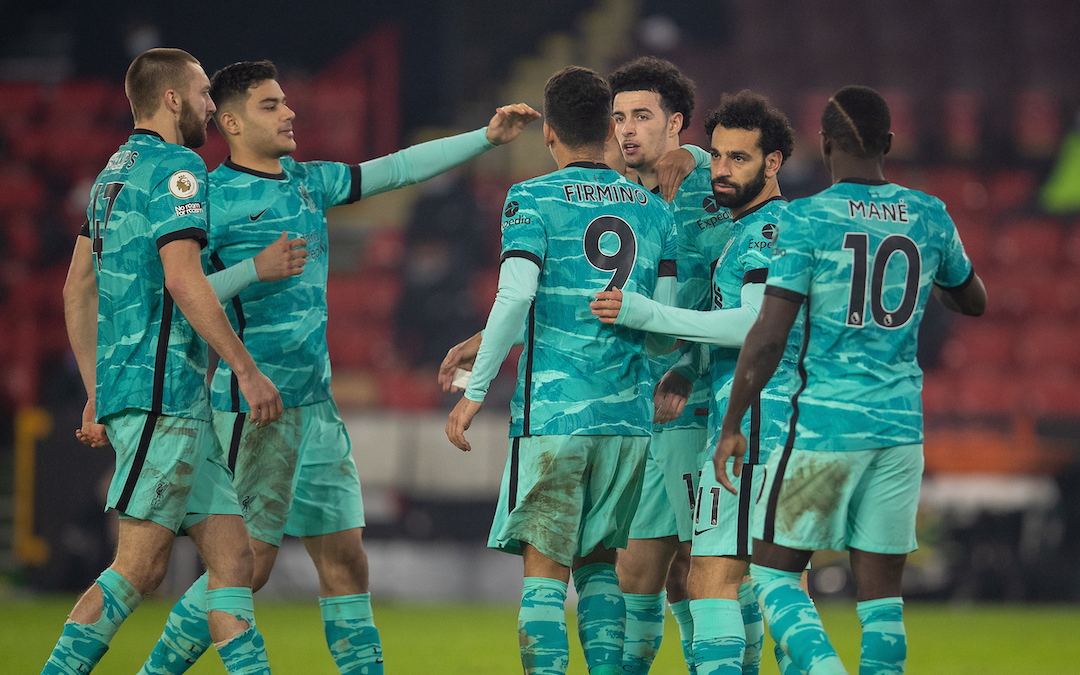 Thursday's game also represents a chance for individuals to kickstart or at least reenergise their personal campaigns.
One of Nat Phillips or Ozan Kabak are likely to partner the returning Fabinho in central defence and whilst neither can feel particularly confident about being the manager's first choice, being part of a big team win would enhance the stock and confidence of the man who makes the cut.
Naby Keita hasn't started a game since featuring in the 7-0 demolition of Crystal Palace in December. He was afforded a brief cameo in Sheffield and provided a hint of qualities he could yet bring to Liverpool's season. He was on fire last time Chelsea came to Anfield and Klopp may be tempted to see if the muscle memory of that day could spark Naby into a reprise performance.
Starting him will be tempting but at whose expense? Thiago and Wijnaldum looked an effective double-six partnership at the weekend, and in front of them Curtis Jones put in a man of the match display. Keita may need to content himself with any opportunity to feature from the bench and to perhaps look to finally start at home to Fulham next Sunday.
Another tantalisingly tempting option for Jürgen Klopp would be to drop in fit again Diogo Jota. Although Diogo has been out for around 10 weeks he's suggested enough in training that he's fresh and itching to resume a season that had started so exhilaratingly, until frustratingly curbed by injury just before Christmas.
If Jota were to start it would surely be at Bobby Firmino's expense. Given Firmino's lively showing in Sheffield this would not be a straight forward call for the Liverpool manager.
I like the new Chelsea gaffer Thomas Tuchel. I've found myself becoming increasingly engrossed by his interviews. I'm not sure what it is about Tom but I'd always assumed he was a more dour character than the engaging and enthusiastic fella we've seen in recent pre and post-match interviews. Obviously I can only wish terrible failure upon him from here on in.
I watched his Chelsea dominate but be ultimately frustrated by Man United on Sunday afternoon. I'm not entirely sure what I've taken from the experience. Chelsea look a better team than Man United but then United's level is lower than it was a month or so ago.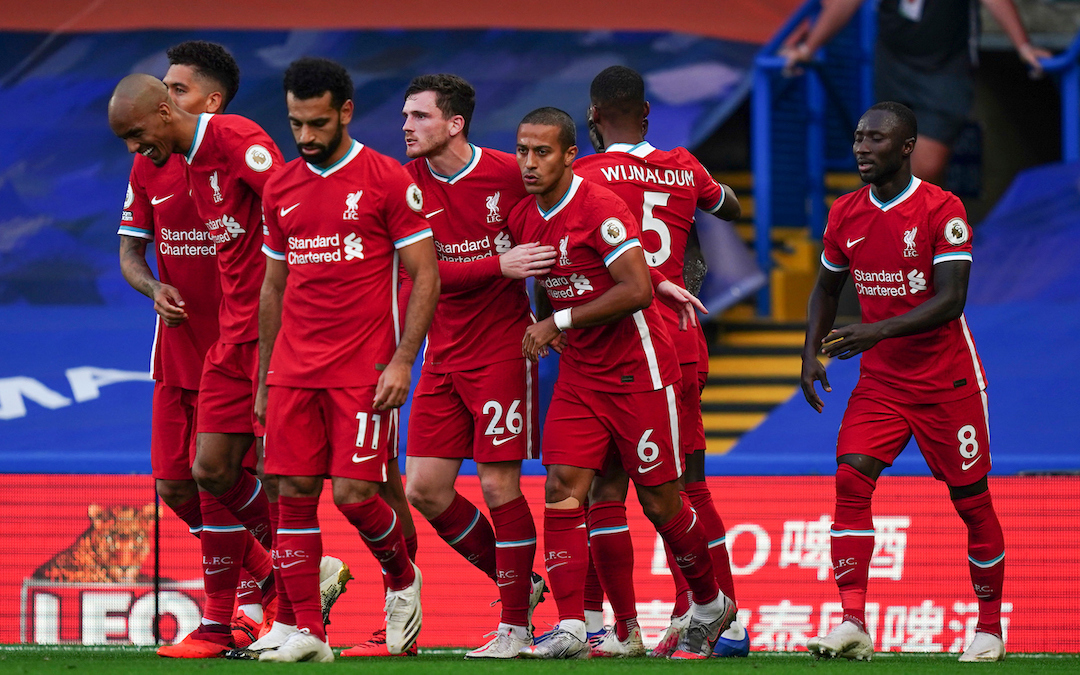 There's a new found defensive solidity to Chelsea but to my eyes they didn't look happy with the pacey threat posed by Marcus Rashford and Daniel James. Chelsea like to keep the ball but I wonder how they might cope for prolonged periods without it.
The Chelsea squad represents an abundance of riches on paper. On grass it is yet to look a cohesive sum of its parts. Tuchel though has made them appear harder to beat, and recent wins over Tottenham and Atletico Madrid will give them the belief to go toe to toe against a Liverpool that so thoroughly demolished them back in September. 
The Liverpool of the autumn had Virgil van Dijk and captain Jordan Henderson in its number. Chelsea will be tempted to exploit Liverpool's injury stricken defence and the rawness of either Kabak or Phillips. Klopp will plan for Chelsea's boldness being their undoing and his wide men, be they our attacking full backs or top scorers Mane and Salah, will be anticipating getting more room to work in than in games against the league's lesser lights .
Sort of out of nowhere we seem to have a really big game on our hands. It would be an occasion ripe for an Anfield teeming with Reds willing their boys to savage an old enemy in ordinary times. These aren't ordinary times and this has been an extraordinary season by any measure.
It's been a saga and it's in need of an exciting new twist. These Reds have delivered in all manner of extraneous circumstances.
Beating Chelsea and kick starting a flat lining campaign is far from beyond them.
Predicted 11: Alisson; Trent, Phillips, Fabinho, Robertson; Wijnaldum, Thiago, Jones; Salah, Firmino, Mane
---
🗣 Liverpool v Chelsea: The Team Talk | #NewPodcast | #LFC @jsexton24 hosts @The_Mighty_Mojo, @nikic2019 and @camynwa97 to react to Jürgen Klopp's pre-Liverpool v Chelsea press conference…

Subscribe 👉 https://t.co/oaOWcUzrlr
Listen 👇https://t.co/OFh3JdP15S pic.twitter.com/OcHxAObE6F

— The Anfield Wrap (@TheAnfieldWrap) March 3, 2021
Recent Posts: