With Liverpool's title defence hanging by a thread, Leanne Prescott writes that The Reds need to rediscover their mentality monster side to salvage something…
MUCH has been made about what it is that's gone wrong for Liverpool in recent months.
Wins against Tottenham and West Ham aside, The Reds have been a shadow of their usual selves for the best part of 2021, with continuous changes to the lineup and the relentless schedule of a season like no other finally taking its toll.
It's clear to see the usual intensity that has been so defining isn't there. How can it be with this crazy schedule?
A team dealt blow after blow, perhaps the explanation for the team's slump really is as simple as it seems.
The Reds are not bad champions, as Roy Keane accused them of being, but wounded ones.
Rival fans may be sick of hearing how much Virgil van Dijk's absence has cost this side, but the fact is any team would miss such an important player for a prolonged period of time. Just look at Man City, whose decline last season was pinned on Aymeric Laporte's lay off.
The landscape changed when Van Dijk suffered a season-ending injury. It changed again when Joe Gomez suffered his. Matip too.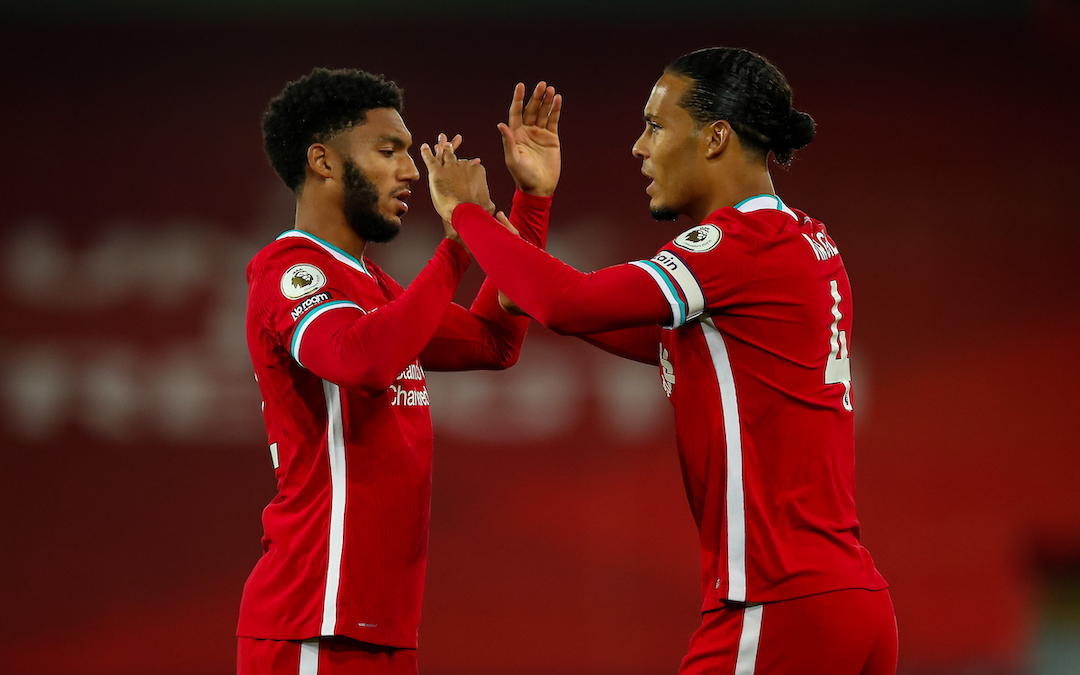 As per Andrew Beasley, The Reds have been without at least six players for eight games since Christmas. Injuries haven't just dominated the story but written the entire script.
Indeed, once you factor in the incredible misfortune of suffering three season-ending injuries, let alone in the same position, alongside the continued absence of Naby Keita and Diogo Jota, who was so influential in the opening months, it's clear why they've struggled. Maybe, just maybe, they're human after all.
While Fabinho and Henderson have deputised commendably in defence on the whole, having two of the team's most influential midfielders in the back-four has had significant repercussions across the pitch.
Without Jordan Henderson in midfield, there is little sense of urgency in possession. Liverpool need their captain dictating the tempo, pressing forward on the front foot and getting the ball into the front three. They need that sense of balance and control that comes with Fabinho screening the back-four.
The midfield was one of the side's main strengths last term, helping to trap opposition into their own six-yard-box as part of the full-throttle football that made The Reds so difficult to live with. So far this time out, it has suffered the consequences of issues elsewhere.
Getting it back to its former glory will be crucial to Liverpool finding their feet again.
Klopp may be reluctant to throw in a new player against such a quality side in Leicester, but what harm could it do?
The unstoppable fixture list leaves little time for the two new boys to settle, and this is precisely what they have been brought in for.
By all accounts, Ozan Kabak had been on the club's radar for some time, and the 20-year-old appears to have all the attributes to succeed. Physical, aggressive and dominant in the air, he can complement Fabinho while providing a crucial threat at the other end of the pitch. He knows he's on trial and will be desperate to convince the club to pay his fee in the summer.
Crucially, that would enable Henderson to move back to the engine room, injecting pace into Liverpool's laboured buildup play, while providing much needed balance to the side. Doing so will hold key to The Reds getting their mojo back.
The title may be all but gone, but there remains so much to fight for in Liverpool's season.
That fight begins with Leicester, a team flying high and beaming with confidence heading into the weekend. The small matter of the Champions League knockout stage follows.
The Reds could do with a response, and they've proven more than capable of delivering before.
---
🗣 The Overview: Chopping And Changing | #NewPodcast | #LFC

A new format for our Overview show part one looking back at Liverpool's results and ahead to the upcoming fixtures…

Subscribe 👉 https://t.co/oaOWcUzrlr
Listen to part one 👇https://t.co/dueAIvuYoL pic.twitter.com/0GEZgzUmXG

— The Anfield Wrap (@TheAnfieldWrap) February 11, 2021
Recent Posts: