Rob Gutmann's match preview ahead of RB Leipzig v Liverpool in the last 16 of the Champions League at the Puskas Arena in Budapest…
THERE'S two ways to look at the Liverpool FC 2021 edition.
You can pull the lens back and survey the full horror. The wreckage of a season that promised so much but now has been laid to waste. Just two wins in 10 league games and way off the top in points. It's not a pretty sight. 
The other strategy is to zero in on the here and now. There's a solid case for just talking about what's directly around and in front of us and nothing else. We can't get back all of the points dropped. We shed our tears on the days we lost them. There's little point in getting involved in a funeral procession just because we won't be getting our parade.
What lies directly ahead is the start of the Champions League proper, the knockout phase. Eliminate just three sides and you're in the final of the world's premier club competition. That happens and this car crash of a campaign suddenly feels like something very different. 
The European Cup has a long and fine tradition of redeeming Liverpool seasons. In 1978, 1981 and 2005, we ended campaigns in glory despite having not challenged for own domestic title. In 1985, we came close to repeating the trick by reaching the final, and in 2019 our wonderful triumph in Madrid compensated for being beaten to the league by Man City.
In 1981 and 2005, we were outright shite in our domestic programme, finishing in fifth place on each occasion. I recall both seasons as if yesterday. At each point of progression in Europe the league campaign felt less and less relevant and disappointing.
Of course it is beyond obvious to stress that there is a far chasm between recognising that the Champions League can save our souls and us actually winning the big prize. The bookies make us about 8/1 to claim it. That's a signifier that an ultimate Liverpool victory remains an unlikely event. 
But – and it's a big massive but – those odds are hugely predicated on Liverpool being the pale shadow of themselves that they have recently been. Yes, the potential for something of an uptick in form will have been priced in, but (again) they likely don't legislate for quite how much better Liverpool can yet become.
Despite recent results, foundations of a recovery can be seen if we're prepared to wipe up away the tears and fury and properly open our eyes. Saturday's debacle at Leicester was a case in point. The defeat was horrible but the performance was not. An honest neutral might regard the final result as something of a travesty.
In terms of the basics Liverpool are OK but, in a game traditionally of fine margins, nothing is breaking for us. We controlled the Leicester match, we defended well in the main, we were quite patient and structured in our attacking and ultimately took the lead with a well deserved and superbly crafted goal.
It wasn't that dissimilar to the recent away performances at Tottenham and West Ham. All these games, each in their own way, will have served to prepare Liverpool for the threat RB Leipzig will pose.
Nagelsmann's side are in many senses a Klopp-lite outfit. By that comparison we imply a good confident team. Liverpool are an actual Klopp team but one shorn of its belief. 
Leipzig battered Tottenham at the start of the knockout phase last season, before going on to eliminate Atletico Madrid, and this season they navigated a group that again featured English opposition. 
They beat Manchester United 3-2, having lost heavily to the Mancs in their first matchup, but ultimately finished runners up to Paris Saint-Germain. They did ship goals though in qualifying – 12 in the six games.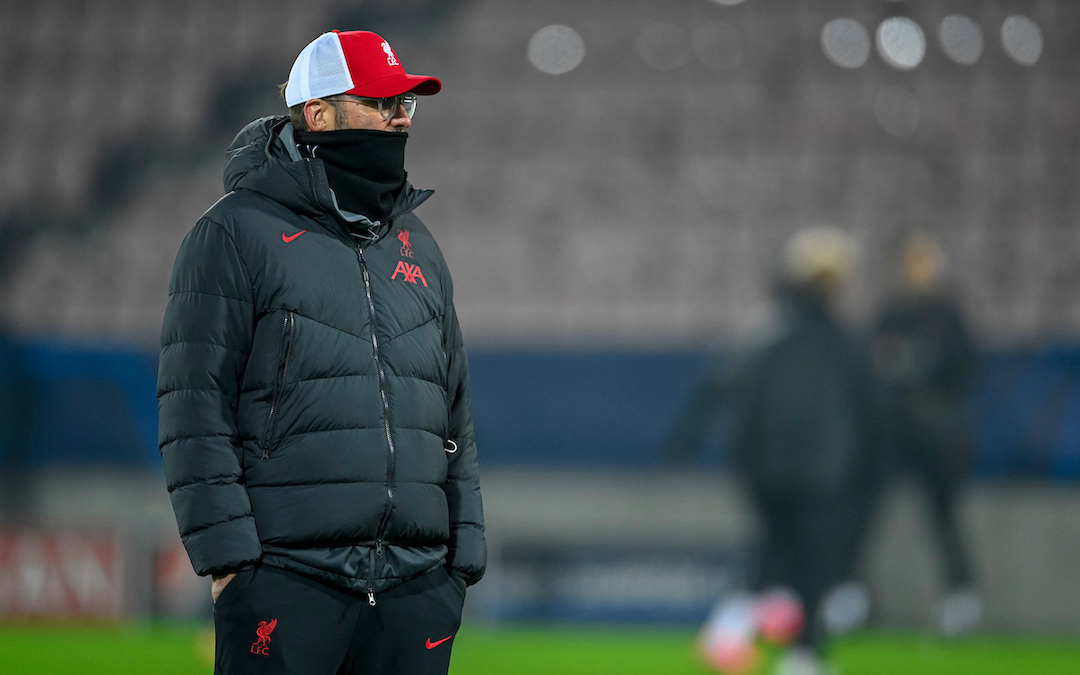 In the Bundesliga, Nagelsmann's team just keep winning and are currently second – four points behind Bayern Munich. Leipzig have won four of their last six league games. 
It's becoming tiring to be a 'professional' speculator on what sides Liverpool are going to put out these days. You feel like you're always working with one arm up your back, never knowing what new injury will be revealed on the day of the game.
I'm going to simply guess that Klopp will go with the 11 that started away at Leicester save for Thiago coming in for the likely unavailable James Milner. Fabinho is again not fit enough to be considered, and Naby Keita needs more training ground time before he can be considered.
That Tuesday night's game is being played in neutral Budapest will be seen as providing Liverpool with an advantage in the tie is a distraction. Without crowds, none of the old rationales apply. Both legs may as well be being played as a two-match mini 'test series' at Wembley.
Liverpool are better than Leipzig but we don't have their ability to pick fresh and consistent sides brimming with confidence. We can yet rewrite the story of this season. It doesn't have to be the way it seems now.
Be brave Reds, and we can still have it all.
Predicted 11: Alisson; Trent, Kabak, Henderson, Robertson; Wijnaldum, Thiago, Jones; Salah, Firmino, Mane
---
"The one trick left is to be able to say let's reset, it's a different competition. They get the novelty of going on a plane!"

"By hook or by crook, find a way to win in these next two games, the world looks brighter." 🗣

Leipzig Build Up 👉https://t.co/oaOWcUzrlr👈 pic.twitter.com/1NrCyjxBx4

— The Anfield Wrap (@TheAnfieldWrap) February 16, 2021
Recent Posts: