Rob Gutmann's match preview ahead of Leicester City v Liverpool at the King Power Stadium, with news breaking of further injury frustration for The Reds…
WATCHING Liverpool has ceased to be a pleasure.
Not a great thing when watching Liverpool was until recently the greatest pleasure I took in life. It is beyond a sick joke that the edifice we watched take 30 years in the building, the structure that looked so solid that it might be the basis for years more of glory, is now crumbling as if made of Lego bonded with shit.
Unless of course we are being deliciously toyed with and The Reds are about to snap back into shape and go on a ruthless and endless winning surge. God I'd kill for a three or four game ruthless winning surge now. Just a bit of resurgence is all we're really after. 
Within our living nightmare of non-existent form, we appear to be getting served up with horrible opponents every week. Within our hell we are being doomed to complete the fixture schedule from hell. Truth is we've built ourselves a universe where the top sides are tougher foes than ever and the bottom sides are impossible to beat. 
Something has to give at some stage. And by give I mean get better for a good while. We can't be this bad. Our form is truly wretched. In our past nine league games we've taken nine points. That's simply relegation form. It is a rot that makes no sense and has to stop.
At this juncture it is perhaps spurious to talk about our 'aims for the season'. It would be a bit like asking a drowning man how he saw his career developing. 'Not drowning,' would be the limit of his ambitions.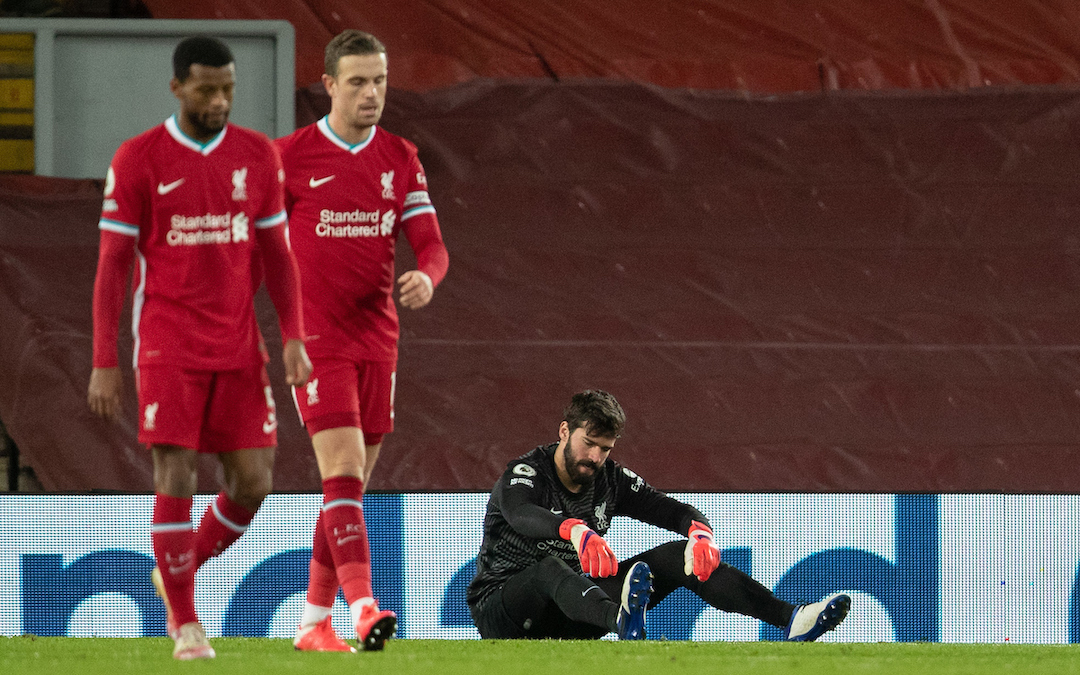 So, are Brendan Rodgers' high flying Leicester City going to be willing to be the stand up guys to extend an arm and expose their asses to save our season? Not lightly or likely will they be cast in that role.
Whenever I've caught up with Leicester they look good. They seem to have pace where you really need pace. Vardy gets faster the older he gets, Harvey Barnes is getting quicker and better and young, flying full back James Justin has looked a star in the making (he is out of Saturday's game with injury, mind).
Then you look at their results a touch more forensically and realise they are quietly quite hard to place. Will they be the outfit that Liverpool dispatched with relative ease in the autumn or the side that recently beat Chelsea 2-0?
Leicester have only won once in their last four league outings but before then had four wins from six. Leeds United were recent 3-1 winners at the King Power Stadium. In terms of their most recent games, Leicester are as schizophrenic as Liverpool. 
Liverpool needed some good news on the injury front this week. We have felt this need every single week of the season. Once again there is no good news for The Reds. The latest blow is that Fabinho is out. Not for the first time this campaign Jürgen Klopp must pick a Liverpool Premier League 11 without all four of his senior centre backs.
With Jota and Keita not yet available and Alex Oxlade-Chamberlain struggling for form, the Liverpool boss has few options. Jordan Henderson must continue in defence and will be partnered most likely by Nat Phillips. At his pre-match press briefing Klopp offered no encouragement to the idea that recent new centre-back signings Kabak and Davies might be due starts.
At the moment it is hard to see when either new recruit might be trusted to start, save for when the injury crisis inevitably deepens further. Any way you look at it is just a bit depressing.
The one plus for Liverpool is that they have had a six-day respite since that horrible defeat to Man City. This team needs to rediscover its identity which, if it is its 'intensity', then a few days rest may serve that purpose.
A midfield of Wijnaldum, Thiago and Jones is as exciting on paper as a front three of Firmino, Salah and Mane. On grass, these combinations have in the main, only looked to be lacking in imagination and legs.
I'll not make bold predictions or issue vain clarion calls for a statement return to winning ways. It feels very hard to close eyes and imagine what a good day's work might look like tomorrow but 'work' is all we can do.
Heads down, mouths shut and fight. These are our basics. 
My team: Alisson; Milner, Kabak, Henderson, Robertson; Wijnaldum, Trent, Jones, Thiago; Salah, Mane
Klopp's team: Alisson; Trent, Phillips, Henderson, Robertson; Wijnaldum, Thiago, Jones; Salah, Firmino, Mane
---
"Since Rodgers joined Leicester, only City and Liverpool have won more points than Leicester."

"But I'm looking for positives, it's been a grim time. We've been good against them in recent years."

The Preview w/@Robbo_Huyton & @Knox_Harrington 🎥

👉https://t.co/oaOWcUzrlr👈 pic.twitter.com/xcXjvB9PyZ

— The Anfield Wrap (@TheAnfieldWrap) February 12, 2021
Recent Posts: