With Liverpool's title defence hanging by a thread, Leanne Prescott writes that The Reds need to rediscover their mentality monster side to salvage something…
CHRIST, that was hard work, wasn't it?
For so many of us, in the middle of a national lockdown that feels like it may go on forever, football has taken on an increasing sense of escapism.
Watching The Reds last night, though, did little to lift the mood.
This is not the football we know and love.
On the pitch, a familiar tale of a lack of energy and tempo against a low-block side heaped more pressure on an already massive game against City at the weekend. Off it, the hollow feeling of no supporters remains.
There is no comradery, no sense of emotion, no pre-match routines to the pub and the chippy. The players look as tired of it as we are.
'Beat the dross, win the league', they say.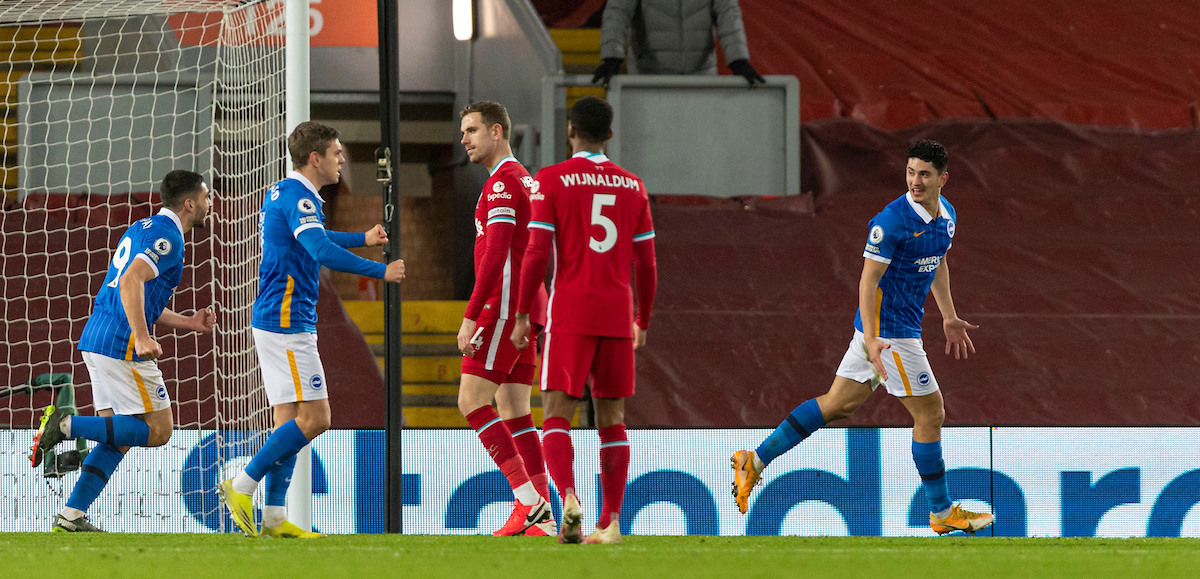 What was a simple task last season, has become a recurring problem this time around.
A team that has so often played at a speed that no-one can touch them, leaving nothing to chance and no stone unturned, continuous changes to the starting lineup appear to finally be taking their toll. Indeed, for all the positives having taken six points on the road against Tottenham and West Ham, this one felt like a fatal blow.
It didn't help that Alisson Becker was ruled out with illness, that Fabinho's authority couldn't be replicated, or that Sadio Mane remains the latest injury casualty, but even so, they have to do more to fight against circumstance.
Brighton, a team who are far better than their league position suggests, got what they deserved for a perfectly executed game plan. They should be given as much credit for their performance as Liverpool deserve criticism for theirs, but their approach was far from a surprise.
The Seagulls came to Anfield and did precisely what Burnley and West Brom did: sit deep, grow in confidence, land the killer blow.
That there is now a recognisable blueprint on how to stop this team will be a huge concern for Klopp, having taken just one win from seven against those in the bottom six alone. Teams are doing their homework and shaping up to stop them from playing their best game, but they themselves are failing to even land a glove.
The spark that appeared to be reignited in London was nowhere to be seen. It was all too safe, too short, too painfully predictable. Indeed, of 705 completed passes, there was only one solitary shot on target on the night, marking a total of 348 minutes without scoring at home.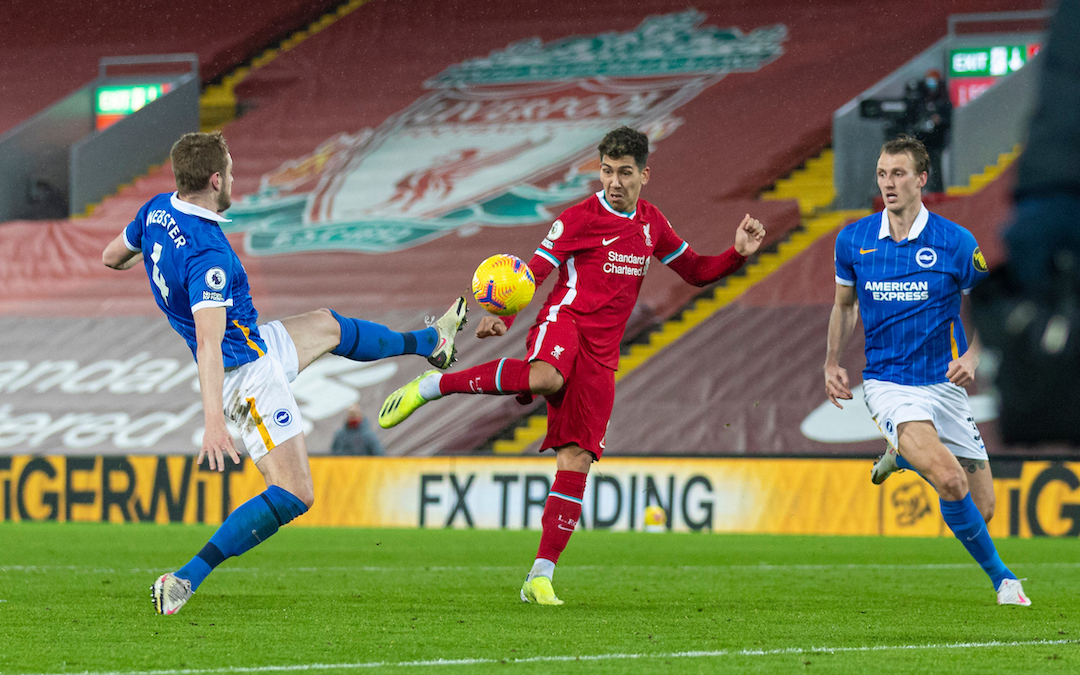 Perhaps most surprisingly, was the omission of Curtis Jones until late on, whose cameo from the bench broke the deadlock in the 3-1 win over West Ham on Sunday. Given the continued struggles, his forward-thinking drive and dynamism could be exactly what Klopp needs to get out of this low-block slump.
Confident enough to take on his man while capable of threading a ball in between the lines, Jones' willingness to drive at opposing players instead of passing the ball side to side was key to unsettling West Ham's defensive shape.
A player capable of flipping the switch and injecting tempo, the 20-year-old must be involved more in the coming weeks to get The Reds out of their low-block slump.
Liverpool's season to date has been more about reaction than it has action. The obstacles have been high and wide, and the circumstances remain suboptimal, but after another blip in the defence of their crown, all focus must now be on responding as this side so often has.
The Reds have made it count in the big games this season, and they will need to do so again on Sunday.
It really is do or die.
---
"It's your ground, your home. I think it'll be easy for Klopp to put them into that mindset having lost to Burnley."

"Aggression in key times is really important. Win the ball back high, made it hard for them."

The Preview Show 🎥

Subscribe 👉 https://t.co/oaOWcUzrlr 👈 pic.twitter.com/xucwUQrubu

— The Anfield Wrap (@TheAnfieldWrap) February 3, 2021
Recent Posts: