Rob Gutmann's match preview ahead of Liverpool v Manchester City at Anfield, with The Reds in need of some divine intervention on the injury front…
DEAR Reds.
This is the hardest thing I've ever had to write.
It's over. I'm done with you. It's not me, it's you. It's about self preservation. You are doing my head in and I cant take anymore.
Yes, of course I'll continue to still watch and support. I'll always be there for you. But my heart is no longer in it.
I still love Klopp's Liverpool but I don't think I'm 'in love' with this team any longer. They're just not the same side, both literally and metaphysically. The thing is, we can't trust these lads. And once the trust goes…
Just a few short months ago I couldn't have imagined I'd be penning this overwrought, indulgent cry-arsing bullshit. I wouldn't have begun to believe how it could get to a point where I'd actually half mean it.
Let's be straight – me, you, we – we're in this for life, whether we like it or not, and one big fat kick in the guts season isn't going to alter that eternal truth. Yeah, we feel a bit betrayed, like what did any of it mean, but still, we ultimately have to suck this up and readjust.
I'll return to precisely what we're adjusting to later, but first I think a brief post mortem/statement of mitigation is required.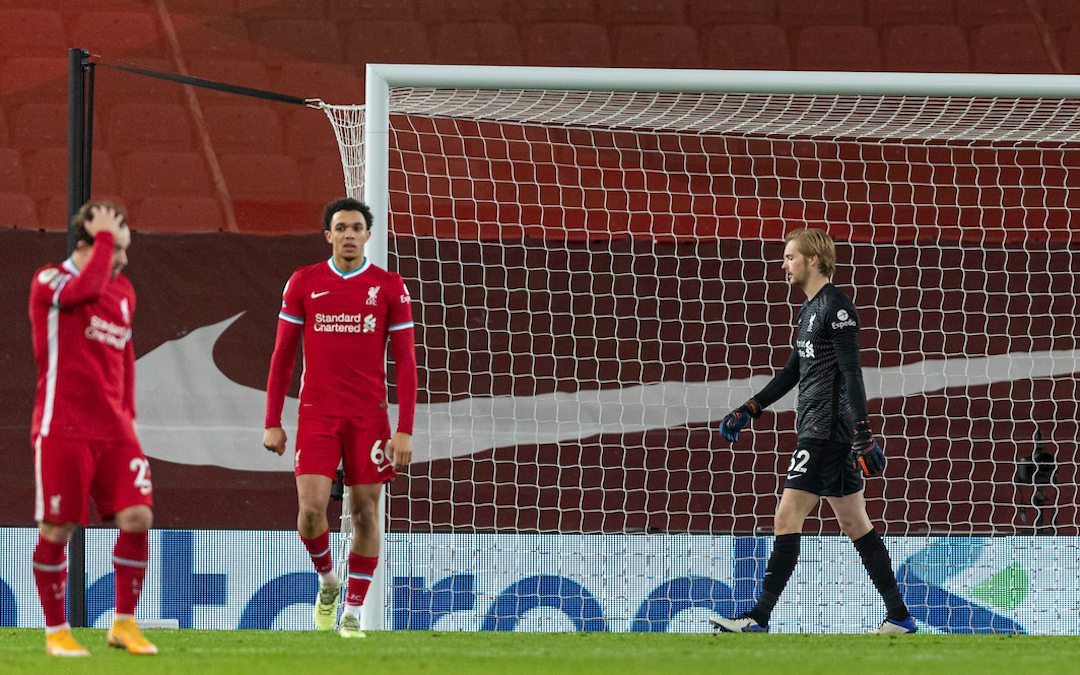 Yes, Liverpool have been flakey as fuck and it makes no sense to routinely do well against the biggest sides while being abject against the league's rubbish ones, but still, all things considered, this has not been a season where we have had anything other than recurrent bad luck.
Let's park the disproportionate amount of crucial refereeing decisions that have gone against us (and they have, as those VAR 'league tables' clearly demonstrate). Injuries to key players, and on an unprecedented scale, have derailed this Liverpool title challenge.
By my estimation, Liverpool have a first team core of 16 footballers who are all but interchangeable with each other. They are, the key first 11 of last season plus Jota, Thiago, Keita, Matip and Milner. To be successful, Liverpool can function at the appropriate level even if two or three of this cohort are unavailable. Maybe even with just 12 of the 16 to pick from.
At home to Brighton on Wednesday evening , Liverpool only had eight of the key 16 fit to select. Of the 'lucky' eight, six were being forced to play their third highly competitive game in six days. This, in itself, another subplot of an injury crisis.
A negative cycle ensues – lack of options force a manager to overuse the last men standing until they themselves eventually become injured, and to reintroduce recovering players too early who are then, in turn, hugely exposed to the risk of further affliction.
I read a social media quip the other day which optimistically posited that Liverpool have had their injury strewn phase and that soon it would be arch rivals Manchester City's turn. It doesn't work like that, kids. Injury crises begat greater and lengthier injury crises. This storm that Liverpool are in the midst of has little prospect of abating until the summer.
The only thing that changes the negative prognosis is a significant change of luck. Again, it has to be accepted that losing streaks aren't the best scene setters for shifts in fortune.
Liverpool must try and rush back an unwell Alisson Becker and not fully fit Sadio Mane and Fabinho for the visit of City on Sunday. Klopp will probably have to ask Thiago, Wijnaldum, Trent, Robertson and Salah to play a fourth game in the space of a week and a half.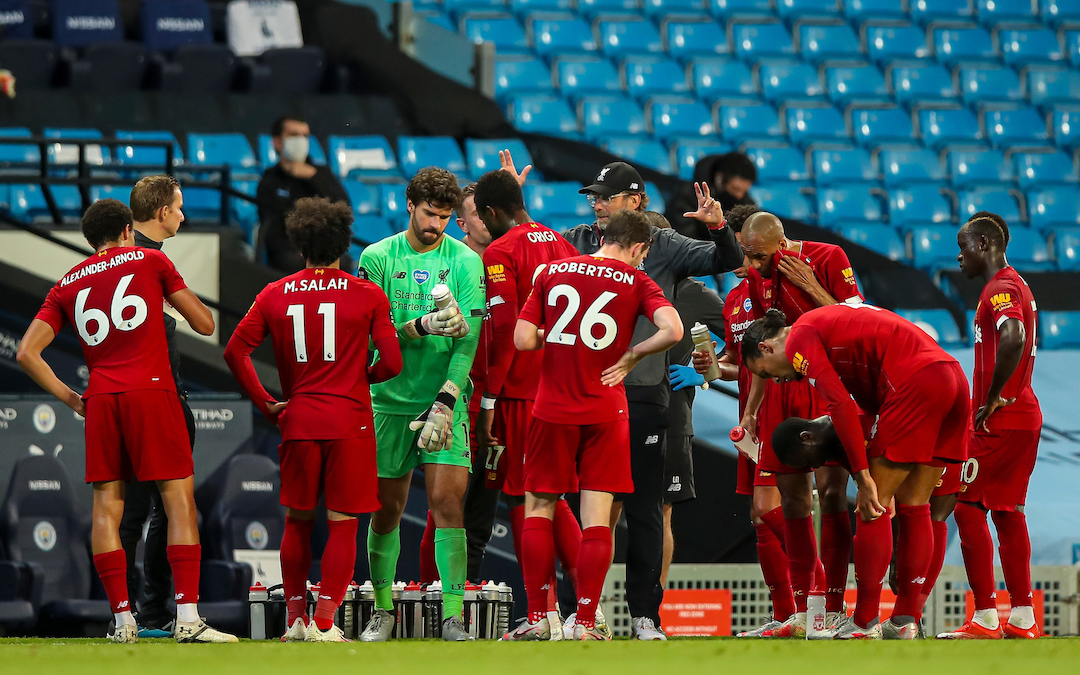 He may even have to throw in one or both of two new young centre-back recruits (Kabak and Davies) who have barely completed four or five training sessions at Kirkby between them.
I would ordinarily be saying 'well, at least a patched up and beleaguered Liverpool team might be able to harness the power of the Anfield crowd and rouse themselves to one more great performance', but then I wouldn't be living in the very surreal real world that the LFC 2020-21 vintage are living in.
I'm calm about Sunday. I wish I wasn't. I'm cool because I know deep down that this isn't the most important game we have left this season. It looked like it might be a month ago, but our world has been turned upside down since then.
Normally, at the end of these previews, I write out the team I think Jürgen Klopp will select. I'm going to shake things up a bit because, fuck it, everything's up in the air anyway.
First up, you're getting the side I think the manager will go for and then you can judge the team I'd pick if they gave me the reigns.
What the hell, hey kids? We've got to get our giggles somewhere at the moment.
Klopp's team: Alisson; Trent, Fabinho, Henderson, Robertson; Wijnaldum, Thiago, Jones; Salah, Firmino, Mane
My team: Alisson; Milner, Kabak, Henderson, Robertson; Fabinho, Wijnaldum, Thiago, Trent; Salah, Mane
---
🗣 Weekender: Reds Rocked By Brighton Before City Clash | #LFC

🎙 @johngibbonsblog, @_Dan_Austin, @Adam__Melia & @CaoimheSport
⚽️ @FTBLforChange
🔴🔵 @hworden20, @ChloeBloxam, @camynwa97 & @samevans1906

Subscribe 👉 https://t.co/oaOWcUzrlr
Listen 👇https://t.co/y9UgkaQF3l pic.twitter.com/eVwIg2gtix

— The Anfield Wrap (@TheAnfieldWrap) February 5, 2021
Recent Posts: