Rob Gutmann's match preview ahead of Southampton v Liverpool at St. Mary's, with both sides perhaps facing one another at the perfect time…
THERE'S three ways this season plays out for Liverpool supporters.
The most desired is the 'happy confident way' whereby The Reds maintain their position at the top of the table, winning matches at an ever-increasing rate, calmly reclaiming their title.
The opposite and worst case scenario is the very messy one where injuries continue to reoccur, confidence is affected and a title challenge fades to a campaign of recrimination and reflection upon which significant changes will need to be made. Let's hope that this is also the 'very unlikely' scenario.
The middle way is for Liverpool to slip from their current perch and to fall back amongst the pack, periodically threatening to reassert themselves before eventually doing so and probably coming out on top of the pile in May. The way many leagues are won. We'd all take this outcome obviously, but living through it would not be all that nice. For the most part.
It's nice to be Champions. It's nicer to maintain feeling like Champions as well. From this season's get go until the present, we have felt very much still worthy of our mantel. There have been bad days, disappointing games (the recent draws in particular) but there have also been regular reminders of just how good the current Liverpool team can be. On our day we are pretty much peerless.
Going into tonight's game at St Mary's The Reds are still top of the Premier League but only by fine margin, and the Manchester giants are hot on our heels. Their fans will be getting the ale in tonight and settling down on sofas expecting a decent Southampton side to quite possibly further dent Liverpool's ambitions.
Jürgen Klopp will tell his men that the media and the football world is warming to the idea that this season's story will be about how the Manchester clubs duked it out for the title whilst Liverpool slipped back into the shadows. Smash that narrative in two, Klopp will suggest. If they want our league they're going to have to prise it out of our cold dead hands, the manager will cry.
The timeless adage that there are good and bad times to play teams is going to be hard to apply to Southampton v Liverpool on this Monday night in January. Both sides will be grateful that they are facing the other in poorer form. Liverpool haven't been bad, but they have frustrated. The Saints are winless in their last four outings.
The main team news talking point from the home side's camp is that keeper Alex McCarthy is out having tested positive for Covid. In a campaign blighted by absences to injury and illness, Jürgen Klopp will be relieved that virtually all of his star men should now be relatively safe from Covid, having tested positive at various intervals earlier in the season.
The selection news Liverpool fans will most eagerly await will yet again surround the fit again midfield genius that is Thiago Alcantara. The sum total of his Liverpool career to date has been three cameos, each of varying length, but in their own ways exhibitions of the midfield crafts. Thiago is a star turn, and one way or another, he'll leave his audience breathless and wanting more.
That we'll see the maestro at St Mary's seems inevitable. The question is, will it be for 55-60 minutes from the game's start, or will he get that last half hour to try and exploit tiring opposition legs? There's even a possibility he shares the game with say, Curtis Jones, with each man getting 45 minutes to show what they can do.
It may be lumping too much heat on to describe tonight's game as a 'must win' but if we want to give ourselves a chance of really grabbing this title race by the neck then it surely is.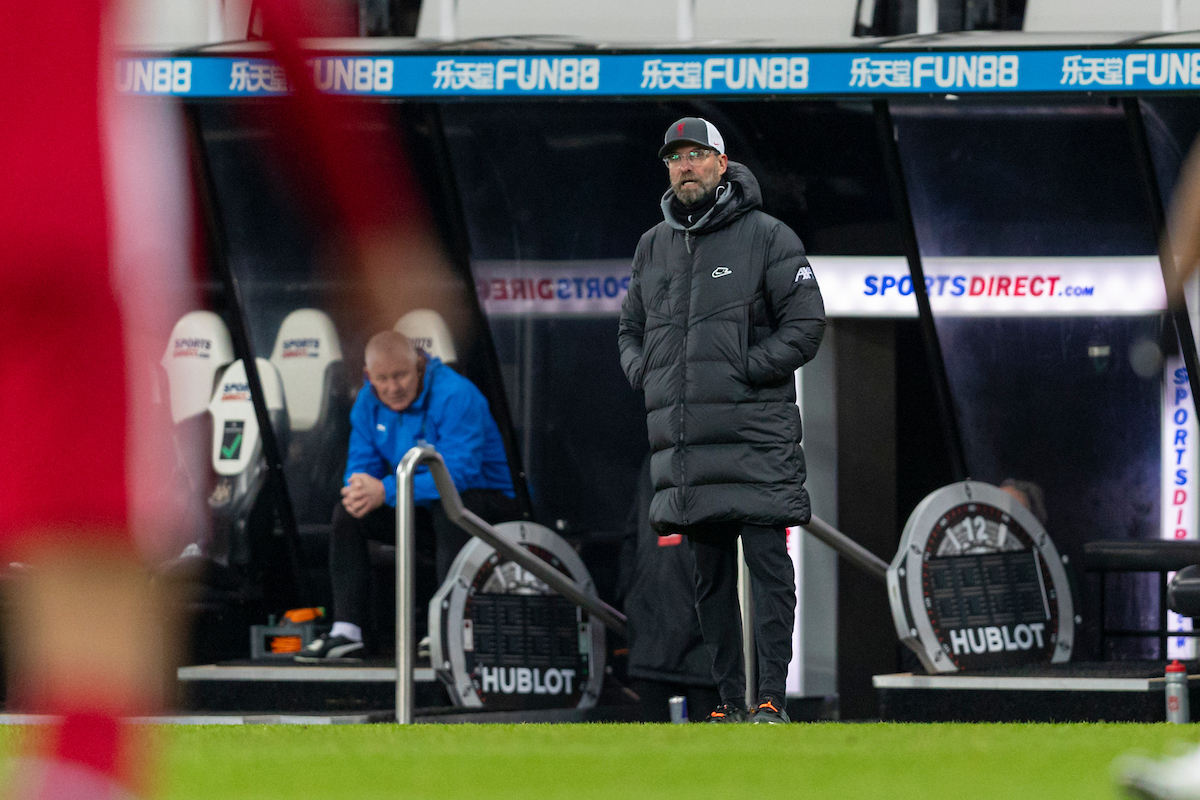 Klopp was correct in trying to frame the draws with West Brom and Newcastle as far from being disasters, but he knows it's only OK to be OK with dropping the 'silly' points if your side then has the mettle to go and win the games that appear considerably less routine.
Liverpool have had five clear days to get their heads right and to train and reorientate themselves, so there will be no room for excuses about typical Christmas fixture congestion fatigue. The manager can pick the strongest team he has available, knowing that all have had sufficient rest and will not face further Premier League action for another fortnight.
Our rivals have mainly enjoyed their festive schedules and are looking to be coming into the new year in rude health. Make no mistake, the Champions are under pressure.
Fortunately, the experience of recent seasons suggests that this is exactly how Liverpool like it.
Predicted 11: Alisson; Trent, R Williams, Fabinho, Robertson; Henderson, Wijnaldum, Jones; Salah, Firmino, Mane
---
"Next thing a window opened and it was @JHenderson. I thought it was my brother in law winding me up."

"I was like a schoolboy! He was fantastic. And that was thanks to @NiveaMENUK, i didn't have a clue."

Listen to our FREE podcast w/ @CruicialDJK 👉 https://t.co/Qfjt9CFD0e pic.twitter.com/2dGetq6DEF

— The Anfield Wrap (@TheAnfieldWrap) January 3, 2021
Recent Posts: