Karl Coppack assesses Liverpool's big issues based on their current form and talks about expectations of supporters for this season's title race…
GARY Lineker once said that he hated the idea of scoring a 30-yarder in a pre-season friendly.
That's an unusual view from one of the game's former greats, but I can understand his rationale. See, it's a waste of a goal. No one really cares about friendlies so a decent finish will soon be forgotten. Score any sort of goal in an important game, however…
Why not keep your worldie for a vital game on the biggest of stages?
Remember Zidane's goal in the European Cup final against Bayer Leverkusen at Hampden Park in 2001? That volley? What a goal to win the best competition. I bet he'd be kicking himself if he'd stuck that in against Tranmere in July in front of 250 people.
We all loved Marko Grujic's magnificent looping header against Barcelona, but it would be so much the better it if were in the last minute against Manchester United. What's the point in a game like that when The Reds were already 3-0 up? We didn't even need it then.
When we beat Crystal Palace 9-0 in 1989, we went on to share a goalless draw with Norwich a few days later and were knocked off the top of the league by Everton, so maybe there is something to it. I'm with the crisp shill on this one.
This supposes that goals are finite, and we only have a certain amount to spread around over the season. Footballers are superstitious by nature and I like that Lineker still thinks that way when he's long since morphed into a TV presenter.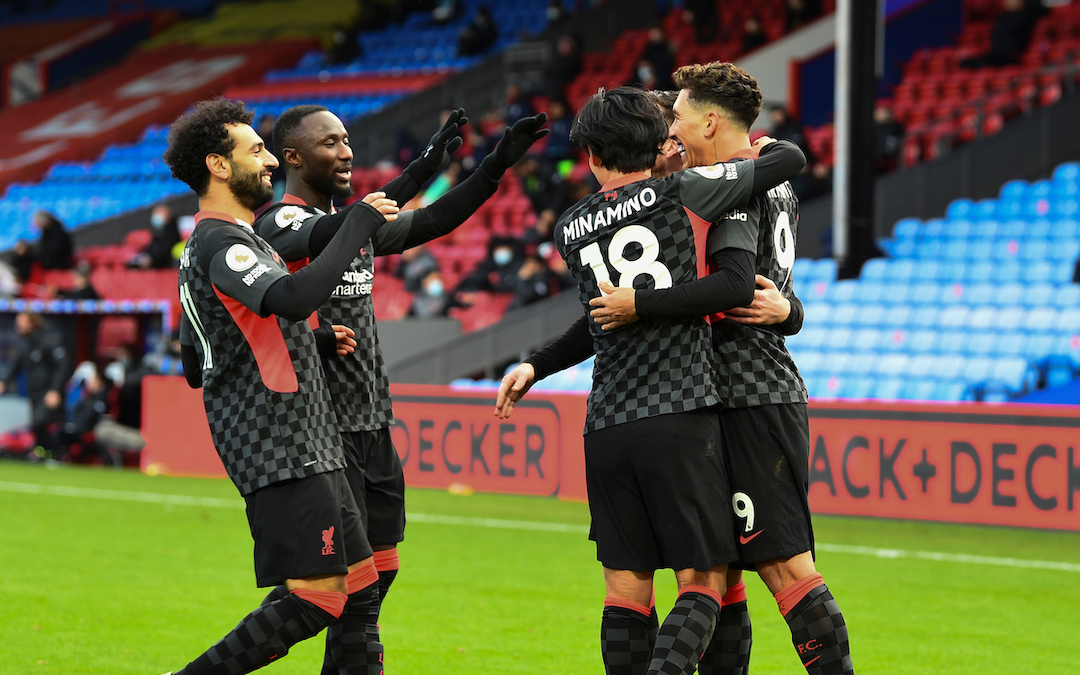 If that were the case though and goals are meted out, I bet the Champions are kicking themselves at that Selhurst Park performance. I mean, what were they thinking? Five of those seven would have come in quite handy to win the last four games and have the title secured before it gets warm again.
Of course, the lack of goals was felt most keenly against United.
Before the game there was concerned talk of Matip missing the match and how Jordan's inclusion in the back four would benefit United's forward line. Come the final whistle they barely got a mention. By then it was all about the front three and their lack of goals.
Liverpool haven't scored in three straight games. I don't know if you missed that, but it's true. Liverpool have failed to score in the league since Boxing Day. Luckily Martin Tyler was on hand to remind us. Every. Two. Minutes.
Personally, I'd be looking at why their lads – all quality players (and Greenwood worries me more than most) – didn't score against two defensive midfielders playing as defenders. If our lads drew a blank against a centre half pair of Fred and McTominay I'd be in the Main Stand car park now with a placard and a dour expression issuing some expressive language.
But the lack of goals is an issue. Something is amiss.
And it does stem from those centre halves. Fabinho is great at many things but I especially like the way he wins and retains possession so high up the pitch. He can do that because van Dijk is keeping his area clear of danger with his magnificent frown and elaborate hand gestures. It's easier to score when you've got so many players in the box.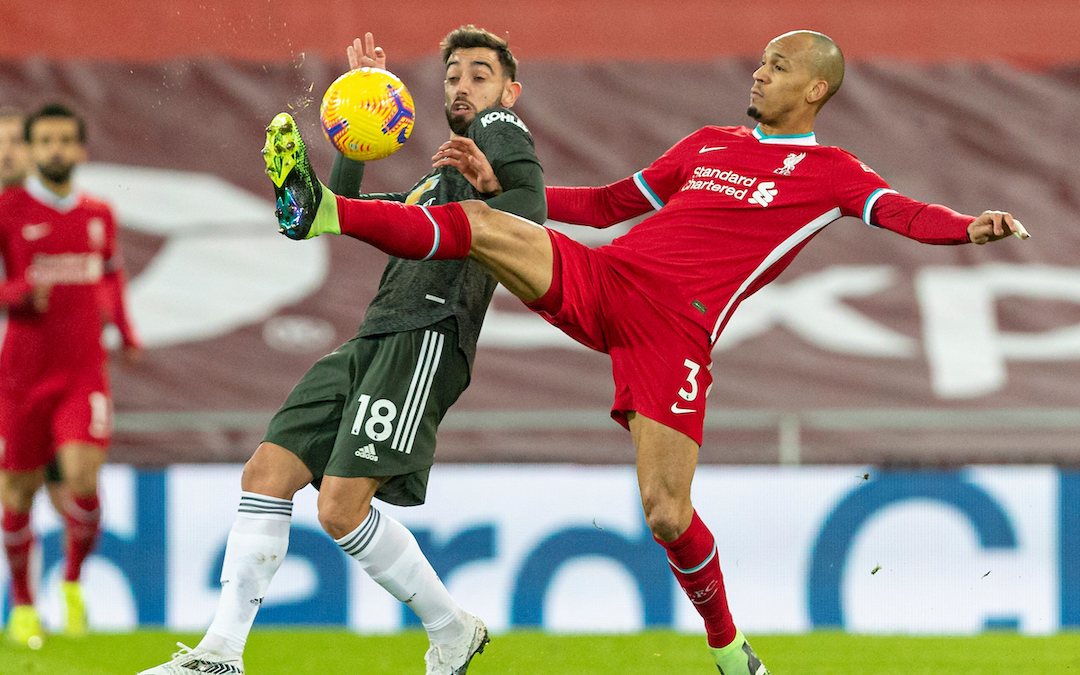 We couldn't do that on Sunday. There was always an eye on the United counter attack. Henderson and Fabinho are magnificent players and, though it was good to see them work so well in tandem with a different skillset, we really missed them higher up the field.
That's not to say that the midfield didn't perform well. How great was it to see Thiago ghost past players? I thought central midfielders didn't dribble anymore. That's how you cause mayhem against a team who sit deep and play long. Get past one man and see who goes to them. Then put in the man he left behind. He's some player that lad. Clever.
There's been some criticism laid at the door of the front three. Roberto isn't firing at all – either snatching at shots or taking too long to set himself. Mo is one the greatest players we've ever seen but that doesn't stop him being a bit too selfish at times. That's the price you pay for his 111 goals. Sadio is also a little out of sorts.
And this is where we miss Diogo. His introduction really bolstered an already powerful forward line. Divock doesn't have that level of impact, though I was certain the footballing Gods were going to allow one to go in off his arse when he came on last weekend. No such luck.
I'll be pilloried for this, but I was surprised at the reaction to the result as though we all wanted nothing more to see Solskjaer break down in tears as The Reds casually knocked in a 10th goal, there's no shock in a 0-0 against them. Some even spoke about our challenge being 'the battle for top four'. Sod that.
Call me overoptimistic but the league title must be our only aim. It's not out of the question and there's little to be gained by reducing our expectations. I can't be doing with that, especially as we're not even at the halfway stage yet.
Diogo is on his way back and it sounds like Joel will be back soon. Maybe we can even bring him in with Rhys and Nat and give Fabinho a holiday of sorts by playing him in his normal role. It might help with the problems at the other end of the pitch. That'd be nice.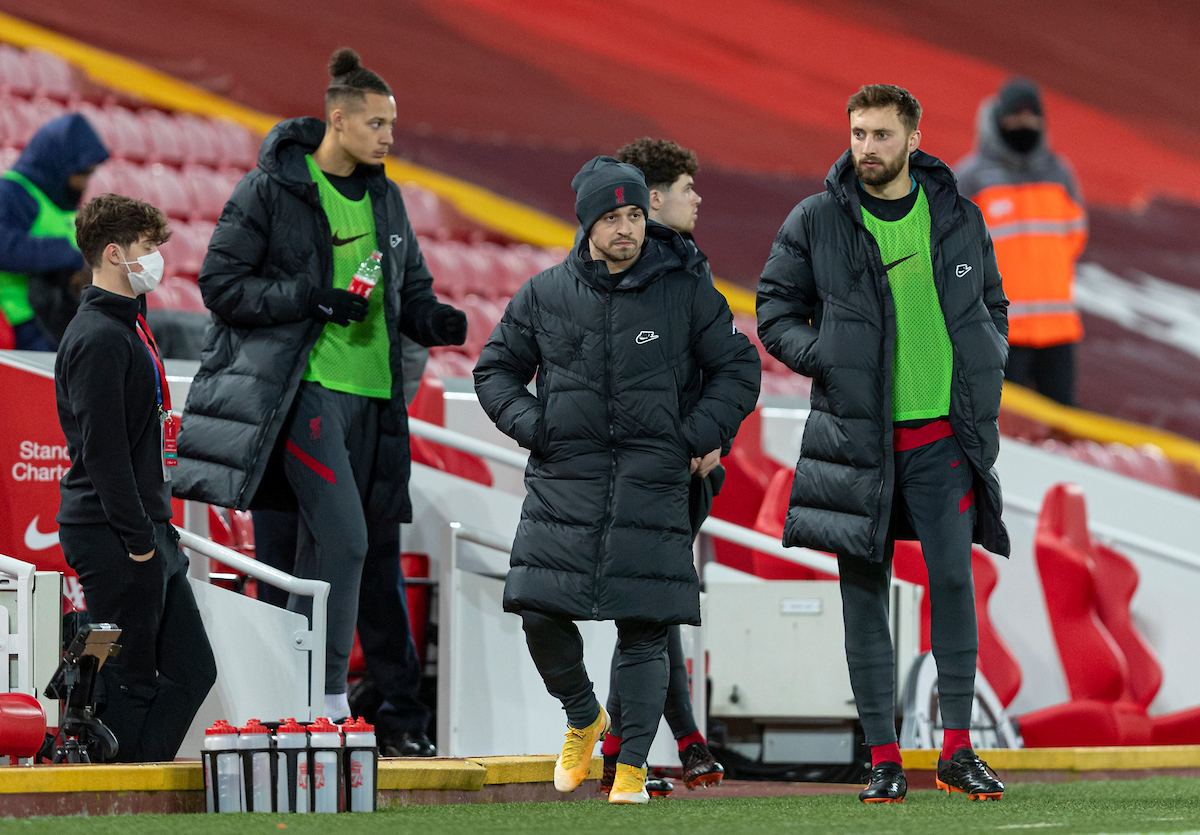 A win against Burnley comes first. Then a moral booster against United in the Cup. That'd be nice too.
That's a strange tournament these days. Though it's always nice to see us go far in any competition, exiting it barely registers these days whereas once it would have me down for days. However, going out to them? No thanks. I'd happily take a defeat to West Ham in the following round if someone would just give us a win there. Rivalry first, competition second.
The centre-back thing and Klopp's attitude to emergency transfers are frustrating, but that's nothing new. Remember when we led the league a few years ago and then allowed Sadio to go off to the AFCON without securing a replacement? We didn't win for nine games after that. Surely we can borrow someone for a bit.
I was on an AFQ Footy last week where one of the questions concerned who would be the lowest level of centre half we'd take. Mustafi was mentioned a few times but well done to whoever suggested Mamadou Sakho. I'd be back in the Main Stand car park again if that happened.
Tyler's right. We haven't scored in three, but let's not lose faith. There's so much footy to play. Points will be dropped by everyone and maybe this is a kick up the arse we need.
It's easy to become complacent when we've won the big two competitions recently. We just need to dig in a bit more. Then probably a bit more in the run in.
Here's hoping for a goal of any sort against Burnley. Even a saved up 30-yarder.
---
"If you wanted to show the quintessential video of the front three at their best, it was only a month ago – that recent."

"It's a team wide thing. The players need to keep calm."

1️⃣ Download our app
2️⃣ Get FREE tokens
3️⃣ Access Premium Content

👉 https://t.co/v3xcfwjq7C 👈 pic.twitter.com/ylWZffQXnz

— The Anfield Wrap (@TheAnfieldWrap) January 20, 2021
Recent Posts: