Ben Johnson's post-match review after Liverpool's 0-0 draw with Manchester United in the Premier League…
IT'S funny isn't it, life? The mind tricks you a bit as you get older.
Ever wonder why old people think the world was better when they were young? "It wasn't like this in my day?" "Wasn't it?" "Are you sure, or can you just not remember the bad stuff?"
Your brain kids you into forgetting the bad times. Sorrow has a season that will pass. It does pass. It gets easier. We have been spoiled the last few years to such an extent that I have genuinely forgotten what this feels like.
I mean, I haven't now, I can fucking remember it now, as I've just punched a piano and smashed my phone's head in and feel in the absolute depths of despair. But I've got almost no memory this type of thing to fall back on, no lived experience that my brain can recall and plot a path to normality.
I mean, we watched Hodgson in charge of Liverpool, the last season of Rodgers, the fucking Souey years, the death of hope in Rafa's last year, the this, that the fucking other and my brain has neatly rolled all that up, packed it away and took it the tip. I have no lived experience.
In general, what are you meant to do when it's going the wrong way? When you can't buy a goal and every fucking half a bobble in the other box is going against you. What are you meant to do with yourself? What did we do before?
We went the boozer, seen our mates, had a laugh and fucked it off. What are we meant to do now then, eh? Got some elders to speak to? Do it. They probably aren't as daft as me and will be able to calm you down. Are you an elder? Act like you can remember this and tell every fucker who will listen that The Reds will be sound, yer? Because you know what? They probably will.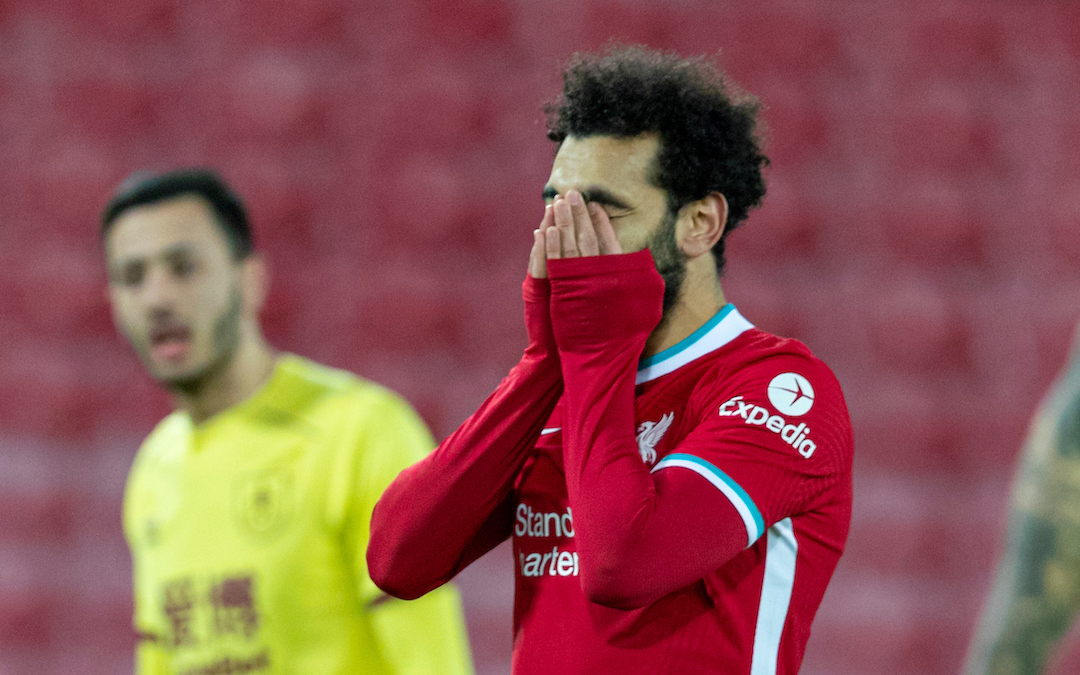 This won't go on for ever though, this weird run. Let's have it straight, it is a weird run.
Yes, players are out of form, yes we are not playing well, but we are getting had off a bit, if we are all honest aren't we? I mean, we defended really well. None of the defenders deserved to concede a goal. Matip was fantastic. Fantastic. And yet we get our pocket picked.
The attack is a slightly different story but even still, play that game again 10 times and we win eight of them. It is a bit of a self-fulfilling prophecy at the minute, too static at times, too slow at times, a little too predictable. But then when we do move the ball well and create a bit of space. Someone second guesses themselves, fumbles their touch, crosses it when they should shoot, shoots when they should cross, cuts back when they should motor.
It's just not working. Liverpool need to try and remember that this is supposed to be fun. Fun for them and fun for us. It is anything but for everyone at the minute. Most importantly, Liverpool need to work. They need to work, like they have never fucking worked before, stick it out and wait for their luck to turn, the confidence to come back and something to go their way. Because you know what? Chances are it will.
Also, say what you want about Divock but he doesn't lack confidence, does he? First minute, the ball drops out the sky: "It's alright lads, I've got this lack of goals thing boxed, watch I'll just slap this volley right… In…. The…. Top… BIN, oh". I mean it went over the Annie road. It was the most obvious shit shot since the Degsi Lovren semi-final last minute fella that should have resulted in a trap door opening in front of him and dropping him into the bowels of hell.
Which, as an aside, would probably look a lot like us, being sat in our house, in the middle of a pandemic, forced to watch The Reds last four games on a loop until we lose all sanity, which would probably be quicker than you would think. I'm saying just one more half at this rate. (Hahaha I wrote this line at half time – I was bang on.)
I mean, he then plays the half with the unreal ability to be in the absolute wrong place at the right time, until he gets his chance. One on one, two great touches: "Its alright lads, I've got this lack of goals thing boxed, watch, I'll just slap this right in the top BIN… Oh".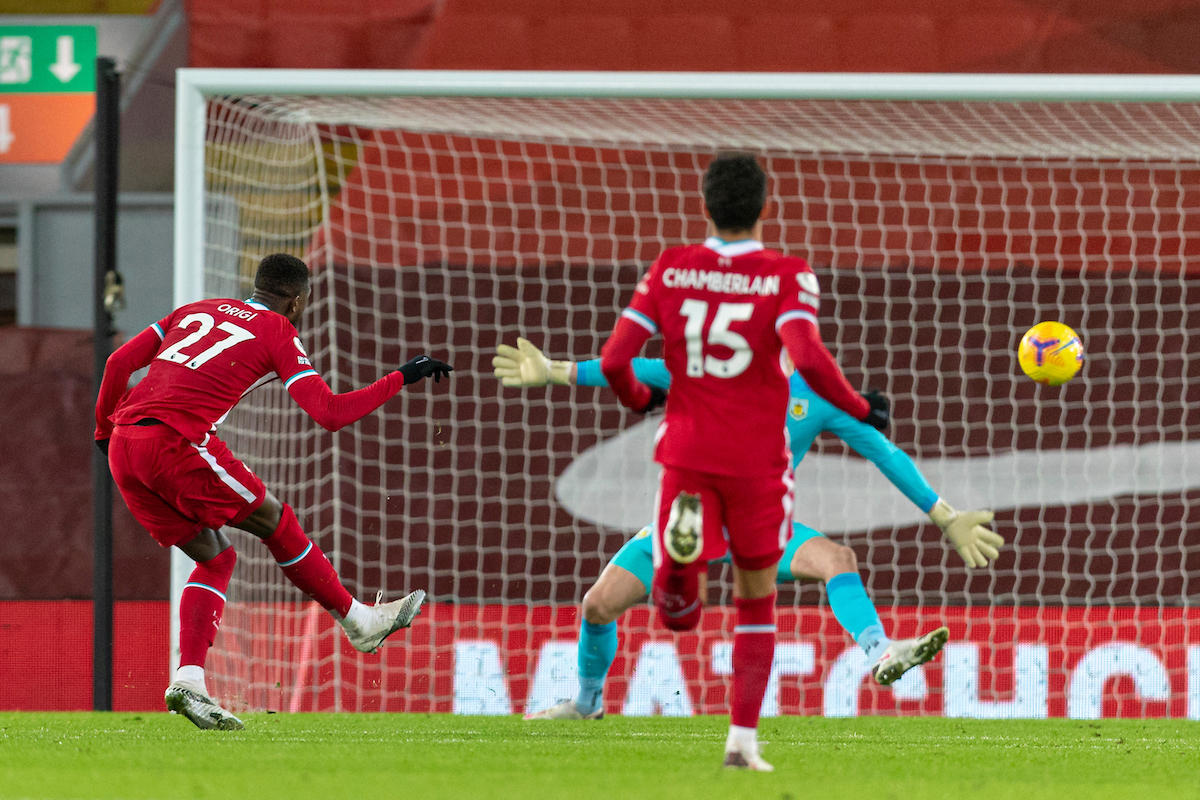 Unreal.
Christ Trent is having a tough time of it, isn't he? He looks genuinely like he might cry every time the camera goes on him.
He looks a bit like a centre mid playing right back at the minute, but not in the boss way he used to. Devoid of confidence, second guessing everything, when he does try and play freely he is giving it away, when he is trying to play with some control, he is giving it away. Sort of indicative of The Reds' problems really. A microcosm. Needs a jolt, something to go his way.
Not sure if this is your bag Trent, but I went the tip today, The Bootle one, straight in, with no queue. Glastonbury got cancelled today, it was fucking freezing, but straight in the tip first go. Give it a go.
The Reds have got a tough run of games coming up, haven't they? Fucking good. Have you seen our record against clubs in the bottom six. It is shite. Give me 10 games against city, rather than 10 against shitehawks who sit in their own box and play dead.
Liverpool need something to kickstart their season. A lovely little diddle on Sunday would warm the cockles of the heart.
Fancy it?
---
Recent Posts: