Leanne Prescott assesses Liverpool attacking struggles, including the role that injuries have played from the defence changes to Diogo Jota…
HERE we are with problems at the top of the league, eh?
It seems an eternity ago that Liverpool had their own goal of the season competition at Selhurst Park. The interplay was slick, players were bursting with confidence, the attack was in full flow and the defence remained resolute.
Fast forward 19 days and, in a season with so many twists and turns, the picture has changed again.
For all the talk about The Reds' issues at the back, it is the attack which is posing Jürgen Klopp's biggest problems.
Were you to ask supporters to describe the attack last season, most would rave about Mohamed Salah's dancing feet, Sadio Mane's ruthlessness or the two flying full backs who played out their own assist competition.
A campaign to remember, it was defined by electric, attacking football; intricate interplay and quick transitions up the pitch – two things that have been the hallmark of Klopp's Liverpool.
That's what makes the last three games so disappointing.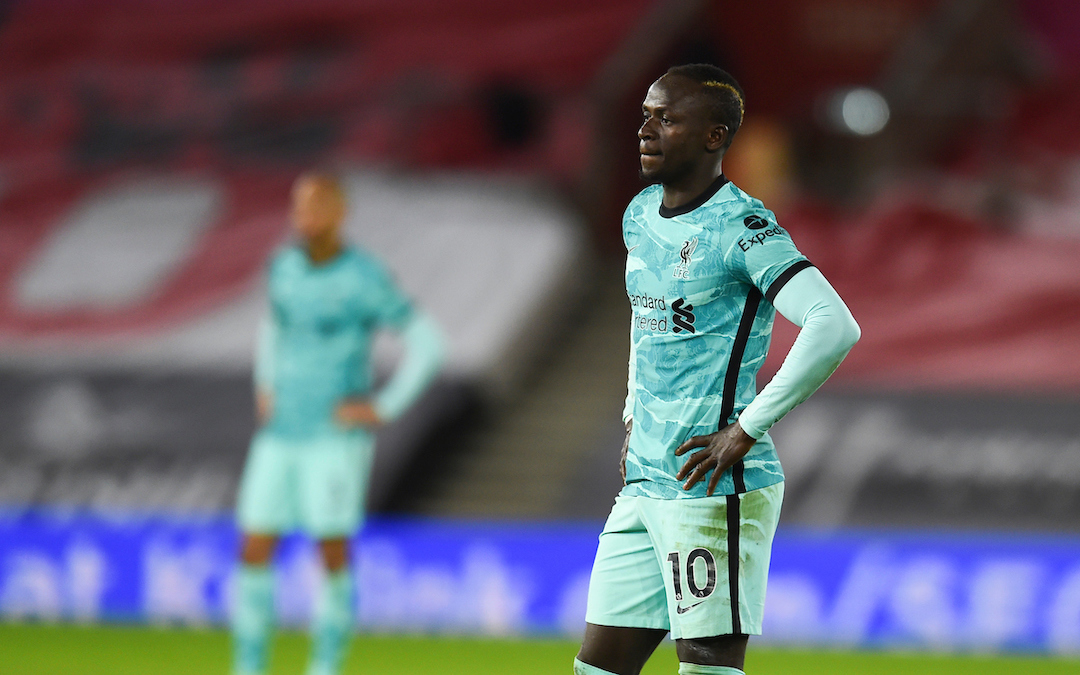 Lax, disjointed, and alarmingly mute, The Reds have been defined as much by unforced errors and blunt attacking play as they have their ever-changing centre-back pairings.
It can no longer merely be filed under one offs or dry 15-minute spells, but instead represents a recurring theme of late, having drawn blanks in the last two games for the first time since May 2018.
Games against West Brom, Newcastle and Southampton represented one of the most favourable Christmas periods Liverpool have had in recent years, but just two points from a possible nine have left the vultures circling and with Manchester City ominously looking like they've found their groove, The Reds can ill afford for the slump to continue.
Injuries to Virgil van Dijk and Joe Gomez have been as much a blow to the buildup play as the back four, with their quality of distribution critical to The Reds getting balls quickly into the feet of the front three, capitalising on pockets of space and quickening the pace of transitions.
Trent Alexander-Arnold, one of the chief creators in 2019-20, has suffered a considerable slump in form, albeit not helped by the lack of movement ahead of him while Robertson's turbo engine will surely soon run out.
Fabinho's reprisal as a centre back has come at the detriment of control in midfield while Henderson's cameo at St Mary's only exacerbated the issue. All this has prevented Klopp from fielding his best midfield trio, and while Monday night's alternative selection of Wijnaldum, Thiago and Oxlade-Chamberlain had us all momentarily fooled, creativity was practically nonexistent.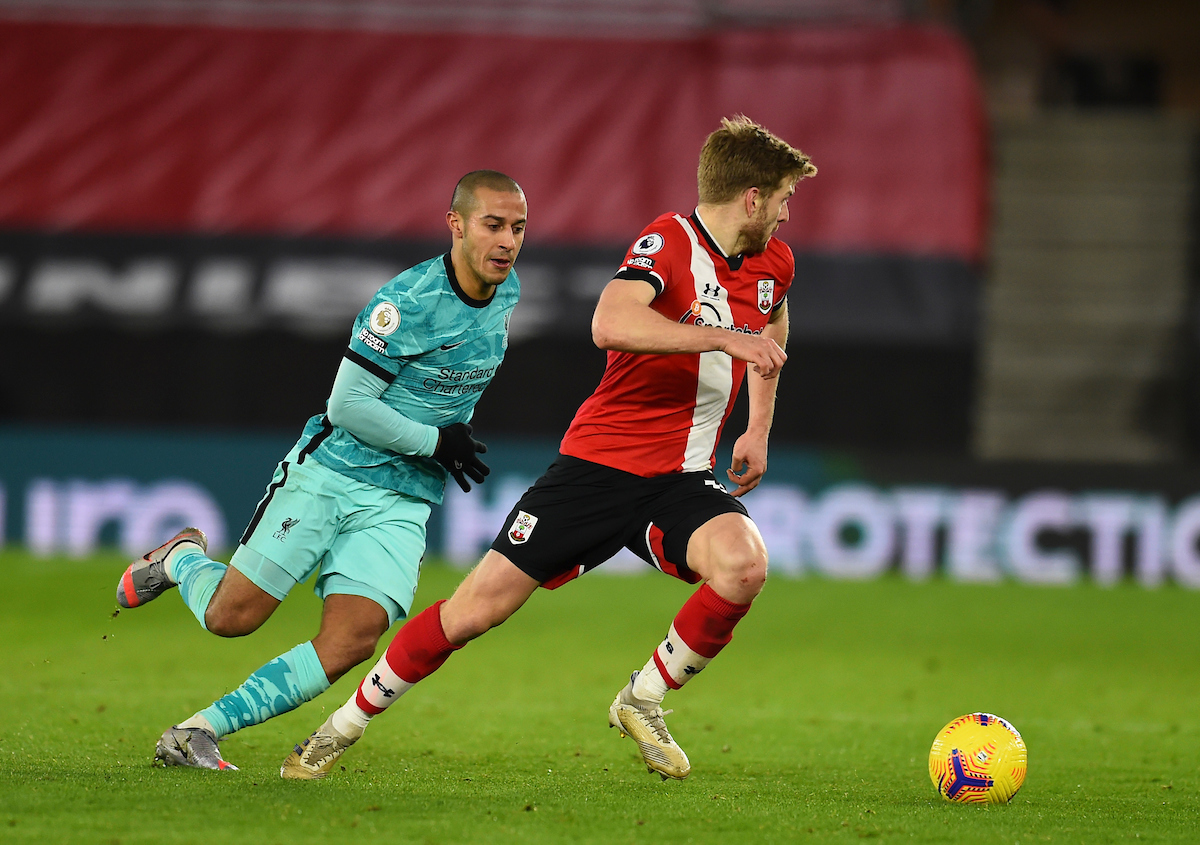 Perhaps most concerning is the predictability of Liverpool's attacking play.
The Reds were at times their own worst enemy against Southampton, attempting to score the perfect goal, much like Arsenal under Arsene Wenger, failing to register a single shot on target until the 75th minute against a keeper who hadn't featured since May 2019.
Largely devoid of ideas and seemingly unable to play through the middle, the usually telepathic understanding between the front three has waned, and watching The Reds pay homage to Andy Carroll with aimless crosses into the box has become a particular eyesore, especially as it has played right into the hands of the opposition.
Amidst all the injuries suffered this season, perhaps the biggest loss, then, has been Diogo Jota. It feels odd to say, given the short length of time he's been at the club, but as much as we've missed the leadership of Van Dijk, and the pace and presence of Gomez, it is Jota's movement and ability to make things happen that has been rammed home in the last three games.
He was the man that dug the side out of frustrating draws earlier in the season, turning one point into three against Sheffield United and West Ham, scoring the second to wrap it up versus Leicester, not to mention the opener against Midtylland before a sensational hat trick away to Atalanta.
He became the man for all occasions; a player providing Liverpool with big goals in key moments.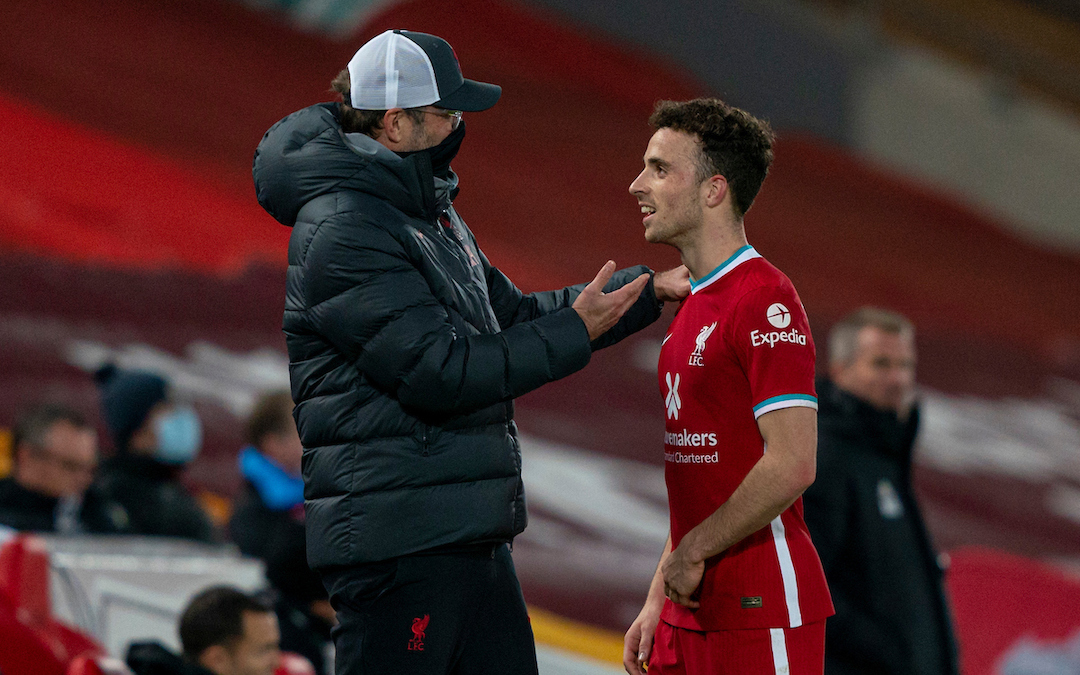 Few could've envisaged the impact the Portuguese forward has had so soon into his Liverpool career, and in his absence has only underlined his importance. It is not only his goal threat, but his movement that proved such a valuable asset to this team.
He constructs attacks. He creates space. He can give and go. He can drive towards the goal. He gives teams an altogether different headache. That added sense of unpredictability and injection of pace into the attack has been sorely missed in the past three games.
Elsewhere, Thiago Alcantara's return will make a substantial difference to help rekindle the front three, and while we wasn't at his best against The Saints, there are already signs of what he will offer, while Takumi Minamino, who hasn't been seen since an impressive display against Palace, could provide and alternative option in attack.
For all the talk about Liverpool's need to sign a central defender this month, their current attacking form will be of equal concern to Klopp. His message in the wake of the Southampton defeat pointed to a man who knows something needs to change, and his players will know better than anyone they've got to play their way out of the current predicament.
They are perfectly capable of doing just that, and what better way to do so than Manchester United on January 17. A rest until then, perhaps a longer one if Covid intervenes at Villa, then a chance for The Reds to respond.
Old Trafford would be some stage to do so.
---
"That's signing not *just* one centre back, if you want Fabinho back in midfield."

"One of @Carra23's big strengths was he was available all the time. It applies to centre backs more than anywhere else."

The Anfield Wrap's FREE Podcast 🗣

Listen👉 https://t.co/2ebvBcVfYG pic.twitter.com/a7AQ2wMUyC

— The Anfield Wrap (@TheAnfieldWrap) January 6, 2021
Recent Posts: