With Wijnaldum's future at Liverpool yet to be resolved, David Segar writes that we should enjoy Gini's presence for however long he has left at Anfield…
IT was quite a sight to see.
With 2,000 Liverpool fans back in Anfield for the first time in nine months on Sunday, seeing, hearing and feeling the joy as Gini Wijnaldum expertly guided the ball into the top corner of the net was an emotional moment.
It was The Reds' second goal of the night, and the first in front of a busy Kop since March. So much has happened in that time, including Wijnaldum and his teammates lifting the club's first league title in 30 years aloft in that very stand.
Forget Gazprom, it is moments like that which light up the football. Paired with the dazzling smile of the Dutchman, it was enough to make one reach for the sunglasses on a chilly December evening.
My column last week was all about how much certain sections of football are increasingly removing the fun from it. Wijnaldum obviously read it and decided to put some colour back into a partially greying sport for us. What a nice fella. He even did Virgil van Dijk's celebration in the absence of his big Dutch mate.
It wasn't just his sensational goal against Wolves, it was his all-round performance. Wijnaldum and Jordan Henderson were in complete control of the middle of the pitch, with Curtis Jones more than ably assisting their relentless efforts.
Wijnaldum was commanding in his passing, his positioning and his general overwhelming of a very capable Wolves midfield.
Then there was his finish, caressing the ball into the top corner like a Michael Jordan three-pointer. As it signalled the moment when the visitors realised the game was beyond them, it arguably was a three-pointer. "Gini Wijnaldum from downtown!"
The 30-year-old was not just a colossus on Sunday. He has been one of those very rare things. A near everpresent for a Liverpool side that has been forced into more changes than David Bowie this season.
Including the Community Shield, Wijnaldum has already made 26 appearances for club and country in this campaign, with 18 of those being for the full 90 minutes.
He looked anything but tired in the 4-0 thrashing of Nuno Espirito Santo's men, though. He looked like a man who desperately wants to win another league title and won't let a silly thing like fatigue get in the way.
Wijnaldum will surely get a week off playing duties ahead of the Fulham game next Sunday, with no particular need for him or any other key players to make the trip for Wednesday's dead rubber Champions League game in Denmark against FC Midtjylland.
This kind of reliability isn't a new thing, of course. Wijnaldum has been a regular feature of Jürgen Klopp's side since arriving in 2016, from qualifying for the Champions League, to winning the Champions League, and then to winning the Premier League. His infectious beaming smile has been there all the way.
With Naby Keita back from injury, and Alex Oxlade-Chamberlain and Thiago Alcantara to follow in the coming weeks, Liverpool's number five should eventually be able to have a bit of a breather, which could be crucial heading into the second half of this busier than usual season.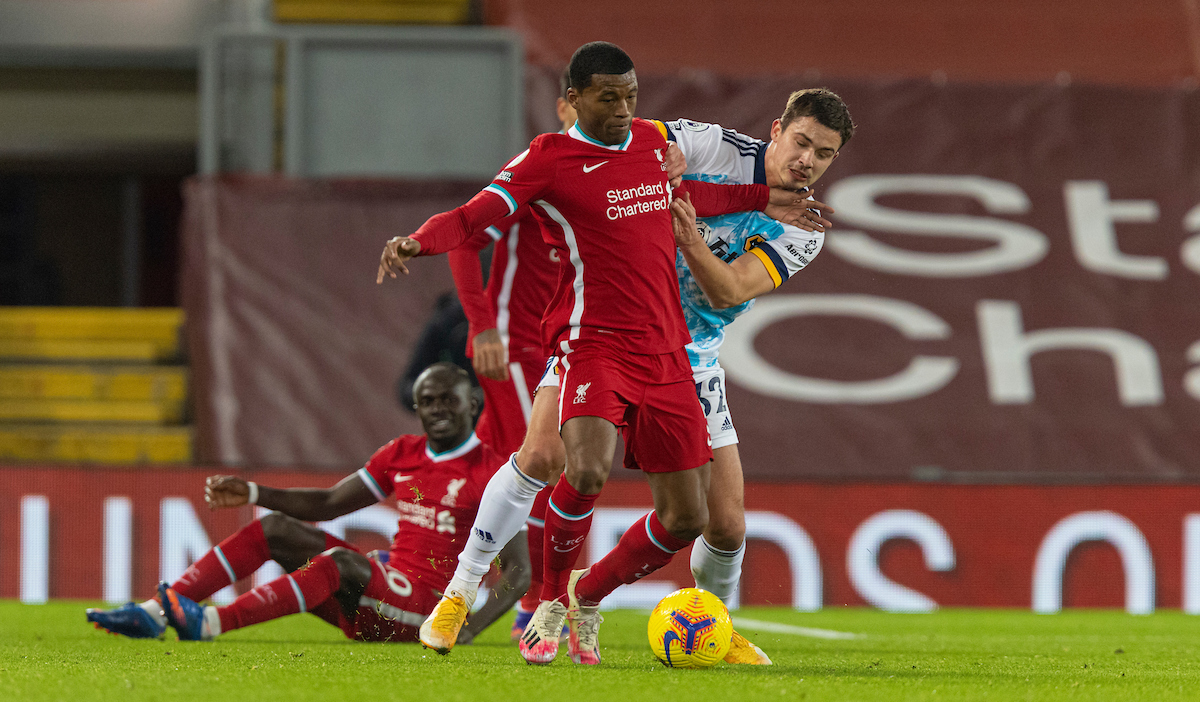 Wijnaldum's ability to stay on the pitch week in, week out has arguably been as important as his ability on the pitch (touches all the wood).
There are always comments about his club role versus his country role when he goes on international duty and scores goals. Incredibly, he has 13 in his last 20 appearances for the Netherlands, while Sunday's strike was only his 20th for Liverpool in 204 games (thanks LFCHistory.net).
That is indeed due to the difference in responsibilities rather than any suggestion of underperforming domestically. Quite the contrary, in fact.
As well as what he brings on the pitch, the former Newcastle United man must be a joy to have around as a teammate day to day. He's always smiling, joking around, and has a calm aura about him. When he retires, he can probably make some good money as one of those ASMR people on YouTube.
Then again, that's all just an assumption based on what limited things we see from the outside looking in. For all we know he could be a right bastard at Kirkby, pushing the youth players against lockers and taking their lunch money, or pulling up in his flash car of a morning before getting out and screaming "Nerd!" at a passing sport scientist. Call him 'Gini the meanie'.
No chance. He's definitely lovely, and likely to be my best mate when I can figure out how to naturally engineer it.
Something that isn't definitely lovely, though, is his contract situation. That elephant in the room every time anyone discusses Wijnaldum these days.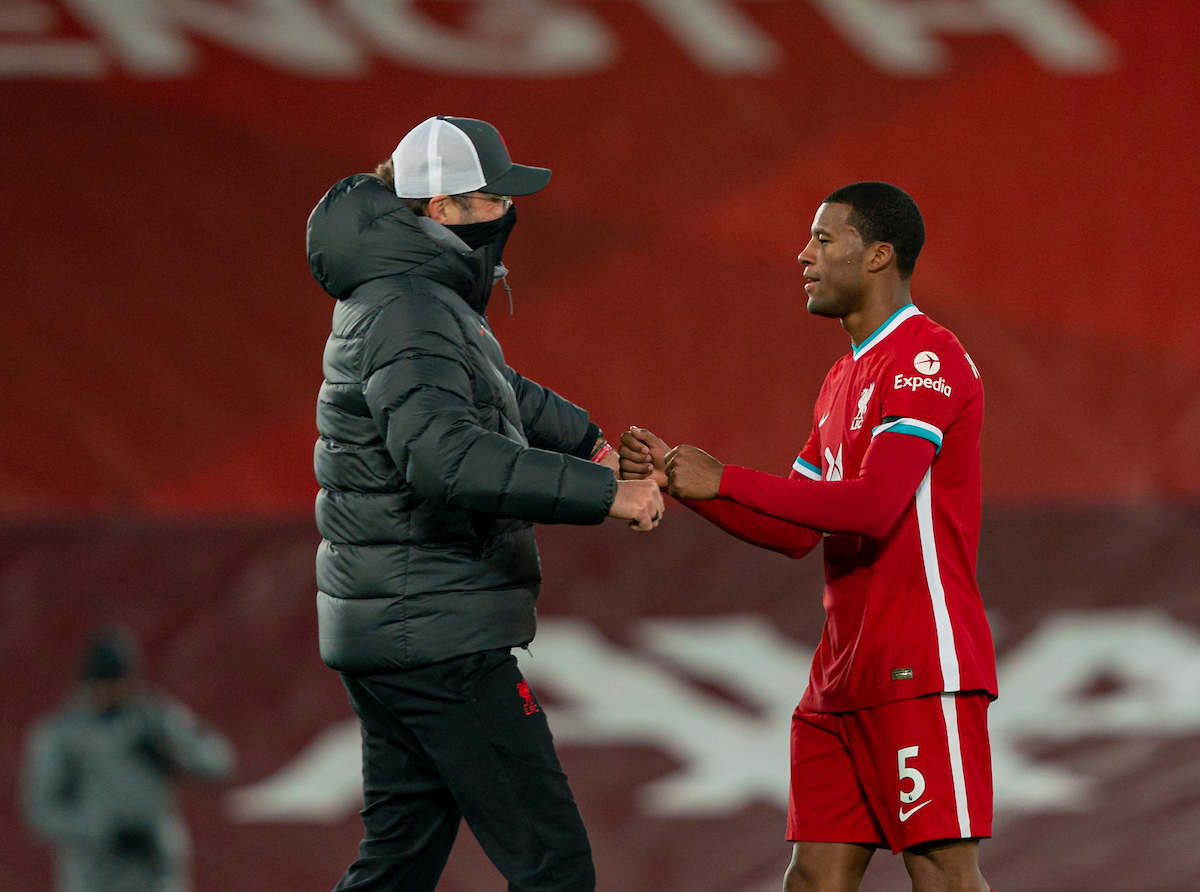 As things stand, he has just shy of seven months left as a Liverpool player, and can start to negotiate with non-Premier League clubs about a Bosman free transfer just over three weeks from now.
It seems simple to us. Why would a seemingly happy player (possibly the happiest player) want to leave all of this?
Then again, it is almost certainly not that simple. This is a human being with a family and a career to think of. He'll have all the information he needs and will make the decision he feels is right for him.
It was interesting to hear Gabriel Clarke straight up ask Wijnaldum in his post-match interview about his contract. It seemed rather unfair from the usually excellent Clarke, considering the player was clearly still on cloud nine after his goal and the win, but he batted the question away expertly.
It did, though, set up his manager to show a little bit more in his answer to the situation moments later, openly declaring his desire for him to stay beyond next summer.
We can all cross our fingers and toes that Wijnaldum signs a new deal, but whether he does or he doesn't, we can enjoy everything he has given the club, and everything he will continue to give while he is here.
Seeing a few more rockets in front of The Kop would be nice, too.
---
"It's time we talk about Henderson and Wijnaldum as Liverpool legends. That game belonged to them."

"With Wijnaldum you're getting Alonso 08/09 vibes, he's leaving everything on the pitch for Liverpool."

FREE Podcast 👉 https://t.co/S7sI2USwck
Watch 👉 https://t.co/qjLgQuResX pic.twitter.com/8ko08SQWMh

— The Anfield Wrap (@TheAnfieldWrap) December 8, 2020
Recent Posts: