Despite the noise surrounding his Liverpool future off the pitch, Leanne Prescott writes that Mo Salah continues to set the standard for The Reds on it…
THERE are times when footballers come along and you realise you're in the presence of one of the true greats.
You marvel at their brilliance, are dazzled by their audacity, and stand aghast at how they make the impossible possible every passing week.
Anfield has been the playground for several influential figures over the years. Steven Gerrard is the icon of the modern era, while Robbie Fowler, Ian Rush, Graeme Souness, John Barnes and Kenny Dalglish are just a handful of iconic names from yesteryear.
Then there's Fernando Torres, Luis Suarez and Philippe Coutinho, all of whom were instrumental for Liverpool at one time or another. Indeed, there are several in the current side who will go down as some of the best to ever play for The Reds.
Few fill the category better, though, than Mohamed Salah.
Given the numbers posted in his first campaign, every season that followed inevitably seemed set for disappointing reading by comparison. The fact it hasn't is testament to his brilliance; he continues to find another gear and deal with the weight of expectation, making his mark and leading the scoring charts again.
In the three years since Salah arrived at Anfield, he has produced a level of consistency that is scarcely believable, breaking records at every turn as he continues to etch his own chapter in the club's rich history.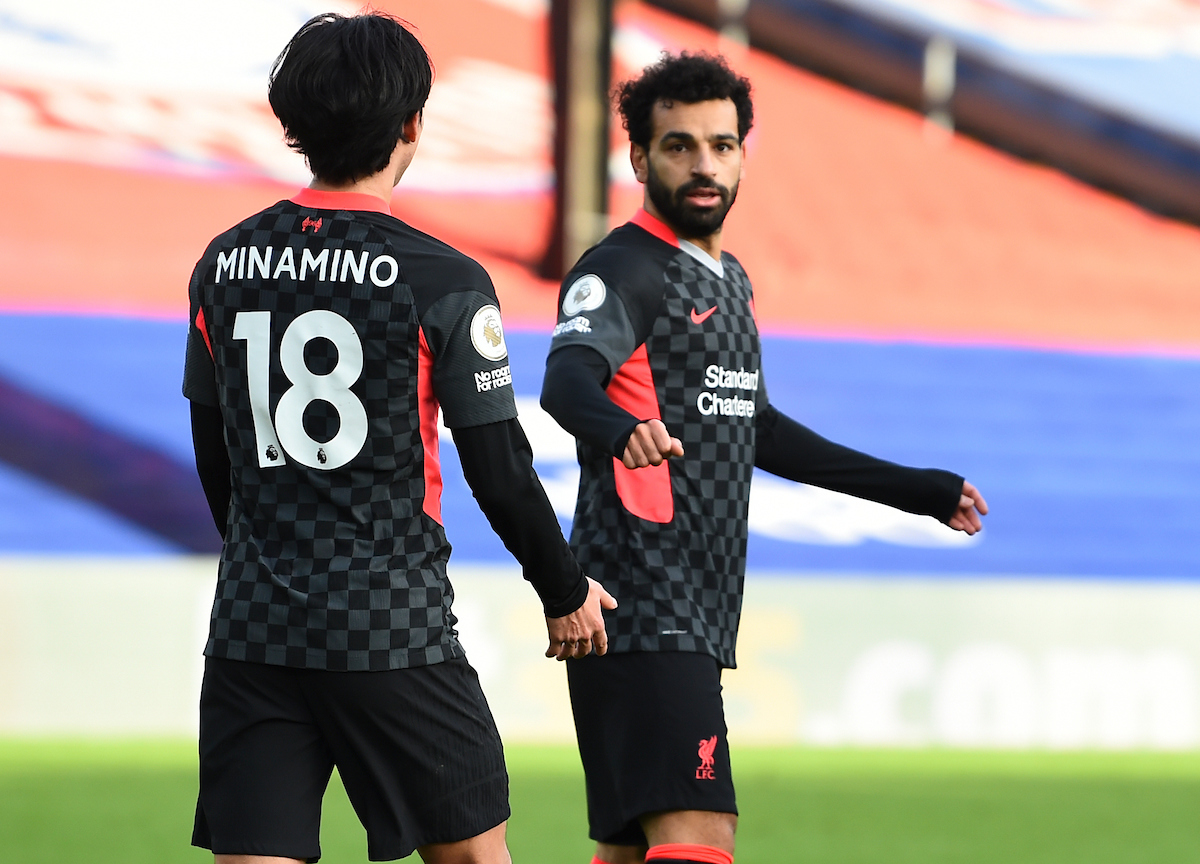 What a remarkable ride it has been so far. A man unwittingly cast aside at Chelsea, he will go down as one of the best the Premier League has ever seen; a maverick and a maestro, the scorer of headers and penalties, tap ins and screamers, rounding off mazey individual runs or putting chances on a plate for his teammates.
His numbers are unprecedented. His genius unrivalled. His influence ubiquitous. Yet, in the face of all that, the Egyptian continues to break ground and build on his imperious record, with records rolling off the tongue. Indeed, in a world where 'normal' still feels far away, the 28-year-old's ability to continuously break records in red offers some solace.
In just 173 appearances for The Reds, Salah has clocked up a whopping 110 goals and 42 assists. Rarely missing through injury, he has the selfishness every world-class forward needs blended with the tenacity, creativity and work rate of a consummate professional.
His Premier League haul stands at 86 in 121 games, eighth in the all-time list of Liverpool's history having also surpassed Steven Gerrard as the club's all-time top goalscorer in the Champions League with 22 in 39 appearances.
It is one thing to be so good on the pitch, but it's another to do so on such a consistent basis and even though this level of performance is now commonplace, the magnitude of what he is doing shouldn't be taken for granted.
A special footballer whom we are lucky to witness, Salah's model of sustained brilliance and success puts him in the same bracket as Ronaldo and Messi. It is odd that, despite all the records and goals he continues to score, he remains underappreciated and undervalued by some.
Few incite such fear in defenders as he does.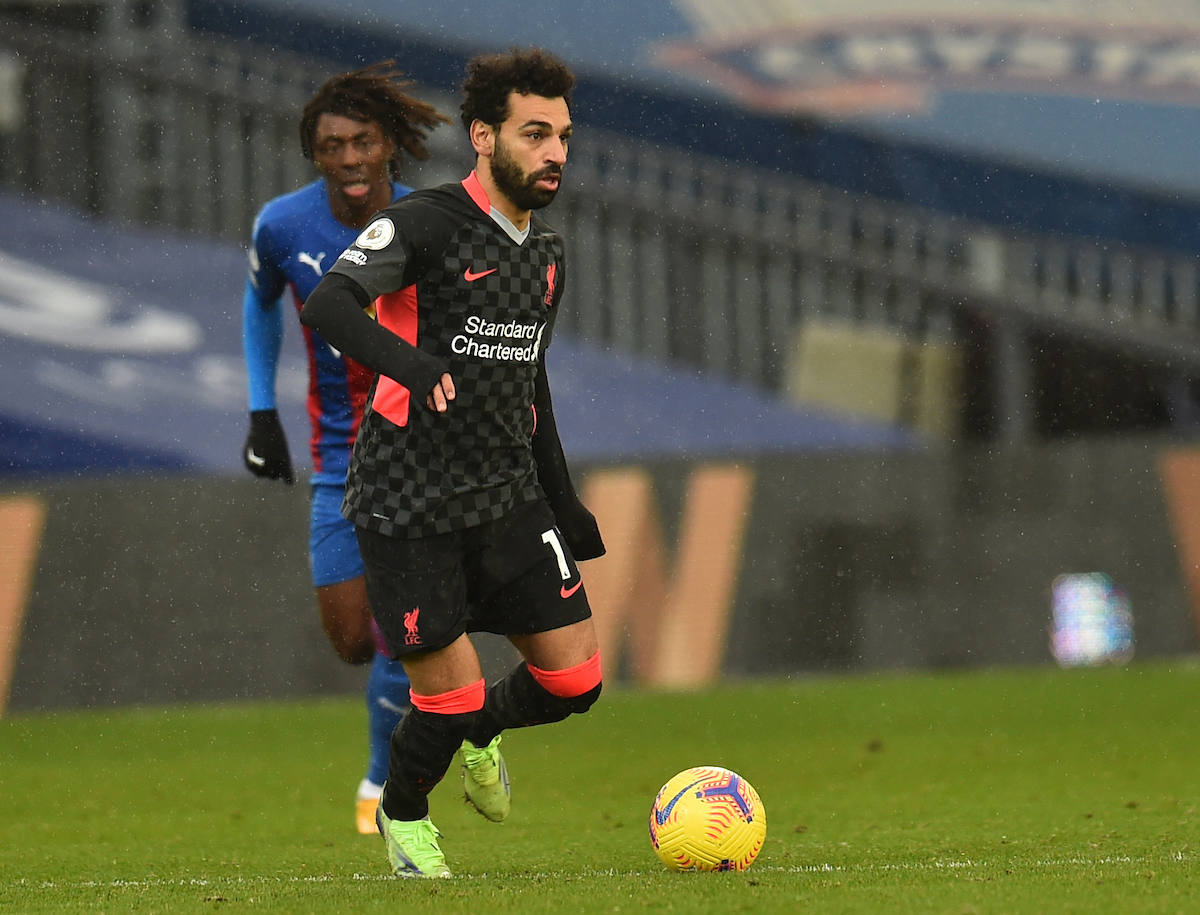 Against Palace, he took just 33 minutes to make his mark, systematically destroying the defence and registering an assist, somehow still managing to steal the headlines in a game he didn't even start, where every Liverpool goal was carved with immaculate precision in its own individual way.
In doing so, he was the first substitute to be directly involved in three goals in a Premier League game for Liverpool, putting him joint-14th on Liverpool's all-time leading scorer list with 110.
Away from his goalscoring is his ability to work hard off the ball; he is as tenacious as he is terrifying, tracking back and helping out his defence. It's a side to his game rarely commended such is his impact in the final third, but one that is just as important in this side.
Sometimes in football, it is worth taking a minute to let it all sink in. To realise the magnitude of what you are seeing, to marvel at what you are witnessing, to enjoy and appreciate it.
Salah's trajectory since joining in July 2017 has been unprecedented, and he will go down as one of Liverpool's greatest ever players. He is writing his own story in this club's esteemed history, and there remain more chapters to write.
A world-class footballer, one of the best we have seen, or will ever see, in a Liverpool shirt.
Take him in, Reds. Isn't he beautiful?
---
Talking Reds | #Video

"Legacy is huge to him(@MoSalah)."@robbohuyton joined by @goal's @neiljonesgoal to discuss some of the rumours circling around our
🇪🇬🤴…🗣

📱 Download The Anfield Wrap and watch today's free 'Talking Reds'
👉 https://t.co/yTcwWTZN7t pic.twitter.com/aIbNcxebxI

— The Anfield Wrap (@TheAnfieldWrap) December 23, 2020
Recent Posts: